The Best Vegan Shop in Bristol
Long before the plant-based revolution of the past few years, Bristol has been known amongst the vegan community for providing some of the best shops and outlets in the UK. With veganism and flexible plant-based eating now finding itself a mainstream success, those looking to do their bit for the environment and the animals, flock to Bristol for its burgeoning vegan scene.
Whether you're a vegan veteran or a veganuary newbie, Bristol has you covered. With a massive selection of vegan shops out there, you're never really far away from a plant-based grocery store or cafe. Ranked amongst the most vegan-friendly cities in the UK, Bristol, you can be sure to find what you need here, from organic and locally sourced produce to somewhere you can load up on junk food and snacks.
To get your exploring the plant-based offerings of Bristol, here then are some of the best vegan shops in Bristol.
Serves:

Organic produce, vegan sandwiches, and fast-food
On a mission to make organic, whole foods as accessible as supermarket produce and junk food, Matter Foods has been serving up everything tasty and healthy since 2014.
For vegans, Matter Foods has been a reliable source of fresh, local, and organic produce even before the plant-based market began to boom. Matter Foods is all about providing affordable, quality fruit and vegetables, supporting local growers along the way. Their aim is to change the way people perceive what they eat, with the hope that organically grown foodstuffs will become more of a mainstay in the diets of vegans and non-vegans alike.
Catering for everyone, however, including those who went vegan for the junk food, Matter Foods has plenty of plant-based alternative products on offer too including smoked tofu, kebabs, streaky smoked "bacon", and eerily-similar-to-the-real-thing weiners.
Everyone is welcome at Matter Foods and is considered a real local treasure. While picking up some produce, it's worth grabbing one of the daily specials too. As well as freshly made coffee, juices, and smoothies, you'll also find some lovingly-made vegan sandwiches, soups, and cakes. And for the gluten-free crowd, there's plenty for you too!
Serves: Vegan junk food, groceries
Junk food? Check. Everything vegan? Check. Gluten-free options? Check. Doggos allowed? Check.
Vx Bristol knows what makes vegans tick, and that's mostly tasty food and furry friends. Combining these into a cafe and small shop, Vx Bristol offers a relaxing and friendly place for vegans and non-vegans to sample more than a few delicious plant-based treats as well as pick up a bit of grocery shopping at the same time.
Located in Bedminster, Vx Bristol has an unashamedly "dirty" menu with plant-based milkshakes, loaded fries, "chicken" nuggets, mac-n-cheez, and burgers as satisfyingly unhealthy as their meat-based counterparts.
If you're after something a little sweeter, there's plenty of cakes, ice cream, and puddings here too.
As one of Bristol's pioneering junk-food cafes, it has a special place in the heart of vegans there, explaining that care and concern for animals should never mean resorting to just brown rice and lentils.
As well as stocking up on some independent and popular vegan products at Vx Bristol, you can also grab yourself some merch. As the official headquarters for the Secret Society of Vegans (shhh, don't tell anyone!), the store has some truly unique T-shirts, bags, keyrings, mugs, and stickers on offer, differing considerably from modern vegan-fare with mass appeal.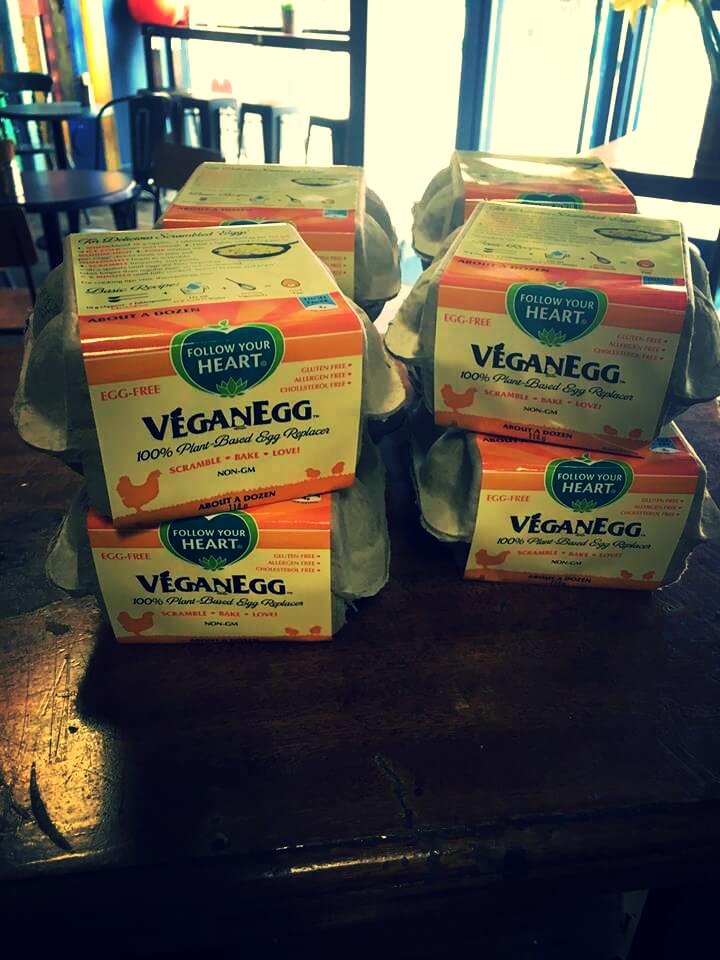 Conscience Foods and Lifestyle
Serves: Health foods, whole foods, vegan alternatives
Browsing through the many shelves of Conscience Foods and Lifestyle, you will, perhaps, be overwhelmed by the sheer choice of products on offer. As well as health-boosting products and produce, you'll find plenty on offer here for the vegan consumer. While veganism and healthy eating may not always perfectly align nowadays, Conscience Foods and Lifestyle helps reign things in, celebrating the more beneficial plant-based products available in Bristol.
The store is located on the High Street in nearby Keynsham, Bristol, and is perfect for those living in the surrounding areas to stock up on some wholesome goods, including dried oats, grains, and lentils. If you're lucky, you may even find a free sample of something delicious outside waiting for you to try.
For old-school vegans, the store is also one of those local havens where you can find the lesser-known brands of treats you may have come to love over the years despite bigger companies jumping on the vegan bandwagon. Here's to you Booja Booja!
But of course, you can also find the delicious new products now flooding the market, including an impressive freezer selection of plant-based mock meats and meals.
With helpful staff, great advice, and management willing to go the extra mile in sourcing those harder-to-get products (we miss you Tofurky) and cruelty-free beauty gifts, Conscience Foods and Lifestyle is a valuable service to the vegan community.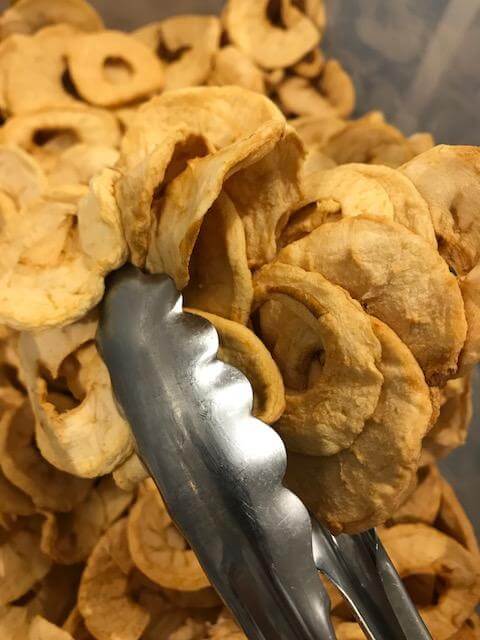 Serves: Freshly made vegan delicatessen and take-away, vegan staples
Towering above the competition on North Street in Bedminster, FLIP is a fresh and funky shop and deli for the modern vegan.
Difficult to miss with its beautifully decorated exterior, FLIP proudly serves freshly made meals from their open kitchen for customers to take away and eat on their travels or at home. Salad boxes, sandwiches, pasties, "sausage" rolls, pastries, and antipasti are just some of the (genuinely) delicious foods on offer.
The deli and cafe are run by Sophie who has set out to create a "quality experience of contemporary vegan food by providing the opportunity to take home quality deli items but, also, gives access to ideas and ingredients for creating vegan meals at home."
With contemporary veganism's ethics aligning so closely with consideration for the environment, the store sources fresh, quality, sustainable ingredients. The deli, for example, actively seeks solutions to reducing waste with Sophie and her team always mindful of their impact on the environment.
The store has a vast amount of products on offer, beautifully displayed. There are your vegan staples like plant milk, nooch, and vegan cheeses but there are also plenty of products here vegans may not be so familiar with. It's always, therefore, worth popping in and having a browse, vegan or otherwise, all are welcome.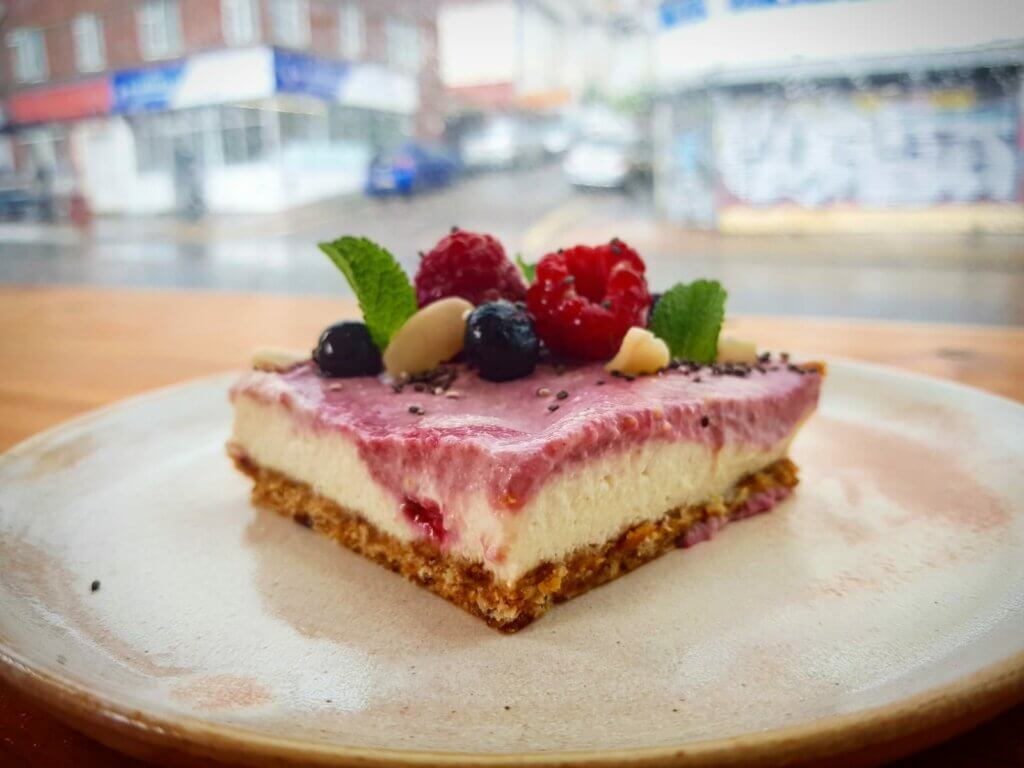 Serves:

Freshly made vegan delicatessen and take-away, vegan staple
Respecting the environment as much as the animals within it, Scoop Bristol is an environmentally-conscious, zero-waste store looking to change things up.
Sitting at the top of Whiteladies Road, Scoops is owned by partners Stephie Mizzi and Rich Green, now offering the largest selection of zero waste goods in Bristol. With more than 360 containers that you simply scoop your desired amount from, the shop cuts down considerably on packaging and foodstuff waste.
While not strictly a "vegan store," the selection here is heavily geared towards plant-based goods. Among a lot of other things, on offer are dried pulses, spices, beans, pasta, cereals, rice,  coffee beans, flour, loose tea, and grains aplenty, which can save a pretty penny when compared to using their tinned equivalents.
With reuse and recycling in mind, customers are advised to bring along their own container which can be weighed and then filled. If you're just popping by, however, there are decomposable paper bags available that can be used to fill and weigh at the till.
Most of the goods here are organic and of a much higher quality than what you'd typically find at your local supermarket. The bread selection, for instance, is rustic and wholesome, with much better quality flour used in their baking.
While not all vegans are "vegan for the planet," shopping at Scoop Bristol is a pleasure in itself making doing your bit for the environment at the same time as stocking up on staples a cinch.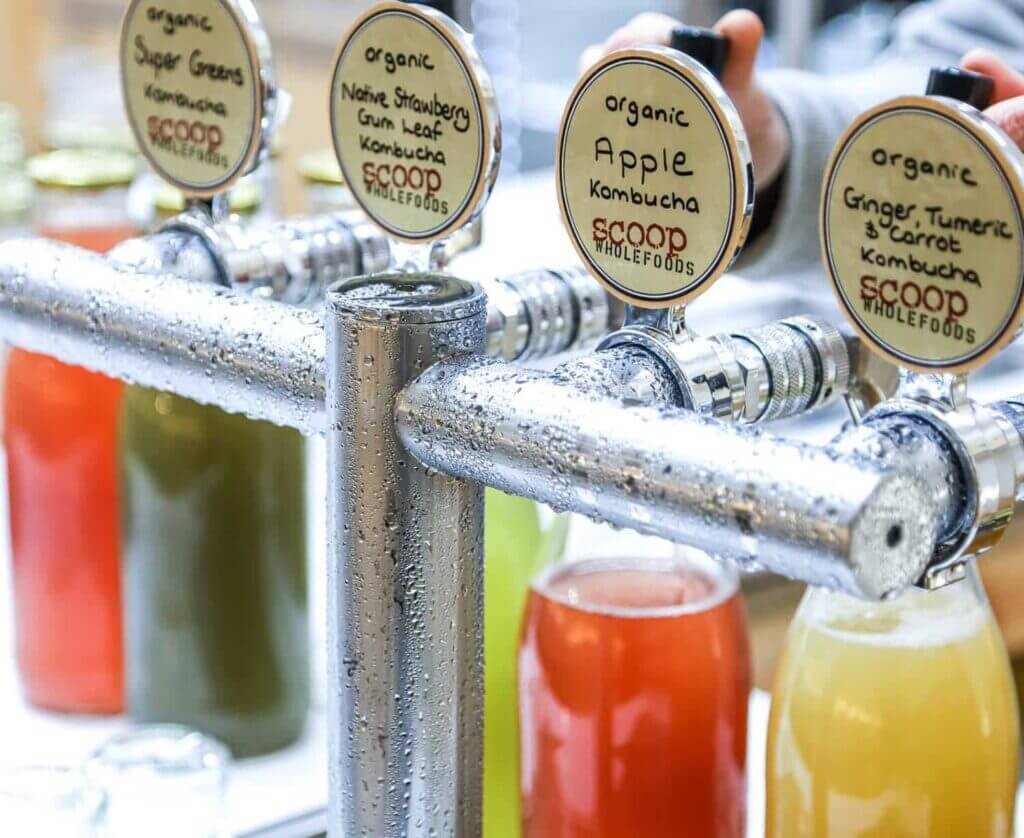 As can be seen from this list, Bristol's lively vegan scene has resulted in some fantastic shops that cater to the plant-based crowd. With veganism and plant-based eating an easy, effective, and not to mention a delicious way to do your bit for animals and the environment, the amount of stores on offer is likely to grow in coming years.