Free things to do In Bristol
Bristol is rife with different possibilities and plenty of adventures to go on but, if you're anything like me, you're always looking for ways to keep on exploring without breaking the bank. When you love to travel to different cities and try new things, trying to find ways to fill your day without spending a fortune can be tough. Bristol has plenty of activities to do and places to go where you won't have to splash the cash. Here's a list of my top ten recommendations for free things to do in Bristol. Spend a day having tons of fun without spending a penny.
Bristol is well known as a lively hub of arts and culture within the UK and this reputation was undoubtedly helped along by Banksy, possibly the world's most famous street artist. The anonymous artist is believed to have lived in Bristol, where the start of his career first appeared to take off. With decades having passed since some of his first works appeared, you can still see some scattered around Bristol's streets, walls and buildings.
With just a smidge of research before you head off on out, it is possible to find your way to some of Banksy's early work throughout the city, completely free of charge. For those of us that might need a little help navigating an unfamiliar city, you can easily find maps with marked routes to follow, that you can download before you get exploring.
Let's take a look at some of Banksy's iconic and early art you'll be able to track down when you're next in Bristol: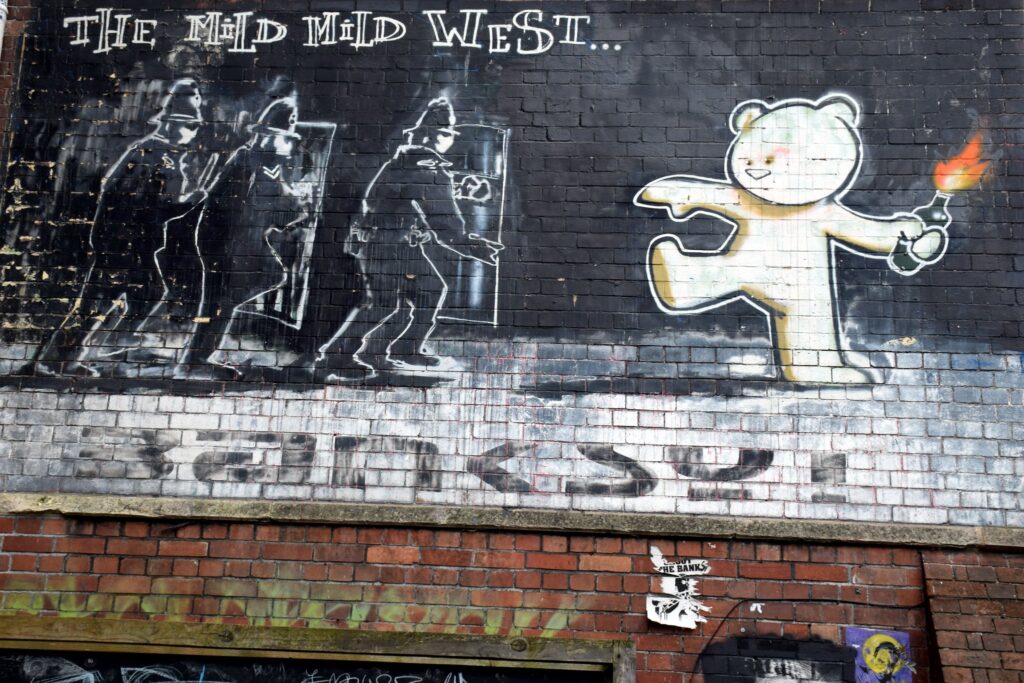 Created in 1997, Banksy's first known, solo large wall mural is called 'The Mild Mild West'. This iconic piece depicts a teddy bear throwing a Molotov cocktail towards three riot police. The piece covers what was once an advert for a solicitor's office, and can be found by Stokes Croft, North East of the Bristol city centre.
'Take the Money and Run' is another iconic piece of Bristol street art dating from the early 1990s. The was a collaborative effort involving Banksy, Inky and Mobz, and was created prior to the stencil style Banksy is famous for. You can find this one opposite the Old England Pub, near Bath Buildings Road.
The most recent Banksy art you can find in Bristol is 'Valentine's Banksy', a piece that emerged overnight on February 13th 2020, hence the naming after Valentine's Day. This work of art shows a young girl using a sling shot to fire flowers at the wall. Check it out at Marsh Lane, in Barton Hill.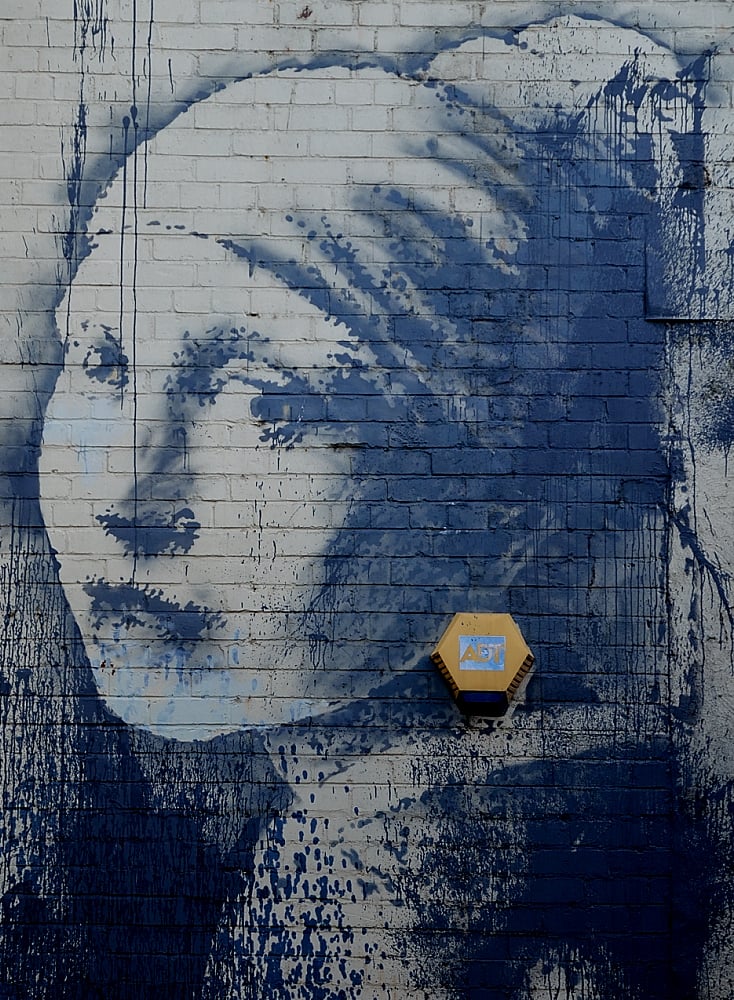 My personal Banksy favourite can be found within Bristol – 'The Girl with the Pierced Eardrum'; this painting is a parody of Dutch artist Johanne Vermeer's 'Girl with a Pearl Earring'. What makes this work unique is that the pearl earring has been replaced with the alarm security system already featured on the wall – explaining the girl's 'pierced eardrum'. This work is visible on the Hanover Plan, near to the Albion Docks, and was painted in 2014. As of 2020, however, the girl is wearing a surgical mask, much like our NHS staff, though we cannot be sure it was Banksy who made this apt addition.
With so many stunning creations featured throughout the city, you're bound to find some you love. If you're excited to track down your favourites, a walk around Bristol could be a great choice, or if you don't want to set aside masses of time, some of Banksy's work can be found at the M Shed, so maybe give it a look whilst you're there.
For those of us who may get ourselves in a pickle navigating unfamiliar streets, or decide to have a look for Banksy's work on a whim, there is a Banksy Bristol Trail App available, though it will cost you £2.99 if you opt to use the app. The Bristol streets also display the impressive work of lesser known street artists, so make sure you keep your eyes peeled as you make your way around
The M Shed is essentially a museum that looks solely at the history and geography of Bristol – from the people to the places. You can learn about Bristol's involvement throughout the second world war, about the dinosaurs found within Bristol, and see some of the items from the industrial, maritime and social history collections.
If you're after more information on the rich and interesting history of Bristol, then be sure to check out the M Shed. You'll find this by the Bristol Harbour (BS1 4RN).
If your love of the arts extends beyond the fine arts, such as painting and drawing, then add the Arnolfini to your list of things to squeeze into your day. The Arnolfini is described as Bristol's International Centre for Contemporary Arts. Basically, this is the place to be to see visual arts, performances, dance, music or film displays. With such a vast and broad range of options for what to see and do, Arnolfini is tailored to suit all sorts of different groups of people. Arnolfini displays work from a range of diverse artists, therefore representing different cultures, experiences and inspirations within the work presented.
The activities, events and exhibitions found at the Arnolfini are constantly being updated, but throughout the summer, they had some wonderful, hands on family craft activities such as paper weaving, making paper jackets, language hats, making babouche slippers, and even sharing recipes within the community. These are great to entertain the little ones, or even take a crack at it yourself. You can take these activities with you to complete later at home, or do them there and then.
Some wonderful events for the slightly older amongst us, include the short films displayed, some surrounding South African politics ('Indigeneity and Digital Entanglements'), and others include the work of Helena Appio, screening her documentaries 'DJ Derek's Sweet Memory Sounds' and 'A Portrait of Mr Pink'. Other exhibitions and events are currently being shown too, though these are often updated.
If this sounds like it could be your cup of tea, you can find the Arnolfini on by the Bristol Harbourside (BS1 4QA), where it is one of many attractions. Take a look and have a wander through; there is sure to be something that catches your eye.
Bristol Museum and Art Gallery
Bristol Museum and Art Gallery is yet another fantastic museum. With more traditional exhibits, there is a broad range of displays, exhibitions and artefacts to browse through, from Egyptian mummies, to dinosaurs, to pottery, the displays come in a wide array of subjects.
Exhibitions that are being displayed at the moment are 'Being Human: An exhibition of modern sculpture' (on display until 5th April 2021) and 'Do you believe in magic?' (on display until 28th February 2021).
You can find the Bristol Museum and Gallery on Queens Road, Bristol, BS8 IRL. Have a wander round and see what you can find.
Narroways Millennium Green Nature Reserve
Nature reserves are a great place to explore, and Narroways Millennium Green is a particularly lovely site. The community orchard and wildflower meadow are the standout features, accompanied by fantastic views of the Bristol city. Be warned, there are narrow walk throughs and lots of slopes, ups and downs, so this isn't the best site for wheelchairs or pushchairs.

If you fancy taking a break for a drink and a snack, the nearby St Werburghs city farm has a café you can visit to recharge.

Find this stunning nature reserve at Mina Road, St Werburghs, BS2 9YQ.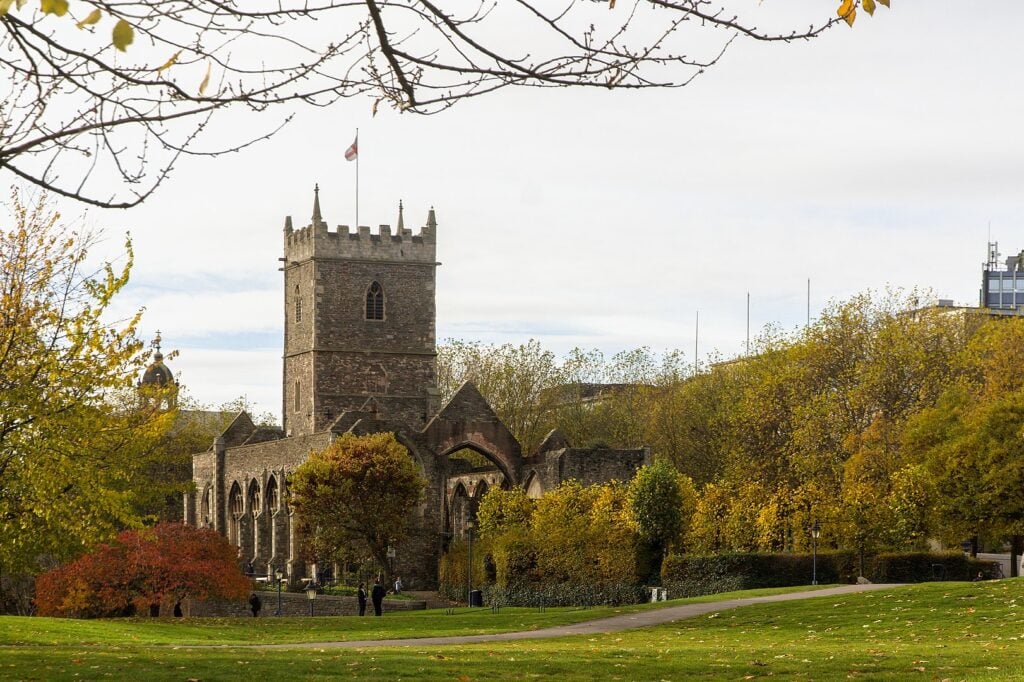 Castle Park is a great place to explore, stretch your legs and for little ones to let off some steam. The main attraction are the remains of the medieval castle – the walls and vault.
With plenty of open spaces this is a fantastic spot for a picnic or a wander.
Castle Park also has a band stand, carved stone throne, physic garden where medicinal plants are grown and a water fountain. You won't be bored as you venture around, there are plenty of things to see. The rich history of the castle can be explored through interpretation panels, discussing the castle's past, and its current archaeological state.
If you don't fancy just strolling around, there are tree trails available, guiding you through the different elements of the nature around the Park.
You can find Castle Park between the Bristol Shopping Quarter, and the Harbourside (BS1 3XD)
Bristol And Bath Railway Path
The cycling city has a range of trails you can ride your bike along free of charge, though my personal favourite is the Bristol and Bath Railway Path. This route used to be a railway line but has now been converted into a lovely path to go on a walk, run or bike ride.
This route is great to venture onto with kids, as it is relatively flat and has no traffic.
To complete the route from end to end, on a bike should take an approximate 2 hours and 20 minutes, and on foot 4 hours and 30 minutes. You can do the entire 13 miles, or get yourself part way and stop for a bite to eat at the Saltford pub. Both ends of the route are nice and close to a train station, making it simple to track down.
What really sets the Bristol and Bath Railway Path apart from the other trails are the sculptures on route, so look out for the drinking giant, the old Bitton train station, and steam engines.
Get yourself onto the cycle route from the Bristol end of the trail at the junction between Trinity street, and St Phillips Road.
The Bristol Cathedral is a beautiful medieval Church, with a café and a garden that make it a lovely visit.

Originally, the Bristol Cathedral was an Augustinian Abbey, founded around 1140, though under the rule of Henry VIII, the abbey was dissolved, and in 1542, the new Cathedral was built. The Chapter House features stone walls with small, detailed patterns carved within them, but the star of the show is the East End, a remarkable medieval hall Church. Now, the Cathedral has kept some features of the medieval influence in the design and the architecture. This can be seen more thoroughly through a guided tour, if this interests you.

In the spirit of the Bristol community, the Cathedral offers a Cathedral coffee each Sunday after the main Eucharist service, and a community lunch on the first Sunday of each month – though for the community lunches there is a small fee, all of which goes to the Christian Aid charity. These events are both held within the café.

Whether you want to take in the high ceilings, stained glass windows and statues, or have a tour learning about the religious and architectural past, the Cathedral is a fab spot to visit and can be found on College Green (BS1 5TJ).
The vibrant Bristol Harbour Festival takes place, unsurprisingly, along the Bristol Harbour and is a place for people to gather and celebrate Bristol's maritime history. This thrilling event usually takes place mid-July each year. At the Bristol Harbour festival, you can expect to see the Circus Playground, which features street artists; dancing, from ballet to Bollywood; live music, both professionals and amateurs; poets and of course all the ships along the harbour.
The Bristol Balloon Fiesta is a spectacular event, where up to 150 hot air balloons are set out at dawn and dusk. Balloons from all across the globe come to join and are all set off from Ashton Court Estate. This event takes place midway through August each year, with the 2021 dates set aside being from Thursday 12th to Sunday 15th of August.
There are so many fantastic spots to check out when you visit Bristol, and your day won't be any worse off if you're on a budget. From tourist spots to taking in the sights, whether you fancy learning about the city's rich history, or want to stroll through nature, there are plenty of free things to do in Bristol to help you keep the cost down.
Why not read about the best ways to get around Bristol with these travel tips:
Travel
The best ways of travelling around Bristol. All the inside tips and tricks can be found right here.
Read More »