Travelling Around Bristol
Making your way around a city you're unfamiliar with can be incredibly daunting. From finding out the different public transport options to knowing the services provided by various companies, researching your choices can be a time consuming and confusing task. Luckily for you, we've compiled this list of the best methods of travelling around the Bristol streets – all the inside tips and tricks can be found right here.
Before you can figure out which form of transport is going to be the best for you to use throughout your trip, let's look at the options for travelling to Bristol as some offer combination travel tickets which could save you some cash.
There are numerous bus services available within Bristol, with some great value deals to enable you to explore all day long without breaking the bank.
This bus system is nice and simple. If you have driven into Bristol, you can park your car and then ride the bus around Bristol – hence the name Park and Ride. The car park, with this system, is free, you just have to pay for the bus, which can be as frequent as every twelve minutes. There are four Park and Ride car parks in Bristol:
The Freedom Travel Pass is a wonderful option that allows you to have unlimited travel across the majority of bus, and rail services within Bristol. This is available when you travel with First, a bus company that facilitates travel between Bristol, Bath and the West.
A Freedom Travel Pass is available for purchase from the Ticket Office at any station, alternatively, if you only need a day pass, tickets can be purchased from a bus driver. This is a handy system which eliminates the need for searching for change each time you board.
When you buy your pass, you need to specify which 'zones' you want to travel in. If you are only travelling within central Bristol, then it is nice and simple – you need Zone A (or Zone A and B if you are heading to the South West of Bristol).
A combination of other zones mean you can travel between Bristol, Bath, Weston-super-Mare, Nailsea and Yatton. Prices are dependent on which zones you need to be able to reach, and how many days you are buying a pass for.
Zone A (Bristol) for a one-day pass is only £6, and Zone A B ('Bristol Plus') can be bought for just £11.50.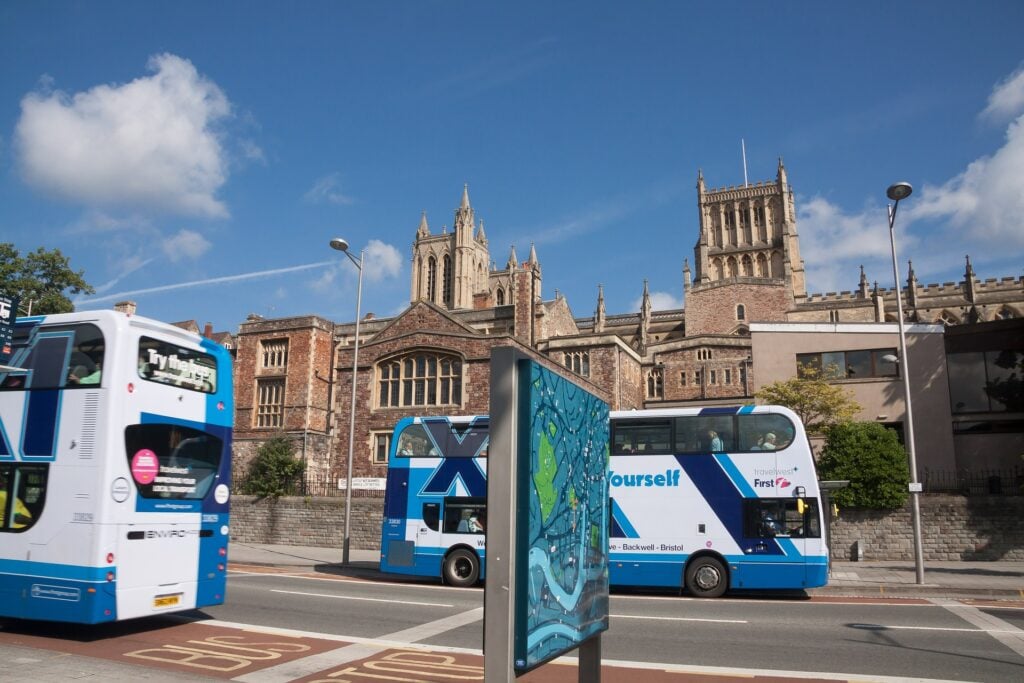 Similarly, to the Freedom Travel Pass, opting for the PlusBus option means you don't need to think about keeping bus fare on your person. The difference between the PlusBus and the Freedom Travel Card is that with the PlusBus, you buy a train ticket and then add the bus ticket as an extra. This gives you unlimited bus and tram travel on top of your train ticket; it isn't restricted at peak times – you can use it whenever you fancy. In a nutshell, the PlusBus is a discounted price travel card.

PlusBus is available in many destinations, and prices vary from location to location.
For Bristol, a day price is £4.50 for an adult, £2.25 for a child and £3.95 for a railcard holder; tickets are also available on a weekly, monthly, quarterly and annual basis.
This works out cheaper than simply paying bus fare each trip you take – an added bonus because we all love a good saving.

To get your hands on a PlusBus ticket, simply ask for PlusBus when you buy your initial train ticket. As with the bog-standard train ticket, you can pay for your PlusBus with cash, credit card or debit card. That does mean you will need to plan ahead a little but, hey, that's why you're here now!

My recommendation for PlusBus is that it is perfect for people who have travelled into Bristol on the train. It costs just a little extra than your train ticket but is ultimately a cheap travel option to get around Bristol. All your transport on one ticket – efficient!
The Free Bus is exactly what it says on the tin – a free bus ride.
The Free Bus runs continuously on Saturdays from Bristol Temple Meads, through to the city centre, and to the Temple Meads Train Station. Rinse and repeat, all day long.
This is a brilliant option if you only need to get yourself around on a Saturday and are aiming to get to the city centre. If you can't afford alternate options, or perhaps only need a short journey but cannot walk too far, then the Free Bus may just be the ticket.
The Free Bus has no fare whatsoever, as it is kept going via donations. The aim is to expand the network to the towns surrounding the city, with the profit-making bus routes taking you in and out of the city centre itself.
The metrobus has direct routes through key tourist spots, such as Brunel's SS Great Britain, and has many stops that make it great for visitors, such as the train stations. However, the main attraction of the metrobus is that it is speedier than a regular bus – a real time saver is great for making the most out of your time in Bristol, whether that's fitting more into a day trip or getting a short commute to work.
The metrobus has quicker boarding, due to their 'buy before you board' system, at an iPoint station. Passengers use iPoint to buy tickets, plan journeys, and get live updates as to how the buses are running that day and hour. Since people have pre-paid and purchased their tickets, the waiting between stops is significantly reduced.

This is, in my opinion, the most accessible of the bus options available. The buses have twin doors, low floors, wide corridors, more leg room and a larger entrance and exit space – this makes it an excellent choice for those with reduced mobility, or who have pushchairs. These features all make for minimal time in between spots, as well as quicker and hassle-free boarding.

Even more good news, the metrobus' euro 6 Diesel engine emits fewer emissions than alternate travel options, meaning the metrobus systems are an environmentally friendly option, aiding to improve air quality in Bristol.

For the tech savvy among us, it'll be great news that not only does the metrobus have free wifi and USB charging, but that you can hold your ticket on the First Bus app. But for us more traditional folk, a paper ticket is available too – don't panic!

Prices for the metrobus are as follows: a single adult ticket is £2.25, students and 16 to 21-year-old travel for £1.60, 5 to 15-year-olds (child's ticket) costs just £1.15, and under 5's travel for free. Daily, weekly and monthly tickets are also available.

Yet another cashless travel system is available, this time it's the Travelwest Travel card, which you can use through the First Bus app, and allows you to book your metrobus ticket in advance. You can also hold your ticket here.
Sometimes the easiest way to get yourself from A to B is just good old driving. From taxis to car hire, Bristol has you covered. Once again, there are plenty of options that will allow you to make the most out of visiting Bristol.
Bristol has plenty of car hire companies, for example Sixt Car Hire and Rhino Car Hire. These cars are available to hire from plenty of locations, including Bristol Airport, so you won't be short for options.
There are also services in Bristol that allow you to hire a car by the hour. This means you are entirely in control, don't hire the vehicle for hours you won't be using it, and you don't need to rely on public transport if you don't want to. Reputable companies where you can do this include Zip Car and City Car Club.
This system is described as an Airbnb for cars. The premise is simply that people who need a vehicle, can rent a car or a van from one Bristol's residents. This system is available across the city, at any time of the day.
Karshare is great because the insurance is included in the displayed prices, so it is obvious and clear what you will be paying. Furthermore, the on-demand access means you only pay when you need the vehicle, giving you more flexibility around your day. A great element to Karshare is that you are supporting the community, as your money goes to the resident who owns the car.
You can book a car through the Karshare app. Quick and easy! Rental durations start at four hours.
An age-old solution to getting around somewhere unfamiliar is, of course, the taxi. Bristol has two types of taxis: Hackney Carriage Vehicles and Private hire.
Hackney Carriage Vehicles are the classic Bristol blue. The Braxi app lets you book these in advance, you can hail them (hold up your arm) or wait at a taxi rank. This also means you are supporting local Bristol residents, as all are licensed by Bristol City Council.
The alternate taxi choice is a private hire. These must be booked and cannot be hailed, unlike the Hackney Carriage Vehicles. Some private taxi companies in and around Bristol are: V cars (who also have an app you can pre-book through), Eurotaxis and AA taxis.
Check our our top picks for the best taxi companies in Bristol.
Perhaps you have a special event and want to feel like a VIP, or maybe you just want to travel in style. Either way, this is another great option to get around Bristol. A private hire also makes a smooth sailing transfer from hotels to the airport or train stations. Sybaris Chauffers have excellent reviews.
Bristol is, of course, a well-known for cycling and the many cycle paths and bike hires help Bristol maintain this reputation. With cycle routes by nearly all major roads, it shouldn't be a surprise that throughout Bristol you'll find plenty of places to secure and lock up your bike. Bristol houses over 300 bicycle parking spaces and has plenty of bike pumps you can use free of charge. So, get pedalling!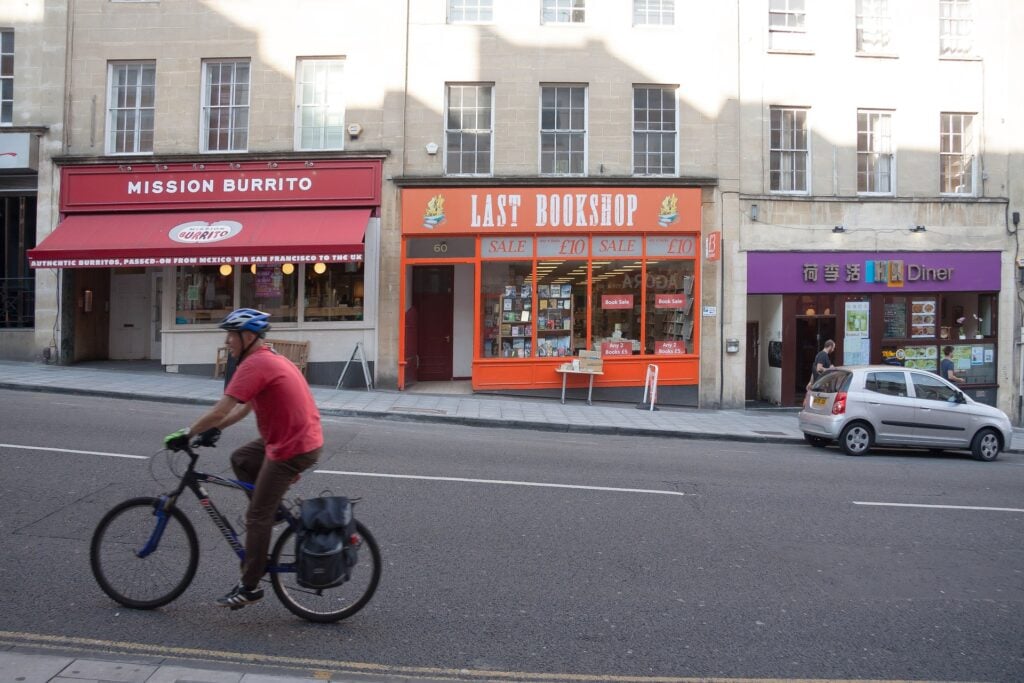 If you don't have a bike of your own, or perhaps didn't feel like lugging it all the way to Bristol, then rest assured that there are plenty of places to hire a bike from throughout the city.
Webbs Cycle Shop & Custom Bike Hire sell and hire bikes. They also have a 'custom hire service' aimed at groups – a brilliant choice if you're visiting Bristol with your family or a few friends.
Pedal Progression offer services where you can hire accessories, have your bike repaired or even learn some bike skills – so you can enjoy the scenic cycle routes regardless of your ability.
If the classic, regular bike isn't what you're after, then you can also find Bristol Tandem Hire or Bristol Electric Bike Hire. There are plenty of options to cater towards all kinds of cyclists, so don't be put off checking out the routes.
Bristol is home to some stunning routes and cycle paths – but choosing the best one may be a little tricky. Whether your concern is the length and how uphill that trail might be, which sights you can pass along the way or where the route takes you, there are a variety of routes depending on what it is that you're after.
Better by Bike, Sustrans, and Cycle Streets all offer handy maps and details of different routes you can take. Check them out to see where you can get to, and what you can see on two wheels.
Riding your bike in Bristol can be so much more than getting from place A to place B. Organised tours, such as with the Adventurous Activity Company, let you see some of the wonders of Bristol from the seat of your bike.
Off-road cycling and mountain biking are popular choices in Bristol too. Cycling trial, Avon Timberland is a fantastic choice if you're looking for a mountain bike experience; it remains an authentic experience whilst also preserving environmentally sensitive areas. Other fantastic off-road cycling options are Ashton Court and Leigh Woods.
Bike-Friendly Accommodation
Thanks to Bristol being a cycling city, there are numerous places where you can both lay your head and park up your bike. Some accommodations will offer to wash your bike, complete any necessary repairs, and some even offer discounts and packed lunches for cyclists. You can find out more about these spaces at the Beds For Cyclists webpage.
After a long bike ride, I, for one, am always ready for a nibble and a cuppa; here are some fantastic cafés where you can ditch the bike for a short while.
The Mud Dock Café is a cycling themed café, they offer a repair service, and facilities for a shower after a particularly gruelling bike ride. Once you're freshened up, sit back with a coffee or a beer before you get going again.
No1. Harbourside has excellent cycle parking available, and The Crofters Rights has bike storage available inside of the pub itself – so you don't have to worry about its whereabouts.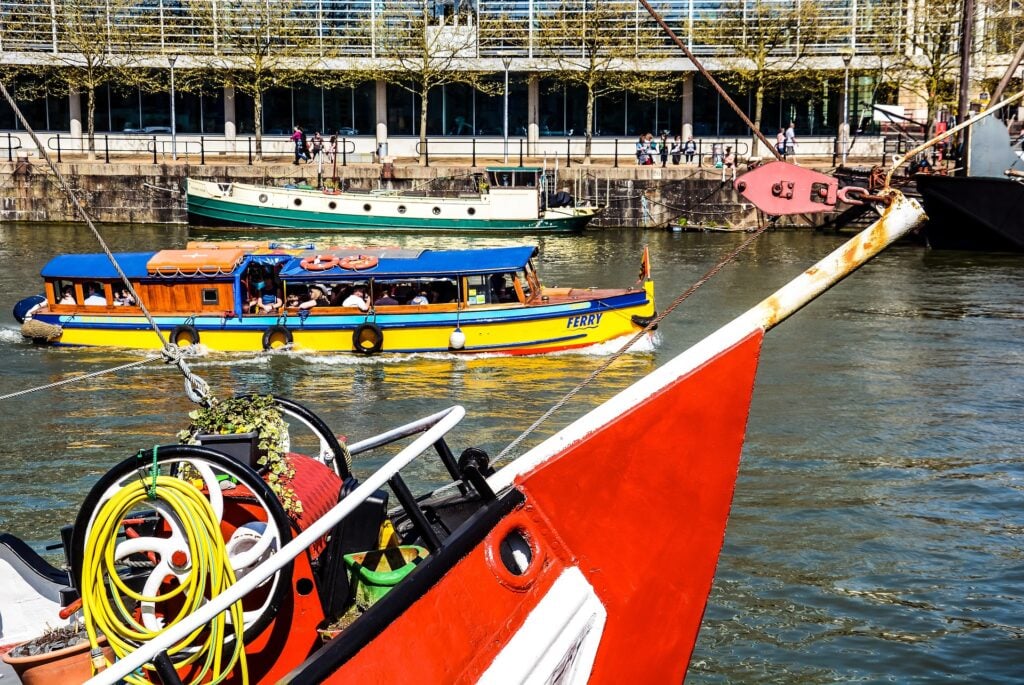 Transport in Bristol extends beyond getting from one place to the next, with some boat trips available to take you across the harbour. Number 7 boat trips are more of a sight-seeing excursion than a quick, practical form of travel – but why not combine seeing the harbour and getting around together?
With Number 7 Beeses River Trips, fares are as follows: £16 for an adult, £14 for a senior, £10.50 for a 7 to 16-year-old, and £6.50 for 4 to 6-year-olds.
Check the latest timetables, services updates and book tickets here.
With so many choices to travel around Bristol, you are sure to find a way that works for you, whether prices, independence or flexibility factor in, there is bound to be an option that works with what you're after. From the wide variety of public transport, to the handy bike paths, getting around for someone who isn't familiar in the city isn't difficult to fathom out at all. With such brilliant choices, don't be afraid to give them a go.
And now you have your travel sorted, why not read our top tips for spending a day in Bristol: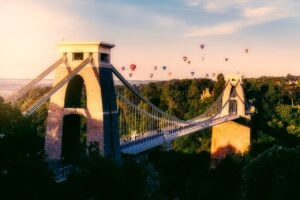 Things To Do
Our top recommendations to make the most of one day in Bristol.
Read More »