Introduced to Blighty back in 1671 when King Charles II was treated to the frozen treat at the feast of St George, ice cream has found its way into our hearts as well as our stomachs. And while the guests at King Charle's feast could only sit back and gawp at the royal table wondering what this strange, exotic new food was like, today's ice cream is everywhere.
Bristol is no exception. Whether you're looking for a cone of something nice to wander down the quay and cool down in Castle Park, or if you're looking for that authentic ice cream parlour dine-in experience, Bristol has all the gelato, sundaes, sorbets, and popsicles you could want.
Tapping into the inner-child within all of us, ice cream has the ability to make us happy, reminding us of childhood holidays and long summer evenings with friends. With so much choice in Bristol, recapturing these memories and building new ones is easy.
To help you narrow down your search, below, we've come up with a list of the best places to get ice cream in Bristol.
The Best Ice Cream in Bristol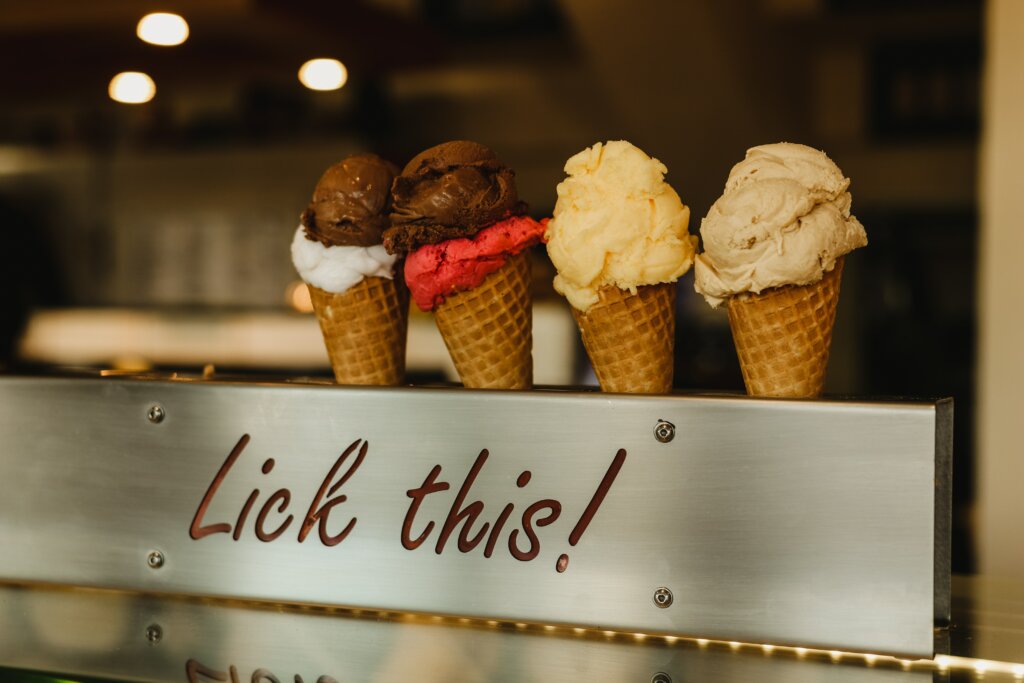 A literal stone's throw from the lively and vibrant millennium square, Sprinkles Gelato is one of the more commercial ice cream outlets in Bristol, with 15 stores now strung across the UK. Serving handmade desserts to the sweet-toothed British public since 2012, Sprinkles has gained a reputation for providing a quick and tasty sugar hit in convenient locations.
All of the gelato at Sprinkles is made at their own ice cream workshop in Southampton and with over 200 different recipes at their disposal, the menu's always changing, and there's guaranteed to be something that tickles your fancy. With vegan options also on the menu, even the plant-based amongst us can get in on the ice-cream action.
While you can, of course, get a bowl of plain (but delicious) gelato, there's plenty on offer here for the adventurous. Incorporating people's favourite treats into the gelato, there's the rich Ferrero Rocher, the light and crispy Kinder Bueno, or the familiar crushed Peanut M&M ice cream. With new items added all the time, it's really worth visiting regularly.
Despite its commercial success, Sprinkles takes its ice cream seriously, with their sundaes even served in fine cut, handcrafted Italian glass goblets. There's the old faithfuls, such as the Knickerbocker Glory, and some warming treats like the Hot Fudge Sundae for the cooler months, served with caramel, whipped cream, chopped nuts and a jug of incredibly moreish hot fudge sauce.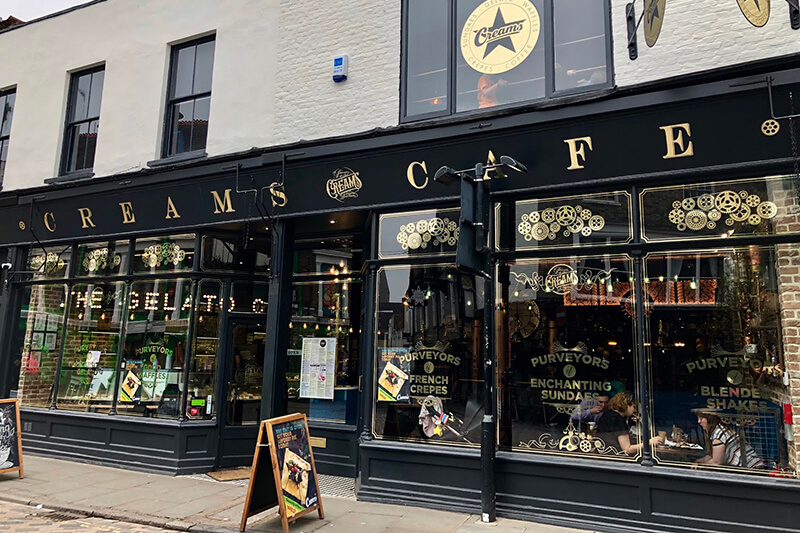 Located on Baldwin Street, 5 minutes from The Old Fish Market pub, Creams is a dessert shop specialising in all things ice cream.
Easily spotted by its iconic bulb sign and matt black storefront, Creams occupies a chunky bit of the Baldwin Street real estate, a testament to its popularity amongst locals and visitors alike. Inside. you'll find a modern take on the American ice cream parlour, with comfortable seating and relaxed mood lighting, making it great for a sociable bite to eat.
The menu is enormous, with gelatos and sundaes taking centre stage alongside the crepes, cookies doughs, waffles, and sorbets you'd expect. If you're having trouble making your mind up, the friendly staff are more than pleased to recommend a favourite. Or, alternatively, just order the entire menu.
If visiting for dessert after dining elsewhere, you may want to leave some room for pudding as the selection of sundaes is spectacular. Using rich and thick gelato, the ice creams here range from overloaded oreo towers, tropical mango, and coconut concoctions to the truly impressive Hot 'n Cold Chocolate Fudge Volcano.
And, if you like your hot drinks as equally calorific as your dessert, you'll be glad to know that Creams has a mean range of hot chocolates that are every bit as appealing as their gelato.
A family business for over 100 years, Tarr's has been producing and selling ice cream for four generations now. With a heritage leading back to the 1920s when Bristolian Alfred Tarr founded the company, the Tarr family has gone on to win an impressive nineteen prestigious awards, most recently scooping the ICA Silver Cup Challenge for the best vanilla ice cream in 2019.
Despite being primarily a manufacturer and supplier for the South West, Tarr's has a small store in the Brislington area where customers can go in and grab a cone of award-winning goodness to go.
Despite being primarily a manufacturer and supplier for the South West, Tarr's has a small store in the Brislington area where customers can go in and grab a cone of award-winning goodness to go.
There are more than 17 ice creams on offer as well as some other frozen treats on offer. For those who really want to push the boat out, there's a selection of ice cream cakes and logs that serve at least eight people. These are great for celebrations and are a great alternative to the classic cone. 
For those who really appreciate good ice cream, this is well worth a trip.
Take one look at the soft peaks of the trays of creamy gelato beneath Swoon's glass display and you'll feel you've been whisked off to ice cream heaven. As ice cream's richer, more luxurious cousin, gelato reigns supreme and Swoons produces some of the finest in Bristol.
Lying in the shadow of both the beautiful Bristol Cathedral and the sweeping Council Building, Swoons sits on College Green with indoor seating if the great British summer is not playing ball.
The gelato at Swoons is made fresh every day using the finest ingredients from local suppliers. The prices are cheap and the portions generous, with some vegan options available.
One of the more tempting gelatos on offer is the Amarena Cherry Cheesecake that looks more like a work of art than an ice cream ready to be demolished. With poached Amarena cherries incorporated into a cheesecake base with a rich gelato bringing it together, this takes going out for ice cream to a new level. Another honourable mention is the award-winning Pistacchio gelato. While not everyone's favourite, this nutty treat is good enough to win anyone round.
And of course, in keeping with everything Italian, Swoons serves fabulously rich and dark coffee to ward off the brain freeze. As with the desserts, this can be enjoyed both dining in or taken away to go.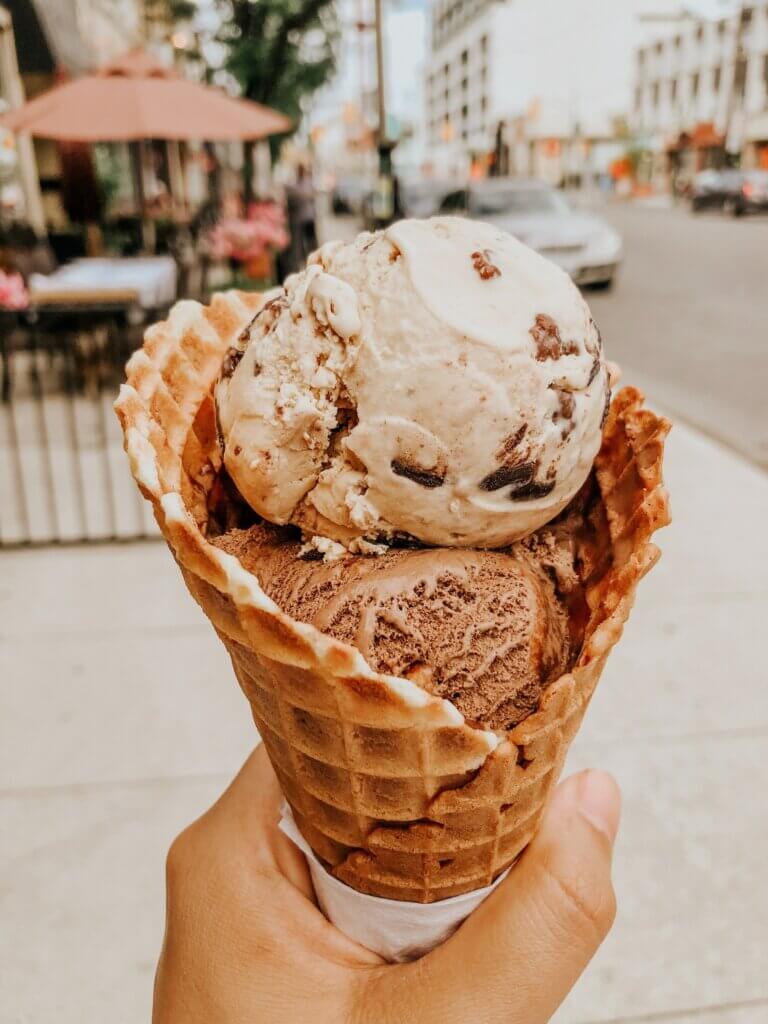 Fueled by a passion for both ice cream and vintage camper vans, Vee Double Moo is one of Bristol's hidden gems.
Not your typical ice cream man with a van, Vee Double Moo is typically found in the Brandon Hill park during the summer months but has been known to pitch on College Green. For ice cream this good, you go to it, not the other way round. Often busy serving her delicious ice cream at weddings, birthdays, and celebrations, it's best to follow Vee Double Moo on social media to know exactly where the van will be next.
The soft scoop ice cream on offer here is award-winning, and the accompanying toppings are sourced carefully as far afield as Canada. Some of the most delectable treats on offer include Caramel Apple Crumble pots, and a Chocolate Dipped Ice Cream with Smoke Sea Salt. Think a Magnum on steroids.
With ice cream sandwiches, sundaes and the full ice cream parlour treatment available on the go, Vee Double Moo is perhaps the ultimate ice cream van.
One for the grown-ups, Brozen Bar, is the ideal destination for those who like their ice cream boozy and extra cold. Nestled in on St Nicholas Street, a short walk from the Welsh Back, Brozen is one of the best-kept secrets in Bristol. With limited seating, it's no wonder Bristolians want to keep this one to themselves.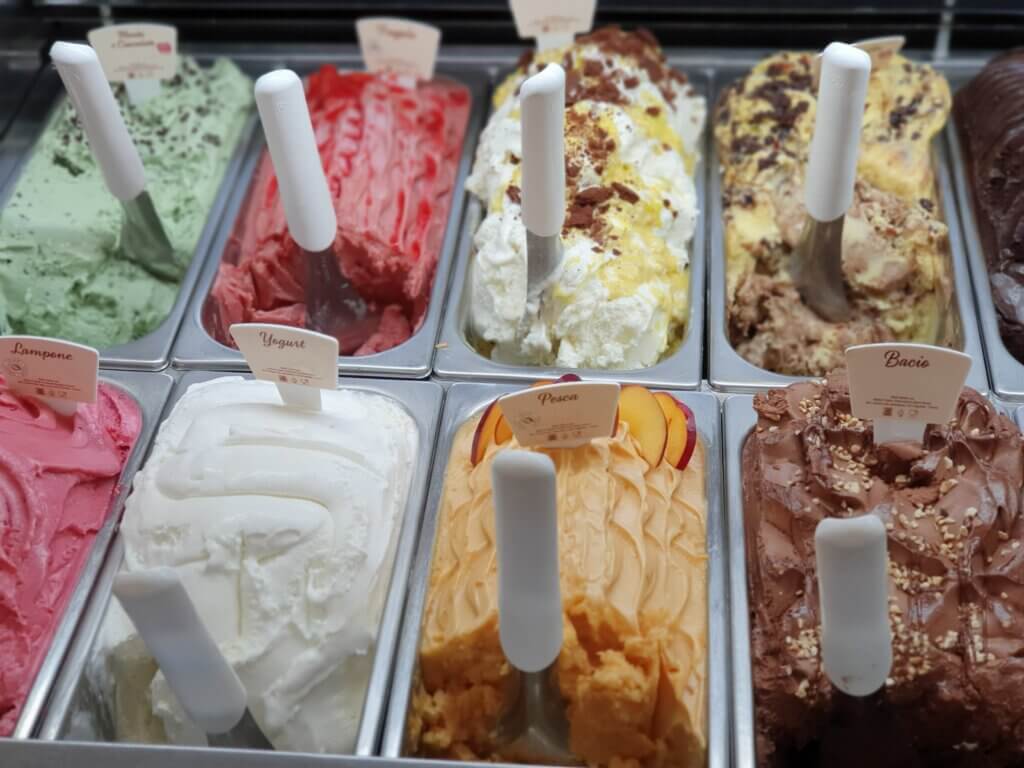 Using some rather fancy techniques, Brozen creates gelato and super chilled cocktails from liquid nitrogen using some rather fancy techniques, adding a little theatrical flair to the proceedings. Able to flash-freeze fresh ingredients instantly means the flavours introduced into the drinks and ice cream are some of the best you'll find anywhere in Bristol. Of particular note is the popular Lemon and Fig Leaf gelato that is both punchy and sweet.
As well as other gelatos like the boozy, vodka-based, Nippy Russian, or the bourbon Breakfast of Champions, you'd be remiss to deny yourself to a classic such as the Hot Buttered Rum, or everyone's favourite, the Margarita.
Being an intimate café-bar, Brozen recommends booking ahead to avoid disappointment. If going as a group, it's worth considering Brozen's tasting experiences that are tailor-made nights where your taste buds (and your waistline) are taken on a journey.
Sun, rain, or even snow, Bristol has got your ice cream needs covered. No need for an excuse. Now's always a good time for ice cream.