The Best Burger in Bristol
Burgers are one of the most timeless dishes. They are easy to make using locally sourced and sustainable ingredients, and they can be dressed up or down with different ingredients. Bristol is home to countless delicious burgers, whether you're looking for a classic burger or that pushes the limits. To make the process of finding your perfect burger a little bit easier, we've compiled a list of our ten favourite burgers spots in Bristol. 
The Burger Joint, which calls themselves Bristol's original gourmet burger restaurant, first opened their doors in 2009 and have been making delicious one-of-a-kind burgers ever since. The restaurant was started by Dan Bekhradnia, who wanted to create a space, unlike anything that had previously existed in Bristol. His build-a-burger idea has proven incredibly popular, and the restaurant was able to expand to a second location. Both the Clifton and Bedminster/Southville locations offer the same extensive menu and have the same dedication to excellence when it comes to burgers as well as customer service.
The Burger Joint is sure to be a hit with everyone from the pickiest to the most adventurous eaters, with 14 different burger choices, 30 toppings, and more than 20 sauces. In addition to their classic burgers, the restaurant has a number of vegan and vegetarian options on their menu, as well as famous milkshakes and hard shakes like their Chocolate, Peanut Butter & Bourbon and Strawberry, Amaretto & Whipped Cream.
What to try: The Burger Joint has a number of suggested combinations on their menu, but with so many possibilities, we suggest getting creative and making the burger of your dreams.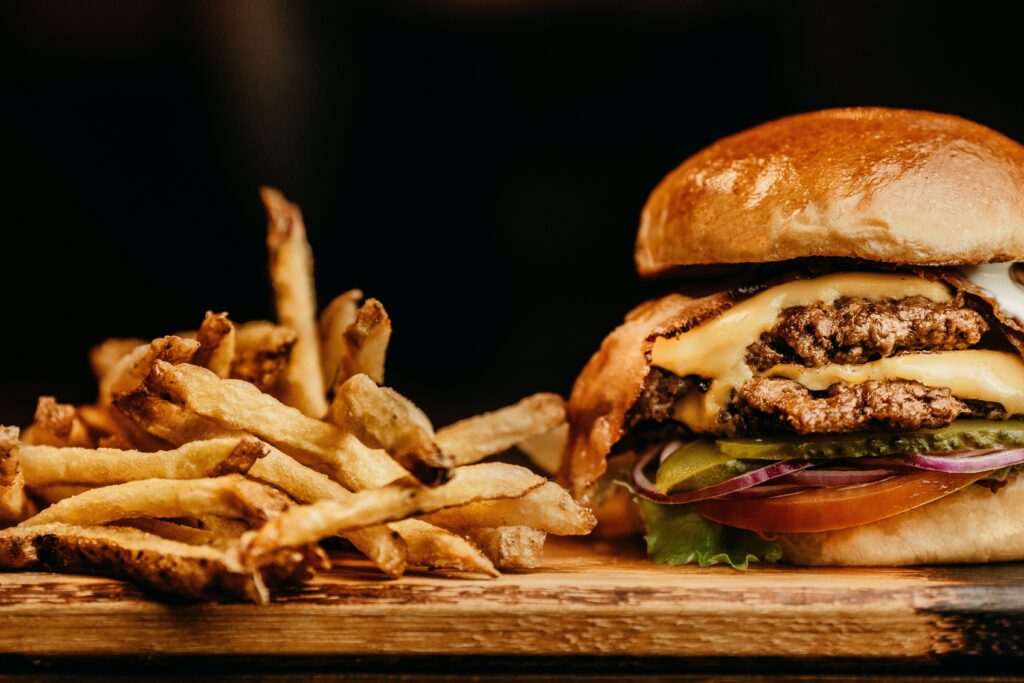 Right on Whiteladies Road across the street from Clifton Down, Hub Box is known for its delicious burgers made using the highest quality local ingredients. The first Hub Box opened on the coast in Saint Ives, and their increased success has allowed them to expand across southwest England and Wales. Today, they have ten locations, each dedicated to celebrating the local area, creating a unique environment, remaining true to Hub Box's Cornish roots, and offering customers some of the best burgers around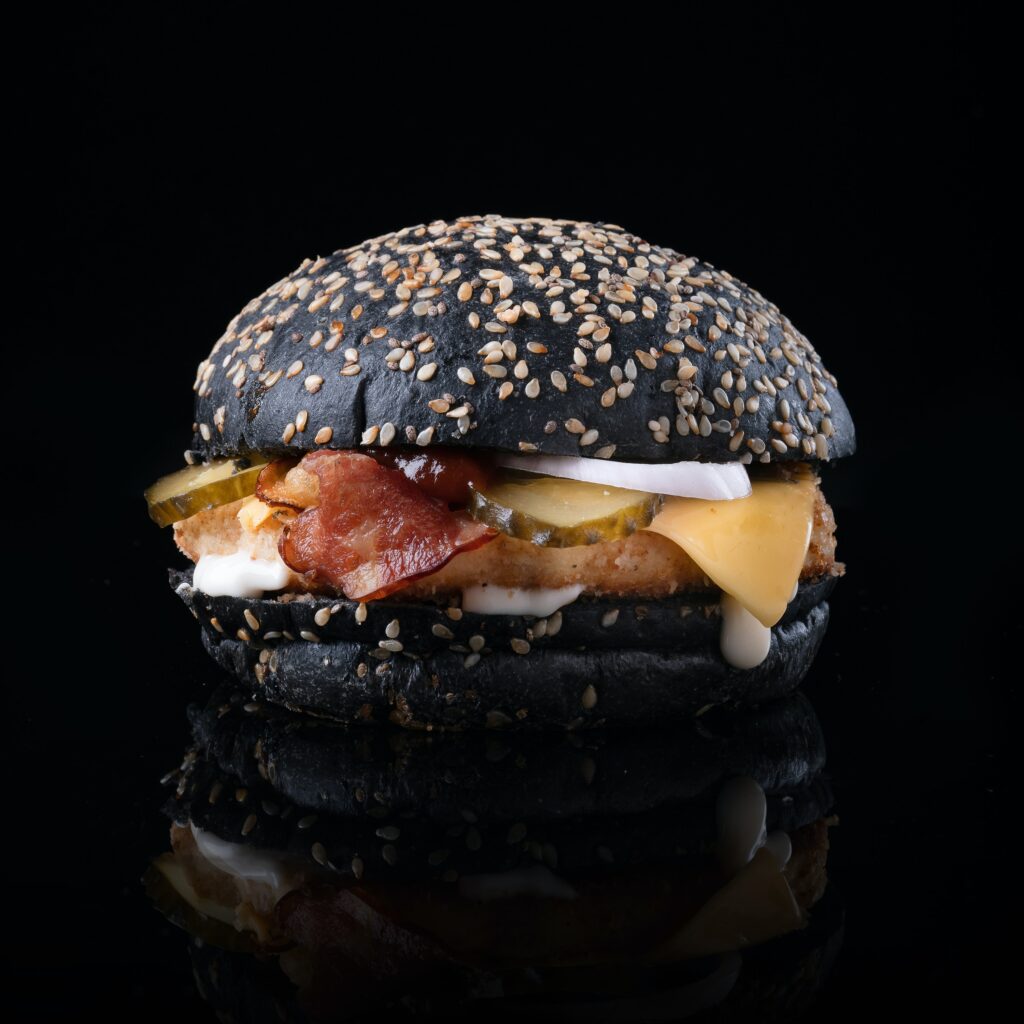 All the meat for Hub Box's burgers is farmed right on the Cornwall Devon border, and all their other ingredients come from local suppliers as well.  This allows Hub Box to support local businesses and ensure the meat they're serving is always the freshest. 
What to try: The next time you visit Hub Box, make sure to check out their signature burger, the Big Kahuna, which has won countless awards and was the National Burger Awards winner in 2018. The burger features a double 4oz patty, BBQ pulled pork, smoky BBQ sauce, Swiss cheese, mayo, lettuce, and an onion ring and is sure to be a hit.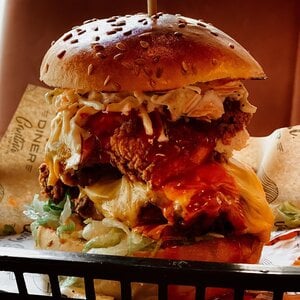 Bishopton based Atomic Burger was founded in the belief that "great burgers ain't rocket science". Since first opening, they've been committed to serving up simple burgers that use only the highest quality local ingredients. Every dish served at Atomic Burger has the same primary goal, to take customers back to a time where the simple things in life made them smile. In addition to beef burgers, they offer a variety of chicken and vegan burgers as well as hot dogs, nachos and loaded fries.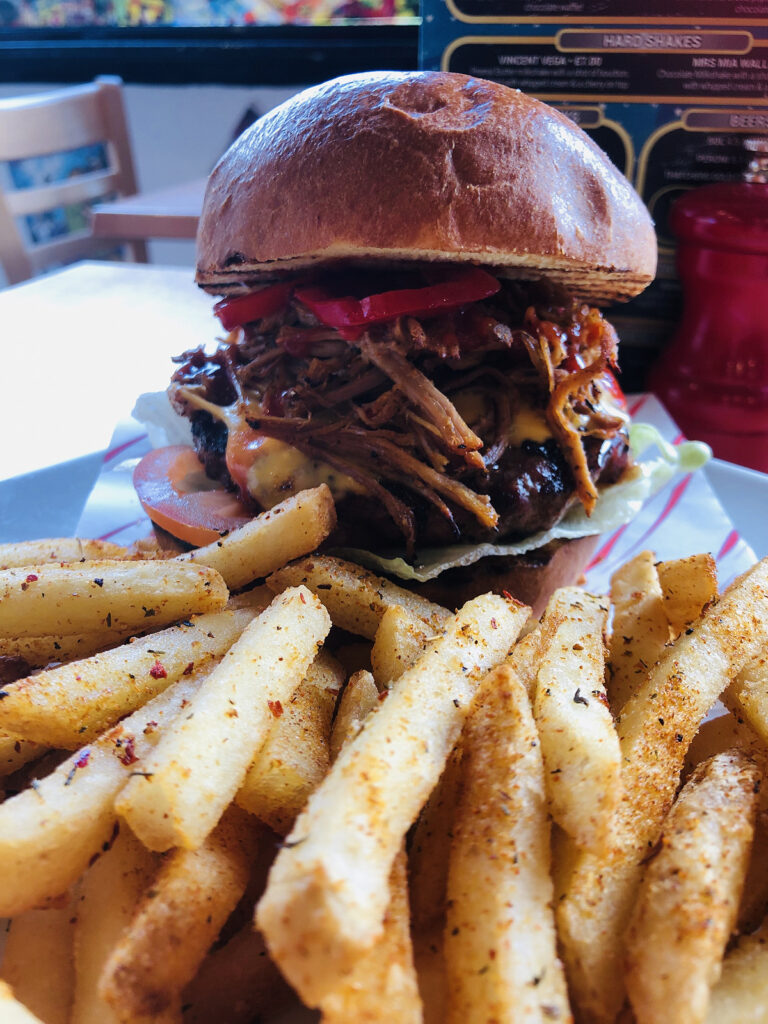 Almost every item on the Atomic Burger menu can be made vegan, and they also have a number of gluten-free options available. Even with the emphasis of their menu being on simple items, Atomic Burger consistently ranks among customers favourite burger joints in Bristol. 
What to try: You can't go wrong with any of Atomic Burger's choices, but we'd suggest the Johnny B Bad or the Dead Elvis. The Johnny B Bad is a beef patty topped with USA cheese, BBQ onions, hash browns, cajun bacon, and buffalo sauce, and the Dead Elvis is a beef patty topped with USA cheese, Swiss cheese, fried onions, and bacon.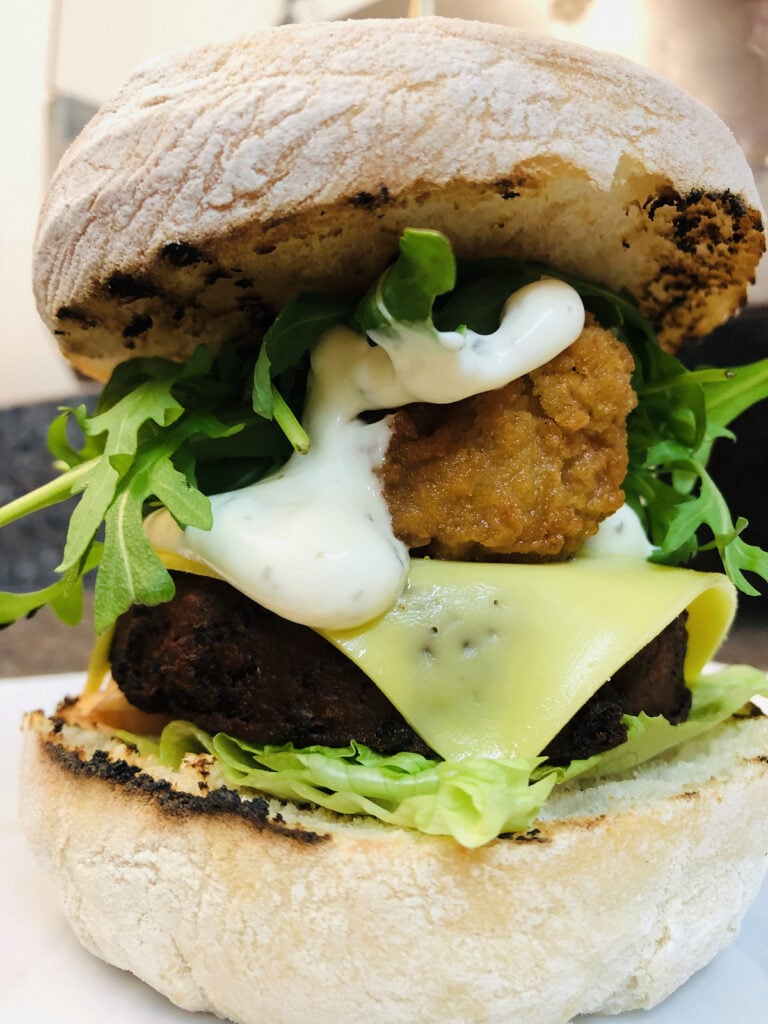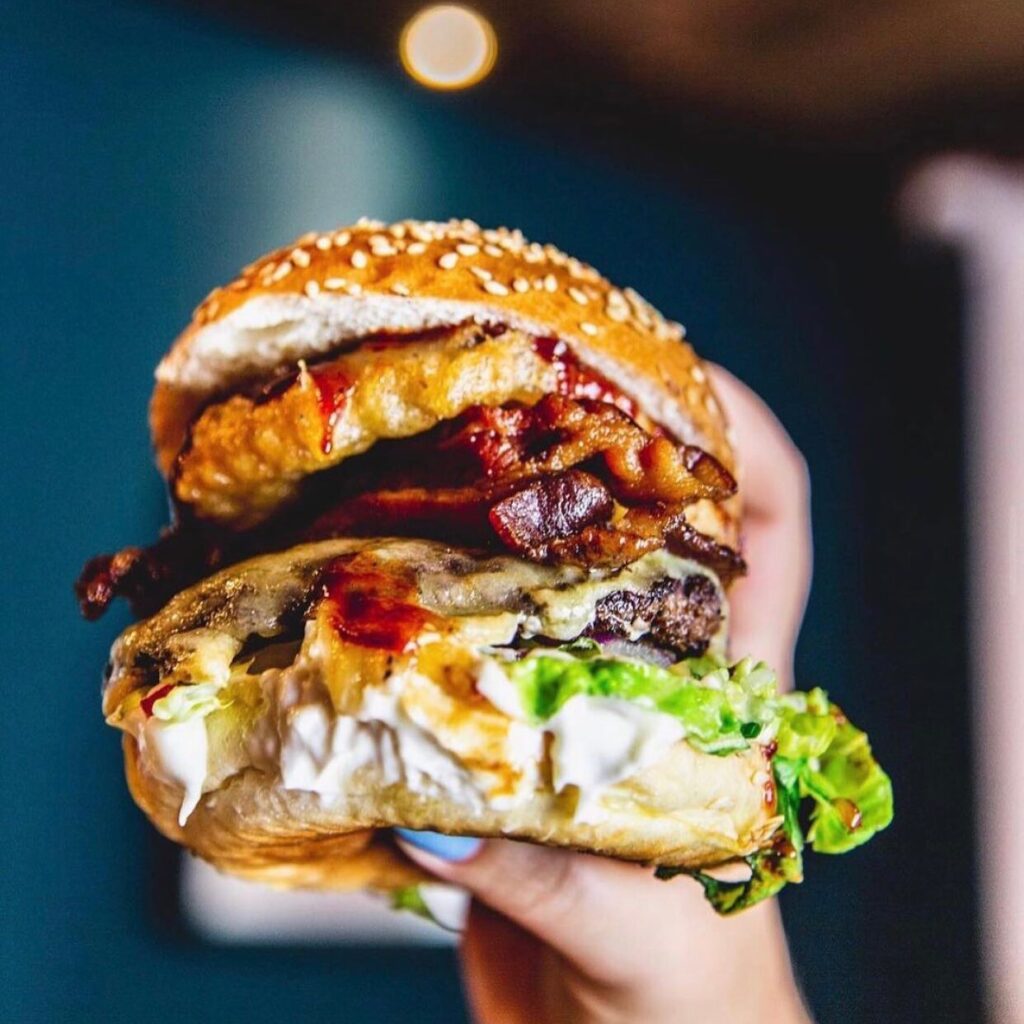 Burger Theory was first started in 2012 by Chef Rory Perriment, who loved experimenting with new ways to push the boundaries of what can go into burgers and how to make the freshest and best burgers in Bristol. He started serving his unique burger creations at food fairs and festivals around the UK. As Burger Theory gained popularity, they began having pop-ups at venues around Bristol, including the Golden Lion and the Old Bookshop, before finally opening their shop on St Stephens Street in 2017. Today they're serving up delicious burgers at their own shop as well as Lane7 in Bristol. All of Burger Theory's produce and meat is locally sourced and sustainable, and everything from the burgers to the sauces and pickles is made in house.
What to try: Burger Theory is home to the Bottomless Burger Club, which runs once a month at their St Stephens Street location from 12-5 pm. Customers get two hours to eat as many burgers as they can as well as enjoy unlimited glasses of beer and sides like skin-on fries, halloumi fries, BBQ chicken wings and hot wings. The Bottomless Burger Club is the perfect way to get to try a variety of Burger Theory's delicious burgers, including their Rory's Best Ever Veggie Cheese Burger and Hey Tempeh burger.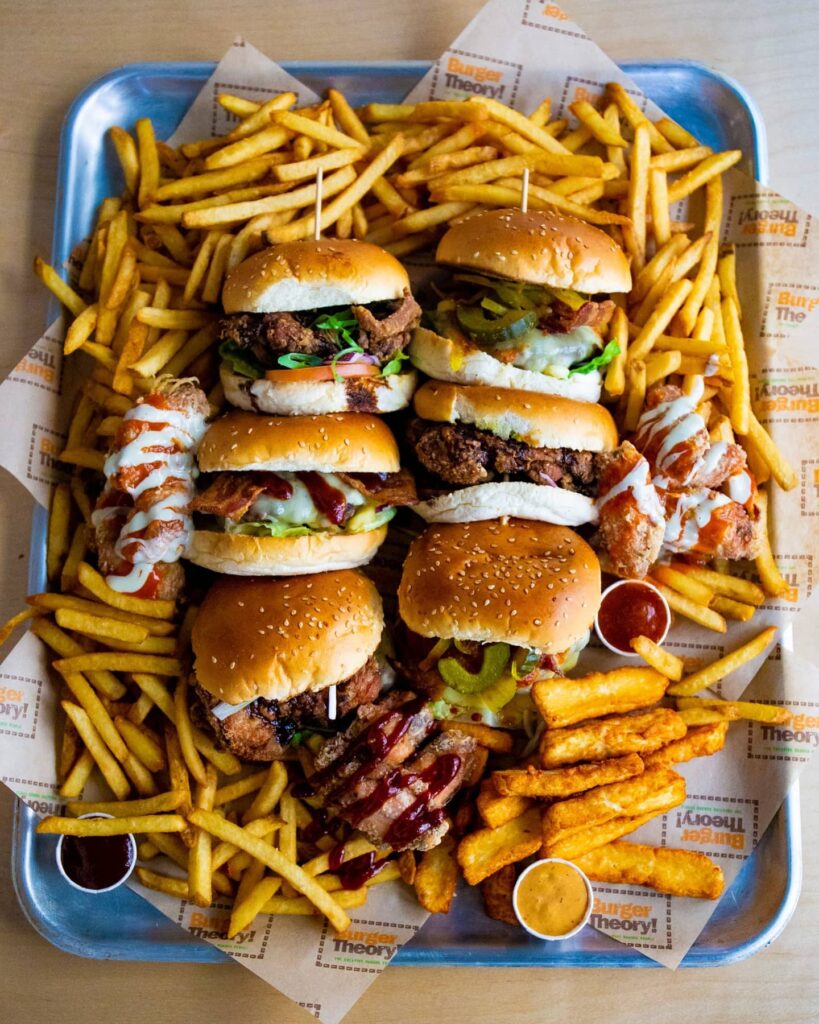 Asado Burgers on Colston Street, not far from the Christmas Steps, takes a unique approach to burgers combining South American, Southern American and British flavours to create one-of-a-kind burgers. The restaurant gets its name from the wood-fired Asado grills the burgers are cooked on.
This grill gives the locally sourced dry-aged meat a unique taste and makes them perfect every time. Every month they have a different special burger available in addition to their regularly available beef, chicken, and veggie burgers. 
What to try: You can't visit Asado without trying the namesake Asado Burger, which is a beef patty topped with cheddar cheese, chimichurri, confit garlic mayo, ketchup, pickled red onions, and lettuce. Another customer favourite that definitely brings the heat is the El Dorado Burger which features a beef patty topped with cheddar cheese, spicy chorizo and habanero stew, ketchup and lettuce.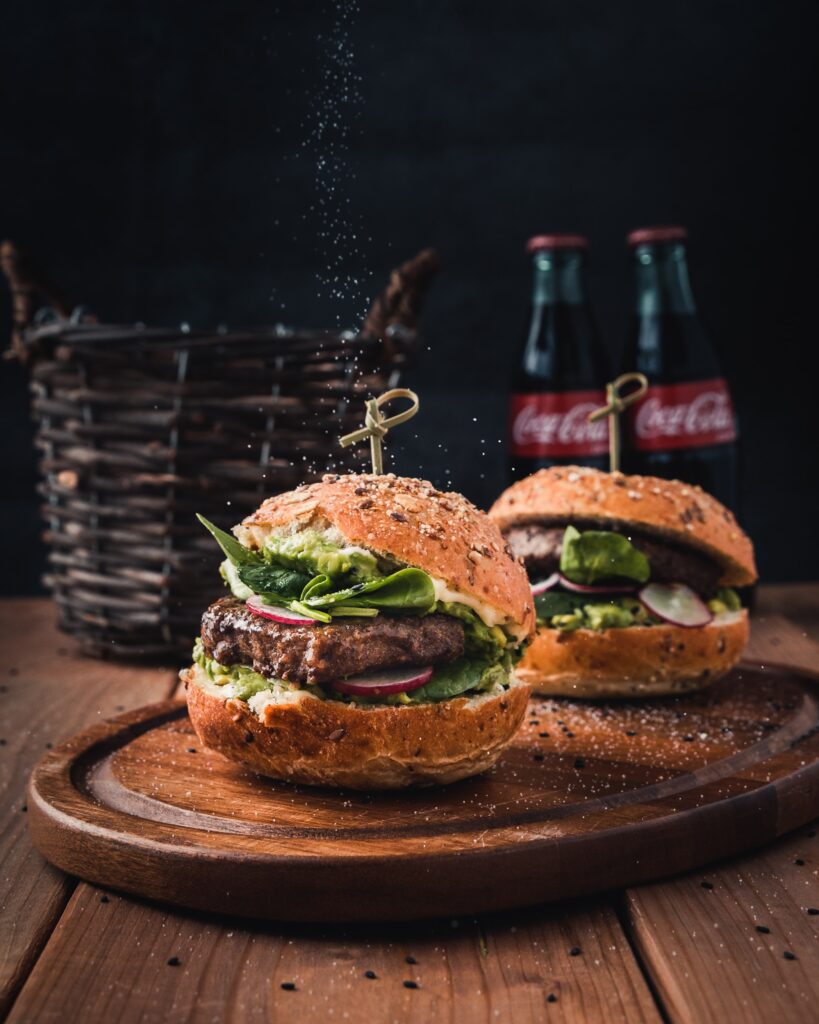 Another fantastic Gloucester Road burger joint, the Hobgoblin pub, has been serving warm welcomes and high-quality comfort food since 2012. They use locally sourced ingredients to fuse classic British and American flavours together and create delicious dishes. Take one look at the Hobgoblin's extensive burger menu, and you'll quickly notice how unique their creations are and how many different countries are represented in those creations.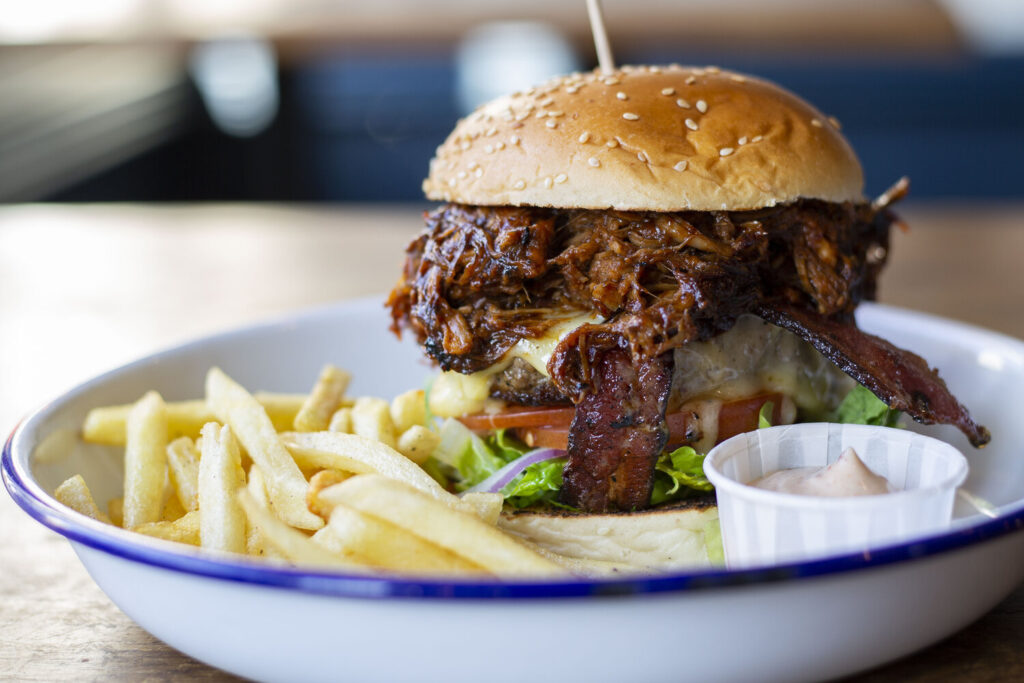 Whether you're in the mood for a classic burger or something a bit more upscale, you'll find it at the Hobgoblin. They also have vegan and vegetarian options like a Thai spiced veggie burger and halloumi burger, as well as a variety of options if you aren't in the mood for a burger like dirty fries, nachos, and a pulled pork sandwich. 
What to try: If you visit the Hobgoblin, make sure to try one of their more unique burgers like the Wrong or the Mephistopheles. The Wrong is a beef patty topped with crispy bacon and crunchy peanut butter, whereas the Mephistopheles is a patty topped with fresh chillies, spicy onions, hot sauce and Cheddar cheese. No matter what you go for, you can't go wrong with any burger from the Hobgoblin pub.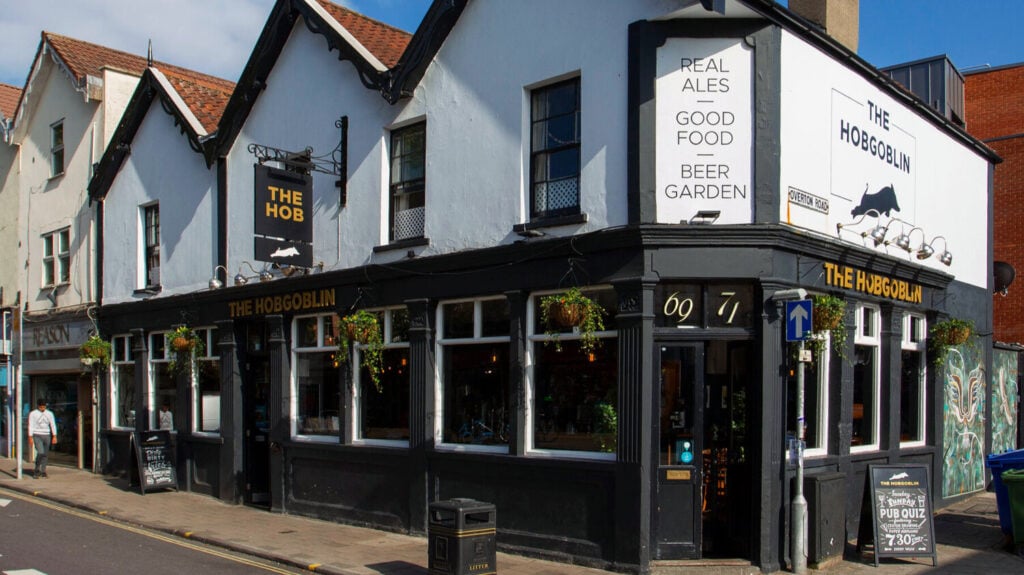 A floating restaurant at Welsh Back, Three Brothers Burgers, opened in 2014 where Spyglass was previously located. Over the last seven years, the restaurant has become one of Bristol burger spots and the perfect location for a delicious meal on the water. Every burger is made using 28-day aged Herefordshire beef and is then served in a soft glazed locally sourced brioche bun with their special Three Brothers house dressing, which takes even the simplest burger to the next level. In addition to beef burgers, Three Brothers has buttermilk fried chicken burgers and wings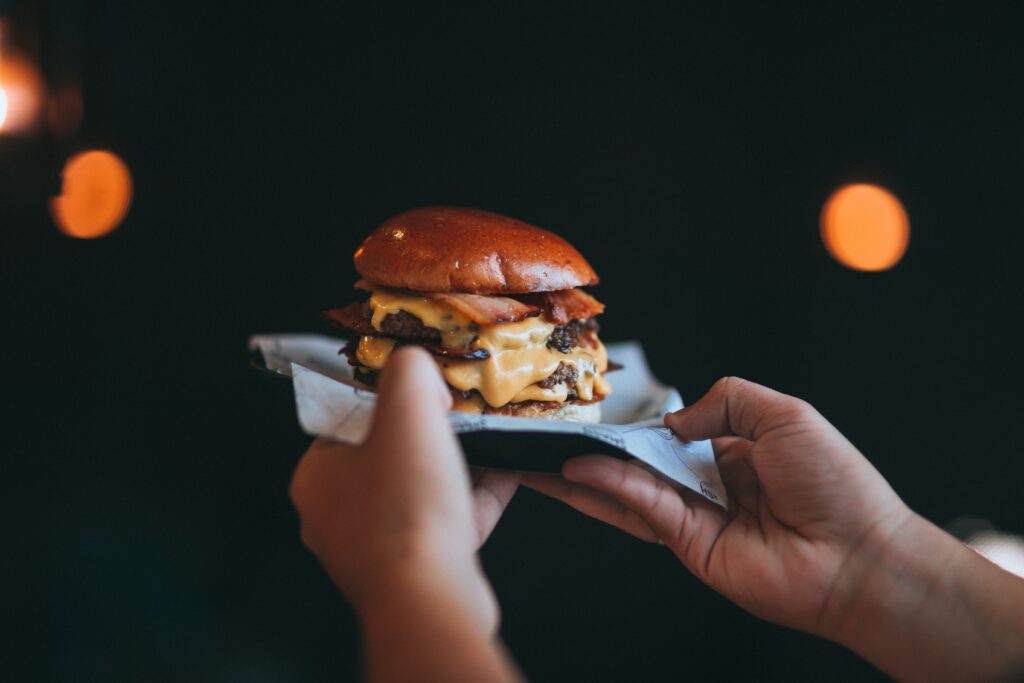 Everything on the menu can be made vegetarian with either a gluten-free and vegan plant-based patty or a vegetarian buttermilk fried "chicken". If you visit Three Brothers between 12 and 5 pm, they have a meal deal which includes their classic burger, either with beef or the plant-based patty, and fries or a drink for only £5.25.
What to try: The Smokery Bro Burger is a patty topped with smoked applewood cheddar, sweet-cured bacon, BBQ relish and crispy onions. If you're super hungry or in the mood for a challenge, try their mega or triple burger. This is the classic Three Brothers burger, with American cheese and sweet-cured American bacon but just doubled or tripled.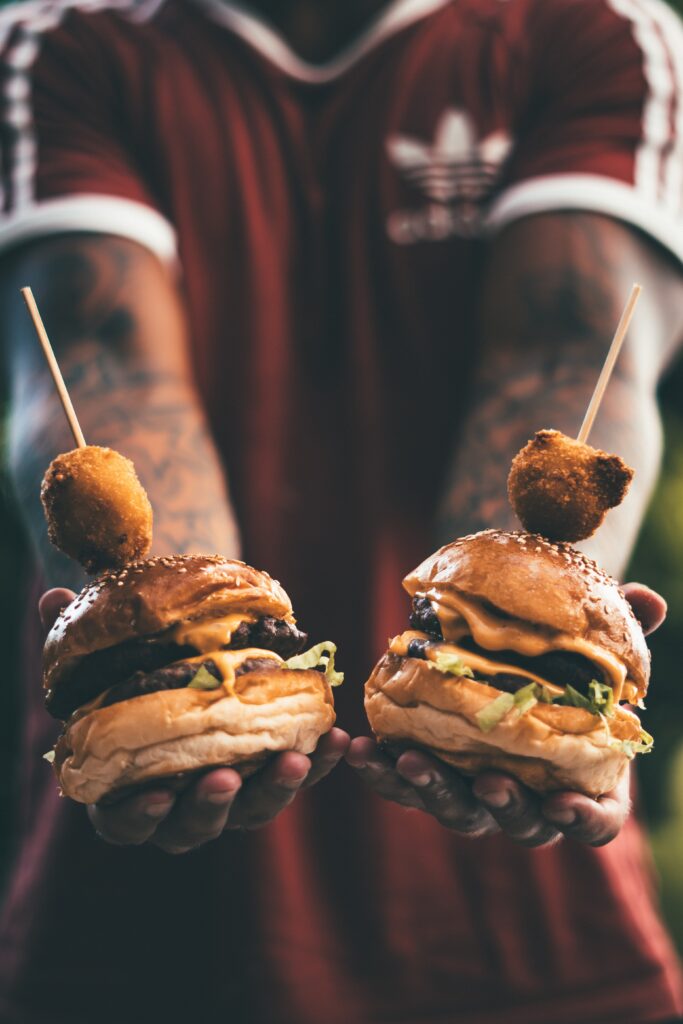 It wouldn't be a proper best burgers list if we didn't include at least one American style diner, and Oowee Diner on North Street is the perfect spot for delicious burgers, dirty fries, and milkshakes.
The North Street location is home to some of the most unique burgers in Bristol, like their peanut butter bacon jelly burger, as well as plenty of classic dishes. Oowee is known for its vegan and vegetarian options, and this location offers a wide variety of options, including a lentil and rice burger, so everyone can find something they'll enjoy. Their other two Bristol locations, one on Baldwin Street and the other on Picton Street, are both entirely meat-free
They offer Beyond Meat and Chick'n burgers, dirty fries, and milkshakes. 
What to try: If you're feeling adventurous, give Oowee's Peanut Butter Bacon Jelly Burger a try. The burger features a double steak patty topped with melted peanut butter, American cheese, house-made bacon jelly, crispy bacon, and lettuce. The burger is also available as a single patty if the double is too much. 
A Bristol institution, Ciao Burger in Bishopton, has been making some of the best burgers in the city for more than 30 years. Right on Gloucester Road, this is the perfect place for a late-night bite to eat. They're open until 11 pm Sunday to Thursday and until midnight on Friday and Saturday, and their burgers are incredibly affordable, starting at only £4.20 for a quarter-pound burger.
Their menu includes plenty of classics like a traditional cheeseburger as well as creations using their famous garlic mayo, burger sauce, and tomato relish. Ciao Burger also has loads of options to upgrade your burger by doubling the size of the patty or adding fries or a shake to make it a meal. If you're not in the mood for a beef burger, they have chicken burgers and veggie burgers as well as loaded fries. Ciao Burger also serves breakfast on the weekends with a variety of bappers available from 9 am until noon. 
What to try: Ciao Burger is known for its garlic mayo, so we'd suggest the garlic mayo burger, which is a beef patty topped with garlic mayo, lettuce, and red onion. If you're feeling a bit more adventurous, try the Bootylish or the New Yorker burgers.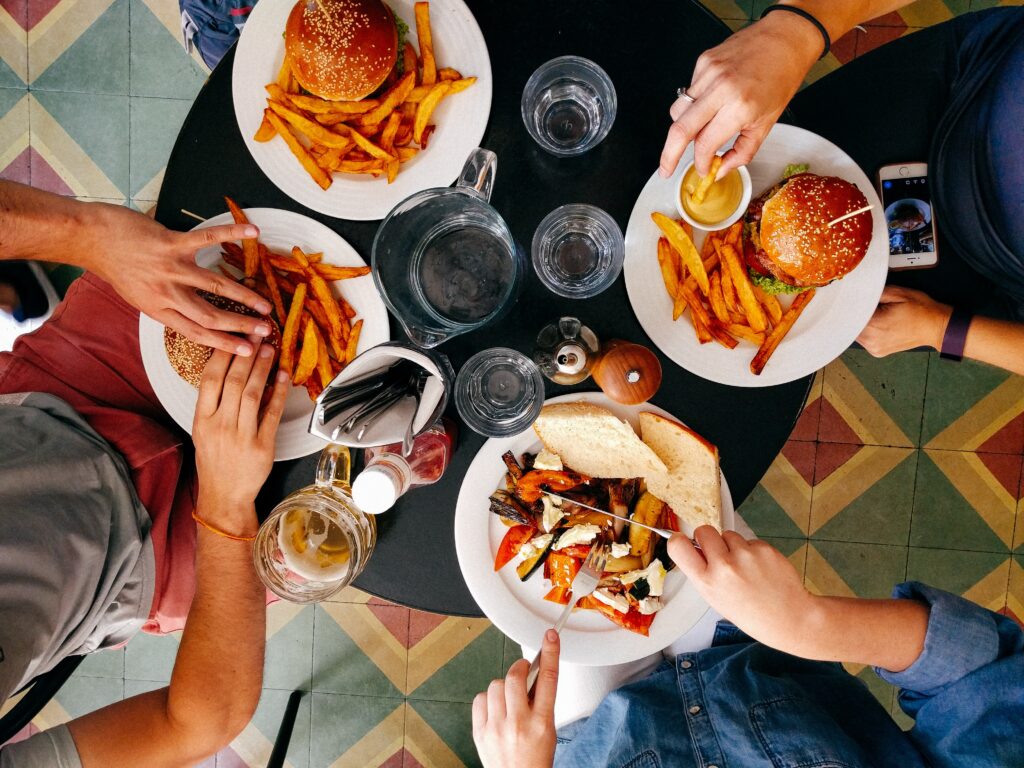 A chain with a number of locations around England and Wales, the Bristol Honest Burgers is worth a mention for its consistently delicious burgers and central location. Every Honest Burgers location is committed to working with local and independent suppliers to bring the freshest produce and meat to the neighbourhood it serves
In addition to their famous beef burgers, the menu features chicken, vegetarian and vegan burgers which are all also worth a try. To turn your burger into a meal, pair it with one of their mouth-watering sides like rosemary salted chips or buffalo wings and a drink. 
What to try: Honest Burgers' Chilli Burger, which is made up of a beef patty topped with bacon, chilli cheese, Honest's very own hot sauce, fries, red onion, lettuce, and pickled red jalapenos, is a great option the next time you visit their Bristol location.