Dating back to the 1840s, afternoon tea first grew in popularity after wealthy families began sitting down to dinner in the evenings – until then, it had always been eaten at what we now consider lunchtime. At first, it was just a way to satisfy their appetites between two main meals, but it quickly became a social arrangement, with 'the lady of the manor' inviting guests round for the occasion, sometimes holding entire parties based around taking afternoon tea. The wives and adult daughters of other wealthy local families would visit the house to mingle with other women, making afternoon tea an important social event. It almost became rather competitive, with all the local wealthy women attempting to host the finest afternoon tea parties!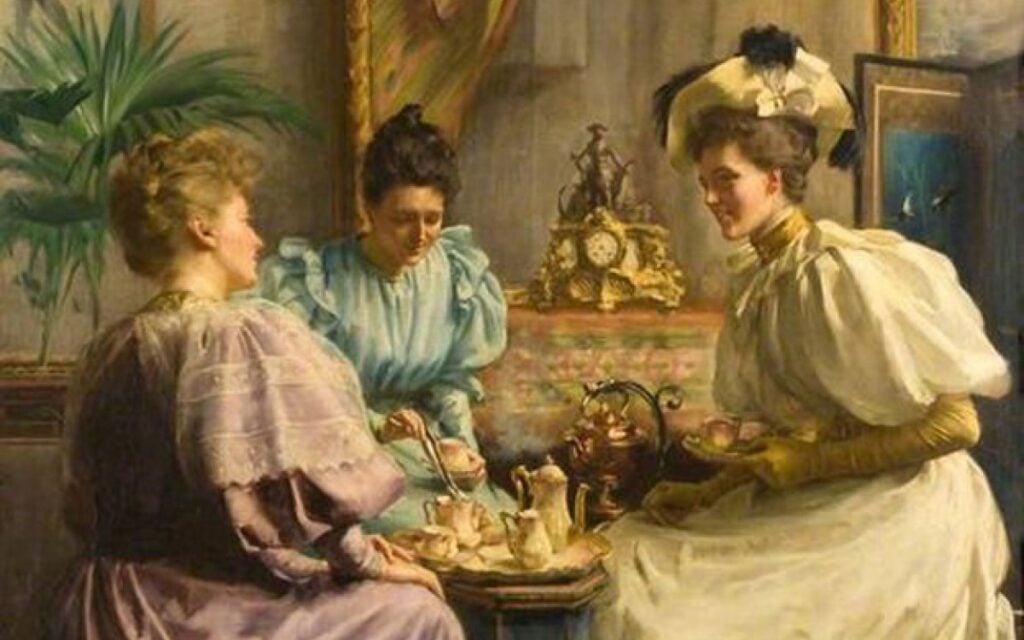 Afternoon tea is very much a quintessentially British affair. The classic afternoon tea consisted of miniature sandwiches, miniature cakes, a scone with jam and cream and, of course, lots of tea! This has gone largely unchanged in the last 180 years, even growing in popularity overseas. Now, there are hotels and venues all over the world serving a traditional British afternoon tea, including at the world's tallest building, Burj Khalifa in Dubai.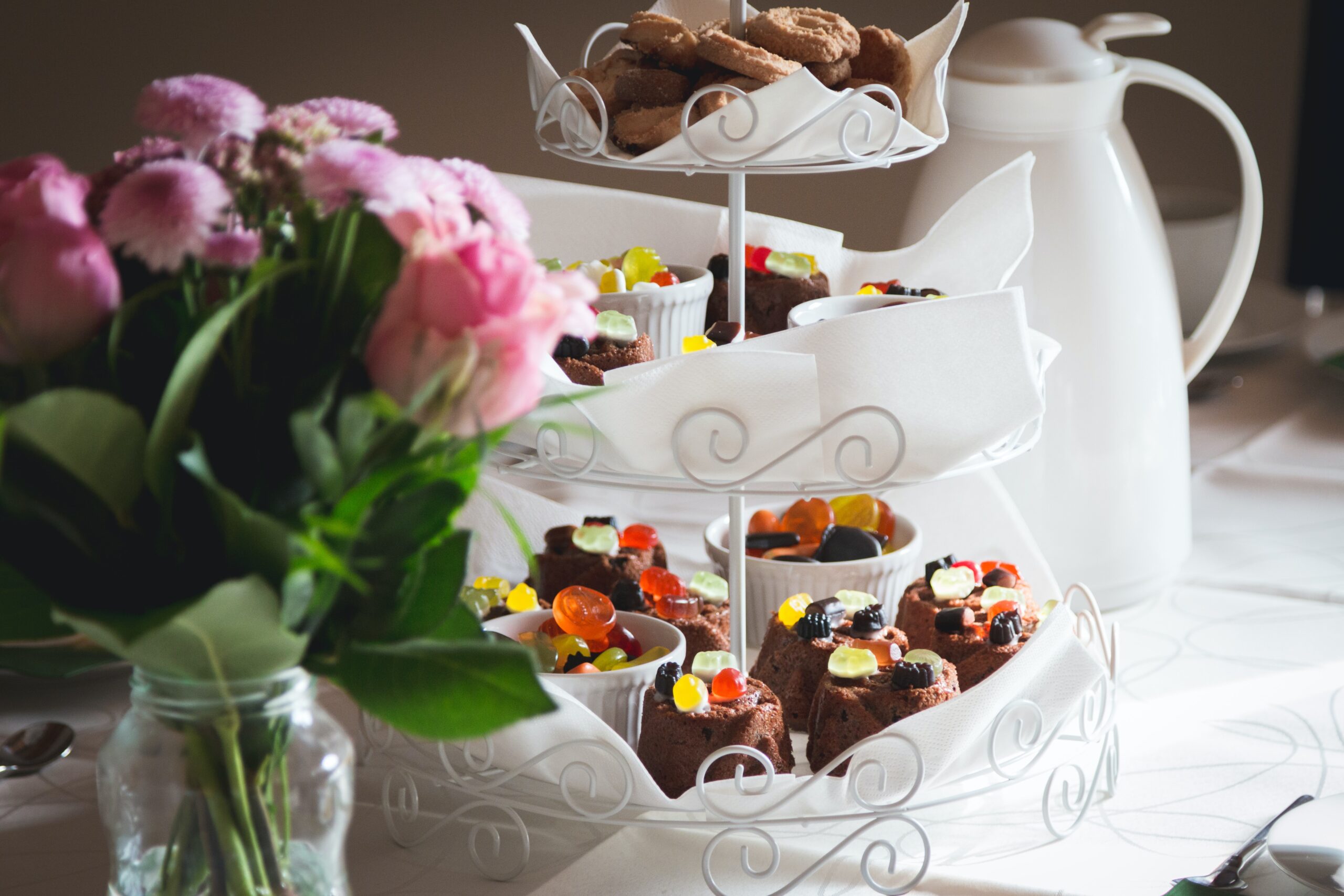 However, nobody does afternoon tea quite like the UK! These days, afternoon tea isn't exactly a daily occurrence, but it's still very popular. Whether it's for a catch up with friends, a birthday celebration or just because you want to treat yourself or someone you love, there are few things more pleasant than a lovely afternoon tea!
Thankfully, Bristol has a variety of excellent afternoon tea spots that are most certainly worth a visit, whatever the occasion. Here are just a few of the very best!
The Ivy Clifton Brasserie
This beautiful restaurant is about as sophisticated as it gets! With its vintage interior, grand floral arrangements and classic brasserie menu, you'll feel like you've stepped right back into the 1920s – and they've got a lovely afternoon tea to match.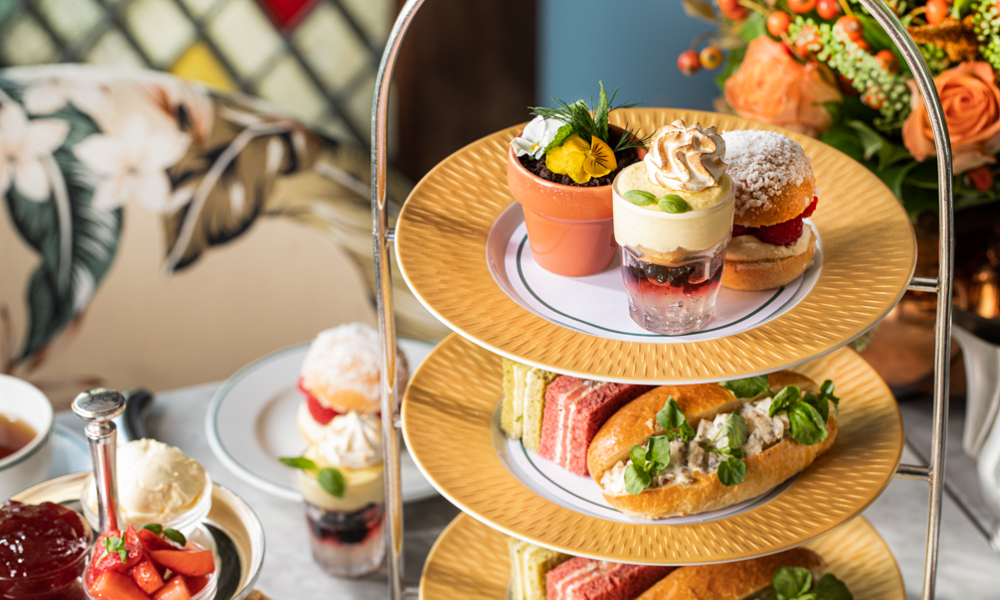 The afternoon tea offerings at The Ivy Clifton Brasseries are some of the most elegant around, with the sandwiches including truffled chicken brioche rolls and smoked salmon with cream cheese and chives on beetroot bread – these definitely aren't the sandwiches you're used to putting into your packed lunch, but after you've sampled them here, we're sure you'll wish you could! As for the sweets, how does a blackberry and champagne trifle sound? Or perhaps a raspberry tarte tropezienne? Of course, no afternoon tea would be complete without scones, jam and cream and these are included, too.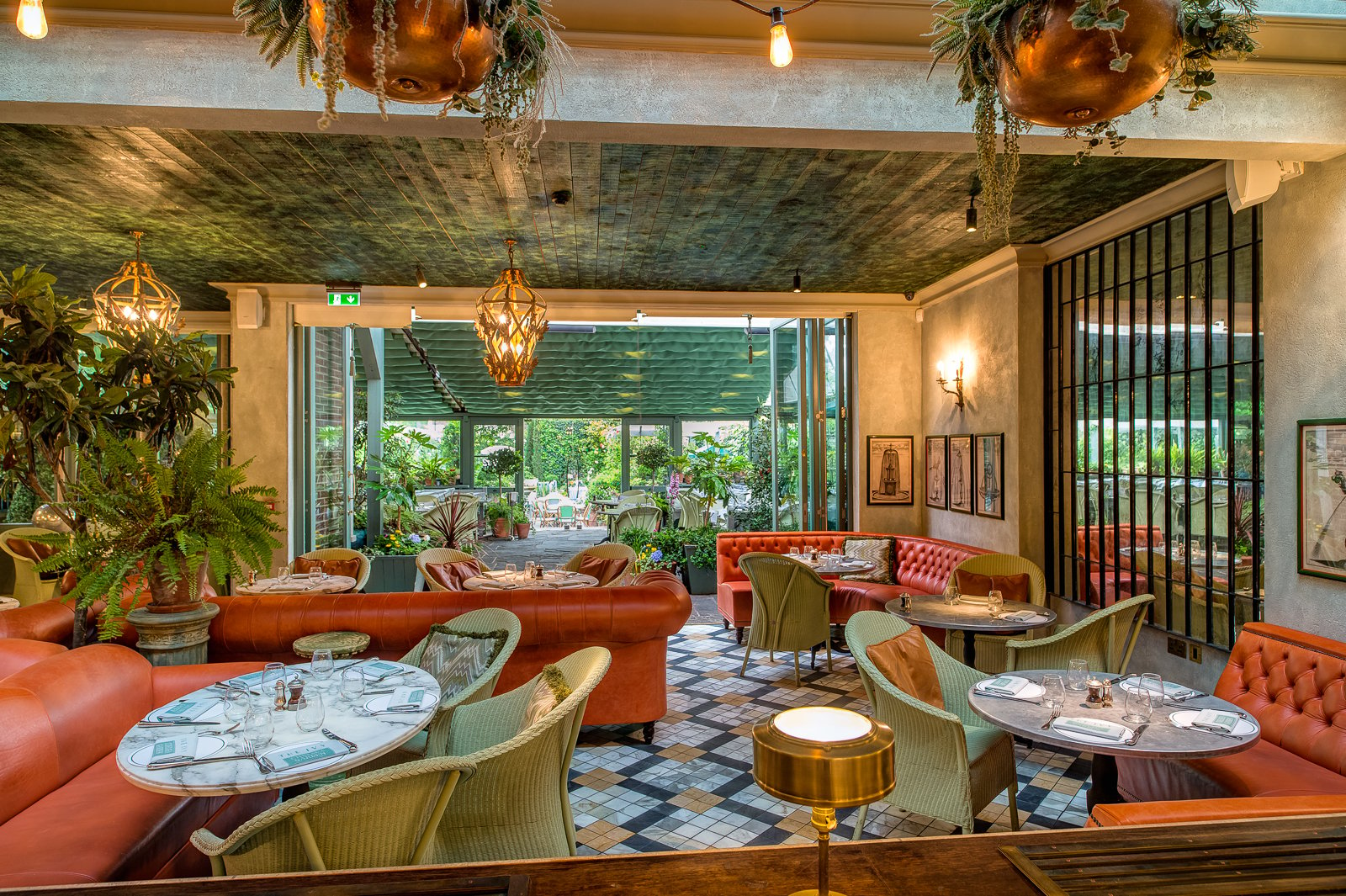 The Ivy Clifton Brasserie certainly feels like one of the most grandiose spots to enjoy an afternoon tea in the Bristol area, making it absolutely perfect for those looking to treat someone for their birthday, mothers day or another special occasion. If you're feeling extra celebratory, you can even enjoy a glass of champagne with your tea!
Afternoon tea at The Ivy Clifton Brasserie is £19.85 per person, with champagne afternoon tea priced at £28.50 per person.
Located in the heart of Clifton Village, No. 4 is not only an award winning bar, restaurant, hotel and licenced wedding venue, but also offers up one of the finest afternoon teas in the area.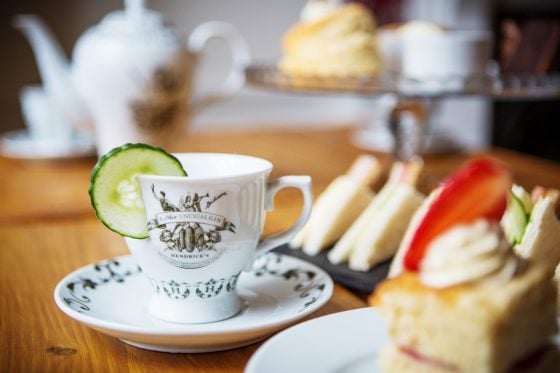 This beautiful Georgian manor house is the perfect place to take someone you love for an afternoon, full of interesting décor and with a warming and friendly atmosphere. Their afternoon tea is described by the venue as being 'quintessentially British' and can be served in their elegant restaurant or, on a warm summer day, in their secluded walled garden.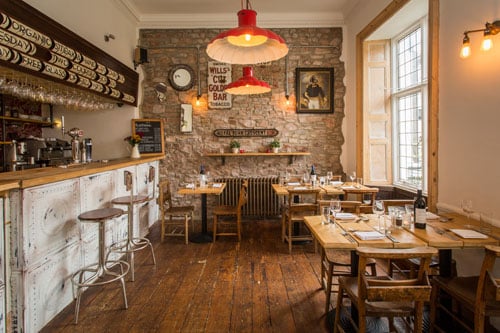 Their afternoon tea menu consists of tea or freshly brewed coffee, an assortment of various miniature sandwiches, a vegan carrot cake, lemon drizzle cake and chocolate brownies – oh, and don't forget the freshly baked scones, cream and jam! Guests also have the option to further upgrade their package, either to the Hendricks package to add a Hendricks gin and tonic to the classic menu, or to their Prosecco package, which includes a glass of Da Luca Prosecco for everyone at the table.
If you'd like to, you can even opt to hire their authentic vintage crockery to make the occasion extra special – you'll feel every bit the lady of the manor.
Afternoon tea at No. 4 Clifton Village is £15 per person, with the Hendricks and prosecco afternoon tea both priced at £20 per person.
Afternoon tea alone is lovely enough, but how about afternoon tea overlooking the harbour at The Bristol? This beautiful restaurant offers a lovely view, as well as an excellent afternoon tea menu.
Afternoon tea at The Bristol includes a selection of sandwiches, delicious cakes, scones with jam and cream and can be upgraded to include a glass of champagne or a cocktail from the restaurant's list of classic and signature cocktails!
This bar and restaurant is right in the heart of the city, too, so if you are simply visiting Bristol for the day, you're in prime position to enjoy the area's many shops and sights – why not extend your enjoyment of The Bristol by staying overnight to see even more of the beautiful harbourside views?
Vintage afternoon tea at The Bristol is £19.00 per person, with the option to add a glass of champagne for an additional £6.00 per person or a cocktail for an additional £8.50 per person.
The perfect spot for larger groups or for those looking for something a little different, this vintage boutique and tea rooms don't just offer a lovely classic afternoon tea, but also a range of different activities for their guests to enjoy – all while enjoying private use of the boutique itself.
Those who would simply like to enjoy an afternoon tea in this unique setting can bring along five of their friends for a couple of hours of sampling bottomless tea and coffee, along with a selection of four sandwiches (all on homemade bread), two freshly baked cakes or desserts, scones with homemade clotted cream and jam – even a complimentary glass of prosecco on arrival! The perfect refreshments for an afternoon of trying on beautiful vintage clothes and accessories.
As for some of the more unique options, guests can choose from a range of different activities or additional services for their afternoon tea party. These include craft activities, such as making bunting, sashes, flower crowns and fascinators, or offering services such as hair and makeup, a professional photographer and even a live illustrator to provide you and your guests with a hand-drawn illustration of your beautiful afternoon together!
This is a truly unique venue and one which is sure to deliver a memorable experience for you and your friends or family, whichever package you decide to use. It's clear that with Heartfelt Vintage, the clue is in the name – they appear to deliver a heartfelt experience to each and every guest, and a memorable one, too.
Afternoon tea at Heartfelt Vintage starts from £29 per person, while afternoon teas including additional services and activities vary.
The Jetty is one of Bristol's premier seafood restaurants, set inside a former bank and decorated elegantly throughout. The restaurant prides itself on serving the finest seafood and steak dishes to delighted diners in the city, though they also offer a wonderful afternoon tea experience, too.
The afternoon tea in the restaurant consists of freshly made sandwiches, with both vegan and vegetarian options available, as well as plain and fruit scones with clotted cream and jam and a selection of other miniature cakes and desserts, including delicate pastries and tasty macaroons. You can also upgrade your afternoon tea at the jetty to include a glass of Harbour gin and tonic, a glass of prosecco, a glass of champagne or even a concoction from the restaurant's excellent cocktail menu! There's an afternoon tea to suit every occasion at The Jetty – and with the quality of food on offer as a part of their full menu, we know that the afternoon tea is bound to be just as delicious.
This would be a great place to take a loved one for a fine afternoon tea, with a wide selection of different options and items available, whether you're tee-total or might enjoy a cocktail or two from The Jetty's eclectic cocktail list.
Afternoon tea at The Jetty starts from £17.50 per person, with prosecco afternoon tea at £21.50, gin afternoon tea at £22.50, champagne afternoon tea at £25 and afternoon tea with a cocktail at £27.50.
If you're heading out with friends for a day of treating yourselves, then what better than a day of shopping in the city centre, followed by an elegant afternoon tea in the classy restaurant situated within Bristol's Harvey Nichols store?
This certainly isn't your average department store cafe! Afternoon tea at Harvey Nichols consists of a selection of elegant miniature sandwiches (namely egg mayonnaise with chives, smoked salmon with cream cheese and cucumber, mascarpone and poppy seed), followed by banana and pineapple cake, lemon posset, chocolate tart and a delicious pistachio macaroon. There is, of course, also scones with jam and cream, as well as unlimited tea to be enjoyed too!
Just as with the afternoon teas offered by other establishments, you can also upgrade to include a glass of champagne with your afternoon tea, too. We all love shopping and we all love afternoon tea – combining the two will surely make for a thoroughly enjoyable afternoon!
The best bit? Many of the components of this lovely afternoon tea can be bought in-store to enjoy at home too, including the wide selection of teas and delicious jam preserves!
Afternoon tea at Harvey Nichols Bristol is £22 per person, with the option to add a glass of champagne for an additional £8.
Set amongst acres of greenery and offering stunning views from every angle, Berwick Lodge is the perfect place to spend a perfectly elegant afternoon with your loved ones enjoying a delicious afternoon tea!
On their website, Berwick Lodge display a quote from the classic novel 'Portrait Of A Lady', reading that 'there are few things in life more agreeable than the hour dedicated to the ceremony of afternoon tea' – a sentiment which we can all agree with! Afternoon tea at Berwick Lodge is a sophisticated selection, featuring four types of sandwiches (two being delicious vegetarian options) and a delectable variety of miniature desserts – a caramel shot, ginger and honey flapjack, fondant fancy and a chocolate and cherry cake. There is also a mix of plain and fruit scones, paired perfectly with clotted cream and a raspberry and Earl Grey jam.
There's even a second option in the form of the Berwick Afternoon Tea, which features all of the above items, as well as some of Berwick Lodge's tastiest home-cooked menu favourites – skagenrora (a delicious Swedish take on prawns on toast), cajun chicken wings and falafel sliders.
This is one venue which delivers a sophisticated taste of the quintessential afternoon tea, but goes that little step further in also offering some exciting new tastes. Of course, you can upgrade your afternoon tea at Berwick Lodge with a glass of Yannick Prevoteau champagne too!
Traditional afternoon tea at Berwick Lodge is £23.95 per person and Berwick afternoon tea is £29.95, while you can upgrade your traditional afternoon tea to include Yannick Prevoteau champagne for £31.95 per person.
And there we have it! That rounds up our top picks for the best afternoon tea in Bristol. Whether you're treating a friend or relative, or simply heading out to spoil yourself a little, the afternoon tea options above will be sure to make your afternoon unforgettable.
Perhaps your afternoon tea is just one thing you have planned on your day out in Bristol? You might want to make a whole day of it, so why not check out our top things to do in bristol in one day. 
Or maybe you're getting used to the finer things in life? So why not read our guide on Bristol's Michelin Star restaurants?