Where to find the best pasta places in Bristol
There's something not only comforting about pasta, but also completely magical; silky strands of spaghetti dripping with sauce or penne bursting with flavour when you bite into it. When prepared, cooked and served correctly, pasta could be a spiritual experience and no one knows it better than these five restaurants. Carefully selected, these Italian eateries are serving up the best pasta in Bristol.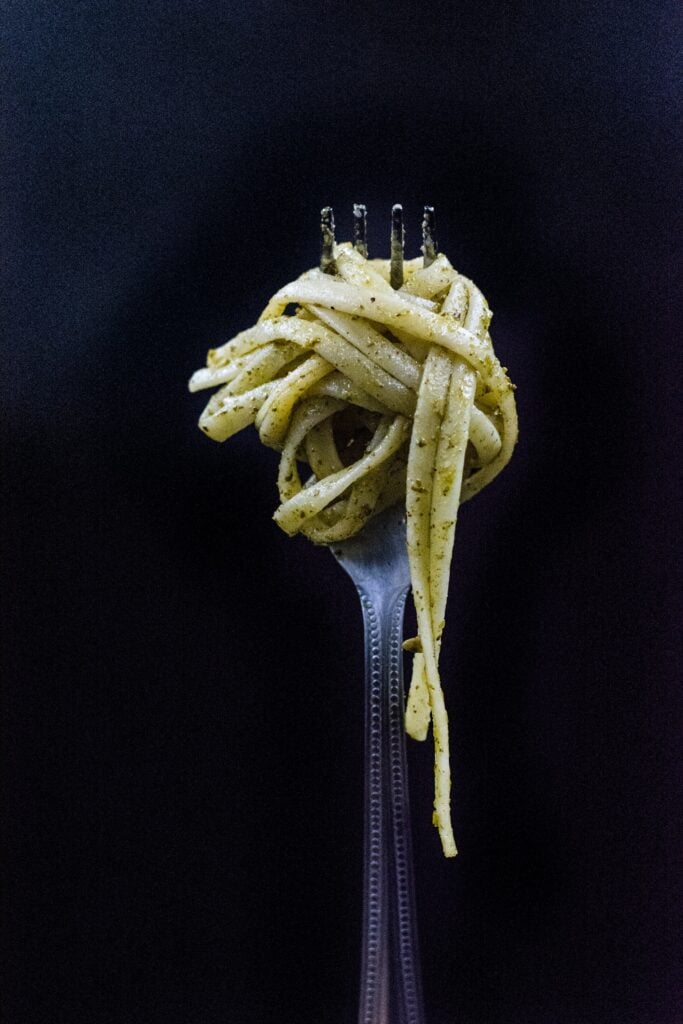 Walking into the cavern-like room that's La Grotta, you're immediately welcomed by a certain warmth; maybe it's the ambient lighting, maybe it's the friendly service or maybe, it's the history of this place. Over thirty-nine years old, it was first opened by Alfonso and Anita Merlino back in 1981, making it one of Bristol's oldest restaurants. 
Eventually their son, Andrea, started helping in the restaurant, paying close attention to what was happening in the kitchen as it kept sending delicious plates of authentic Italian to happy customers. By the time Alfonso and Anita were ready to take a step back, their son had an intimate knowledge of how to run La Grotta and so, in 2015, he officially took over. 
It still remains a family affair with Alfonso working in the kitchen from time to time, Anita serving alongside Andrea's own wife, Bev, and his young daughters saying hello or taking bills to the table. Maybe that familial bond and the feeling that you're part of it, is what makes La Grotta so warm. 
Regardless, this little joint set on Union Street, is incredible. In addition to the atmosphere it's the setting that transports you to Italy; grotto-like in appearance, the lighting set in the curved walls casts a warm light over the wooden tables. It's simple, but that's the point, because it's all about the food here.
With pasta for days, diners can choose one of many classic dishes including spaghetti bolognese that's been slow cooked for over eight hours and topped with cheese. There's also a Spaghetti Carbonara; creamy sauce dotted with sauteed smoked pancetta or slow cooked bolognese and bechamel layered with green pasta and topped with melted cheese to make up their Lasagna Al Forno. If you're looking for something with a bit of heat, opt for the Arrabiata that consists of spaghetti tossed with a homemade tomato sauce with chilli. There's also a gorgeous Spaghetti Gamberoni; homemade tomato sauce with sauteed king prawns, onions, garlic, chilli and white wine sauce that's a great choice for seafood lovers. 
Elsewhere on the menu, you'll be able to find pizza, chicken, fish and starters of focaccia, arancino and goat's cheese crostini, but it's the cheesecake that's a showstopper. Made with a completely different flavour combination each week, some past favourites include Malteaser cheesecake on a bourbon biscuit base, sicilian lemon cheesecake on a shortbread base with a layer of lemon drizzle running through the middle. Nutella cheesecake on a hobnob biscuit base and – take a deep breath – topped with milk chocolate profiteroles and white chocolate, and of course, toffee crisp cheesecake
By importing many ingredients from Italy and a focus on making everything in house, La Grotta are delivering delicious homemade style food with an authentic taste and a touch of flair.
Originally called "Marco's" after Marco Berni who opened the restaurant in 1961, one of Bristol's oldest Italian eateries changed names when it did hands. By then, Giuseppe had run Marco's for thirty-five years and promised to carry on the legacy of this great establishment, and that he did. Staying true to their passion for authentic Italian cooking, the team at Giuseppe's understand that at the heart of it all lies simple food made with fresh produce and a little flair. 
Cult-classics like Lasagna al Forno, Spaghetti Bolognese and Spaghetti alla Carbonara all make an appearance alongside spaghetti allo scoglio, which is a dish of mixed seafood and tomato sauce on a bed of pasta, Linguine Salmone, smoked salmon and broccoli in a creamy sauce served with linguine, and pasta cooked with homemade meatballs in a light tomato sauce, otherwise known as Spaghetti Polpette. 
In the kitchen, you'll also find a freeflow of spinach and ricotta ravioli and gnocchi cooked in tomato and fresh basil. Deep fried squid, pan fried tiger prawns and soup of the day as antipasti, garlic breads served every which way as a side, steak, veal, chicken, pizzas and more. 
The wine list is extensive, the dessert limited to tiramisu and crème brûlée (not like you need anything else) and the service welcoming. All very good reasons as to why you should visit, but if you need another, here it is; charm. 
Giuseppes is decorated authentically, transporting you to restaurants in the heart of Italy. The typeface of the sign, burgundy colour scheme, vintage street lamp above the classic Italian awning and that's before you even get inside. It's vintage and magical, bathed in candlelight for added drama. 
With staff on hand to make recommendations if you find yourself stuck on what to choose, Giuseppe's is a wonderful choice if you're looking to experience some of the best pasta in Bristol. And as you twirl and twirl silky pasta around a fork, spoon aiding as it should when you're enjoying Italian, close your eyes and let the taste of Italy sweep you away to The Boot. 
Passing by Bomboloni's might be a very hard task when you consider it's cheerful facade; bright red chairs that are basically begging you to come dine alfresco on the deck and under the watchful eye of the sign above. A sign that's a promise of what to expect; "Italian kitchen" it reads and that's exactly what the menu reinforces. 
Starters of deep fried squid, aioli, lemon and rocket, taleggio arancini, tomato sauce, rocket and parmesan, antipasti, and pear, walnut, bitter leaves and gorgonzola salad are all a warm-up in the sprint to pasta heaven. There you'll find Spaghetti alla Carbonara and seafood linguine that's a beautiful mix of atlantic prawns, mussels, clams, chilli, garlic, tomato and pangrattato. Maybe you opt for the Wild mushroom pappardelle with truffle oil, garlic, cream and parmesan or a very hearty bowl of slow cooked ox cheek and porcini mushroom ragu, red wine, tagliatelle and parmesan. For lunch you also have the option of cannelloni or tagliatelle with butternut squash, cavolo nero, pine nuts and parmesan. You'll also be forgiven if you're tempted into ordering a side of truffled parmesan polenta chips, or maybe a rocket and parmesan salad with fennel, orange and bitter leaves is more your style.
Desserts take on the form of homemade tiramisu, vanilla panna cotta with mango, lime and amaretti crumb, cannolo made from local ricotta, pistachio, almond, honey and dark chocolate wrapped in Sicilian pastry and of course Bomboloni. These Italian Donuts the restaurant was named after are made with a soft dough before being fried off, filled with an indulgent pastry cream and dusted in sugar. Delectable, just as Andrew and Sara Griffin planned when they first opened the doors.
Having worked the Bristol food scene, Andrew  started Bomboloni up in 2017 with the intention of creating a space where it felt like a "relaxed, Italian family kitchen". They strived to keep it simple, but tasty, an equation that surely paid off as many critics raved about this must-visit neighbourhood eatery. Sadly two years later, Andrew passed away, but the ethos of the restaurant remained the same. 
That same approach of simplicity can even be seen through the cafe-style interior; a scattering of wooden tables and chairs, a mix of unobtrusive white and red pendants, orange and blue sconces and a gallery wall above a wooden herringbone feature. It's cool, somewhere you really want to be and the fact that the food is of the quality it is, will certainly have you coming back for more.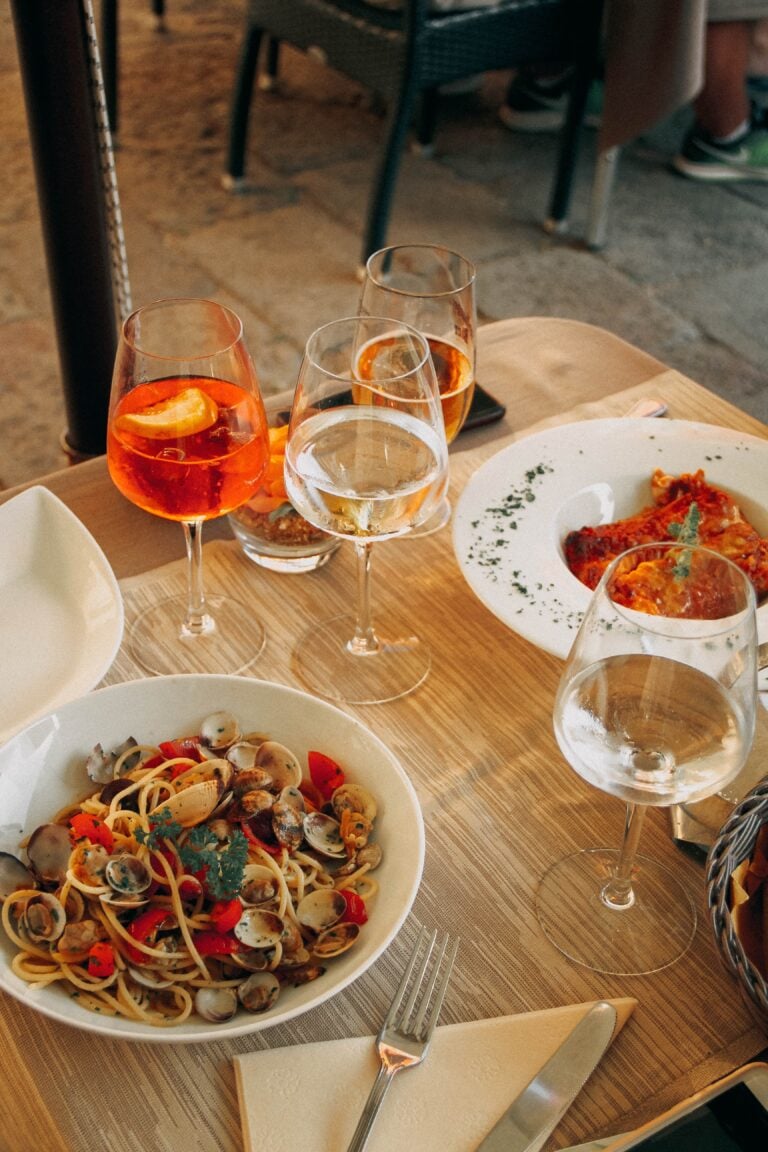 And last, but certainly not least is an award-winning restaurant from the same team who brought you La Sorella, Pasta Repiena and, most recently, Bianchis. The cousins responsible for it's incredible success are Ben Harvey and Dominic Borel, opening the doors to Pasta Loco back in 2016. 
Since then, the spot has been recognised as the best pasta restaurant in the UK by The Week and also earned the coveted title of the Best Restaurant in Bristol in the British Restaurant Awards. It has topped lists and drove critics to pen rave reviews, but despite all the accolades, it remains a relaxed Italian joint with a family-feel, friendly service and imaginative and very tasty food. 
Because the menu changes daily, every day will undoubtedly have another creative spin on cult classics like a dish of Spaghetti Carbonara made with pork belly. Others include curried goat tortellini, pan fried loin, braised shoulder, 'rice'n'peas' arrancini and collard greens with goat consommé, tortellini of Calabrian nduja and buffalo ricotta with Spanish chorizo, morcilla and Italian apricots, and fettucini in white wine with wild mushrooms, garlic, chilli and parsley. 
Dessert options range and could be anything from a black cherry and hazelnut tart with burnt mascarpone meringue, Sicilian preserved lemon curd and Barbera grappa syrup to apricot semifreddo with orange and almond and poppy seed cake. 
If you're after great food with a heartwarming story – told by the beautiful family photographs along the walls – then Pasta Loco is the one for you.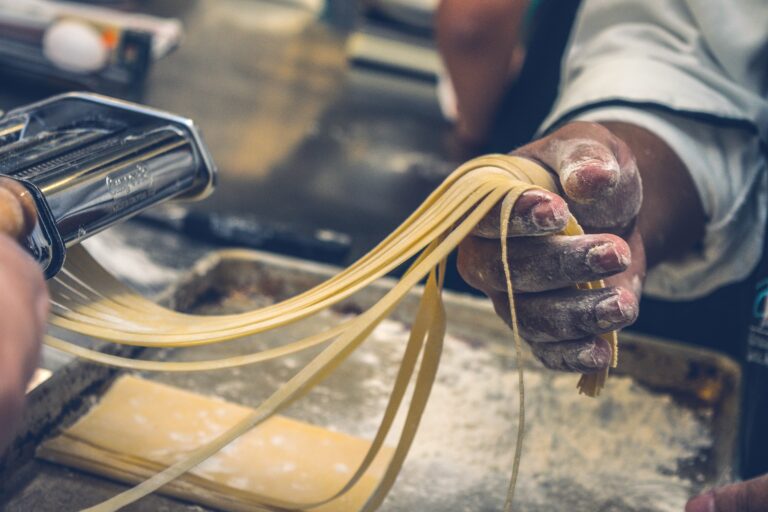 Everything about San Carlo is swanky; from the many balloon-like pendant lights to the marbled tables and mirrored walls, but this authentic Italian restaurant group actually has very humble beginnings. Sicilian-born Carlo Distefano arrived in England back in 1962 so he could start a life working at a barber shop in Leeds. Three years later, he opened his first joint venture, a hair salon in Leeds. There were many other ideas, but food was where his passion was. Fast forward to 1992 and San Carlo was born in Birmingham, a twenty-table restaurant that unbeknownst to Carlo, would turn into a chain of twenty-two locations and counting. Whether, or not, he planned for it, we couldn't say, but we are grateful that it did, because now people across the country are able to enjoy beautiful food. 
The menu is extensive and features antipasti, pizza, sharing plates and tartare, fish, steak and sides, but it's the pasta you're here for. Well brace yourself, because other than well-known classics like Bolognese, Arrabbiata and Carbonara, there's also flashier options such as Ravioli Lobster, an indulgent dish of lobster and crab stuffed ravioli in a creamy pink peppercorn sauce. There's also fresh pasta filled with spinach and ricotta to form tortellini, served with a ham and cream sauce, petit pois and parmesan or their most famous dish of lobster, brandy, tomato, peas and cream served over tagliolini pasta. 
So many great dessert options, you can literally close your eyes and point to one and you'll be onto a winner. We're talking pistachio cake, panna cotta, fresh fruit pavlova, tiramisu, crème brûlée and more that'll all pair well with a glass of Marsala or a shot of espresso. 
There's a glass of wine that'll pair with every single item on the menu, so extensive is their list and there are a couple on there that have been specially selected by San Carlo. 
It may not be as intimate as La Grotta, but it is a family run empire with Carlo still at the helm as Chairman, his two sons fulfilling their roles as Managing Director and Manager and his daughter stepping up as Director. Another thing the two have in common is their focus on good ingredients. Italian food doesn't need to be overly complicated, because of the bursting flavour of quality produce and that's what the team here at San Carlo aim for in every dish they deliver, making this award-winning restaurant a destination for some of the best pasta in Bristol.