If you're in Bristol and you're in the mood for something sweet and delicious, then you're in luck. Not only has Bristol got a massive selection of dessert parlours, but it also has some of the country's best chocolatiers and independent sweet stores.
It's not all "go big or go home" either. While Bristol has its fair share of parlours offering enormous Instagram-worthy desserts, there's also room for a little flair. Below, we've compiled a list of what we consider to be the best sample of the city's dessert scene. It includes your classic diner-style outlets, café style eateries, and some independent stores that deserve your sweet-toothed attention.
The Best Places to Get a Sweet Treat in Bristol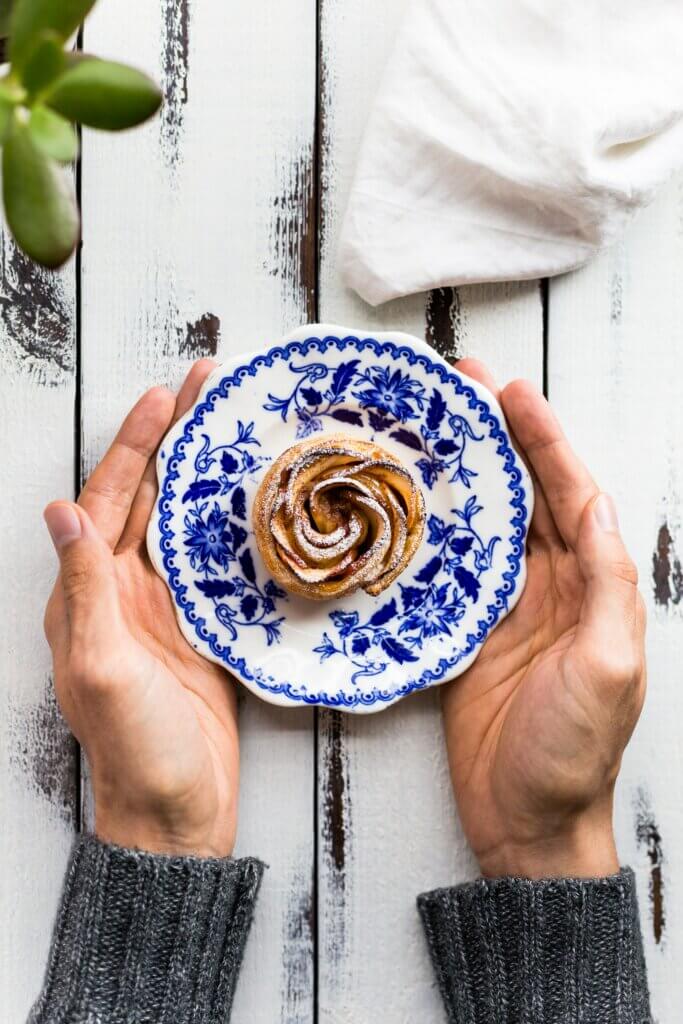 So, whether you're all studied out, had enough of the diet, or you just deserve a dessert, here are the best places to get a sweet treat in Bristol.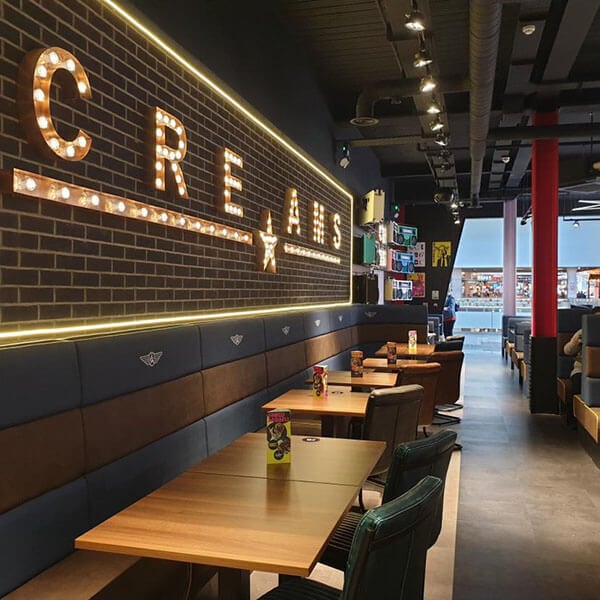 Popular chain offering a complete range of desserts and sweet treats.
Stylishly decorated and conveniently located on Baldwin Street, Creams Bristol is one of the best places to satisfy that sweet tooth when in and around Bristol.
The store has a modern 1950s style decor with chilled mood lighting, and is suitable for people of all ages, making it a great destination for younger sugar lovers.
As the UK's biggest dessert parlour chain, Creams knows a thing or two about sweet treats. Since the first store opened in 2008, the brand has gone on to open more than 68 other stores across the UK and learned a thing or two about making desserts along the way. Creams are especially famous for their smooth and generously portioned Italian gelato, which comes in a massive variety of flavours. Amongst the usual classics, you can find more indulgent flavours such as Ferrero Rocher, banoffee, Arabica coffee, salted caramel, and everyone's favourite, Oreo flavour.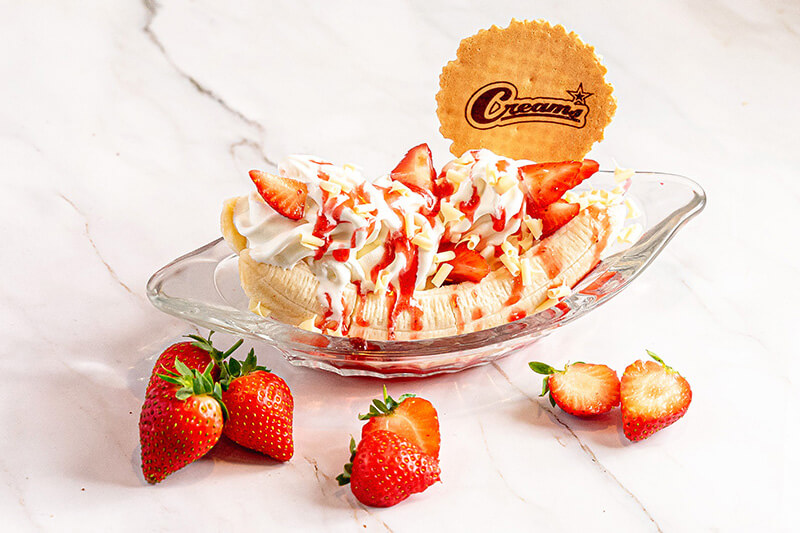 For those who want something warm, there are also waffles, crepes, and cookie dough desserts on the menu. These desserts come served how you want them, with toppings and sauces tailored to your liking. As with the gelato, the flavours here are moreish, with notables including the Fudge mess waffle, the triple threat cookie dough dessert (served with gelato!), and the "Crepe-A-Tella" which comes filled with delicious chocolate hazelnut spread and a topping of your choice.
And if you need any more reason to visit, Creams also offers milky Bubble Teas, topped with flavour bursting balls, milkshakes, and hot chocolate.
You can dine-in at Creams, takeaway, or have delivered.
Rock and roll style dessert parlour
Capturing the feel of a classic American rock diner, Kaspa's is a fantastic place for a family trip, kids' birthday parties, or even just a little treat just because.
The dessert parlous is located on Park Street and is perfect for refuelling after exploring the nearby museum and art gallery. Open until 11 pm every night, there's no need to rush though! The Bristol store is one of more than 40 other Kaspa's after finding success serving desserts throughout the UK.
Within Kaspa's you'll find suitably sweet pink and black decor, with high-backed booths for larger groups and smaller tables for couples and those who like to indulge alone. Look through the menu and you'll be greeted with old favourites as well as new surprises. Kaspa's is especially proud of their American-style sundaes which are stacked high and fully loaded with sauces and toppings.
Capturing the feel of America perfectly, Kaspa's also offers slices of U.S. classics such as New York Vanilla Cheesecake, Salted Caramel Tart, Hot Apple Pie, American Pecan Pie, and Peanut Butter brownie stacks.
There are also a couple of dairy-free options for vegans and those with intolerances, with the sorbets packing some serious flavour.

Instagram worthy mega-stacked waffles, ice-creams and desserts
Offering the chance to post the kind of food shots on Instagram that makes others drool, CowBees is an absolute gem for the sweet-toothed amongst us.
Pivoting on the idea of creating truly delicious food using both honey and milk, Cowbee creates homemade ice creams, desserts, cakes, and also serves up a pretty mean looking burger too.
The spacious, light-filled store sits on the corner of College Green, giving plenty of room for dining in. The desserts don't do half-measures. Everything is stacked high and given the indulgent respect it deserves. Cowbees crunchy but squidgy waffles are now fast becoming a Bristolian favourite, with the "Reecester" waffle a particular hit. Bursting with flavour, this dessert sees a golden American style waffle drizzled in Reese's creamy peanut butter sauce, buttercup chocolates, and crispy pieces. Oh and a dollop of rich chocolate ice cream on top to boot.
Aside from the waffles, you can also find soft-scoop ice creams, milkshakes that might require a spoon to tackle, and the in-house artisanal gelato.
The team here are also comfortable mixing the sweet with the savoury, offering some wonderful burgers and bacon waffle concoctions.
Arrive with an empty stomach!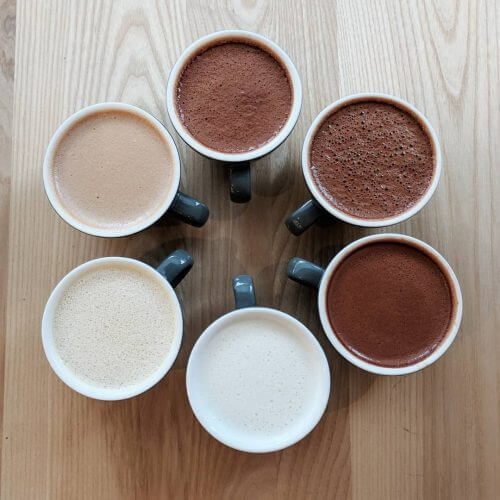 All things chocolate: cakes, cookies, bars, cupcakes, milkshakes, drinks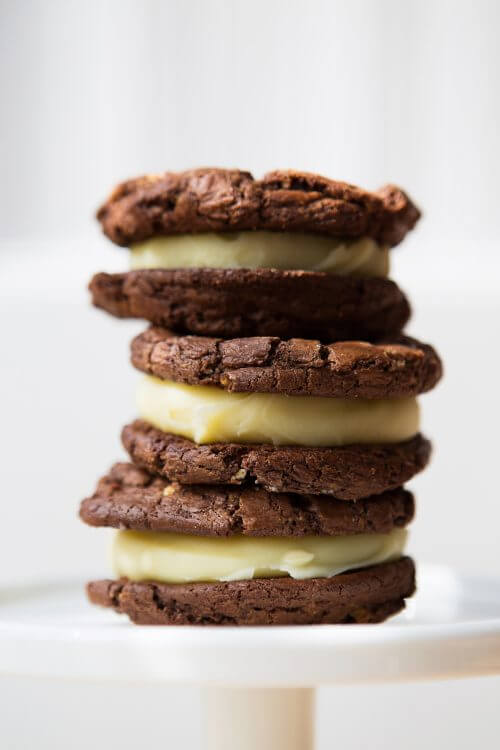 One of just 3 stores in the UK, Mrs Potts Chocolate House is the perfect spot for getting your chocolate fix. Focussing on white, milk, and dark chocolate drinks and puddings, Mrs Potts has an ever-changing menu that brings out the best of the trust cocoa bean.
If you love chocolate then this Mrs Potts is definitely the place for you. Doubling up as a cafe, it's also a great place for a coffee or tea.
The store is located on Park Street and has a decent amount of seating within. At the front of the store, there's window seating for quick snacking and a quieter area at the back where longer stops can be enjoyed reading a book or chatting.
As the name suggests, Mrs Potts Chocolate House focuses on chocolate, and it does so expertly. While the menu is constantly evolving, there are a few staples like the gooey brownie and chocolate dream cake that are pretty much must-haves. And if you just can't quite get enough, you can have the lot slathered in ganache. Extremely indulgent, and extremely necessary.
For those with less of a sweet tooth, the chocolatiers here also offer some dark chocolate treats, focusing on more bitter tones. There are also white chocolate offerings as well as cookies sandwiches, micro-puddings, and tarts.
Also offering workshops and customizable selection boxes, Mrs Potts is a little piece of chocolatey heaven.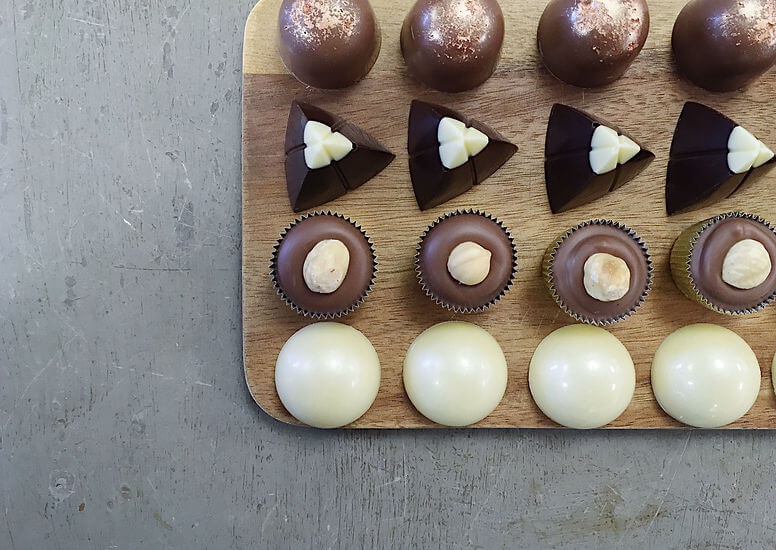 Handmade, beautifully decorated, bespoke chocolate boxes
Epitomising everything great about independent stores (and chocolate) is Zara's Chocolates, located in Southville.
This cute little store sits underneath the beautiful first story artwork of North Street and is owned and operated by self-professed chocoholic expert, Zara.
A trained chocolatier, Zara has used her knowledge and skill to create bespoke, artisanal chocolates fusing different flavours and textures to create unique sweet treats. Originally selling her chocolates at markets, Zara's North Street store is now something of a chocolate-mecca, with similar choc-heads seeking out her beautifully designed and expertly crafted sweets for birthdays, weddings, Christmas gifts, and for themselves, of course.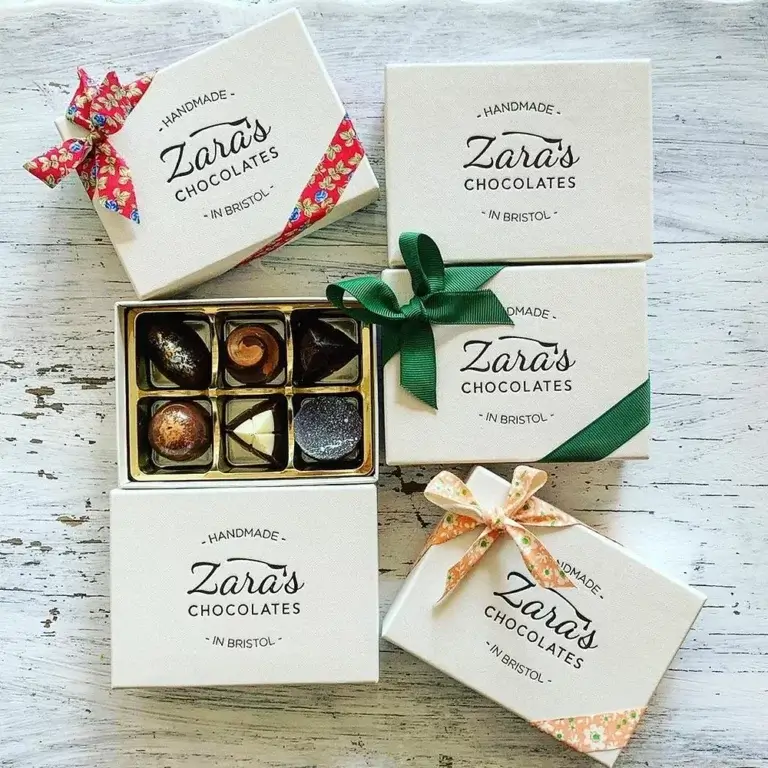 Zara and her team's efforts have not gone unnoticed, however, winning the Bristol Good Food Award in 2014, 2015, 2016, and again in 2018. Everything here is made by hand using small-scale techniques so you know each and every chocolate has been given the love and attention it deserves before being devoured.
The store offers a range of products with the selection boxes proving most popular. These boxes are ideal gifts and contain pralines, truffles, caramels, and other chocolates made from fresh ingredients. Seasonal chocolate gifts are also available including unique easter eggs and hand-decorated chocolate baubles. Half works-of-art, half already-in-my-stomach, these make wonderful gifts for loved ones.
The store also offers bars of authentic dark chocolate, spreads, homemade marshmallows, and lots of vegan-friendly options too. Their selection can be previewed online or viewed in store.
Zara's is open 6 days a week and accepts bespoke custom orders upon request.
While this selection should satisfy your sugar cravings, it should be known that there are a lot more places to indulge your sweet side in and around Bristol. As always, exploring the city as you go proves a great way to find these hidden gems and you get to eat a lot of cake at the same time. Win-win!