The Best Fish and Chips in Bristol
Fish and chips has long been associated with coastal towns and cities around the UK. You can't find anything fresher than locally sourced fish served by the water, and Bristol offers all that. The city has no shortage of award-winning and high-quality fish and chips shops. Whether you're looking for fish and chips made by a Michelin star chef or something quick and easy to pick up on your way home from work or a night out, you can find it in Bristol. Many of the restaurants have also begun to offer a wide variety of vegan, vegetarian and gluten-free options in recent years, meaning no matter your dietary restrictions, you can still enjoy delicious fish and chips.
Clock Tower Fish Bar in Kingswood has consistently been one of the highest-rated chippys in Bristol and, in September 2020, was voted the best fish and chip shop in Bristol by Bristol Live. The shop is open Tuesday through Saturday from 12 pm to 2:30 pm for lunch and from 4 pm to 9 pm for dinner. They offer both takeaway and delivery but their delivery slots are incredibly popular and tend to book up quickly. Clock Tower does allow pre-booking until 2 pm daily, so it's a great place to try if you've planned ahead. Everything on the menu is made using high-quality ingredients, and the staff at Clock Tower have worked hard over the years to build their reputation for serving some of the best fish and chips in Bristol.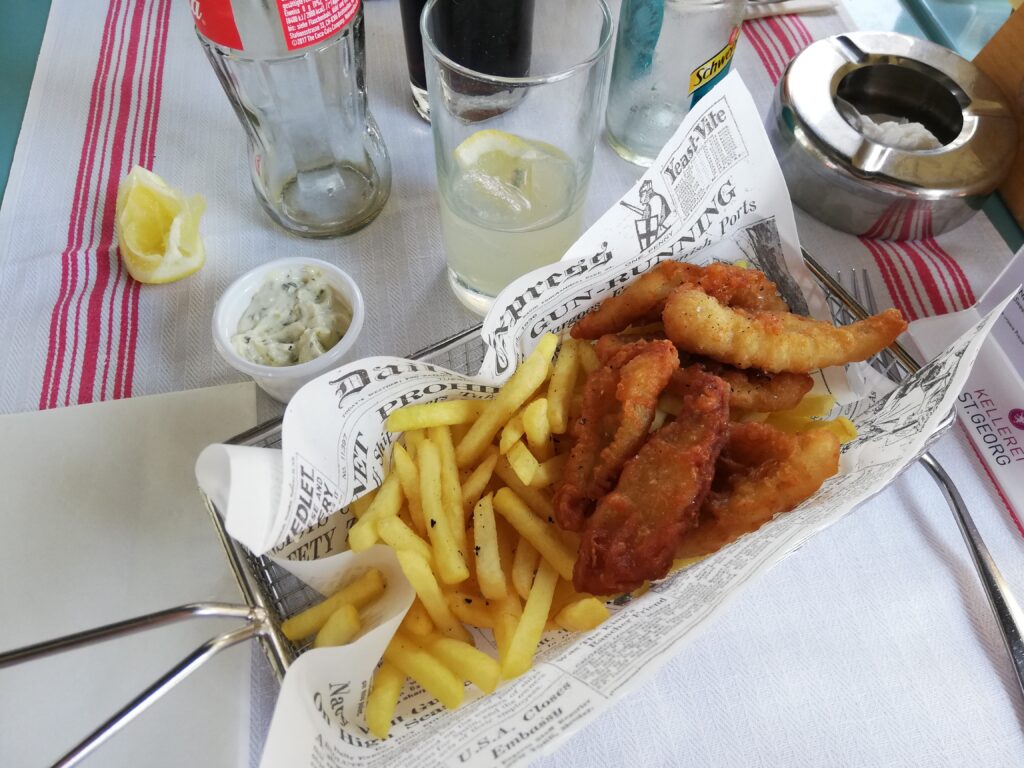 Their fish and chips start at £8.90 for a regular piece of cod or plaice, and for an additional £1.50, you can get a large piece of cod. Clock Tower also has a number of vegan options, including fishless fingers and chips starting at just £5 for four fingers. They also have vegan battered sausages and other vegan versions of classic chip shop dishes.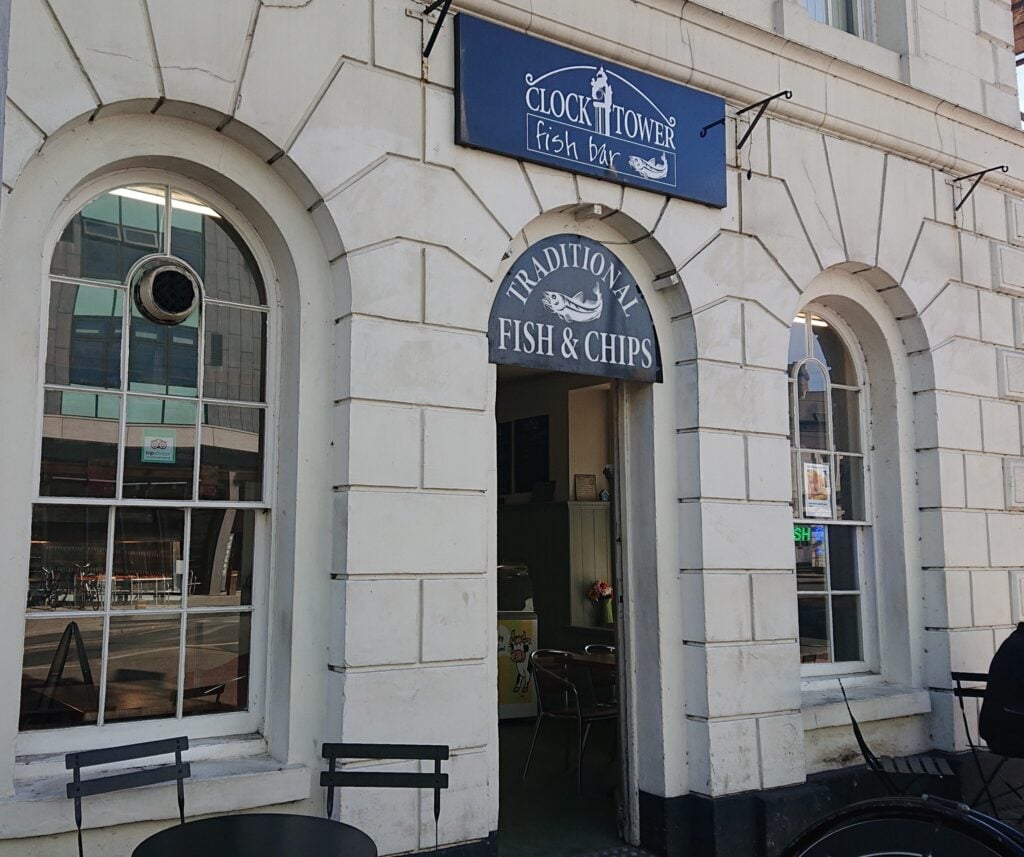 Conveniently located right on College Green, Catch22 has made a name for itself as an ethical and sustainable fish and chip shop and only buys from suppliers who manage their resources sustainably and have respect for the habitats where they fish. The restaurant offers both sit down and takeaway service and has all the traditional chippy options as well as some more unique ones.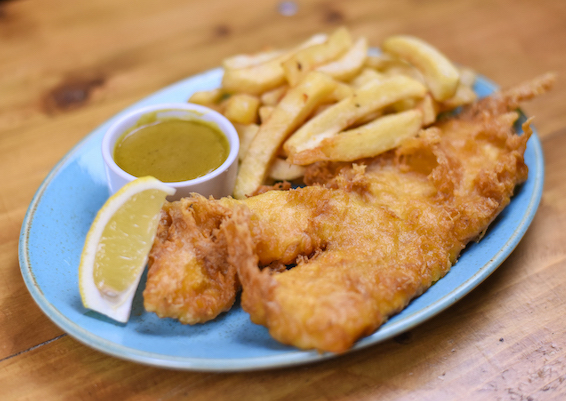 Catch22 serves both cod and haddock fish and chips, and both are available in standard size for £7.25 or large for £9.50. They also offer a gluten-free batter for all their fried foods, including the fish and chips. It's important to note that this batter isn't always available, so if you're hoping to get some gluten-free fish and chips, make sure to call ahead. Catch22 is also known for its extensive vegan and vegetarian menu. They have fried halloumi and pea fritters which are cooked the same way as traditional fish and chips, as well as battered vish, which is a vegan fish alternative. If you're looking for a quick and convenient bite to eat near Bristol city centre, you can't beat Catch22 and their delicious fish, or vish, and chips.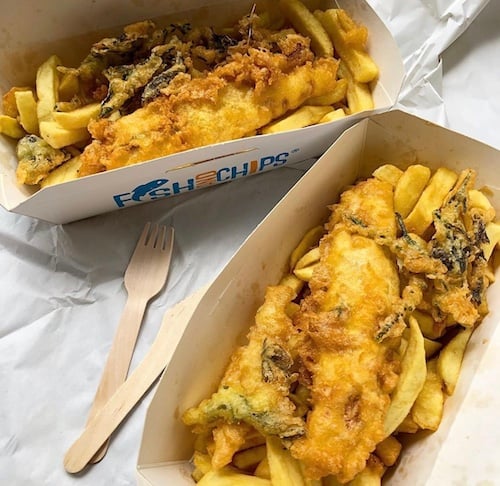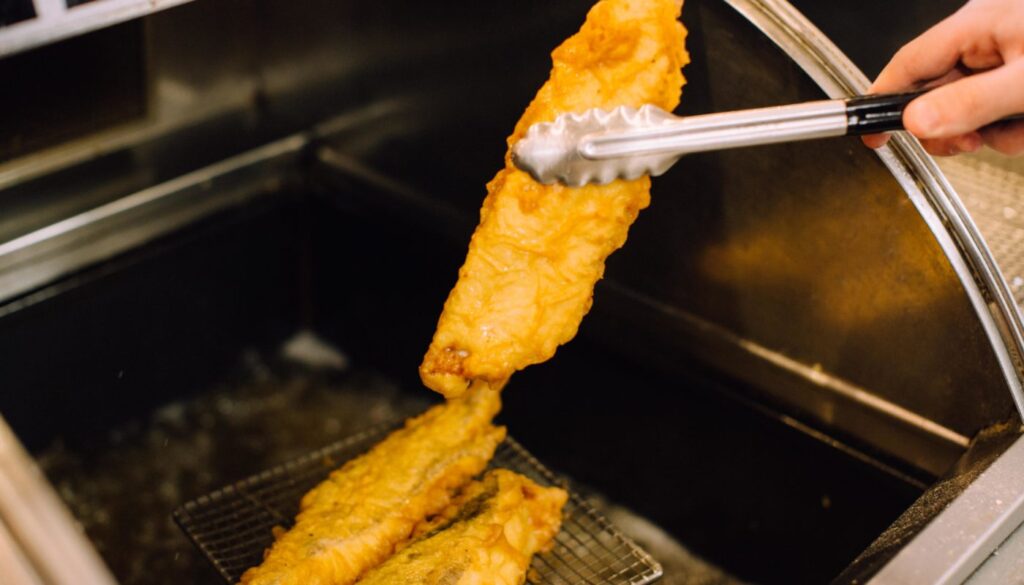 With two Bristol locations, one at Wapping Wharf and the other at Chew Valley Lake, Salt and Malt has quickly become a local favourite for their take on the classic fish and chips. The restaurant was opened by Chef Josh Eggleton, who grew up in South Bristol. He got his first job in a fish and chip shop at 15 before working his way up to Michelin star restaurants. He always dreamed of opening his restaurant and took over the Pony and Trap in Chew Magna more than 15 years ago, which has seen great success and earned a Michelin star in 2011.
Eggleton decided to try his hand at the classic fish and chips and opened the first Salt and Malt location on the picturesque bank of Chew Valley Lake about 20 minutes south of Bristol city centre before expanding to the second location at Wapping Wharf. One of the things that makes Salt and Malt stand out from other fish and chip shops is that their fish and chips are gluten-free, as is the majority of their menu. Every order of fish and chips also comes with their signature crushed peas and Cornish artisan malt vinegar, and the chips are fried in rapeseed oil, which means no saturated fat. Both locations offer both takeaway and sit-in service, although Wapping Wharf is currently only operating as a takeaway. 
The Ivy Clifton Brasserie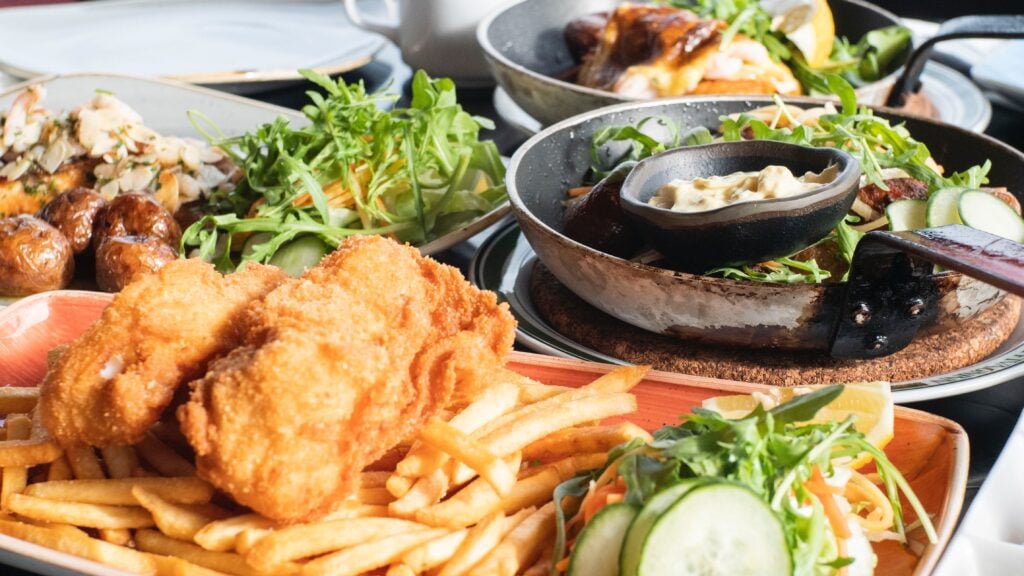 If you're looking for a more sophisticated spot to get delicious fish and chips, look no further than the Ivy Clifton Brasserie. This fine-dining restaurant is known for its unique vintage look and extensive menu. As well as serving distinctive dishes, the Ivy Clifton Brasserie has a number of British classics, including fish and chips. Their traditional battered fillets come with mashed peas, thick-cut chips and a side of tartare sauce.
While the price of the Ivy's fish and chips, which is £14.50, may be seen as a bit expensive by some, it's completely worth it for the five-star service and experience that comes with dining at an Ivy restaurant. If you do decide to visit the Ivy Clifton Brasserie, please note that they do have a smart casual dress code for all guests. This also may be a good place to book in advance. They do keep tables allocated for walk-ins, but to ensure you can be seated right away, you can book up to three months in advance right on their website.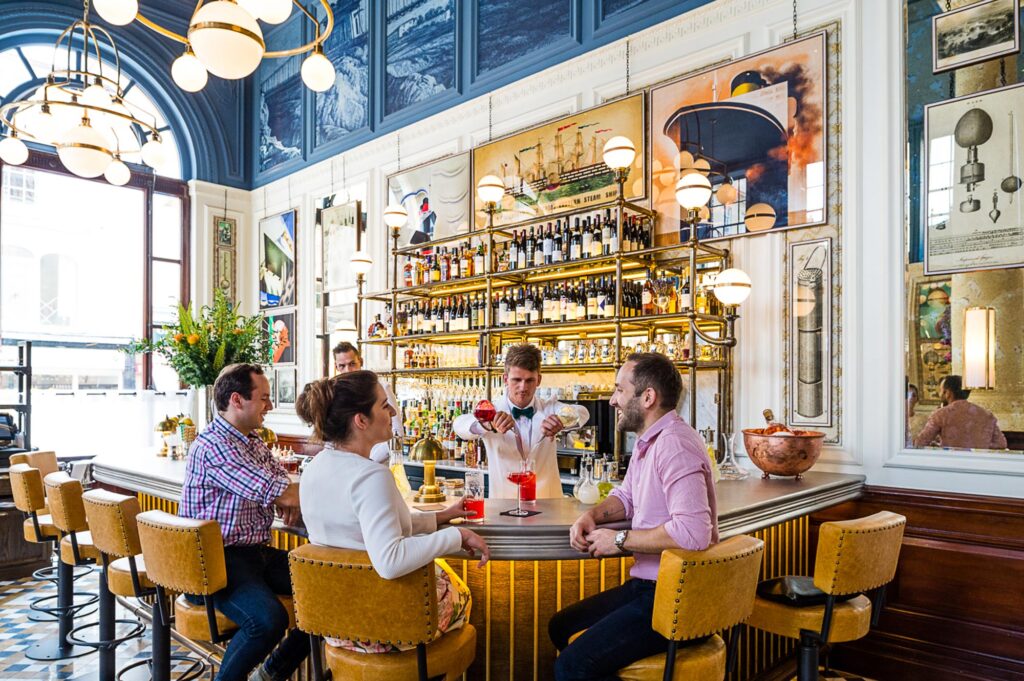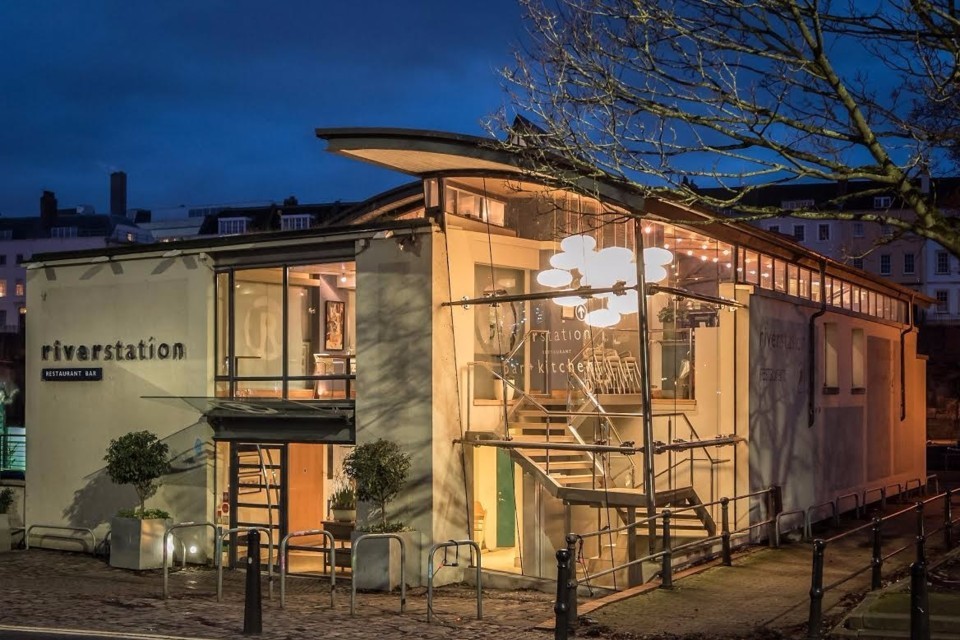 Another fantastic spot for more high-end fish and chips is Riverstation which offers stunning waterfront views of the River and Redcliffe Parade. Riverstation is also one of the most conveniently located fish and chips spots with public transport and parking right on its doorstep, as well as a pontoon that ferries and water taxis can dock at on request. The restaurant is split into two floors, the Pontoon on the ground floor and the restaurant upstairs. The restaurant is a fine dining experience where Chef Anthony Smith serves stunning dishes that use local, seasonal ingredients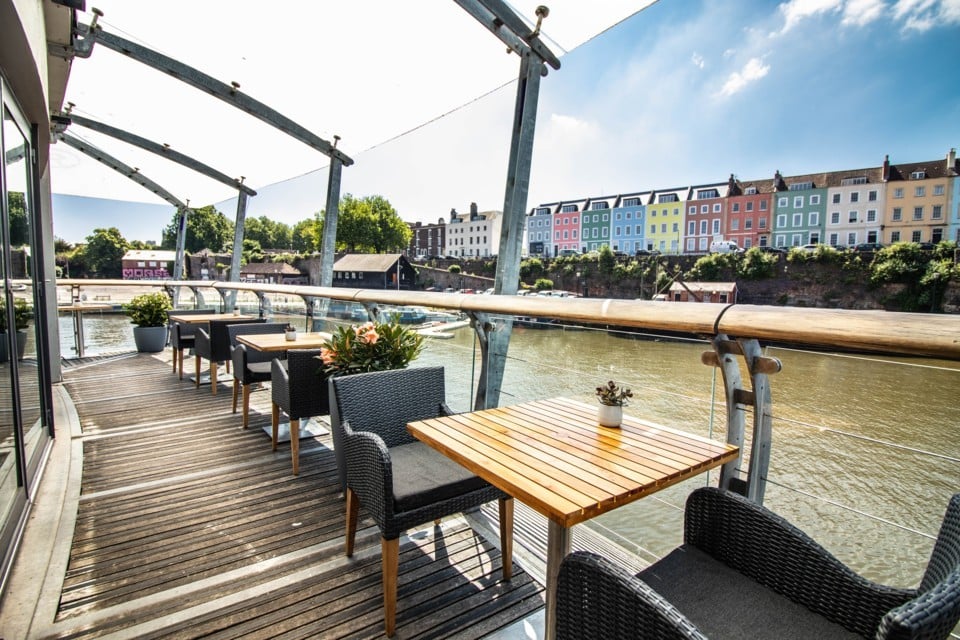 The Pontoon is a more relaxed setting and also houses the Pontoon Bar. The menu features a wide selection of unique dishes with plenty of vegan and vegetarian options as well as the classic fish and chips. The Pontoon's fish and chips include a beer-battered cod fillet, chunky chips, crushed peas, tartare sauce, and charred lemon for £15. In the warmer months, the delicious fish and chips can be enjoyed as close to the water as possible on the Pontoon's patio.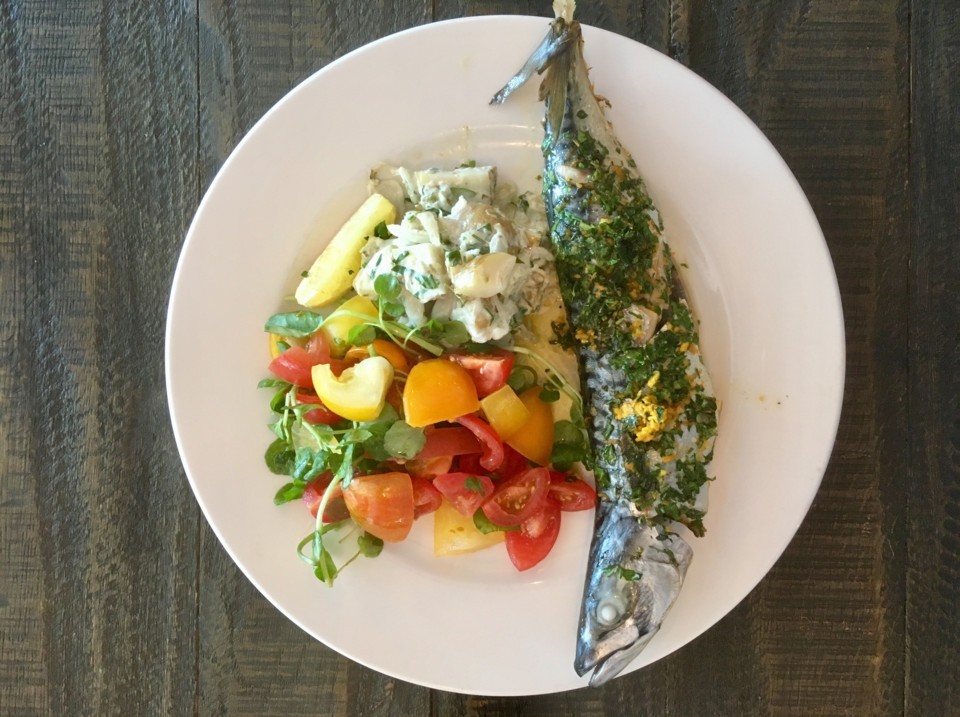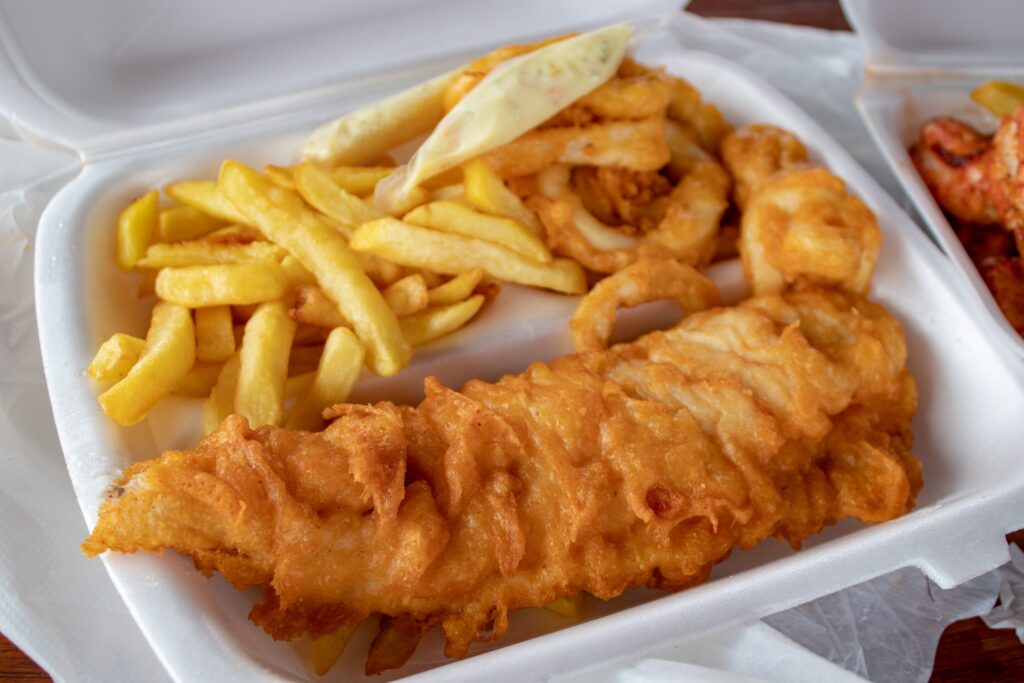 Rita's Takeaway has long been one of the most popular spots in Bristol to go after a long night out. The takeaway on Stokes Croft in St. Pauls is open daily at 5 pm and remains open until 5 am on Fridays and Saturdays and 2 or 3 am the other days of the week. Everything on Rita's menu is made fresh on-site, so even if you go in the early hours of the morning, you're guaranteed a delicious meal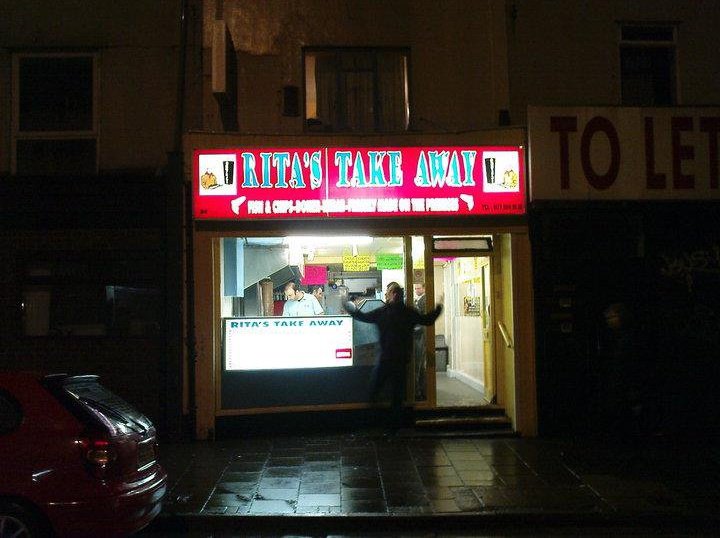 Their cod and chips start at £8.50, and customers rave about the quality of Rita's fish and how perfectly their chips are fried. In addition to their fish and chips, Rita's is well known for their kebabs which are incredibly popular among their late-night crowd, as well as their doner burgers, traditional burgers, pies, and more. 
George's Fish and Chips on the High Street in Hanham, about five miles east of the city centre, is another one of Bristol's award-winning fish and chip shops. The shop was first opened 18 years ago by husband and wife duo George and Georgina Stavrou and has consistently been a favourite among Bristolians and visitors alike.
An electrical fire destroyed the shop in December 2019, but after seven months of extensive refurbishments and repairs, George's Fish and Chips reopened in July 2020. George and Georgina used the time to further their understanding and expertise of their craft and completed a course by the National Federation of Fish Friers. Since reopening, the fish and chip shop has quickly regained its status as one of the best in the area and, in April 2021, was named one of the 50 best fish and chip takeaways in the UK by Fry Magazine in April 2021. To be awarded to this list, shops needed to score higher than a 97% when visited by a mystery diner, and George's scored an impressive 98%. Everything on their menu is cooked to order, so you won't get any soggy reheated fish or chips from George's.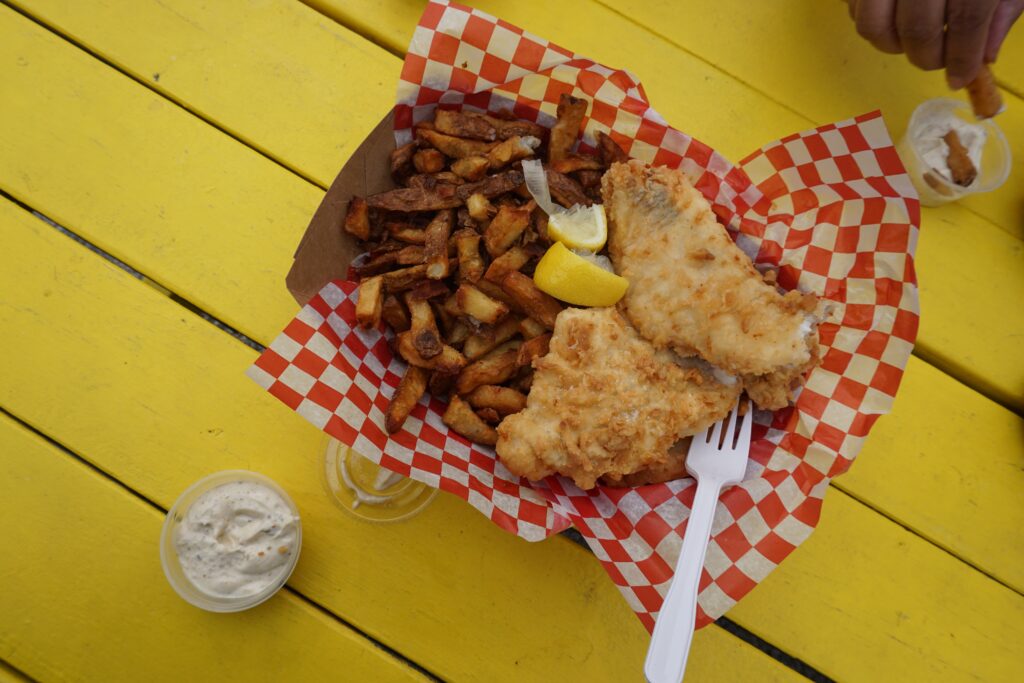 Another award-winning Bristol chippy, Bishopston Fish Bar on Gloucester Road, has won more than twenty awards since opening ten years ago. The shop was named one of the best fish and chip shops in the country by Fry Magazine in 2016, 2017, and 2020 and has also been awarded a Fish and Chips Quality Award by the National Federation of Fish Friers eight years in a row. To be awarded this honour, shops are assessed on more than 40 aspects, including the quality of their food, staff, hygiene, and customer service and need to score at least a 95%. Bishopston Fish Bar has also been awarded a number of other local area and nationwide awards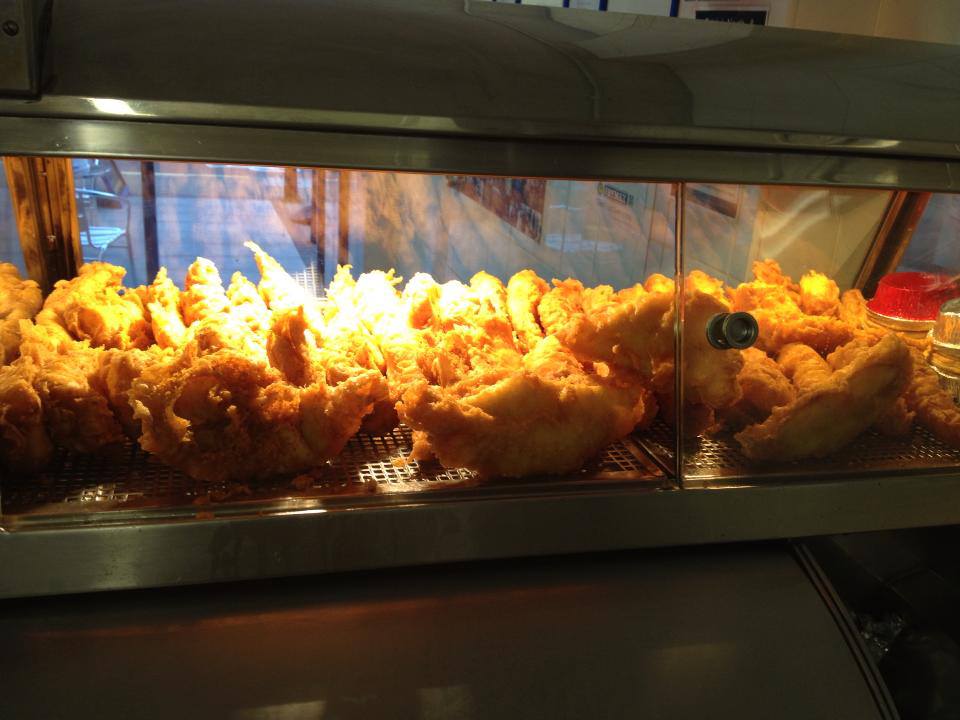 Many of these awards of judged by mystery diners, so you can expect the same quality food and service they received no matter when you visit. Owner Nick Lomvardos passion for what he does is reflected in every aspect of the restaurant. All of his staff undergo extensive training regarding customer service as well as hygiene and safety, and the fish they use is sustainably sourced to ensure the best quality fish and chips possible. He is also the owner of Ocean Catch Fish Bar, which is two miles away on Filton Ave, and you can find the same high-quality fish and service at this restaurant. Bishopston Fish Bar offers fish and chips using both haddock and cod with a standard portion costing £5.60 or £5.80 and a large £8.20 or £8.30 respectively. They also offer a full fish supper for £12.20, which includes a large piece of battered cod, chips, sauce and a drink. Bishopston Fish Bar is open Monday to Saturday for both lunch and dinner, so the next time you're in the mood for fish and chips, make sure to check them out.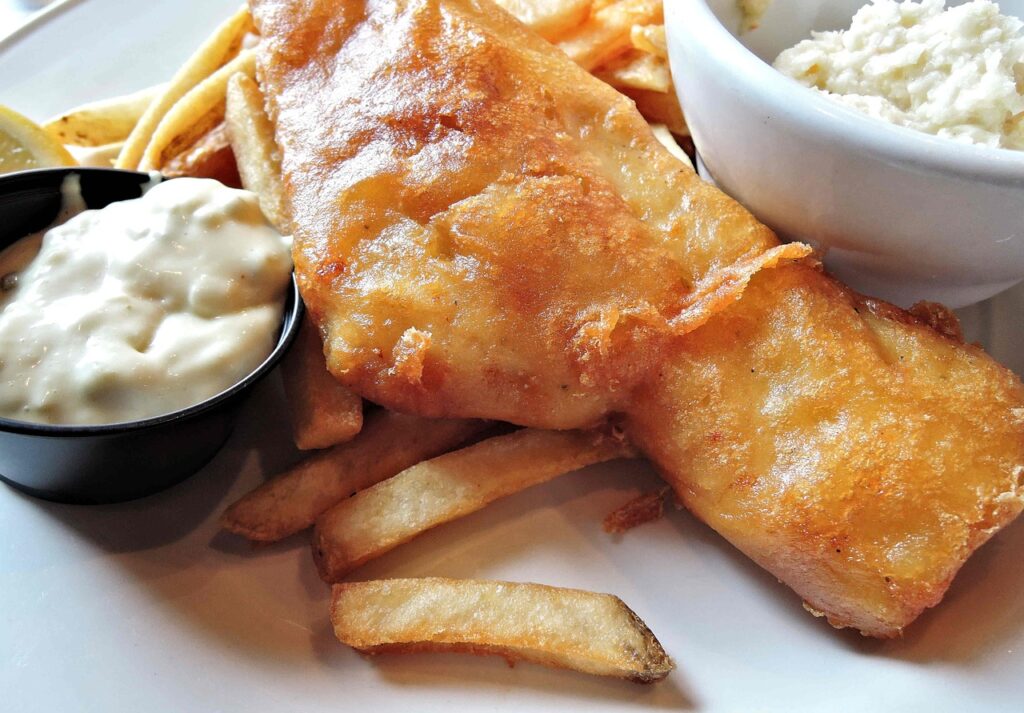 Inside the contemporary Bristol Hotel and overlooking the harbour, the River Grille is one of the most elegant dining experiences in the city. The dining room features floor-to-ceiling windows, a unique setting, and a lively ambience. The River Grille is open for breakfast and dinner seven days a week as well as for Sunday lunch. On Friday and Saturday evenings, diners can enjoy live music, including pianists and jazz trios, to take their experience to the next level
The menu includes a range of dishes made from seasonal and locally sourced ingredients, including their deep-fried haddock and chips, which comes with crushed peas and tartare sauce for £16. They also have daily seafood specials, including a catch of the day. All the seafood served at the River Grille comes from Brixham, so customers can know that their fish is fresh and ethically and sustainably caught. With its convenient location on Prince Street, you can't beat the River Grille if you're looking for delicious fish and chips and a fine dining experience.