The Best Vegetarian Restaurants in Bristol
Undoubtedly a growing market, the UK's seen a significant rise in it's vegetarian population over the past year, but even better is the expansion of meat-free ranges that have made their way into grocery chains and coffee shops. With more options than ever for veggie diners, we thought we'd pick five of the best vegetarian restaurants in Bristol. Here we go!
Coffee, tapas, brunch might be the three most alluring words strung together and they're the ones printed on the large window of Poco in gold leaf lettering, making it irresistible to pass by. Small, but inviting, it sits humbly on the corner of Jamaica Street, casting a warm light onto the bistro tables on the sidewalk just outside. The source of that light coming from the striking industrial pendant lights right above a window counter. The cobbled brick wall is a stunning feature and perfectly complemented by the wooden accents of the tables and white tiled bar. 
Having existed in this form since 2011 when Tom Hunt, Jen Best and Ben Pryor moved what was then a travelling enterprise that had them serving their delicious food at the UK's best festivals, into brick and mortar. Poco had been alive for seven years prior to that, which meant the team had a very solid idea of what they wanted this restaurant to be.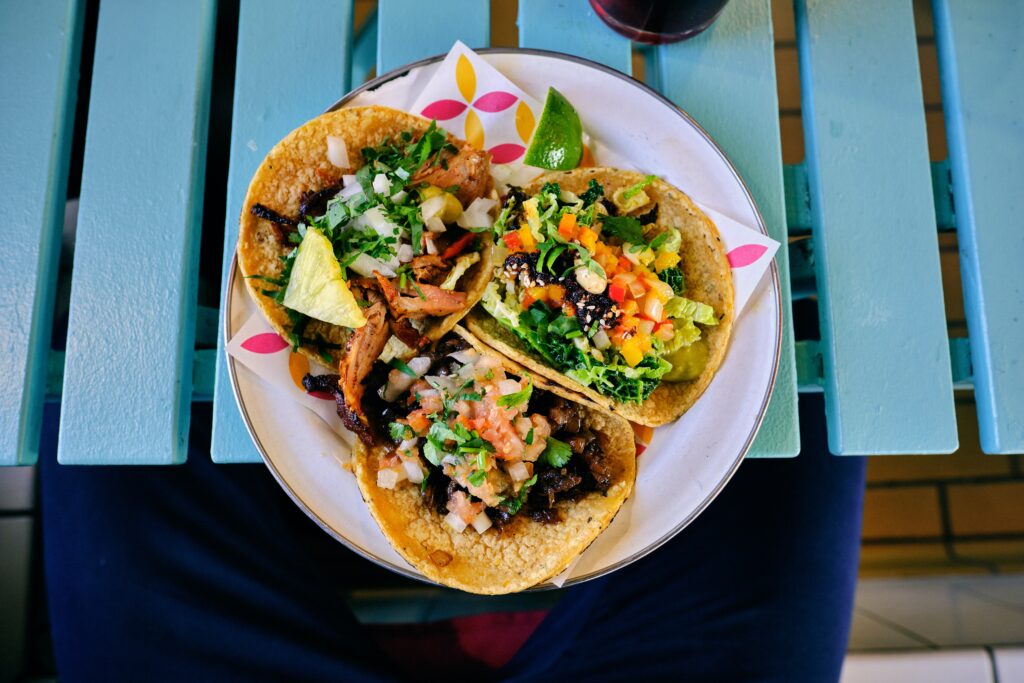 With a focus on great local, seasonal produce and the aim to create beautiful food in a relaxed environment, the team, with Tom at the helm in the kitchen, took to conjuring a menu with sustainability at its core, and it reflects in their policies. Almost everything is sourced within a fifty mile radius from suppliers who follow the same principle; good, clean, fair, while anything imported is bought from ethical distributors. Food waste is composted and weighed, so it can be decreased in future and everything is powered by renewable energy, and this only covers a smidge of what they're doing. Unsurprising then that they were crowned 2016 & 2018 'Sustainable Restaurant of the Year', 'Best English' and 'Best Independent Restaurant' at the Sustainable Restaurant Association awards, and' Best Ethical Restaurant' at the Observer Food Monthly Awards.
Their tapas menu has beautiful vegetarian nibbles like Roasted Three Mile Vegetale made from local root vegetables roasted in honey, mustard and caraway, topped with vintage gouda and pangrattato or a shallot puree, smoked almond dukkah, pickled Hungarian hot wax chillies arranged together as a Roast Autumn Squash. If salad is your thing, they do a protein-rich selection of British pulses, signature dips, sauces, olives, pickles, seeds and leaves. Because it's seasonal, there's always new treasure to discover, including recent additions like mushroom and aged Cornish gouda pearl barley arancini, served with a walnut and basil pesto.
For great food with a conscience, Poco is a go-to; knowing every bite goes a long way in offering our planet some relief – and it helps that it tastes tremendous.
Given how much happiness the humble hamburger can spark with just one bite, isn't it a real shame that it was lacking in good vegetarian alternatives for a really long time? As the restaurant industry eventually thawed – just like the only frozen veggie patty you could find in 2010 – it became more open to creating with plant-based ingredients in mind. Rory Perriment, however, was way ahead of the curve, starting Burger Theory up in 2012 and taking to the road with their mobile stall to serve delicious, more creative burgers to the masses at fairs and festivals. 
Residencies came after, everywhere from The Golden Lion to Kong's Bar where Nick Makin was working, unaware that he'd be opening a crowdfunded restaurant with Perriment in 2017. With the doors open at their St Stephen's Street location, the pair continued creating burger recipes that pushed boundaries by looking to other countries for flavour inspirations.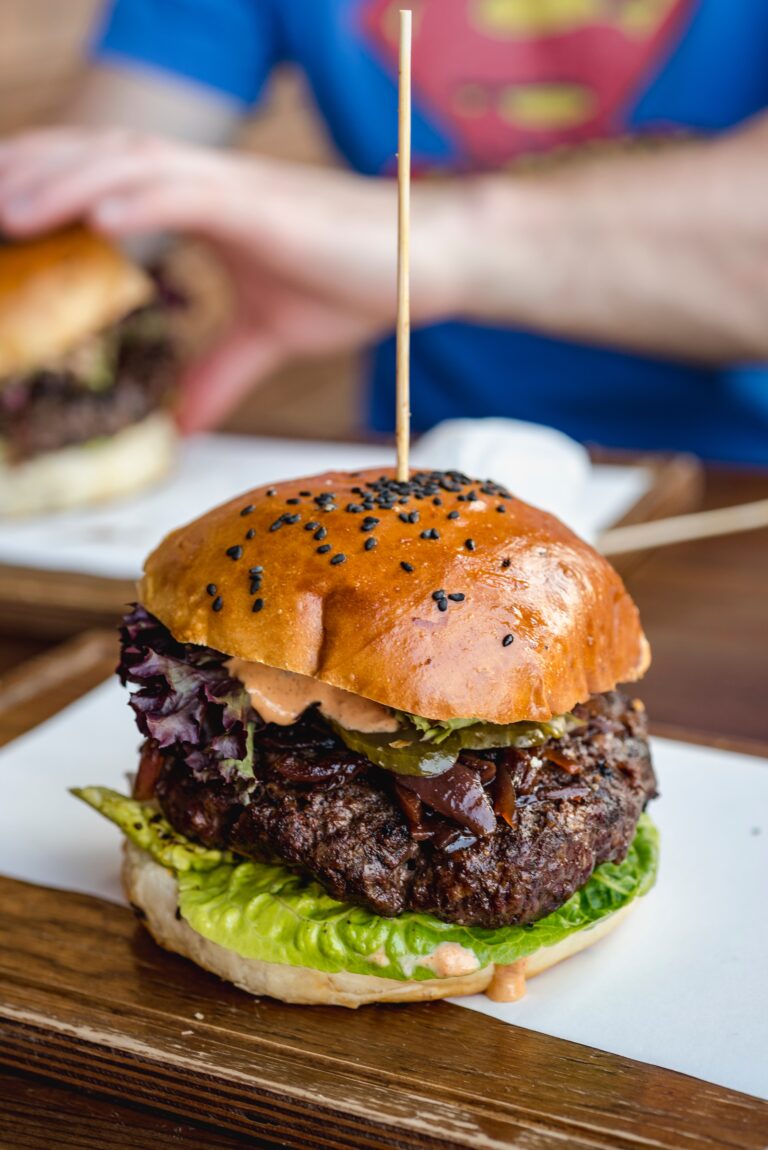 If you fancy a taste of the South, for example, the Southern Hippie might just be your new best friend; topping southern fried portobello mushrooms with halloumi, Frank's hot sauce and either blue cheese dressing or bbq sauce, it's deliciously spicy and crunchy with just a hint of tang. If that's not your thing, you can enjoy an asain twist with the Fu-Chi; their Miami vegetarian burger topped with cheddar, chipotle mayo, kimchi, pickled peppers and sticky chilli sauce. There's also Rory's Best Ever Veggie Cheese Burger, which says it all really, but the great thing about Burger Theory is that any patty can be replaced with the Miami burger, giving diners access to a huge range of flavours. 
When it comes to burgers, sides are almost as important and at Burger Theory there's plenty to choose from; jalapeño cheese balls, onion rings and skin on fries you can dip into one of many sauces like ketchup, chipotle mayo, garlic mayo, bbq, blue cheese or Mac 10 burger sauce. 
Having created a real burger shack vibe with a cherry sign on deep green paint on the exterior, patrons are able to fully immerse themselves in the experience. They also have a recently refurbed outdoor area outfitted with umbrellas and bright coloured wooden benches that's almost as colourful as their menu. 
If you're ready to take your burger experience to a new level, Burger Theory is for you. As self-proclaimed "Creative Burger People" you won't be disappointed in their locally sourced, monster-sized burgers. 
There's something so comforting about good Indian food; dipping soft naans into rich and fragrant sauces, getting a mouthful of fluffy rice or breaking up intense spice by crunching into poppadoms. At Thali Easton they not only understand the value of it, they strive to elevate their menu from good to exceptional, heroing dishes to showcase the flavours from Bombay to Goa and everywhere in between, and critics have noticed.
Having won the 'Best Cheap Eats' award in the Observer Food Monthly Awards and placing second in the same category five times after, Thali is clearly a force, having also won 'Best Takeaway' in the BBC Radio 4 Food & Farming Award back in 2010. They certainly have the credentials, but what about the food? 
At Thali – which refers to a selection of healthy dishes served together as a meal on one plate, as in India, the menu is rife with vegetarian options including a lightly spiced lentil soup with handfuls of fresh spinach served with a Benagali aubergine curry. There's also a pumpkin olan served in coconut, black-eyed bean and curry leaf sauce and a warming chickpea and tomato masala. 
Elsewhere on the menu, you'll find snacks and sides that'll have your mouth watering; spiced mashed potato balls in chickpea batter, spiced potato and pea samosas, South Indian rice bread with fresh herbs, coconut, tomato and onion, homemade flatbread stuffed with spicy potato served with lime pickle and crunchy salad served with fresh coconut, parsley and coriander. 
If it's dessert you want, they have a gorgeous warm Gulab Jamun; a warm doughnut steeped in saffron and cardamom syrup, freshly baked and served with a masala chai. There's also a raw chocolate cheesecake, pistachio and chocolate kulfi or mango sorbet to end the meal on a sweet note.
Completely authentic, Thali isn't just about tasty food, they also focus on sustainability. Adopting an Indian mantra of doing more with less, they minimise waste, recycle where they can and source locally where possible, earning them a Three Star Sustainability Champion Rating from the Sustainable Restaurant Association in 2013.
With an interior as vibrant as the food – think orange and yellow cushions, bright blue tables, pink pillars, lanterns dangling from the ceiling and bold imagery covering the walls – Thali Cafe is a wonderful way to experience Indian cuisine and culture in a laid back environment.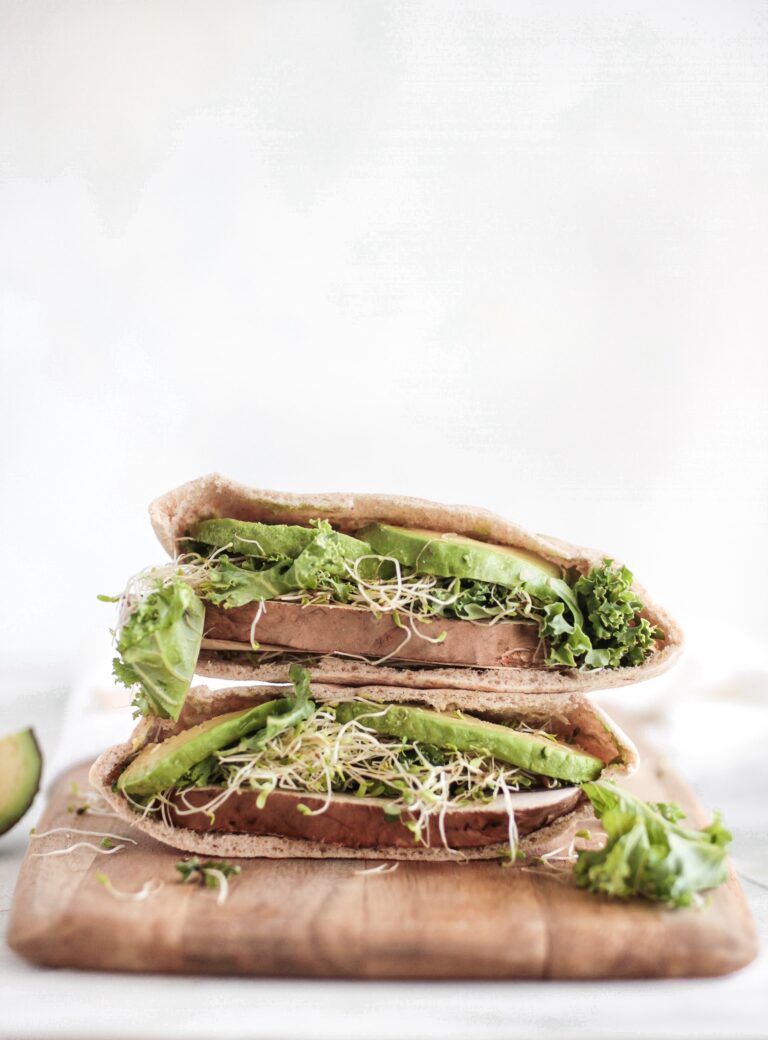 With his grandma's falafel recipe in hand, Dan Levy founded Eat A Pitta over nine years ago and it's been a popular and ever-expanding endeavour since. Now, with five locations across Bristol, they still stay true to that recipe from Algiers to create perfectly spiced, crisp and authentic falafels. 
The menu is simple, but when your star-product is as good as theirs, it doesn't need to be complicated. The choice is between a classic falafel in a pita or a box, both come with a salad of lightly pickled savoy, white and sweetheart cabbage, moroccan carrot, roasted cauliflower couscous, tomato, cucumber, beetroot salad, tabbouleh, hummus and pickled onions/gherkins/chillies. 
There are options for snacks and sides, including falafels with hummus, a hummus bowl, additional falafel, salad, pitta, pickles or thyme and sesame flatbread and you might want to grab one of their juices to accompany your meal. All freshly made to order, there are beautiful combinations like raspberry and strawberry, carrot and orange, mango and passionfruit or pineapple, mango and papaya. Yum. 
At any one for their sites, you'll find the salads piled high like at a Moroccon spice market and the vibrancy of those salads are mimicked in the surrounding decor. Carrot orange paint, turmeric yellow doors, cucumber green market stands, provenzale mosaic tiles, patterned pendants and beautiful serving bowls.
As if being affordable, super tasty and healthy wasn't enough reason to love this chain, Eat A Pitta are also environmentally friendly. Being 99% plastic free means that they rely on compostable materials for the packaging instead. They also use 100% renewable energy and work hard to achieve a zero waste policy by utilising food apps like Too Good To Go and beyond. 
Giving back to the community is another big part of Eat a Pitta's philosophy and they've done numerous donation drives, raised funds for Bristol children's hospital and helped homeless people by donating warm clothing.If you love companies with a lot of heart and drive to give back, Eat a Pitta should definitely be on your list of places to visit. Good ethos, great food and definitely one of the best vegetarian restaurants in Bristol.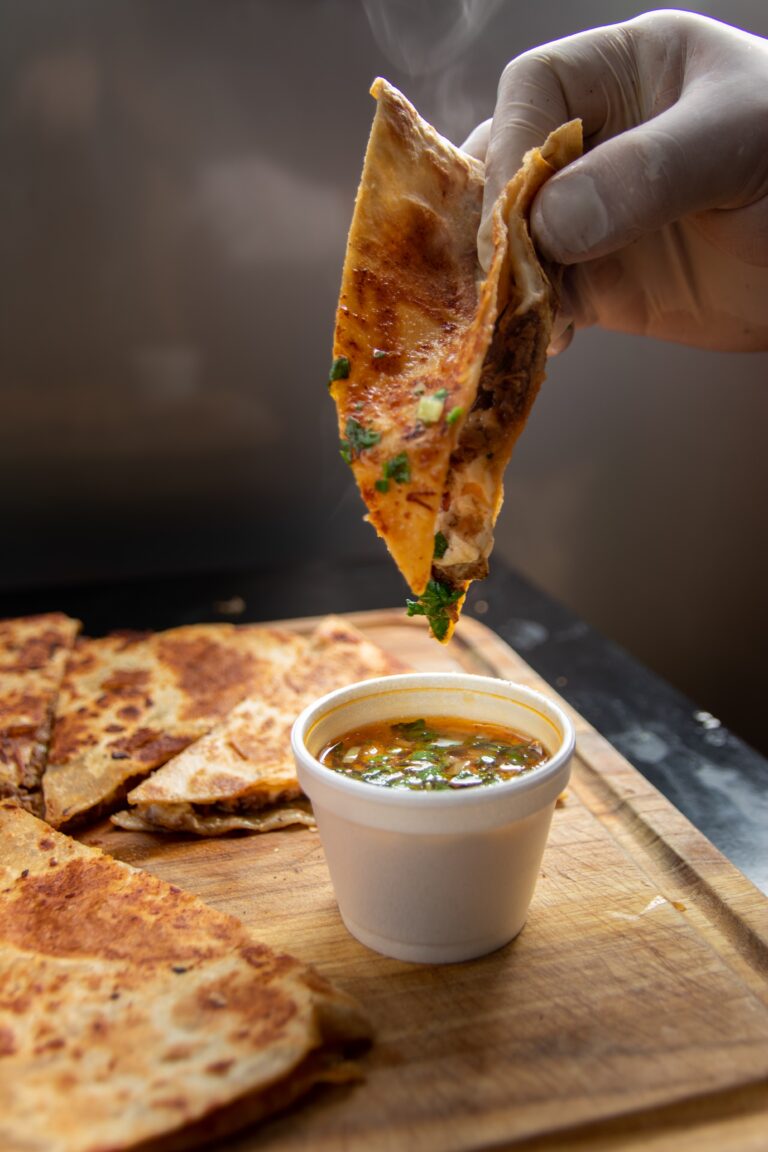 At Flow you can expect joy on a plate. Creating bright dishes through a variety of techniques, they've specifically designed their menu for sharing so diners are able to experience the complimentary flavours of various combinations on their fully vegetarian menu.
Things like chive dumplings are brought to life with whipped goats cheese, fresh peas, elderflower, fresh basil. Forest mushrooms with fino sherry, jacket potato gnocchi and blackcurrants are mouthwatering, but it might be the indulgent seeded buttermilk twiglets with a Quickes cheddar custard or crispy tempura spring onions with nasturtium mayonnaise that catches your eye. Regardless of the mix of dishes you order, you can rest assured knowing it's all locally sourced. 

The vegetables, fruit and herbs are all grown in their own allotment a short cycle away, the flour is milled locally before it's used in their homemade bread, eggs, cheese and dairy products are all procured from South Western suppliers for guaranteed freshness. That quick turnaround from supplier to table makes an impression on the plate too by not only looking vibrant, but tasting fresh and thereby adding to the explosion of flavour of plates like salt baked beets with fermented veg patch leaves, black olive and spelt crumb, purple potato purée and red basil.
Cooking seasonally of course means that the menu is ever-changing, but when the food is as imaginative as theirs, you want to come back often to discover more of their creations. And yet, it isn't just the food that'll keep you coming back either; tucked between colourful street art at the bottom of Stokes Croft, it manages to feel seperated from the hustle of the inner city whilst still being really central. The casual atmosphere of the restaurant makes it feel even more like a haven and the addition of friendly service is a massive bonus. 
Flow is playful, you can tell by their branding and social media presence, but they're very serious about creating accessible and delicious vegetarian meals that'll appeal to the masses which definitely earns them a spot as one of the best vegetarian restaurants in Bristol.