The Best Festive Treats in Bristol
The holiday season is a time for indulgence and enjoying seasonal flavours and the treats you can't get the rest of the year. Bristol has no shortage of festive treats available, from classic treats like mince pies and gingerbread to unique twists on the classics and one-of-a-kind creations. Whether you're looking for a quick treat to fuel Christmas shopping in the city or a showstopping dessert to take your holiday party to the next level, there's something for everyone. Here's are some of our favourite festive treats available in Bristol this holiday season and where you can find them. 
Since first opening their stall at St Nicholas Market in 2014, Ahh Toots has made a name for itself as one of the best cake shops in Bristol. It is an art-focused bakery known for cakes that look almost too good to eat. Owner Tam Galliford had dreamed of opening her own cake shop since she was a child, and after working in a number of top bakeries in Bristol as well as London, she was able to make her dream a reality. Over the last few years, there have been a lot of changes for Ahh Toots. In 2019, Amy Symonds, who had previously worked as a pastry chef in Michelin star restaurants like Pony and Trap and Michael Caines, joined the team. Then in 2020, they expanded to their Christmas Steps location, on one of Bristol's oldest streets. The café building is rumoured to date back to the 13th century and is a stunning Tudor full of history.
 With their expansion to the new café, Ahh Toots is now able to offer sit-in brunch, lunch, and afternoon tea. Both locations serve a variety of seasonal cake flavours as well as popular favourites like Victoria sponge and tres leches. Many of their cakes are vegan, and they also offer several gluten-free options. Ahh Toots' cakes are available by the slice at both locations, and they also serve cake shakes which are like a sundae but use cake instead of ice cream. Ahh Toots offers an extensive Christmas menu filled with delicious treats like mince pies, gingerbread, Christmas pudding, boozy chocolate truffles and sugar cookies. Additionally, they have a number of seasonal cakes, including a yule log, Ahh Toot's take on a fruit cake, dark chocolate, mulled wine bundt, and mint chocolate cake. If you aren't in Bristol this holiday season or are looking for a unique and delicious gift to send to friends or family, you can even get some of Ahh Toot's Christmas brownies delivered right to your home. 
Where Can I find the Ahh Toots?
Mrs Potts Chocolate House
Mrs Potts Chocolate House, located on Park Street, is an independent café specialising in all things chocolate. They serve seven kinds of hot chocolate made from just milk and the highest quality chocolate, countless different chocolate desserts, tea, coffee, and milkshakes. Mrs Potts Chocolate House is passionate about using local ingredients for as many of their treats as possible, and everything they serve is made fresh in the store. They get the milk from Bruton Dairy, which is only about 30 miles from their Bristol café and ice cream from Marshfield Farm Ice Cream. Mrs Potts Chocolate House offers a number of special treats for the Christmas season, such as their Christmas chocolate Guinness cupcake and chocolate orange brownie.
Where Can I find Mrs. Potts Chocolate House?
They also have seasonal hot chocolates, which include spiced roasted white hot chocolate, which comes topped with cream, a chocolate disk and mini gingerbread friend and a peppermint hot chocolate topped with cream, a mini candy cane and chocolate disk. If you're looking for something fun to do during the holiday season, Mrs Potts Chocolate House often runs a Christmas Pudding Club, which is a fun night to visit the café and enjoy all their Christmas treats. Additionally, they offer a party platter which is the perfect way to take your Christmas party to the next level. 
Located right in Clifton Village, Anna Cake Couture is any cake lover's dream any day of the year. They are best known for their small square slices of cake called cubicakes which are available individually or in flights of two, five, or ten. Owner and founder Anna Tyler first got her start as a wedding cake designer and started Anna Tyler Cakes. As the brand grew, it expanded its offerings and, in 2014, rebranded as Anna Cake Couture. Today, in addition to wedding cakes, the award-winning wedding cake designer offers cakes for occasions like birthdays, baby showers and holidays as well as macarons, cupcakes, NYC cookies, and of course, cubicakes.
In addition to the flavours available year-round, which range from traditional vanilla and red velvet to pistachio and rose raspberry, Anna Cake Couture offers seasonal flavours during the holiday season, including vegan, dairy-free and gluten-free options. Cakes can be ordered online and delivered or purchased in their Clifton Village café. In the shop, you can watch the talented Anna Cake Couture team hard at work in the open-air kitchen while enjoying a coffee or cubicake. Everything they sell is made right on-site, so you're always guaranteed the freshest baked goods possible. Anna Cake Couture offers a number of special treats around Christmas, including an orange and ginger Christmas cake and cubicakes, seasonal cupcakes flavours such as chocolate cherry, vanilla and salted caramel and raspberry and white chocolate, gingerbread stars, Christmas cookies and macarons. If you're looking for the perfect gift this holiday season, Anna Cake Couture has you covered with their Christmas macaron gift box. 
Where Can I find the Anna Cake Couture?
The Bristol Loaf first opened its doors in 2017 and have quickly become one of Bristol's top bakeries with three locations around the city. They're known for their handcrafted and organic bread, savouries, pastries, and cakes which are made from the highest quality, locally sourced ingredients and made fresh each day in their open-air kitchen. The Bristol Loaf offers a number of gluten-free, vegan and vegetarian options, including rolls, stuffed focaccia and toasties. Their menu changes daily, and this doesn't change during the holiday season. Unlike the other cafes and restaurants on this list, the Bristol Loaf doesn't have a set Christmas menu available throughout the season but daily Christmas specials available for a day or two at a time.
Where Can I find the Bristol Loaf?
Some of the delicious treats available include mince pies, chocolate mousse, ginger and orange doughnuts, Christmas Bretons, gingerbread and mascarpone crolinders, and vegan mulled wine and dark chocolate mini-cakes. Some of their items are available for pre-order and delivery, such as their mince pies and sourdough panettone, which is made with dark chocolate, candied oranges and lemons, bergamot, honey and almonds. The Bristol Loaf's talented baristas also create seasonal drinks available in their cafes, such as Christmas dalgona coffee spiced with fennel seeds, cloves, cinnamon, and dried apricots and drinks like mulled wine are also available.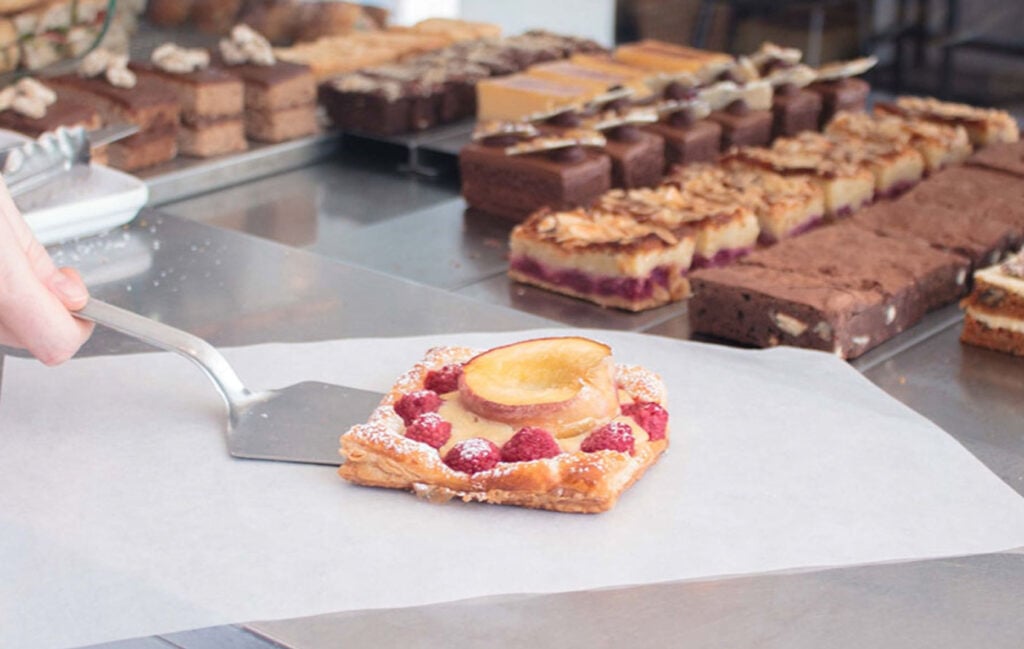 Named one of the 25 Best Bakeries in the UK by the Sunday Times, Pinkmans Bakery on Park Street is an essential part of any list of treats available in Bristol. The bakery was co-founded in 2015 by Steven Whibley, a seasoned industry professional who had previously worked with Gail's Bakery and Le Pain Quotidien, and they quickly became famous for their sourdough bread. Year-round they use their bread for delicious breakfasts and sandwiches and also have a wood oven in their shop, which is used for their famous sourdough pizza. In addition to their sourdough, Pinkmans is well known for its baked goods and sweets. Perhaps their most famous dish is their signature sour-dough-nut. The doughnuts are hand-rolled and fried in the shop before being filled with pastry creams and garnished.
They come in all different flavours and combinations like chocolate pecan brownie, honeycomb mousse and vanilla cream and raspberry jam, as well as vegan and seasonal flavours. Pinkmans regularly change what baked goods are available but often have tarts, tortes, Bakewells, brownies, cookies, and cakes. During the holiday season, they add classic treats like mince pies to their rotation as well as unique options such as Ferrero Rocher and sherry trifle sour-dough-nuts. Pinkmans also won Best Cakes at the Bristol Good Food Awards in 2016 and have continued to receive recognition for their baked goods both locally and nationally since. Their cakes, which are available in a number of seasonal flavours in addition to the classics, are a great way to make your Christmas celebration memorable and delicious. 
Where Can I find the Pinkmans?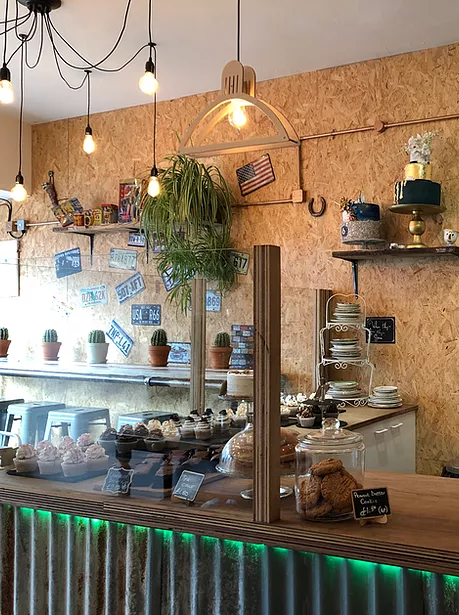 Just outside the city of Bristol, in Hanham, Sticky Fingers is well worth the trip for a delicious festive treat unlike anything else you'll find in the city. The bakery first opened in 2014 and is an American style bakery known for its wedding, celebration, and novelty cakes. Owner Greg is a completely self-taught sugar artist and cake decorator. After moving to Bristol from Texas, he found himself craving pumpkin pie, which he couldn't find in stores in the UK. He used his mom's recipe to satisfy his craving and quickly started getting orders for his pies. From there, he started developing his own recipes and modifying the ones he had already mastered.
 He worked out of his home kitchen for the first three years before it became too much for the space and moved into the current Hanham location. As Sticky Fingers has grown, Greg has stayed true to his Texan roots. In addition to cakes, you can find all different kinds of cupcakes, brownies, and cookies in the shop. Many of these are made using his family recipes or adaptions of these recipes. The cakes Greg makes are a fun combination of UK and United States recipes and flavours that result in unique but delicious desserts. He uses ingredients like chocolate-covered bacon to help give his treats a distinctive twist. Sticky Fingers has many gluten and dairy-free options and has even seen some of these gluten-free items become more popular than the glutenous versions. Similar to the Bristol Loaf, Sticky Fingers menu changes every few days and once something is gone, it's gone. During the holiday season, you'll find a number of delicious treats available such as peppermint bark, Christmas push pops, ginger and white chocolate cookies, chocolate orange hot chocolate, peppermint crunch cupcakes, gingerbread brownies, chocolate and cherry cake pots, and more. Sticky Fingers also has stunning Christmas cakes available for parties and gatherings, but these would need to be ordered in advance. 
Where Can I find the Sticky Fingers Bakehaus?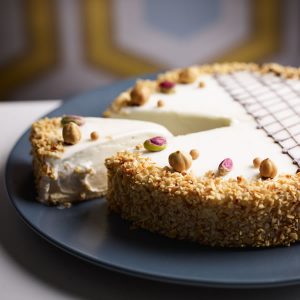 If you're not a baked good person but still looking for a festive treat this holiday season, make sure to check out Swoon on College Green. They serve gelato and sorbet made from the freshest and highest quality ingredients and regularly introduce new and exciting flavours created in their flavour lab. Their sorbet menu includes classics like mango, chocolate and raspberry and their gelato menu includes everything from vanilla and pistachio to amarena cherry cheesecake.
Some of their most loved flavours are their guest flavours which change seasonally and are based on the time of year and ingredients and available. Their Christmas flavours are sure to be a hit with all ice cream lovers and include unique flavours like panettone and mine pie gelato and clementine sorbet. Swoon also has Christmas specials such as a gelato cake using their seasonal flavours, an individual stuffed panettone which is a mini panettone with a scoop of gelato stuffed inside, and their famous Tronchetti, which is a gelato yule log. 
Where Can I find the Swoon?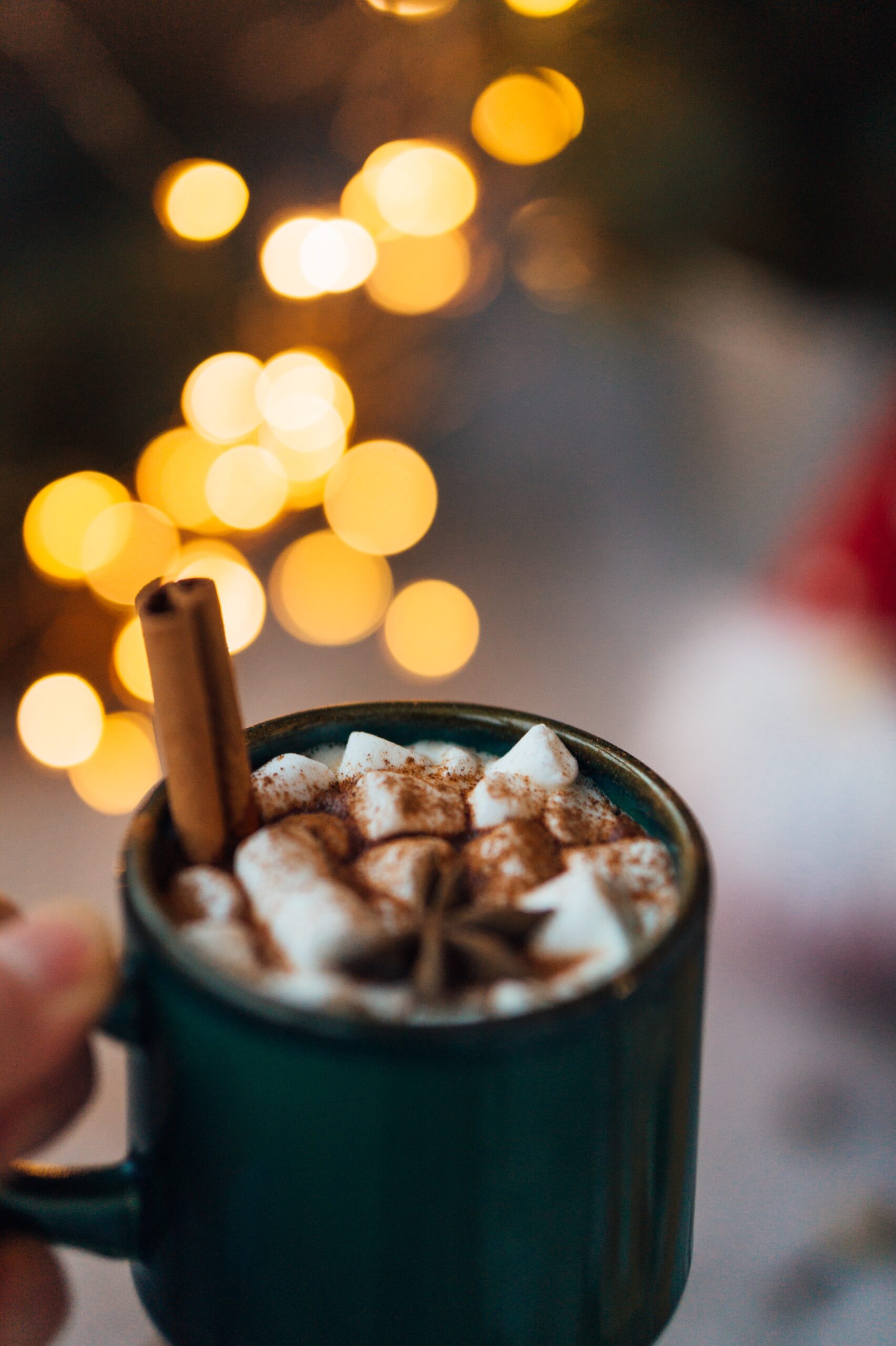 Enjoy!
You can't go wrong with any of these festive treats or any of the countless others you can find in Bristol at this time of year. As always, just remember to pre-book, when possible, to avoid disappointment as all of these cafes and restaurants are sure to be busy this holiday season.