In an age where you can browse thousands of books online and have them delivered to your door the next day or downloaded directly to your e-book reader, you might expect the days of the brick-and-mortar bookshop were numbered. You would, however, be wrong.
Bristol has a bustling independent bookshop scene.
While the convenience of online shopping is great for the essentials and the completely unessential niceties in life, choosing your next book is something that a lot of us take personally. No one wants to invest their time and money into a book that's not right for them. Duped by review echo chambers and the algorithms of e-commerce, we can often find ourselves reading a book that just isn't what it was promised to be.
This is where independent bookshops come in. These independent book stores are now thriving, and Bristol's scene is no exception, with people eager to bend the ear of knowledgable booksellers on what they should place at the top of their "to read" pile. And it's not just great recommendations people come for either, the selection of books in independent bookshops is typically a lot more varied with some authors you just wouldn't find in chain stores or online. 
If Bristol's growing number of independent bookshops is anything to go by, it appears many of us simply miss the physical sensation of being able to flick through the pages of a book, talk to other like-minded word-absorbers and even smell the slightly musty aroma of text on a page.
Fortunately, whether it's in the sleek and modern Wapping Wharf, or at home in the indie district of Gloucester Road, Bristol is great for those who choose independent bookshops.
While there are now plenty to choose from, here are five great independent bookshops in Bristol that epitomise everything great about them.
Happy reading!
The Best Independent Bookshops in Bristol
One of South Bristol's most beloved bookshops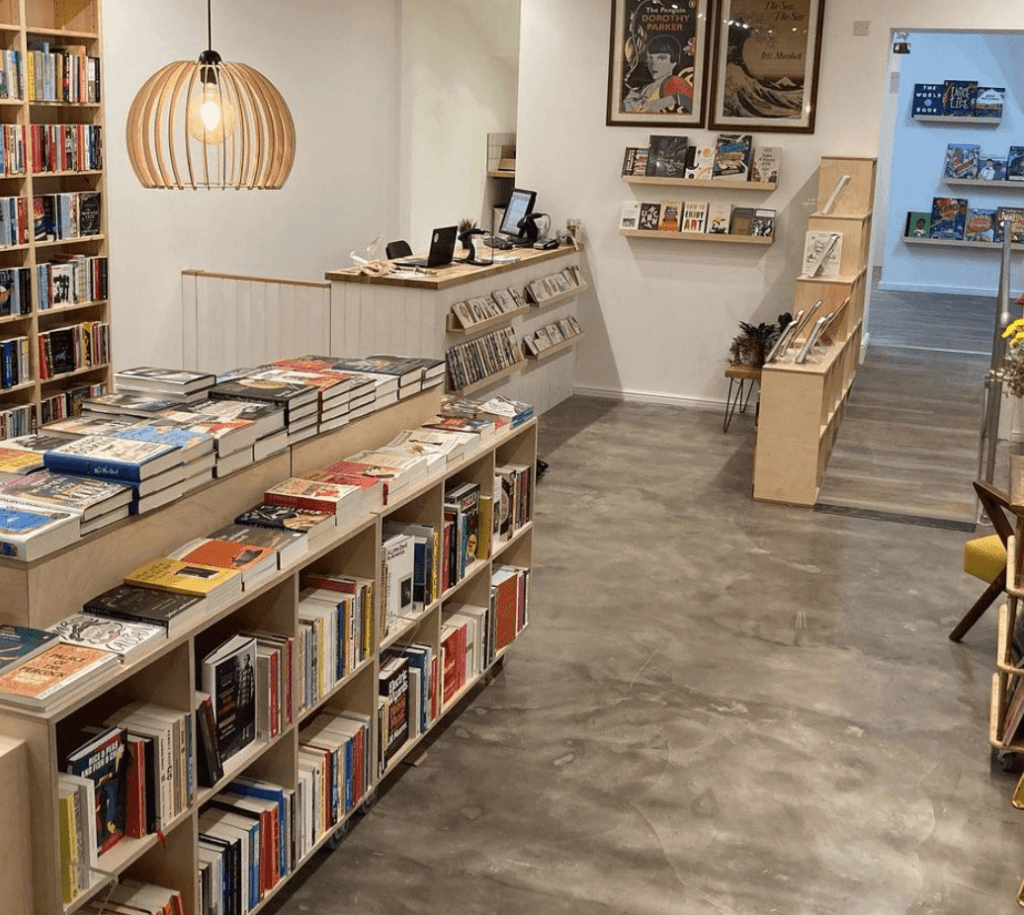 First opening its doors to Bristolian book lovers in 2018, the independent bookshop Storysmith has gained a reputation in its short life for being one of the most well-stocked retailers in Bristol. And, shortlisted as one of the UK Independent Bookshop of the Year Award in 2020, Storysmith's popularity has not gone unnoticed.
Located on North Street, in Southville, Storysmith has become a destination in and of itself for Bristol residents and visitors alike. Coming for the atmosphere as much as the books themselves, patrons particularly enjoy the friendly welcome you receive when entering the doors. The store itself is well-organised with categorisation and sections making it a cinch to find what you're looking for. The team here is also passionate about encouraging young readers so you'll typically find a nice display of children's books here too to tempt your little one into picking up a new read.
Whether you've got a list of books as long as your arm to buy or you're simply browsing, Storysmith owners Emily and Dan Ross have crafted a space for booklovers that celebrates the love of reading. And if you really can't get down to the store itself, they have a great online ordering system that treats books with the respect that is often missing when shopping elsewhere on the internet.
Travel
The best ways of travelling around Bristol. All the inside tips and tricks can be found right here.
Read More »
New bookshop in Wapping Wharf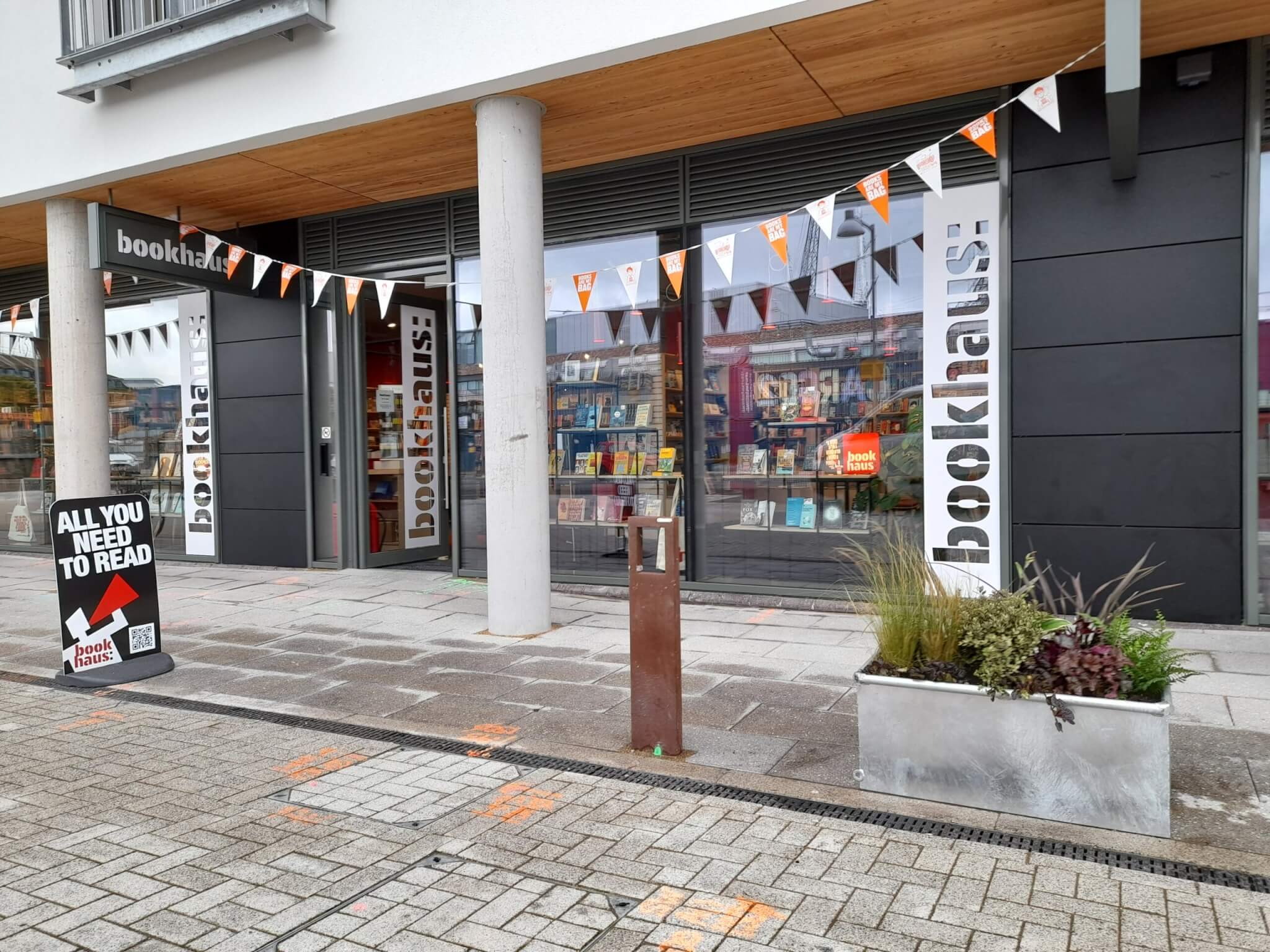 Looking suitably modern in the city's newest quarter, Wapping Wharf, Bookhaus is being lauded as potentially Bristol's best bookshop, independent or otherwise.
The store can be found around the corner from the Cargo collection of independent restaurants and eateries in the historic dock area and occupies a relatively large piece of real estate, giving it plenty of room for books.
The selection here is massive with a genuinely varied number of genres represented. Those interested in political and social issues will find Bookhaus particularly good, stocking some of the latest and most exciting books before mainstream stores tend to catch wind. Bookhaus prides itself on stocking eye-opening and enlightening books with some great reads on topics such as local history and climate change, as well as celebrating black and female voices.
Bookhaus is owned by a pair of experienced booksellers, Jayne Pascoe and Kevin Ramage whose knowledge of all things books is gaining the store a five-star reputation, literally. Surrounded by other independent businesses on Rope Walk, the pair are using the store not just to sell books but to create a community hub, hosting reading and writing groups and just as a hangout for book lovers.
Beware of the Leopard Books
Beloved and well-established second-hand bookshop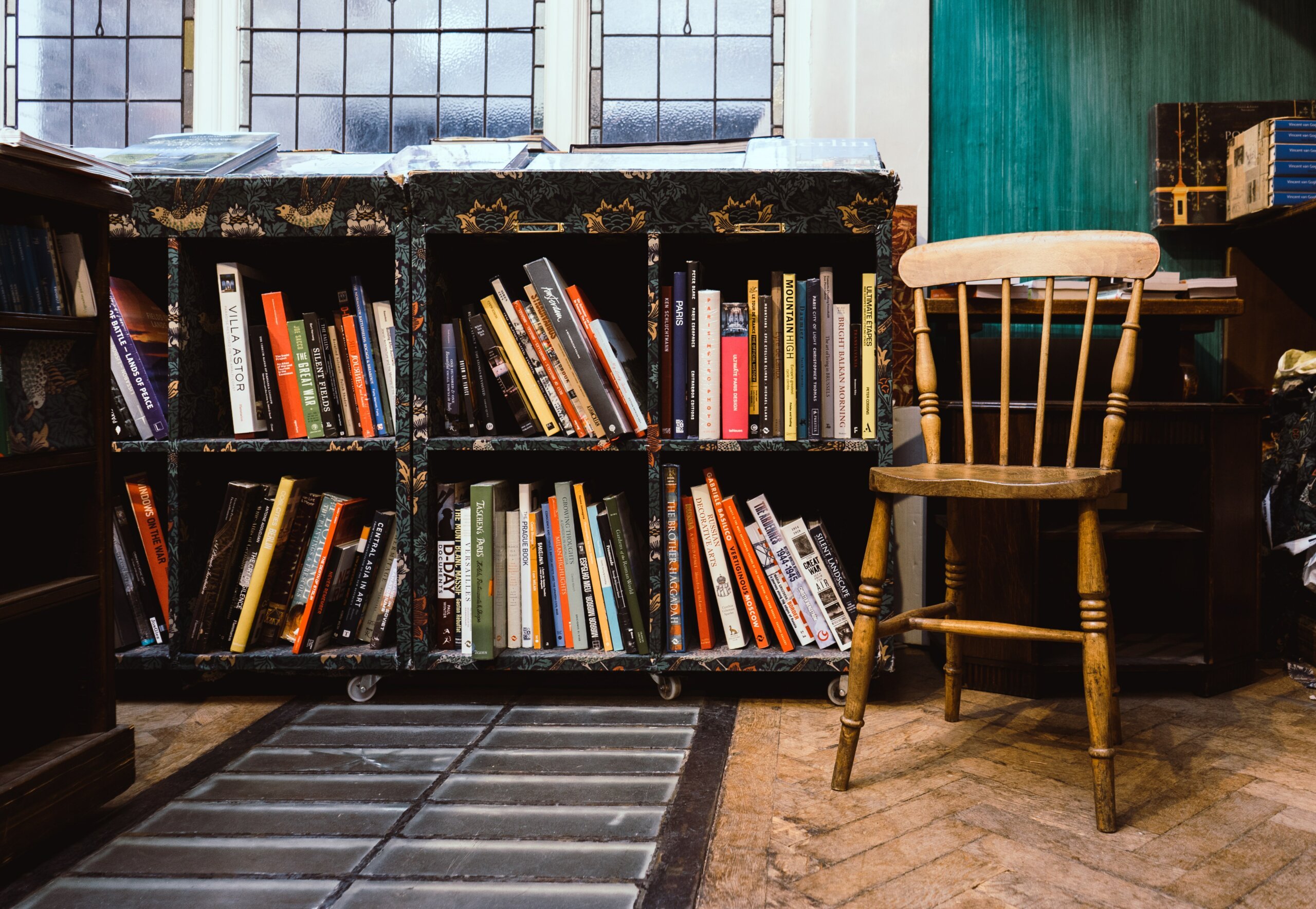 Deriving its name from the relentlessly quotable Hitchikers Guide to the Galaxy, Beware of the Leopard is one of Bristol's most beloved bookshops, selling a range of used and rare books.
Winning Bristolians and visitors over with its charm, this second hand book store is an Aladdin's cave of books. Hidden away in St. Nicholas' Market, the store itself stands out for its modest and unassuming front on both sides of the thoroughfare. On one side, fiction, the other, everything else.
If you're looking for a truly independent, old-school second-hand bookshop experience, this is it. You won't find the books in any kind of particular order or categorized in any way that makes sense, and this is exactly why Bristolians love it. If you're looking for a particular book, this is probably not the right bookshop. Instead, visitors come here for a browse, digging through shelves to see what they can uncover, from highly collectible first editions to long-forgotten copies of childhood nostalgia, the books here are used and well-loved.
Ran by owner David Jackson for more than 30 years, the bookstore has come to represent the eclectic and charming character of Bristol itself and is always worth a visit.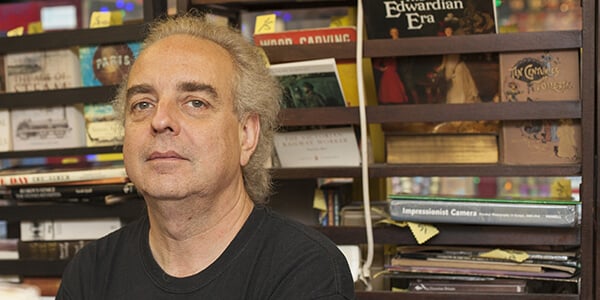 Independent bookshop, bookbinder, and art-space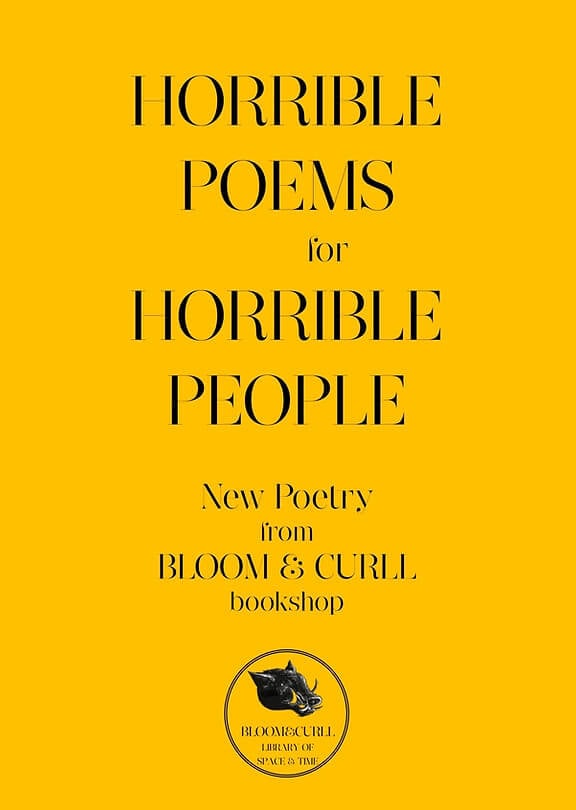 A classic small and cosy bookshop, Bloom and Curll is a treasure trove of second-hand books. A real Bristol gem, Bloom and Curll is a favourite haunt for many locals who regularly visit to pick up something new to read, never knowing what you'll find lining the densely packed shelves.
Ran by Jason Beech, the store proudly puts books first. Doubling up as Jason's living quarters for a while too, the store retains a homely feel with the owner typically seen devouring a book behind his desk or in the back rebinding a book. Potted plants hang from the ceiling and small artworks give the store yet more character.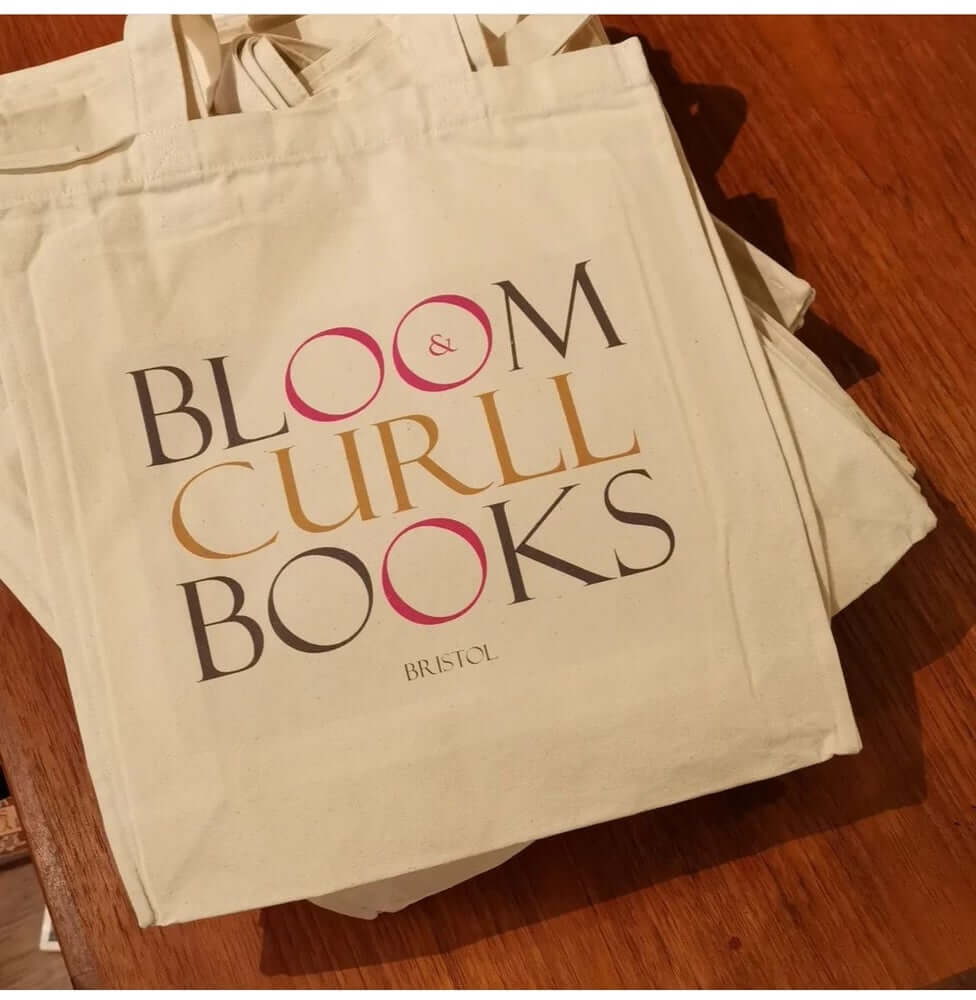 The store itself is relatively small, but with shelves lining every inch of Bloom and Curll and neat stacks of books on every surface, you can literally spend hours browsing the selection. Not that you'd need to, if you're after something in particular, Jason's extensive knowledge is perhaps the best shortcut to getting something suitable. Welcoming a chat about books as much as a purchase, Jason considers the shop a free space where novel suggestions and author picks can be exchanged.
With a little bench outside and a couple of independent cafés nearby, Bloom and Curll is a fantastic place to grab a book and a coffee and have a quiet read.
Books for Amnesty Bristol
Friendly book shop run by volunteers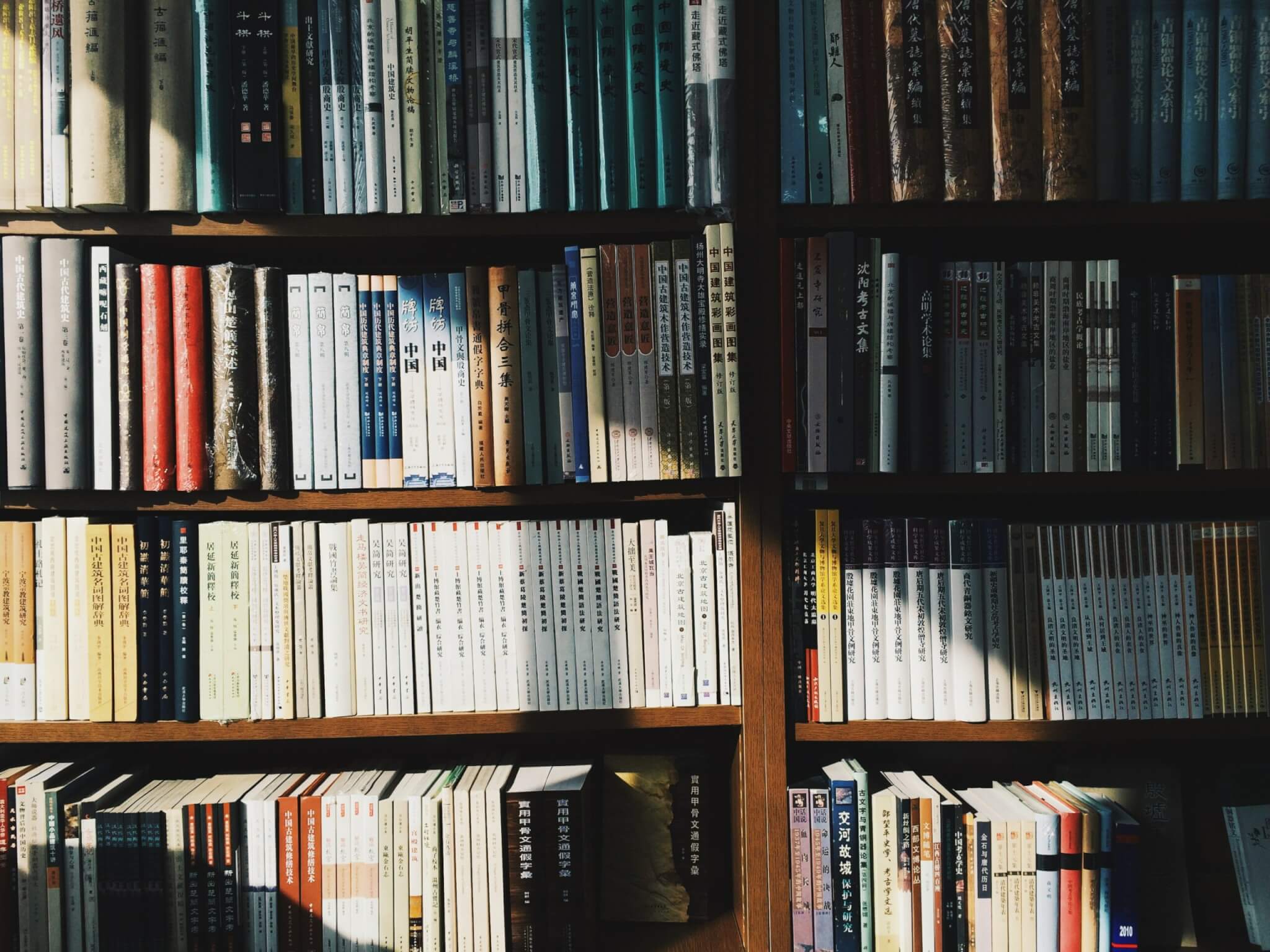 Renowned for its warm welcome, Books for Amnesty is one of Bristol's most treasured independent bookshops. The store is run by a group of volunteers whose enthusiasm for books is palpable.
Nestled amongst the other independent stores of Gloucester Road, Books for Amnesty looks deceptively small from the outside. Upon entering, however, you'll find many thousands of books within its walls. All the books here are donated with the profits going towards the efforts of Amnesty International, the world's leading human rights organisation. In donating and buying from Books for Amnesty, you not only get yourself a great new read, but you're also doing your bit to fight inequality and injustice everywhere.
Unlike a lot of other second-hand book stores, however, you can often find some of the latest works of fiction and non-fiction in Books for Amnesty, with the people of Bristol kindly donating their copies after finishing them. This circle of donation tends to repeat, with people re-donating the books again, allowing others to do the same.
Nevertheless, there are still plenty of vintage copies to be had here, and some hidden gems tucked in amongst the shelves too. Well organised, the store lists books in a loose A-Z order but it's always worth perusing regardless.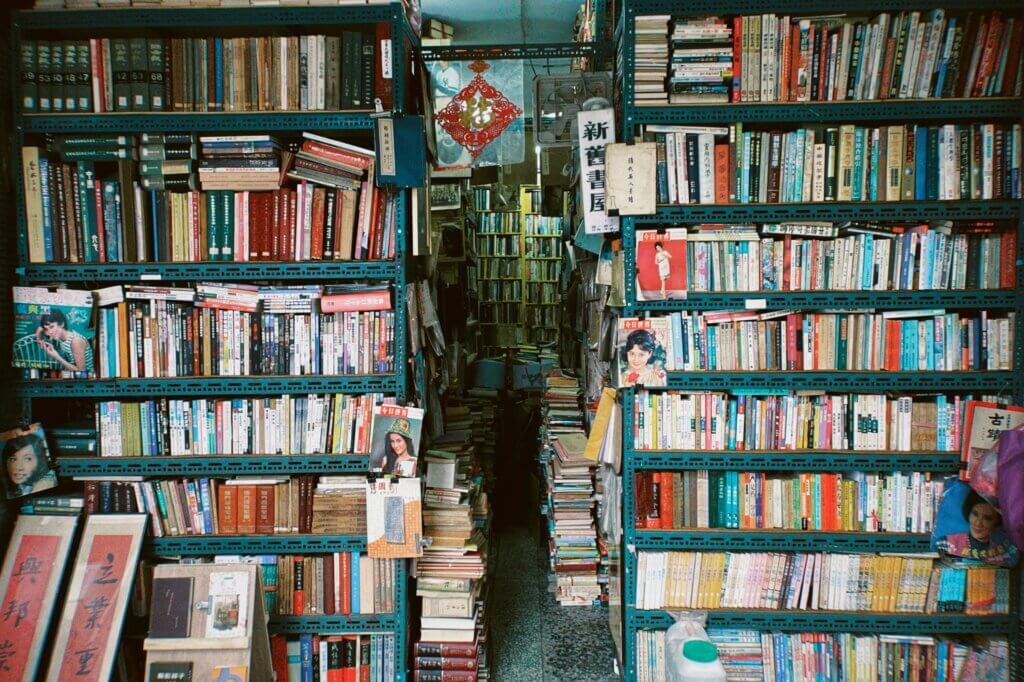 With each of these independent bookshops in Bristol offering something truly unique, book lovers can spend a whole day browsing and adding to their reading backlog. And with plenty of other book stores around Bristol, there's lots more to discover.