The Best Wedding Venues in Bristol
Nowadays, almost everything about a wedding is optional. Dislike the Wedding March? Off it goes replaced by your favourite tune. Don't fancy balancing a top hat on your head all day? Get rid. Could do without all the flowers? Au revoir roses. This is your day so it's important to get things just right.
Nevertheless, while your wedding can be customised top to bottom, one thing you can't really do without is a good venue. Whether you're having a full-on wedding extravaganza or just a humble gathering, you're going to need somewhere to get together and exchange vows before your family and friends.
Fortunately for those in and around Bristol or willing to travel, the city is home to some absolutely fantastic wedding venues. Amongst these are some of the impressive stately homes. Bristol has been home to some rather wealthy families over the years and their homes now serve rather nicely for functions and events, weddings included.
For those looking for something a little more modern, Bristol also plays host to some of the most interesting wedding venues in the country. Best of all, there are options here for everyone, no matter what your budget is.
To help you narrow down your shortlist, we've put together a list of the best wedding venues in Bristol.
Prestigious wedding venue inside a country mansion
One of the most desirable wedding venues in Bristol, the South West, and the entire country is Leigh Court. On offer is a country mansion with 27 acres of private land, right here on the edge of Bristol city itself. The mansion itself is large, picturesque, and looks absolutely beautiful in photographs.
Originally the site of a Tudor mansion built in 1558, Leigh Court mansion is a nineteenth-century structure that features Palladian architecture with Greek revival decorations. Many features within and without are still original including the magnificent double staircase (great for wedding snaps) and the pipe organ that is still usable today.
With multiple packages, halls, rooms and bespoke choices, a wedding at Leigh Court can be customised and shaped exactly to your liking. There's the more intimate Library, the Tapestry room for sit-down meals, and the vaulted Great Hall for truly special exchanging of vows. The packages give you exclusive access to the venue rooms and grounds, award-winning catering, and everything else you'll need for your day to go off without a hitch.
Easing things along is the team at Leight Court who really knows their onions when it comes to weddings. Included is a wedding coordinator who is great at giving tips, spotting oversights, and helping you come to decisions about your big day. Come the day of your wedding, you'll also be given an event manager who ensures the day runs smoothly.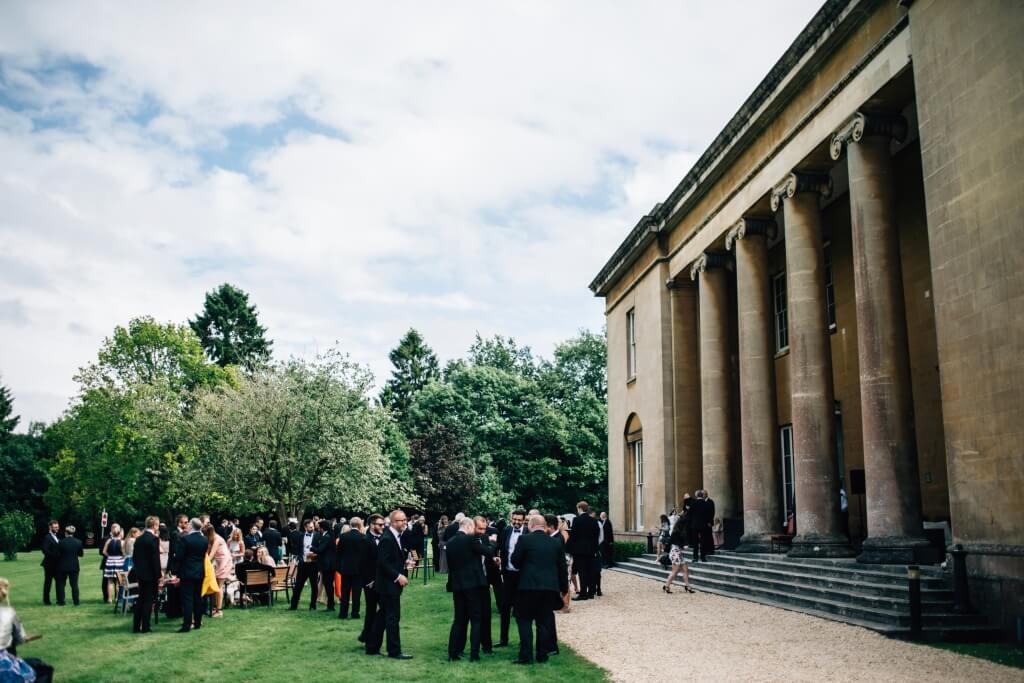 Romantic countryside venue nestled within the Swainswick Valley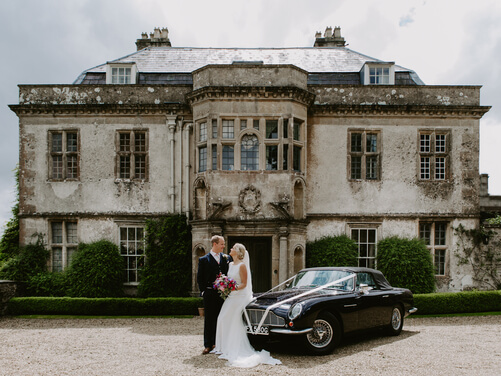 A short distance from Bristol and Bath is another country escape that has proven to be an ideal wedding venue is the 16th century Grade II-listed manor, Hamswell House. Sitting within the beautiful Swainswick Valley, this historic building is pretty much exactly what you imagine when you envision a romantic wedding out in the countryside: green, rolling hills, interesting, symmetrical architecture, long gravel paths, well-kept lawns, and garden follies that look great in photographs.
Ceremonies are held within the Orangery, made from old Cotswold stone, with large, oval-shaped windows that let the light stream in and fill the space. The Orangery itself can house up to 40 people but there's space outside too within easy-viewing distance. Receptions are served up under a marquee at the rear of the House. These marquees are weatherproof and fully heated, meaning even a Winter-wedding is comfortable and sheltered for guests, of which there can be up to 240.
When booking with Hamswell House, you get the entire estate at your disposal for the day, including the famous Walled Gardens. This charming area is perfect for bride and groom photographs, with a pergola and water garden featuring a classic Neptune fountain.
Being a private estate, Hamswell is yours for the day too. This means you won't have strangers at your wedding but, instead, just you and your friends and family celebrating in style.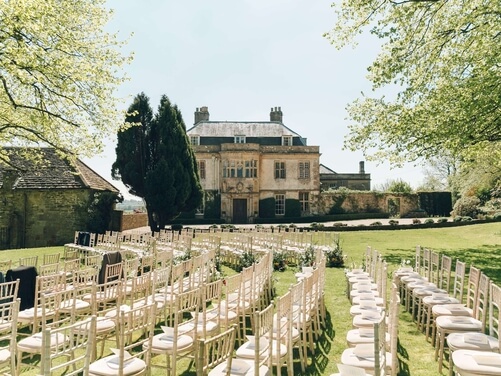 Civil ceremonies in a unique, contemporary space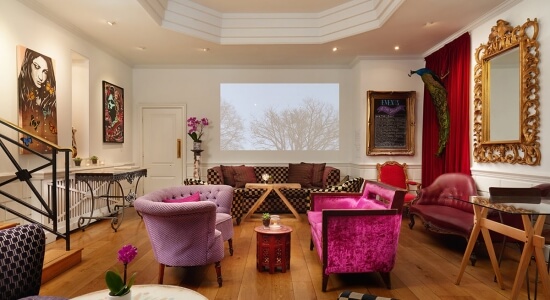 If you're after something a little more modern, or you just want an interesting venue where you and your nearest and dearest can get together and have a great day, then The Square Club is probably your best bet.
Set within the walls of this beautiful members club, a wedding at The Square offers modern decor, secret gardens, cosy mood lighting, and lots of fun. The venue has 4 truly unique spaces available for ceremonies to take place with marble altars, floor to ceiling mirrors, and open spaces too.
The Square Club can be customised to your liking, with long tables available for seated wedding breakfast meals allowing conversation and drink to flow. Or should your wedding be in the warmer months, you can opt for an outdoor BBQ in the garden terrace area. with a heated secret garden available year-round.
As the night moves on, there's also a cocktail bar and dancefloor on the lower deck where a DJ, musician, or band can get everyone up and dancing. With more than 42 rooms and 5 luxury suites on offer here too, there's no need for guests to hold back either!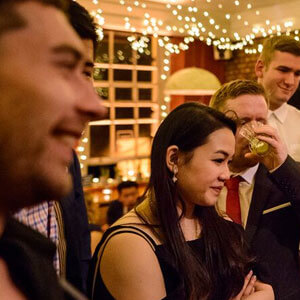 Luxury wedding venue within the grounds of a 17th-century castle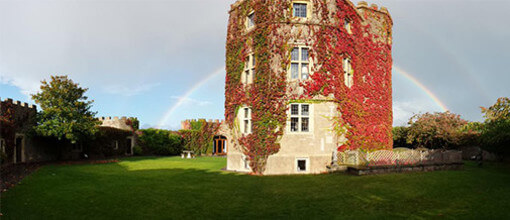 It's not every day that you get to hire your very own castle, but when it comes to your wedding day, why not? Giving you the chance to feel like a princess, prince, king or queen is Walton Castle, a 17th-century fort structure that traces its history as far back as the Iron Age. There's even mention of this location being used in the Domesday Book. The polygonal structure we see now was built between 1615 and 1620.
Despite falling into disrepair over the centuries, Walton Castle is now fully restored and in use as one of the area's most beautiful wedding and event venues. Set atop a hill, the castle's balcony allows unprecedented views over the patchwork of fields, woodland, and hills.
Come in the Spring or Summer and you're greeted with perfectly manicured green lawns. Come in the Autumn and the burning red ivy climbing the castle walls will work as a great backdrop to your photos. Choose the colder months for your ceremony and the Castle works as the perfect location for an intimate Wintry wedding.
The castle itself has 3 different areas to host your ceremony, depending on your preference with the owners allowing you to have free reign when it comes to catering and other touches. You're able to eat what and when you want, just as you should do on your special day! There is, of course, a licensed bar to help the merriment begin, alongside more unusual features such as an indoor heated pool and even a hot tub.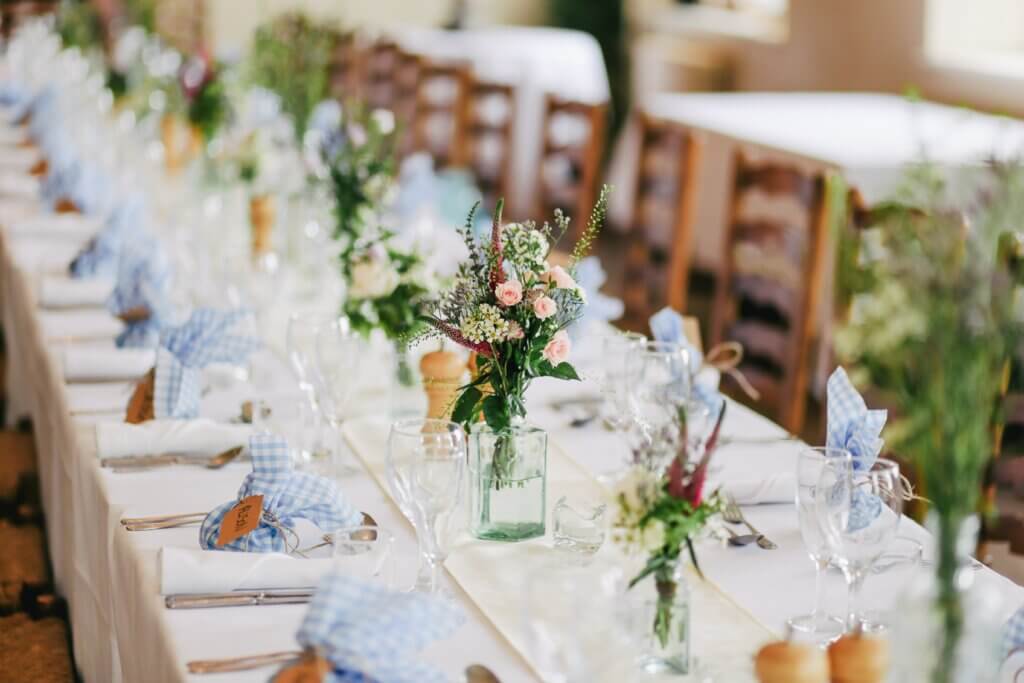 Historic ship available for wedding hire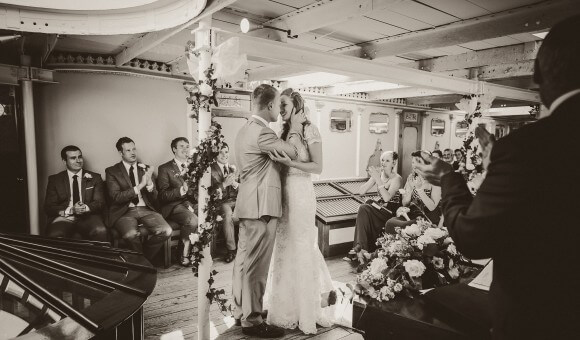 For those who want something truly unique, there's the SS Great Britain. First launched in 1843 and built by Brunel, this iconic ship now resides in the Harbour of Bristol and is used for events all year round, including a venue for people to tie the knot.
While a ship may not be your first thought for a wedding venue, at almost 100 metres in length, the SS Great Britain can comfortably host small to medium size weddings of up to 160 guests.
The promenade deck acts as the ultimate photo opportunity for your wedding, with the skylighted side of the ship transformed into an intimate and romantic space. Wedding breakfasts are held in the first-class dining saloon with beautiful early Victorian decor, candelabras, marble pillars, and ornate mirrors. A PA system is included as standard for speeches, with the team here proud of their attention to detail.
For the fun and games, the weatherdeck acts as a large open space for dancing, drinks, bands, and chatting. Looking out over the Bristol waterways, this is a beautiful wedding venue that your guests will still be talking about for years.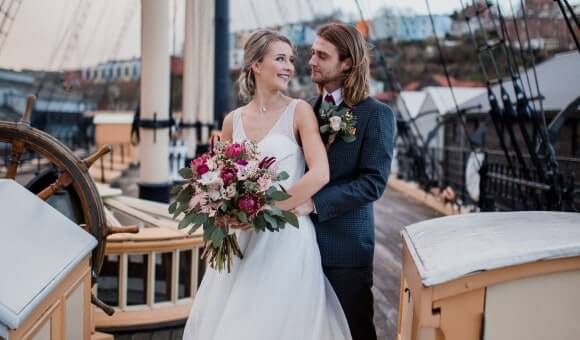 Choosing the right venue for your wedding is one of the biggest decisions of your life. Hopefully, this list has helped you choose or at least given you some ideas for your special day!