Best Places to Stay in Bristol in December
As the festive period approaches, Bristol is gearing up for the return of its Christmas market. Set in Broadmead, the middle of the shopping quarter of the city, the market includes over 50 stalls filled with handmade and unique crafts from all over Europe. Among the shops are food stalls offering hot chocolate, crepes, and traditional German bratwurst. The Jäger Barn Bar offers a warming alcoholic drink and heated seats, providing a cosy pit-stop for shoppers. 
The market also features live music and rides for kids, all within the beautifully decorated streets and under a towering 8-metre-tall festive tree. In December, Santa and his reindeers will visit the market for a meet and greet. 
It's a must see during the winter months and the perfect place to find gifts, have a good time with loved ones, and get into the Christmas spirit. If you're coming from out of town and want to make the most of the event, here are some of the best hotels within walking distance of the market.
Housed in a Grade II listed set of 18th century sugar warehouses, the Hotel du Vin is exquisitely decorated in a blend of industrial and boutique chic. As well as sumptuous rooms and suites, the hotel has a beautiful bar and elegant bistro on-site. Staying true to their name, the hotel has an extensive wine cellar and an expert Sommelier to help you choose the perfect wine for your stay. There are many Christmas packages on offer to help you get into the festive spirit. Ideal for short stays or a luxurious romantic trip, the hotel is definitely more on the expensive side (rooms start at over £100 per night).
Hotel du Vin sits right near the historical Christmas Steps, and only a short walk away from Cabot Circus.
This specific hotel was newly opened in 2021, although the company itself has existed for longer, and has won awards for green tourism. Brooks Guesthouse offers affordable chic, with every option coming in at under £150 per night. In addition to beautiful, classically decorated rooms, there is a rooftop retro caravan B&B for a quirky urban glamping experience. The terrace is open to all guests, and the guesthouse has its own bar. The breakfast service uses local, free-range produce and is delivered to your door in a quaint picnic basket. This accommodation is versatile, good for friend groups, solo travellers, couples, and families.
Brooks Guesthouse is located near Castle Park, on the aptly-named St Nicholas Street, with the shopping quarter and Bristol Bridge nearby.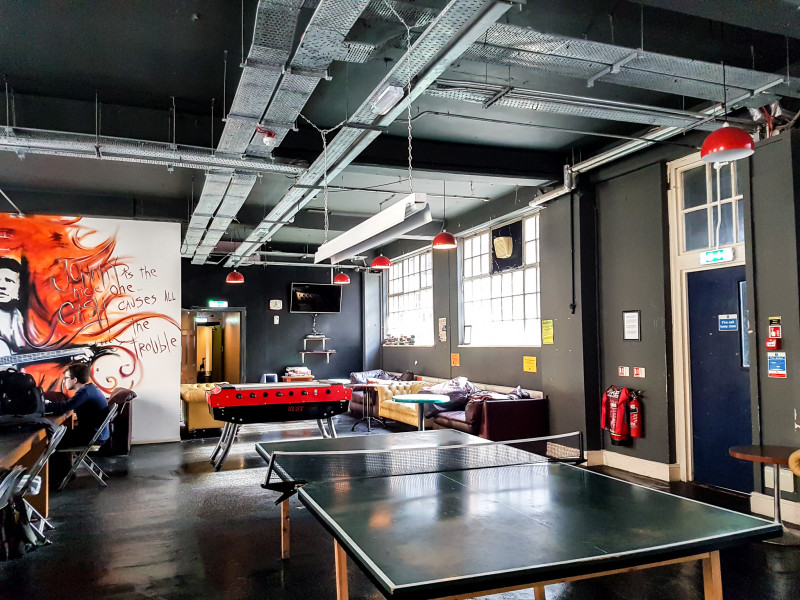 The most affordable option on this list (rooms start from £35 per night), Rock & Bowl Motel is both a place to stay and an entertainment complex. On-site facilities include a bowling alley, a nightclub, karaoke, and food and drink. Guests get a discount on all of these features. The nightclub also hosts live events like music and comedy. The décor is quirky and exciting, reminiscent of 1950s Americana but with a contemporary twist. A good place to stay if you're looking for something more unusual and a lot of fun for friend groups.
Rock & Bowl Motel is one of the closest accommodations to the shopping quarter, making it highly convenient for the Christmas market. 
Marriott Hotel Bristol City Centre
For a more familiar experience, there are also chain hotels in the area, the Marriott being one of them. This 4-star hotel is a perfect home base for a festive shopping trip. The room rates are very affordable (even more so for Marriott Bonvoy members) – breakfast is included in the price. There is also access to the on-site fitness centre, bar lounge, and steak restaurant. The Marriott is a versatile accommodation that can cater to families, couples, friend groups, and solo travellers alike.
Bristol Marriott Hotel City Centre is situated on the south-east corner of the shopping quarter, overlooking the beautiful Castle Park.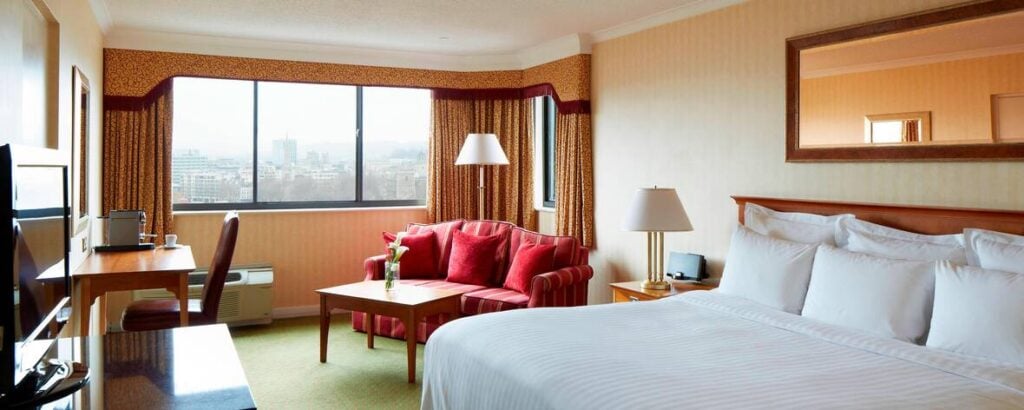 Mercure Bristol Grand Hotel
The Mercure is a 4-star hotel housed in a beautiful Grade II listed Victorian building. The décor style meshes its original classic look with a more modern street art style, in keeping with Bristol's famous art scene. The hotel also boasts the biggest ballroom in Bristol, which can be hired for events. On-site there is a whimsical bee-themed bar and restaurant, Keepers, that uses local 'urban honey' in their food and drinks. A more expensive option, with a two-night stay averaging around £300, the Mercure is good for a couple's getaway or special occasion.
Mercure Bristol Grand Hotel is on Broad Street, a stone's throw away from the Corn Exchange, which contains St. Nicholas Market.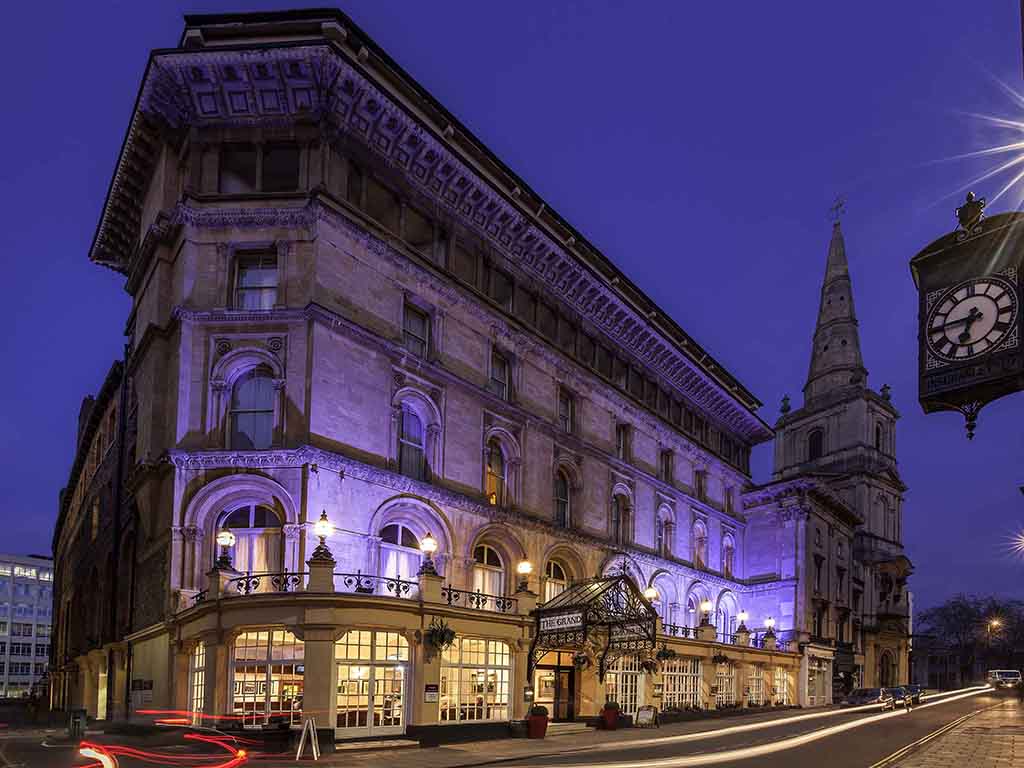 Another 4-star hotel set in a beautiful 19th century, Grade II listed building, Harbour Hotel & Spa is a beautifully decorated, contemporary hotel with original period features preserved. Facilities include the Harbour Kitchen restaurant, the speakeasy-style Gold Bar, and an underground spa and gym. The hotel is luxurious, but reasonably priced for what is available – a standard double room starts at £131 per night. The Harbour also hosts Christmas parties and events, making it a perfect place for a festive trip. Ideal for a spa and shopping weekend, romantic getaway, or something more than just a place to stay.
Harbour Hotel & Spa is located on Corn Street and, like the Mercure, is a very short distance from the Corn Exchange.
Hampton by Hilton Bristol City Centre
Another well-known hotel chain in the shopping quarter is the Hampton by Hilton. A bright, contemporarily decorated accommodation, it's perfect for visiting families, offering a 'family experience' for under-12s and a full bar for adults. Prices are upper mid-range, beginning at around £140 per night (with discounts for Hilton Honors members). The room rate includes free breakfast and use of the fitness centre. As well as families, Hampton by Hilton is ideal for couples and groups.
Hampton by Hilton Bristol City Centre is in the north of the shopping quarter and is a short walk away from the Bearpit and Brunswick Square.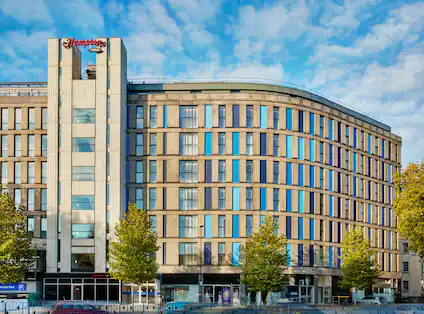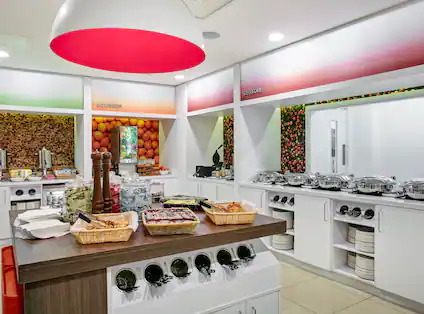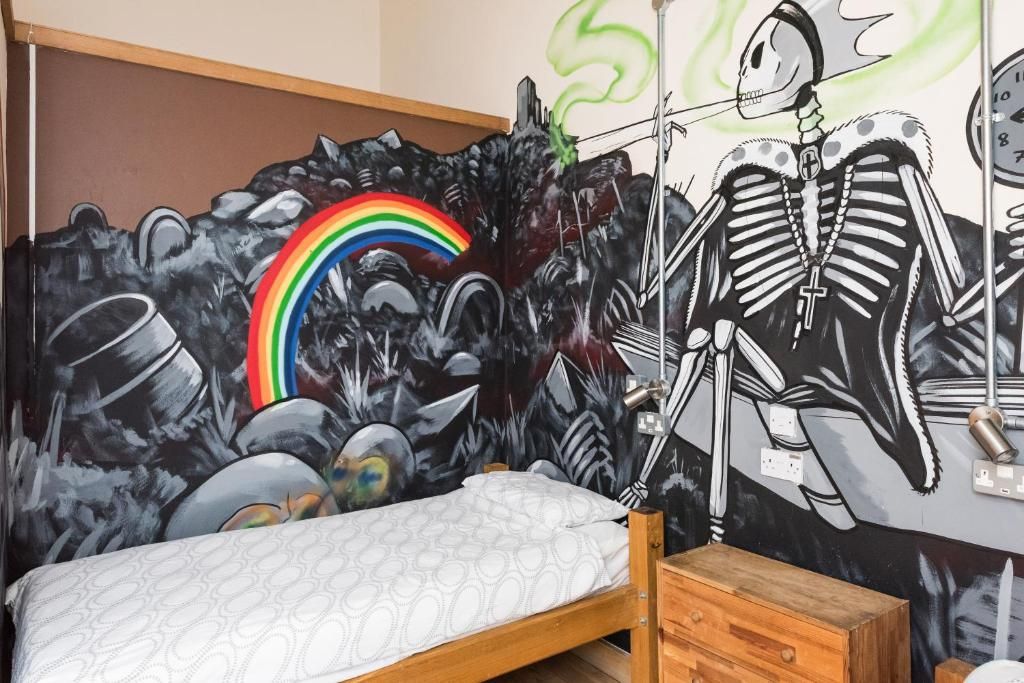 This hotel is impossible to miss, as its exterior is painted in a deep blue galaxy pattern, with a large courtyard for al-fresco drinking and dining. Extremely budget-friendly, The Full Moon offers both hostel and boutique rooms with quirky and unusual décor. Hostel rooms go for as low as £22 per night, and the most expensive boutique room doesn't exceed £100 per night. The atmosphere is relaxed and low key, with a mostly younger clientele. The rooms are above a pub that serves food, as well as hosting DJs and other events. The hotel sits in the midst of one of the artsiest areas of Bristol, offering an exciting experience of street art, world food, and live music venues right on the doorstep. A perfect place for young groups, backpackers, and solo travellers.
The Full Moon is on Lower Cheltenham Place, and a walk through the Bearpit will bring you right into the shopping quarter.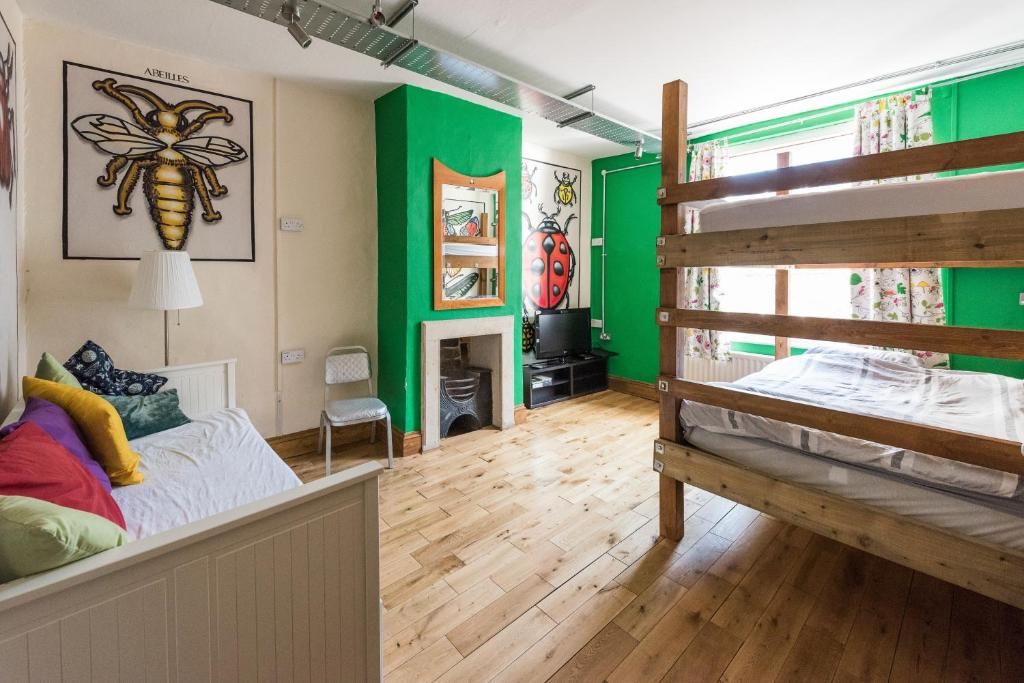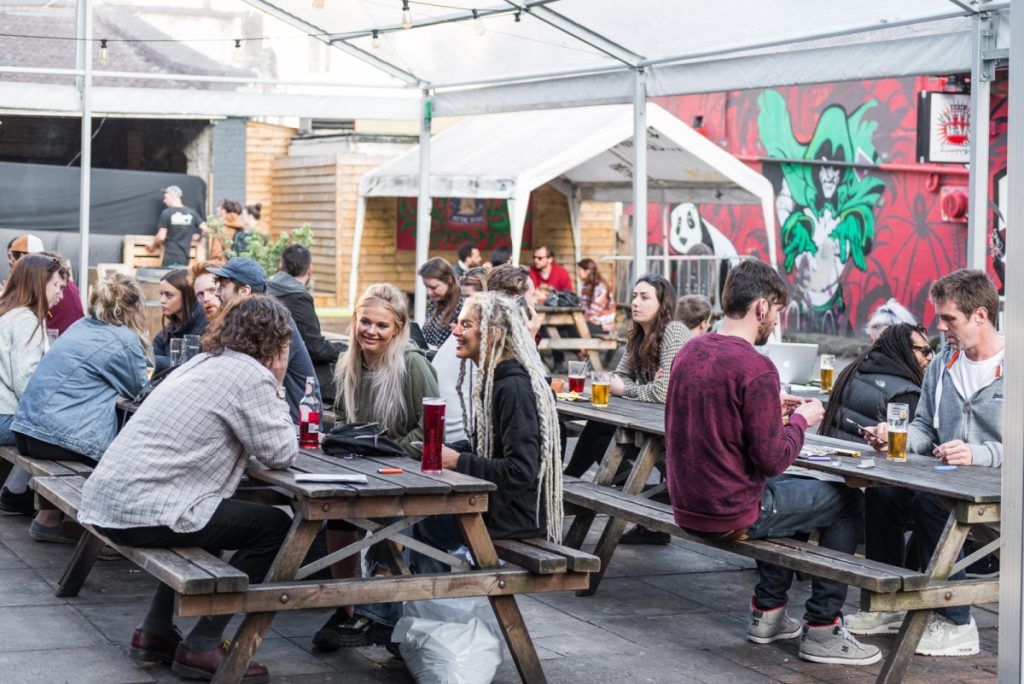 Enjoy yor time in Bristol
Whether you want cheap and cheerful or you're looking for luxury, there is a suitable hotel for you in and around the shopping quarter of Bristol. With hotels easily booked via their websites or third parties like Booking.com, getting to the Christmas market this year will be a breeze! 
Bristol is a historical city filled with culture and many things to see and do. A thriving art scene is the pride of the city, and there are many restaurants featuring cuisines from all over the world. While you're visiting, there will be plenty of things to explore. Why not check out our list of top 10 things to do for free in Bristol for more ideas to pack into your trip to the city.