The Best Bagel Shops in Bristol
No longer just the preserve of New York, bagels are now enjoyed the world over, with Bristol being no exception.
Soft, chewy, and sweet, bagels have become a staple breakfast and brunch, making a fantastic alternative to other forms of bread. While often accompanied with smoked salmon, eggs, bacon, avocado, or cream cheese, our ringed friend is also enjoyed simply on its own, often as street food, eaten on the go.
The bagel traces its history back to the early 1600s in Poland where Jewish communities created it as a celebratory treat. With the word translating roughly to "bracelet", let no square or hole-less impersonators fool you. As any bagel aficionado will tell you, a real bagel has a hole and will be as round as possible. Boiled first before baking, these features give the bagel its smooth, curved exterior that makes it so nice to eat.
Such is the popularity of this Jewish staple that there are even stores dedicated to nothing but bagels, with Bristol home to several speciality shops and eateries itself. If you're in the mood for something a little different, or you just love carby goodness, here's our list of the best bagel shops in Bristol.
Independent bagel shop in the Old Market Quarter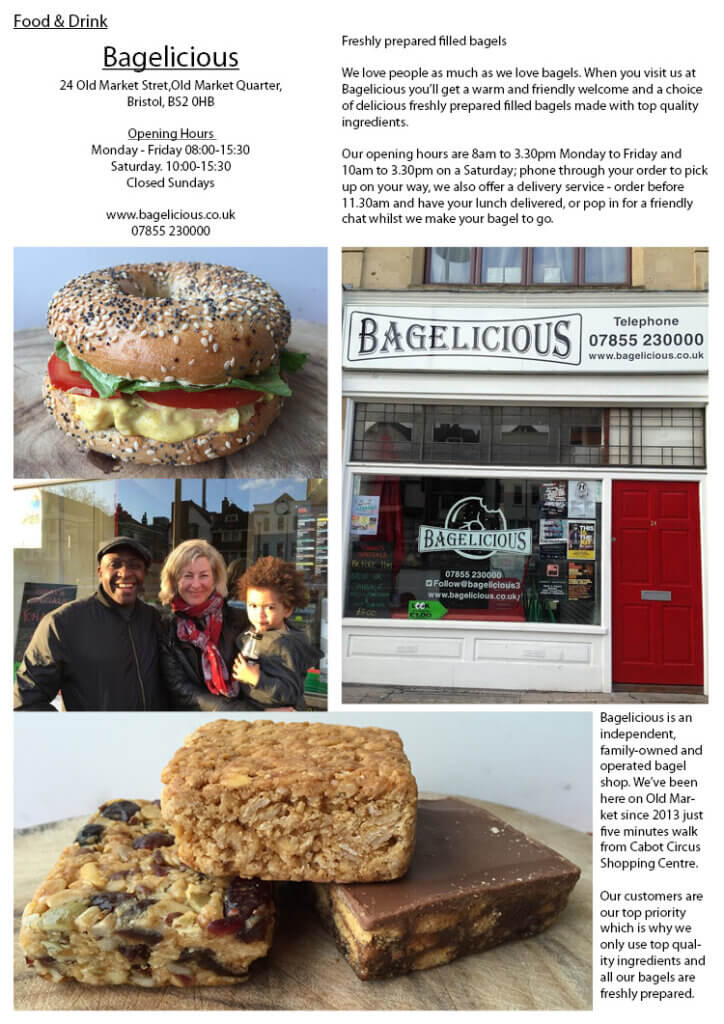 Offering a warm and friendly welcome as well as arguably the very best bagels in Bristol is Bagelicious. Using only the very best ingredients, this independent cafe has become a bit of a bagel mecca over the years, with people making special trips just to pick up their favourite!
First opening its doors in 2013, this bagel shop has become a mainstay of the Old Market Quarter, which is home to independent, bohemian, and niche shops of all different varieties. Bagelicious fits right in, therefore, and has proven incredibly popular with Bristolians and visitors alike.
On the menu here you'll find an enormous selection of bagels and fillings, some classics, some a bit more unusual, but no less delicious. One of the most popular choices here is the All-Day Breakfast Bagel which comes with bacon, egg, sausage, and cheese, a perfect way to fuel up before a big day or as a Sunday treat. There's also the traditional Smokey Scott Bagel, which comes with smoked salmon and creamed cheese.
Bagelicious also serve up its own variations, such as The Greek Bagel which features caramelised fresh peppers & feta cheese, a Pulled Porky Pig Bagel and The Meaty Eggplant which sandwiches aubergine, bacon, tomatoes, and more bacon.
With options to eat in, takeaway, or use a delivery service, Bagelicious is one of the most convenient ways to get your bagel fix too. Prices are low and there's always the option of a freshly ground coffee to go with it.
Popular cafe serving filled bagels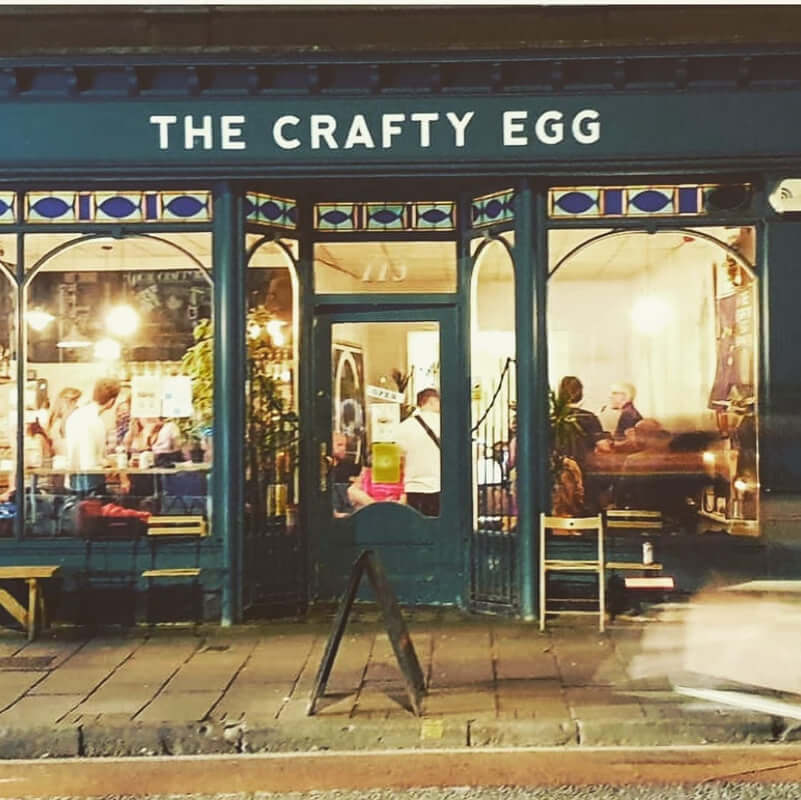 Now with two cafes to its name, The Crafty Egg is one of Bristol's most popular places to go and grab a bite to eat, located in Fishponds and Stokes Croft. With a diverse and interesting menu, The Crafty Egg does bagels proud with 4 carefully prepared bagels on offer.
The original cafe, in Stokes Croft, is considered amongst the city's top cafes, serving up freshly prepared, tasty breakfasts, bagels, baked egg meals, brunch, pancakes, hot drinks and smoothies. The staff are passionate and friendly, and can help cater your order to your liking should you need it.
Talking bagels, the options here tick all the boxes. There's the vegan bagel for the plant-based and those who enjoy a lighter bite. This squeezes hummus, avocado, rocket and beautifully ripe cherry tomatoes between bagel halves and is as tasty as it sounds. Naturally, you've also got the Smoked Salmon Bagel which is adorned with a dill & caper cream cheese and some peppery rocket.
For something a little more substantial, The Crafty Egg offers The Full House. This bacon, sausage, egg, avocado, and rocket crammed bagel is probably best eaten sitting down as it can get a little messy! Slightly less filling but no less tasty is the bacon or sausage bagel that comes with fried or scrambled egg and cream cheese.
With the Crafty Egg regularly seen with queues forming long outside its door, you'll want to get here nice and early should you wish to sit in and enjoy your bagel. Alternatively, you can take it with you on the go.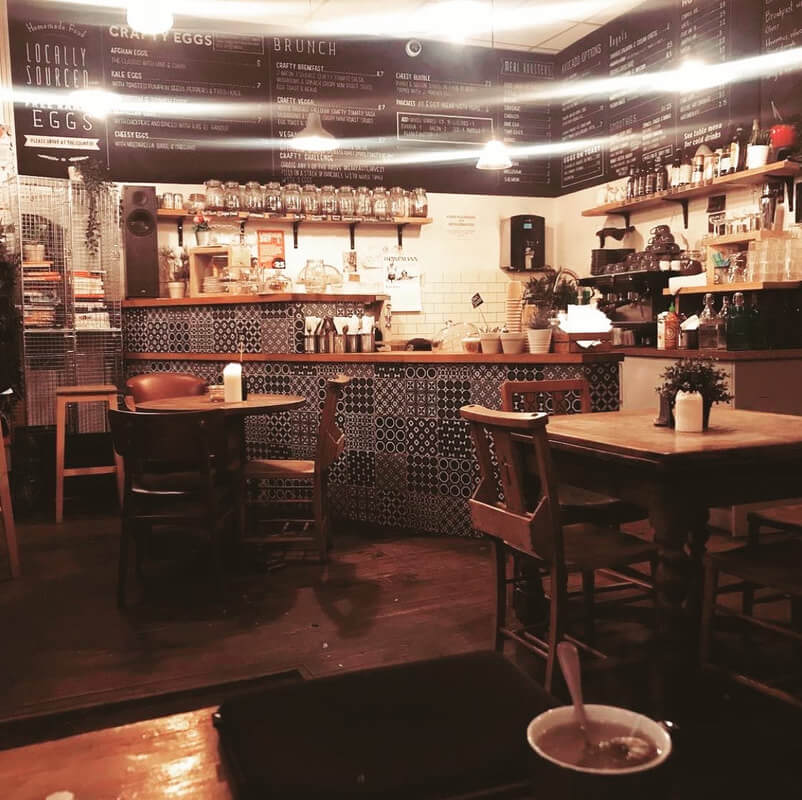 Famous cafe serving up plenty of bagel options

Located in the south of Bristol, under a flyover is a food destination that is famous for more than just its food. Used for the filming of Only Fools & Horses, Lockside is a welcoming cafe eatery where you can find a menu with classic fry ups and bubble and squeak sitting alongside avocado on toast, and of course, bagel-ly goodness.
Featuring a modern-chic 1950s decor, Lockside offers a friendly atmosphere for catching up with friends while the suntrap decking outside is perfect for summer morning breakfasts and lunches. With outstanding views of the River Avon and the Clifton Suspension bridge outside the window of this cafe, it's one of the most scenic cafes in Bristol.
The bagel meals here are considered some of the best in the city with a bacon, mushroom, and grilled tomato toasted offering for brunch being a popular choice. As expected, there's still the classic smoked salmon offering here, this time with scrambled eggs and rocket on a toasted sesame bagel.
Lockside also allows you to essentially build your own filled bagel, with it appearing on the "Served on Toast" menu. This allows you to enjoy scrambled, fried, and poached eggs on top of your bagel, or go with something a bit more daring such as crushed avocado, chilli, and coriander.
Prices are very reasonable given the quality of food here and vegan options are available.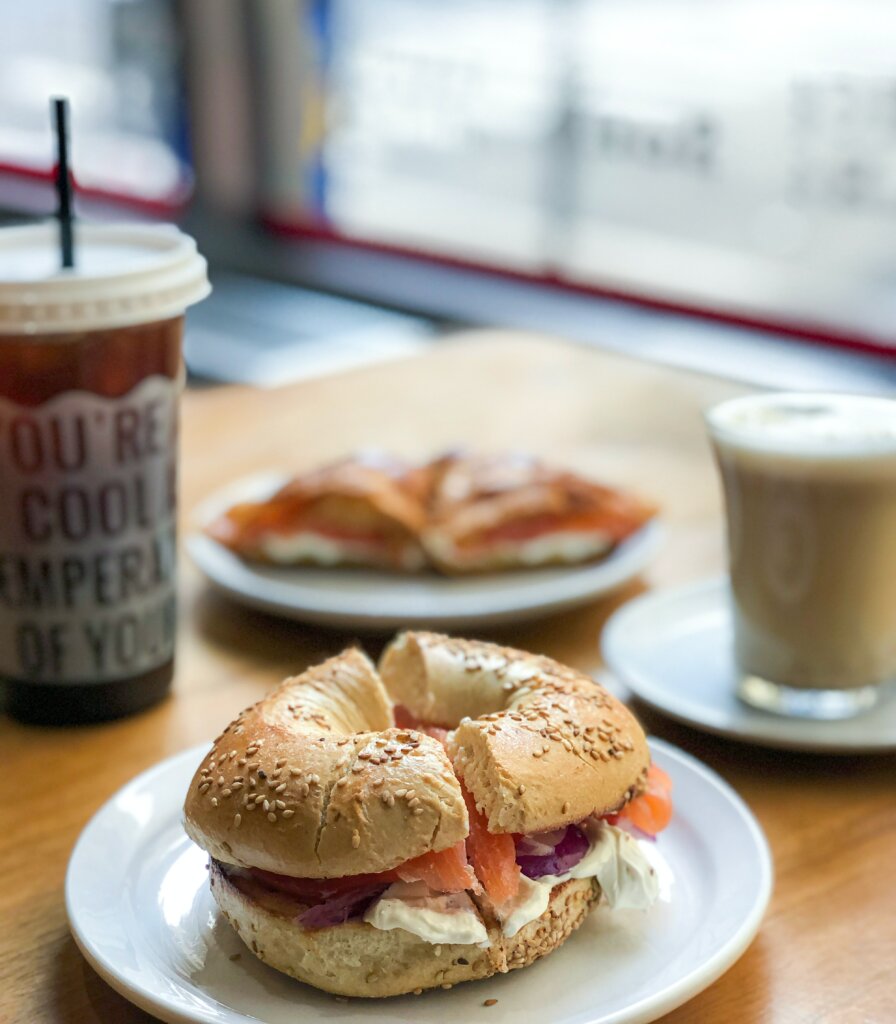 Popular chain of independent cafes with a breakfast bagel on offer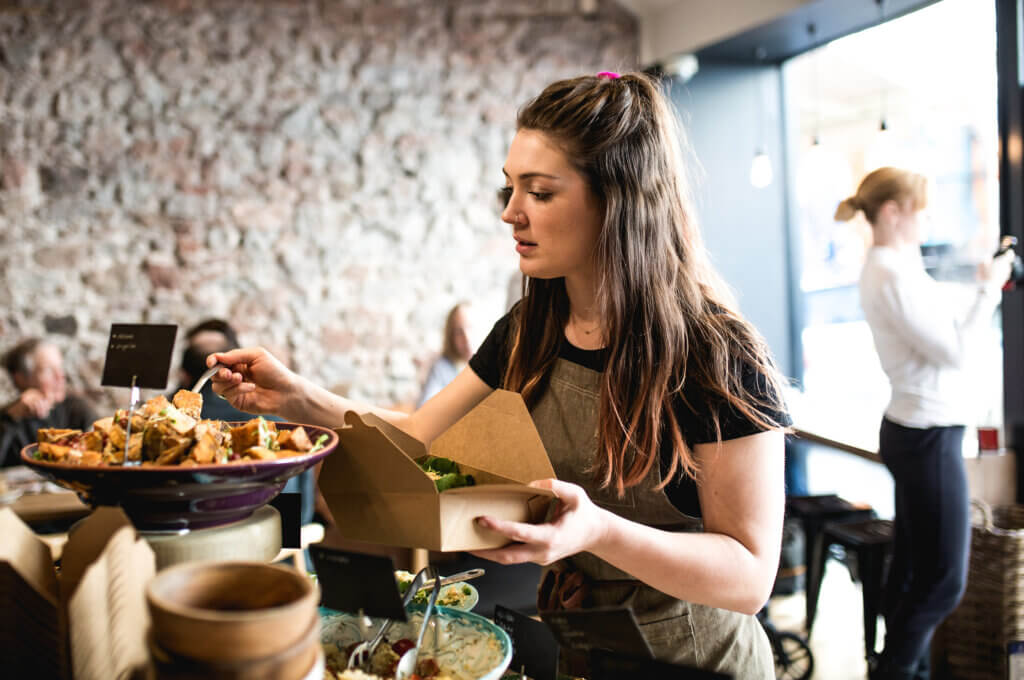 Spicer & Cole's philosophy is simple, good food equals happy people and now with four cosy cafes to its name, they're making a lot of people very happy. While the bagel offerings here are slim, Spicer & Cole's consistently impressive food means you're guaranteed to satisfy your craving.
The original store is located by Queen Square and is now accompanied by three other branches, becoming something of a local, independent chain of cafes. The stores are all light-filled and welcoming, with modern furnishings finished with natural textures. 
While these stores regularly have bagel sandwiches on offer, the only set bagel dish on the menu is the trusty Smoked Salmon and Cream Cheese offering. It may not be too adventurous but it's done particularly well and uses some great ingredients. If you like your bagels chewy, this is the place to go. With practically everything made by hand, in-store, fresh, you know you're getting something made with care.
To help wash down your bagel, you can always choose one of Spicer & Cole's ethical coffees and teas. Crafted by the home-grown company Extract Coffee, the coffee here is sweet but bold using a blend of Columbian, Peruvian, and El Salvadorian beans. The tea comes from Waterloo Tea in Cardiff which selects only the finest tea leaves from around the world.
Jumbo bagels enjoyed in a historic coffee shop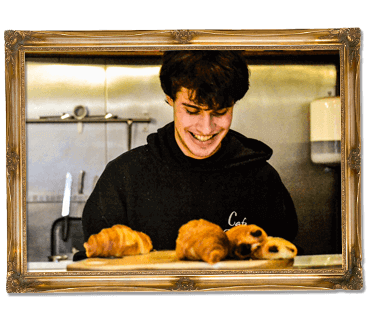 Serving up delicious food to the Bristol public every day of the week, Cafe Revival is the city's oldest coffee house and now features what's possibly the biggest bagels too.
Located on historic Corn Street, Cafe Revival is proudly taking part in the building's long tradition of serving coffee and food to the people of Bristol. As well as the home of the Norwich Union, the cafe was known as the famous Carwardines with the then owners returning the building to being a coffee shop in 1937.
Nowadays, the cafe is a beautifully restored eatery that is a treat to dine in. On the menu are two bagel choices, appropriately named "Jumbo Bagels" as the portions are substantial. First up is the not-to-be-missed Scottish Smoked Salmon with the traditional cream cheese, black pepper, and a dash of lemon juice. The more indulgent choice is the Wiltshire Ham and Cheddar Club Bagel. This gooey masterpiece is a particularly filling bagel that can be enjoyed toasted or simply as it is.
While the building is historic and a privilege to dine within, eating here won't break the bank. The bagels and other items on the menu are all reasonably priced with most below £5.
With plenty of places vying to be considered the best bagel shop in Bristol, there's only one way to find out your own favourite and that's to go out and see for yourself!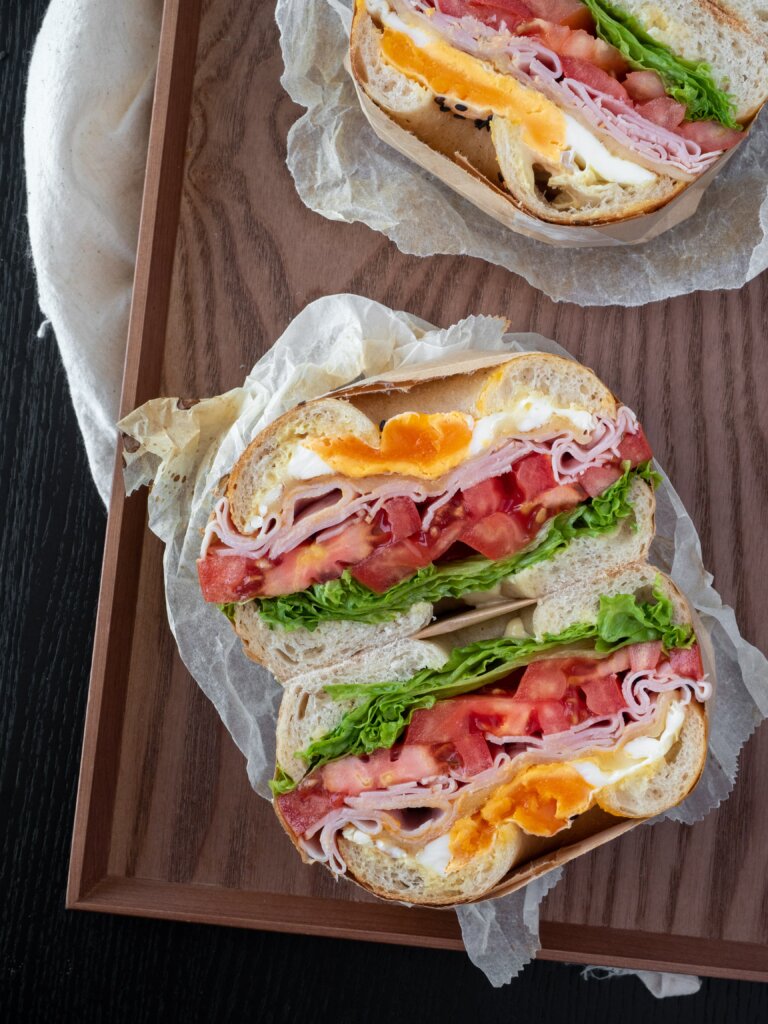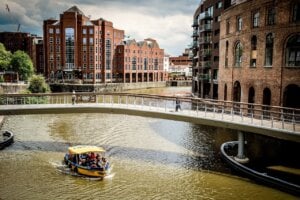 Bristol is a very cosmopolitan city in southwest England, similar to how Brighton is often perceived. Complete with rich Georgian architecture and plenty of exciting
Read More »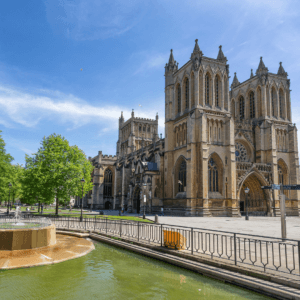 Whether you want to see the Clifton Suspension Bridge or Banksy's public art, Bristol is an excellent place to visit on a budget because it
Read More »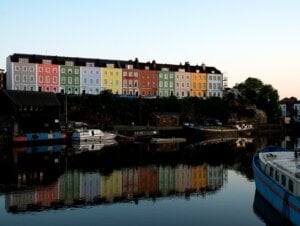 There is so much to see in Bristol, whether you're a seasoned tourist or a first-time visitor, you'll never be short of things to do
Read More »