One thing that the pandemic lockdowns forced us all to do was consider the distance we travelled for life's essentials. While before we may have been used to travelling out of town for life's necessities and niceties, keeping our journeys outdoors to a minimum had a lot of us relying on local shops and services that we may have otherwise overlooked.
One of the big heroes of this turbulent period was Bristol's local food shops that stepped up to the plate and delivered fruit, vegetables, meats, and treats to housebound Bristolians. For many of these customers, this was their first taste of the quality produce that can be found in these smaller, independent shops which rely on more locally sourced ingredients.
For those living in Bristol and those visiting from afar, the independent delis, grocers, butchers and bakers of the city have now become a staple part of their shopping experience. With better quality food and more personal service, these stores offer a much better shopping experience.
In order for you to find out for yourself, here are the best food shops in Bristol and the surrounding area.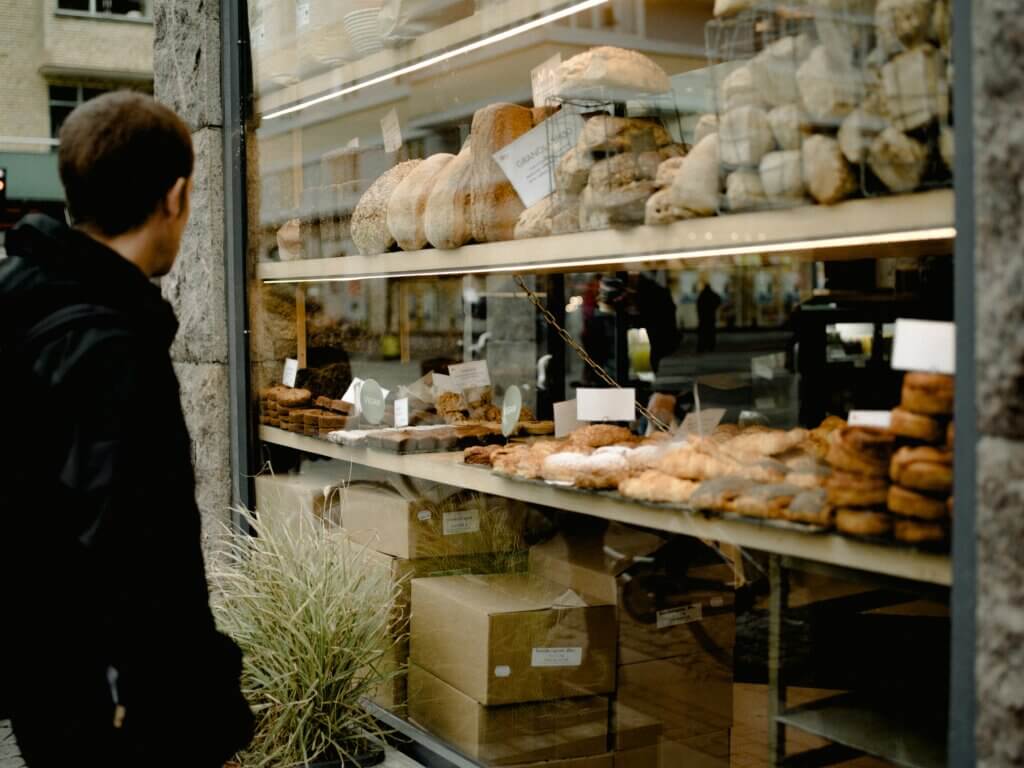 Popular deli, bakery and cafe in St Werburghs
Combining the best of butchery and baking, Popti & Beast is fast becoming one of Bristol's most talked-about food shops.
The concept is simple: deliver amazing meat and baking produce to the people and visitors of Bristol under one roof. On one side of Popti & Beast, you'll find the bakery serving hand-made loaves, pastries, pasties, freshly made sandwiches, and cakes. These can be taken away to munch on later or eaten in there and then with a freshly ground coffee made using the homegrown Extract variety, developed right here in St Werburgh.
On the other side, you'll find a butcher counter selling nothing but organic meat, known as "Tasty Meat." Both sides of the small but impactful store are all about sustainability and carefully sourcing ingredients. Here you'll find expertly prepared cuts of meat, including trimmed longhorn beef and yew lamb.
Everything here is intended to be as ethical as possible with most of the meat sold sourced from local farms. With some of the bakery products like pasties making use of the on-hand meat produce, you can also get the best of both worlds should you wish.
The store is located on Mina Road in St Werburgh's and can be visited seven days a week. Just a short trip away from the city centre, this is definitely worth a ride out to.
Offering speciality products from indie producers
Food Shop Bristol is a small, independent grocery store dedicated to supporting producers primarily from the Bristol and the South West area. While slight in stature, the selection here is varied and interesting, celebrating local food and drink, many of which will be new to even the most ardent Bristol food shopper.
On offer here are everyday products that have long been relegated to mundanity through supermarkets and convenience. Instead, the Food Shop elevates everyday indie versions of essentials allowing you really taste the difference. You will find skillfully produced jams, vinegar, and cheese, expertly grown olives, capers, and arborio rice, as well as specialist items such as hot sauces, seasonings, and meats.
While alternatives to most of the products here could be found in other stores, you may struggle to find such products as truffle-infused crisps, Nduja pork salami, and locally produced wines. 
Specialists in sourcing the very best versions of products, the Food Shop is a great source for things such as Bon Boy soy milk and Brighton Booch kombucha.
Located on Overton Road, just off the Gloucester Road, Food Shop fits right in amongst the other independent stores.
Award-winning Spanish food store
Standing out with its wonderfully vintage hand-painted sign is one of Bristol's (and the World's!) most well-respected food shops. El Colmado is a grocery and charcuterie store that sells everything you would need to cook Spanish-inspired cuisine. Inside the walls of this gem of a store, you'll find everything from authentic paella rice and carefully sourced artichokes to gourmet imported olive oils.
While you won't be walking out of El Comadao with a ready meal or a quick bite, you have at your disposal a range of beautiful ingredients ready to be turned into meals. The store opened in 2013 and is run by David Pavon, a native of Barcelona who has come to call Bristol his home.
An expert on Spanish gastronomy, David lines his store's shelves with only the very best products including much that you'd be hard pushed to find anywhere else in the UK. You can also find some fine cuts of cured meats, namely Teruel, acorn-fed bellota, and serrano ham. If you're unsure what you're looking at or just want a bit of inspiration, the staff here are only too happy to help and talk about all-things Spanish cuisine.
The store's commitment to fine Spanish produce has earned it a place in the Financial Times' Top 50 Food Stores in the World and is a must-visit when you're cooking something extra special.
Homegrown, independent, artisanal bakery

Building an ever-growing base of loyal customers since its launch in Cotham 2010, Hart's Bakery stands as one of the city's very best places for all things baked. An independent and artisanal bakery, Hart's was created with Bristolians in mind, choosing to keep the whole process as transparent as possible. Step inside the store and you'll be immediately hit with the aroma of bread and sweet pastry, with everything made right here in-store and on show thanks to the open-plan layout. This is aimed to build a better connection between people and their food, starting with the physical barriers.
On offer are all your favourites, but made with extra love and care, with much finer ingredients. As well as loaves, baguettes, pastries, pasties, cakes and croissants, you'll also be able to grab a fresh, barista-made coffee. With seating inside, there's no need to rush off either with customers encouraged to help take part in the bakery's community spirit and support local independent stores.
While the store was originally situated in Cotham, it quickly outgrew its former home. Nowadays, you can find Hart's occupying a Victorian railway arch near Temple Mead's station. Independent, artisanal, and proud to serve the people of Bristol, Hart's is certainly one of the best food shops in the city. 
Plant-based store and cafe
Serving Bristol up some plant-based goodness is VX Bristol in Bedminster. While people flock to VX for the delightfully indulgent vegan junk food, many walk away with some everyday essential groceries too. This hybrid food shop is part cafe, part grocery store, and a go-to for Bristol vegan contingent.
In terms of groceries, you'll find all your plant-based favourites from soy milk and some less-commercial faux meats to vegan Brie and other cheeses, and a lot of goodies to boot. VX's selection of crisps, chocolate, and other treats ensures that those that are foregoing animal products aren't also foregoing all the nice things in life.
VX's small refrigerated section is also well-stocked with both bigger brands and independent vegan products. You'll also be able to find Tofurky products here, many of which are now hard to come by in the UK.
While you're picking up the essentials (crisps and chocolate) you can also enjoy something from VX's popular cafe menu. Plant-based, flexitarian, or meathead, the food served here will get anyone salivating. On offer are densely packed breakfast burritos, thick chocolate milkshakes towered with whipped cream and a doughnut (!), a fabulous dirty fries selection, and plenty of takeaway sandwiches.
A pioneer in vegan junk food and grocery supplies, VX is a truly unique food shop that deserves a visit when passing by.
With so many food shops in Bristol, this list barely touches what's on offer within the city and the surrounding area. With such a lively food scene, you're spoilt for choice!