Best Beer Gardens In Bristol
There's nothing quite like the summertime, lovely sunshine (even with the unpredictable British summer), hopefully some time off work and a pint in a local beer garden. Whether you're escaping the kids for a short while or are looking for a place to catch up with your friends, there is nowhere better than a beer garden to spend a sunny, summer afternoon. Bristol has a huge range of options for you, so we've compiled a list of our favourite beer gardens in Bristol.
Prices, locations, and contact information are all accurate as of August 2021.
If you love your drink with a view, it is worth checking out the best rooftop terrace in Bristol – Bambalan. This sky-high beer garden has truly stunning views overlooking Bristol from the city centre and is the perfect place to spend a summer evening. 
Bambalan's atmosphere is unbeatable, between stellar music, with international DJs appearing throughout the summer periods, table tennis set ups and their terrace party events, you'll be making the most of post lockdown life, without a doubt. 
Bambalan hosts brunches on the weekends, making this a great spot all day long, and even holds events from time to time, making your visit a little more exciting, such as their Drag Queen Brunch. 
Whilst a boozy afternoon is certainly the best part of a beer garden, nobody wants to be drinking on an empty stomach, luckily for us, Bambalan serves up excellent dishes that'll hit just the spot. Bambalan's North African and Mediterranean inspired plates are guaranteed to impress, whether you want to opt for a summery Caesar Salad, at £9 or a Bam Burger at £13.50 or splurge for something a little more unusual, like the Ox Cheek Ragu Pizza. Even if you don't choose to stay for a full meal, we recommend the house fries for the table.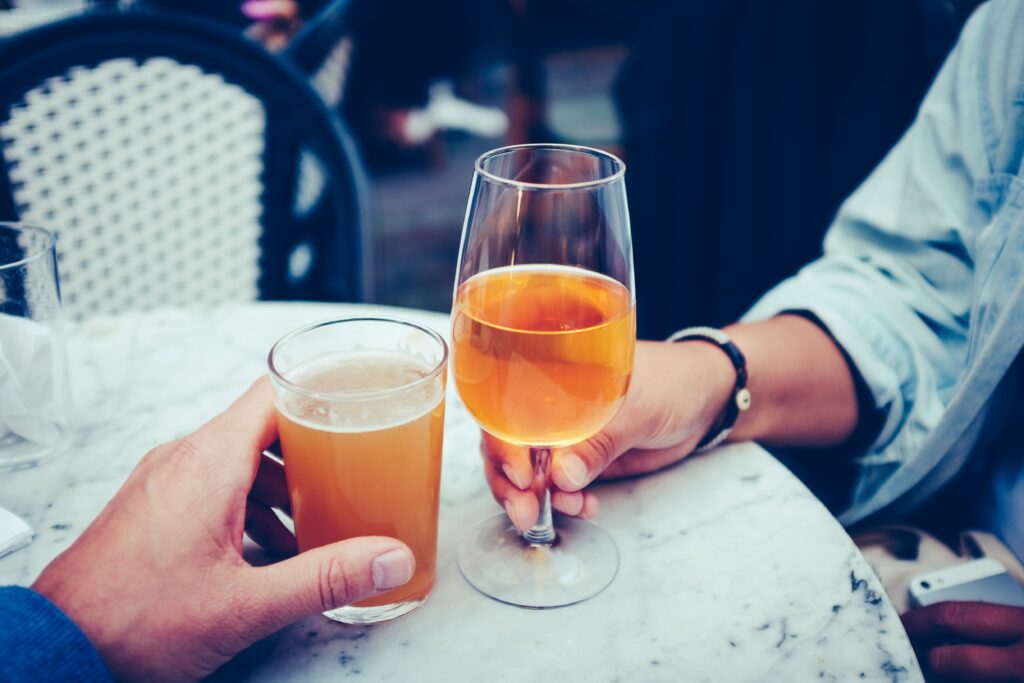 We all know it's the drinks we're really interested in, and Bambalan has some brilliant drinks on offer for fab prices. All cocktails are £9, wine lovers can enjoy a selection of white, red, or rose, starting from just £3.90, and, of course, there are plenty of spirits, beers, and ciders. 
No worries if you're not all looking to drink in your group, there's a fantastic selection of soft drinks and coffees that'll keep the energy high and atmosphere going. Your designated driver won't feel as though they're missing the fun. 
If you're wanting to get a piece of this brilliant view and buzzing atmosphere, you can track them down to Podium Level, Beacon Tower, Colston Avenue, Bristol, BS1 4XE, or get in touch at 01179221880, hola@bambalan.co.uk, or head over to https://bambalan.co.uk/ for more details. 
This harbourside beer garden restaurant couldn't be any closer to the harbour; treat yourself to a pint on this moored boat in the Bristol harbour and bask in the sun by the water. 
The Grain Barge was once a transport barge, travelling between Bristol and Cardiff, carrying wheat and barley along the Seven Estuary. This brilliant now social hub was built in 1936 by the Charles Hill Shipyard before it was anchored up in Hotwells, by the Bristol harbour. The Grain Barge's story didn't end there, however, as this once transport barge saw a makeover in 2007, fitted with an interior of reclaimed and recycled materials keeping the boat in touch with its industrial roots. 
As you chill in the sunshine up top on the Grain Barge, you'll have a stunning view of the Bristol harbour and the one and only SS Great Britain. There's also the choice to sit below deck by the bar and restaurant and enjoy seeing the water move on by beside you. Whether you're spying the tourist hotspots or looking for a more natural view, the Grain Barge can offer it all. 
If the views aren't enough to convince you to climb aboard, the Grain Barge hosts all sorts of events, from live music and comedy to arts and cultural talks. It is impossible to be bored here and the relaxed, friendly, welcoming atmosphere will make you feel right at home. Being ideally located by the harbourside, if you're done and dusted sooner than expected, there are plenty of landmarks and attractions right nearby. 
A great aspect of the Grain Barge is their dedication to ethical practices, especially with sourcing their food. This sustainable menu has seen a shift to focus on serving dishes based more towards veggies and seafood, allowing for more environmentally friendly practices. Their fishing follows the advice given in the Good Fish Guide and aligns with the Marine Conservation Society's messages. This, along with their support of and reliance on independent brewers and suppliers from the Bristol area, results in what the Grain Barge hopes to be 'environmentally restorative and socially progressive'. So, you can sit back and enjoy your food and beer guilt free.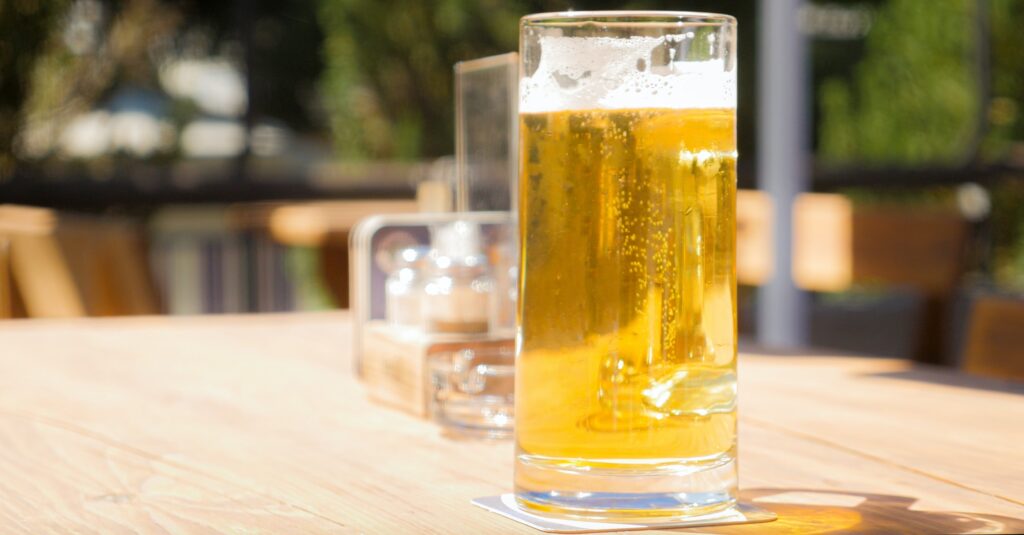 The menu choices aren't only respectful and ethical, they're delicious, with a personal favourite being the Local Goat's Cheese Croquettes at £12.20. Their drinks menu is huge, filled with all the classics and more. To see the full menu and which events are coming up soon, head over to https://grainbarge.com/. 
Visit the Grain Barge at Mardyke Wharf, Hotwell Road, Hotwells, Bristol, BS8 4RU, or call on 0117 929 9345 to ask any questions. 
A lovely outdoor dining space is a British staple for a beer garden, and whilst the all bells and whistles roof tops and harbourside views are show stopping, sometimes you just can't beat a classic, alfresco, flowers and plants, beer garden. 
Built in the early 1800s, The Highbury Vaults has retained lots of the architecture and design work, from the leather bench seating to the original bar, the interior has kept the traditional feeling, carried through in their drinks, with a real ale section.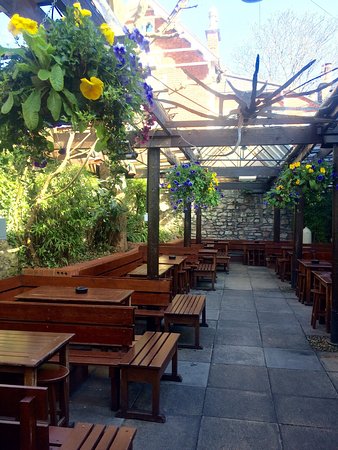 The Highbury Vaults was named in both the Heritage Guide and the Good Pub Guide, and it certainly has our stamp of approval too. If you're just passing through for a drink and a quick nibble, you'll be in the right place, with the 'small bite' menu offering brilliant dishes, from a £3.95 pork pie with English mustard, to the camembert, pesto, radishes, little gem, sourdough plate at £9.50.  The broad range will surely have something that will take your fancy.
Perhaps you're looking for a meal and want something more substantial, well, the main courses here are sure to put anyone in a fantastic mood. A personal favourite is the vegetable chilli, rice, and cheddar cheese at just £9.95. Sandwiches are also available for £4.50, and the dessert menu is absolutely worth peeking at. If you love the garden and the food, you should certainly consider making this a regular stop to enjoy a good old Sunday Roast. 
With all your classic drinks favourites, sit back and relax in the stunning walled garden. These floral scents and pretty views will put a spring in your step in the warmer months. 
You can find The Highbury Vaults at 164 Michaels Hill, Bristol, BS2 8DE, right by the University of Bristol, making it a top pick amongst students, and get in touch at 01179 733 203 or highburyvaults@youngs.co.uk. If you're looking for more details, head on over to www.highburyvaults.co.uk.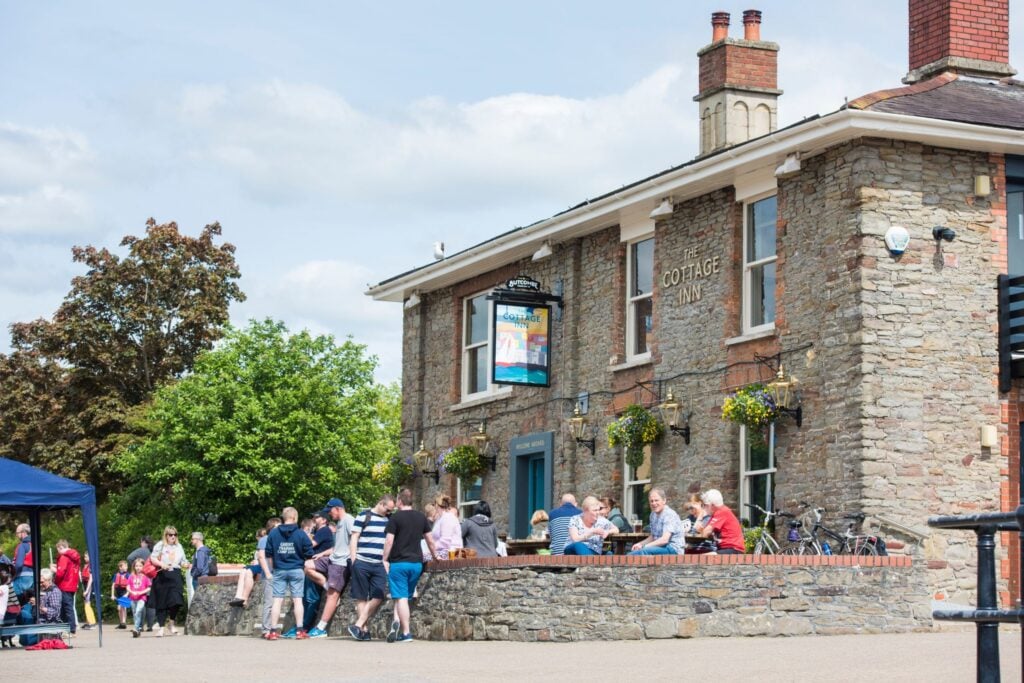 This is another beer garden with a history; built in 1868, merchants used where The Cottage Inn now stands as a place to store Baltic timber. This helped to grow businesses around the docks, letting Bristol thrive. Today, The Cottage Inn overlooks Clifton, with a lovely view of the River Avon flowing by beneath it. 
The insides of this mid-19th century pub have seen a cosy refurnishing, with comfort being a priority in the seating and décor, The Cottage Inn is certainly welcoming. But it is the outside that truly is a showstopper. Largely untouched since the mid-1800s, the terraced waterside beer garden is the star of the show at The Cottage Inn. They're a wheelchair accessible site, and kiddos and four legged pals are welcome to tag along. The Cottage Inn truly invites very guest. 
Once you have gotten yourself settled in at a table, you needn't worry about trapsing over to the bar to place your order. The Butcombe app means you don't have to leave your seat, simply place your order through the app and your food will be delivered straight to you. 
The Cottage Inn has won Best Food Offer in both 2019 and 2020, an serves award winning Butcombe beer behind the bar, so there is certainly more than a pretty view going for it. The fantastic cocktails and wines won't disappoint and be sure to grab some pub grub whilst you're in to make sure you can experience The Cottage Inn's very own twist on the pub classics.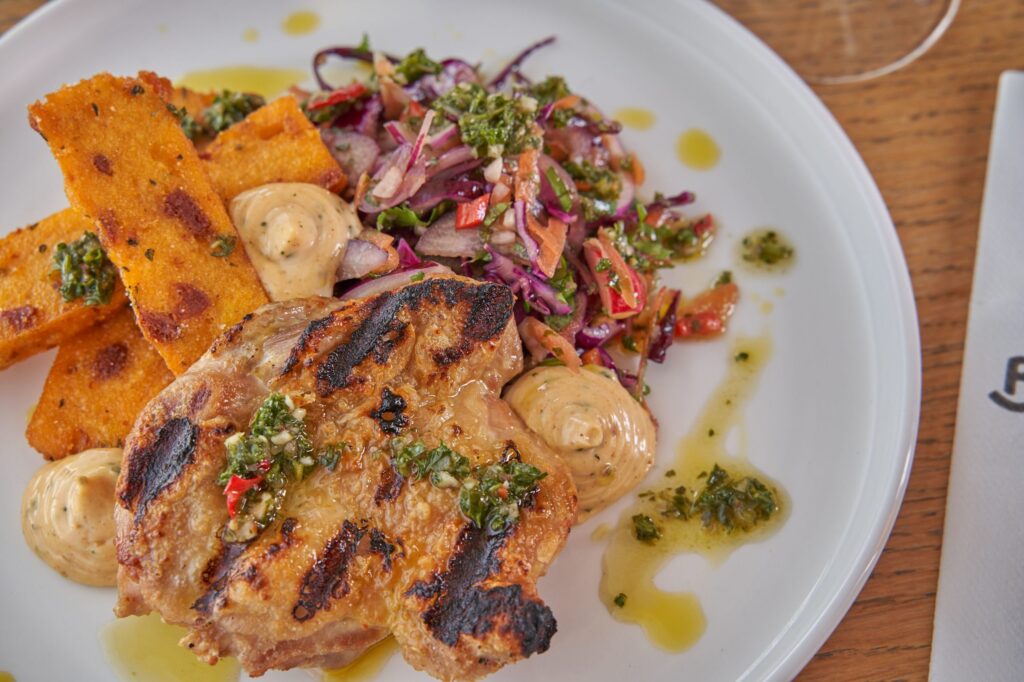 Supporting local suppliers is incredibly important to The Cottage Inn, another space with a largely vegetables and seafood menu, and if you'd like to see where their suppliers in the South East area are, check out their information at https://butcombe.com/the-cottage-inn-bristol/. A great option on their menu is the £14.50 fisherman's pie, or a classic gammon steak, chips, eggs, pineapple, and salad for £12.95. If you join the Butcombe loyalty club, which we would certainly recommend if you're local, then you can grab yourself 25% off of food every Wednesday as well as collecting loyalty points all year round, saving a few pennies here and there certainly never hurt.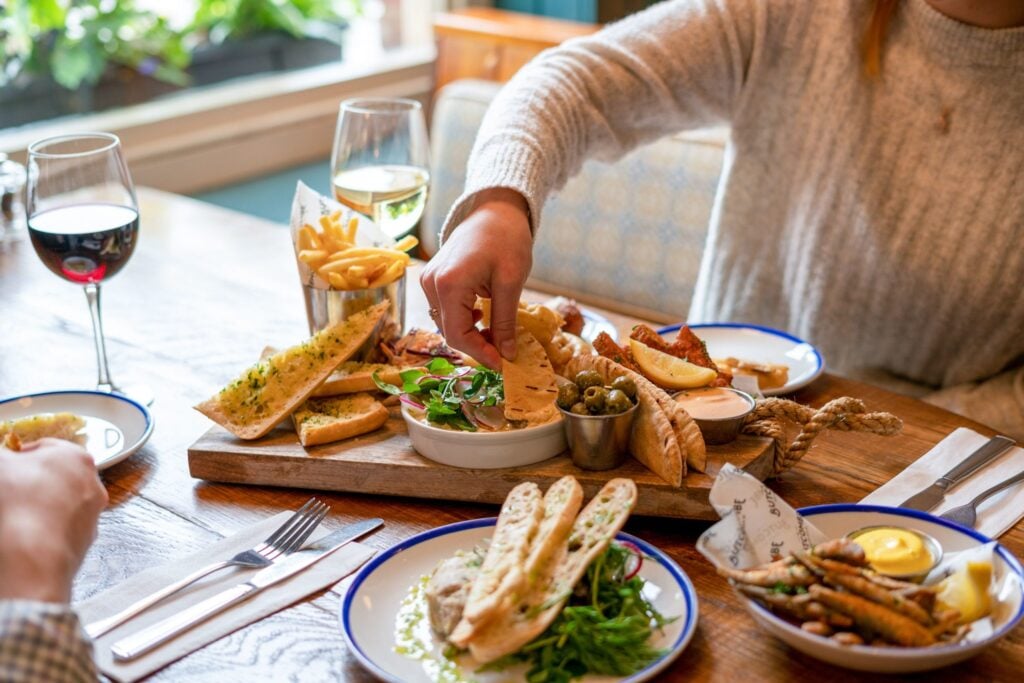 You can find The Cottage Inn at Baltic Wharf, Cumberland Road, Bristol, BS1 6XG, nice and close to attractions such as the M Shed or the SS Great Britain. If you'd like to get in touch, email cottage@butcombepubs.com, or call 01179 215 256. 
Beeses is home to a stunning riverside garden, out of the way of the hustle and bustle of the Bristol Harbourside and city centre, as beautiful as they are. The stunning views and more secluded location of Beeses makes for a brilliant atmosphere that can flick from tranquil to buzzing with the day to the night.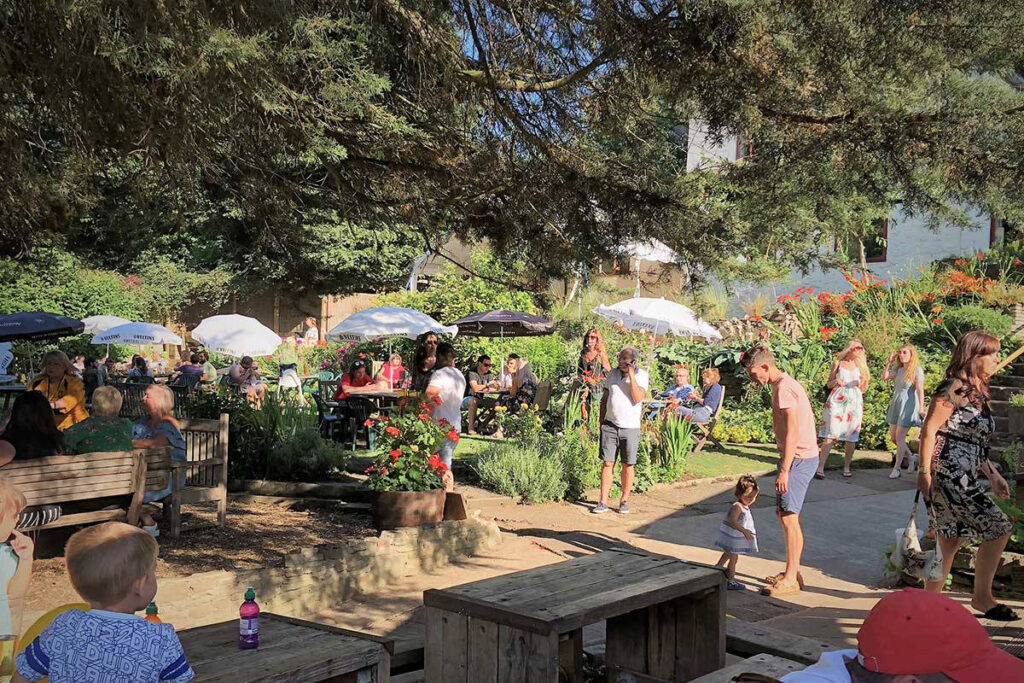 Beeses is all decked out with stunning views, but the x factor of Beeses is certainly its lively social scene. Open Friday, Saturday, and Sunday, this stunning site is a weekend joint, with live music guaranteed each Friday, and home to a number of events throughout the year. There are all sorts of events to get involved with going on at Beeses, and you can expect to find a range of choices, from an Easter roast to a Gin festival, or if Beer and Cider and more your style, they've got a whole festival of their own. Celebrate community spirit with the Brislington community charity day, featuring live music and family friendly activities, or look out for the multicultural dining days. Regardless as to what sort of style is up your street, you're guaranteed to find something to your taste at Beeses.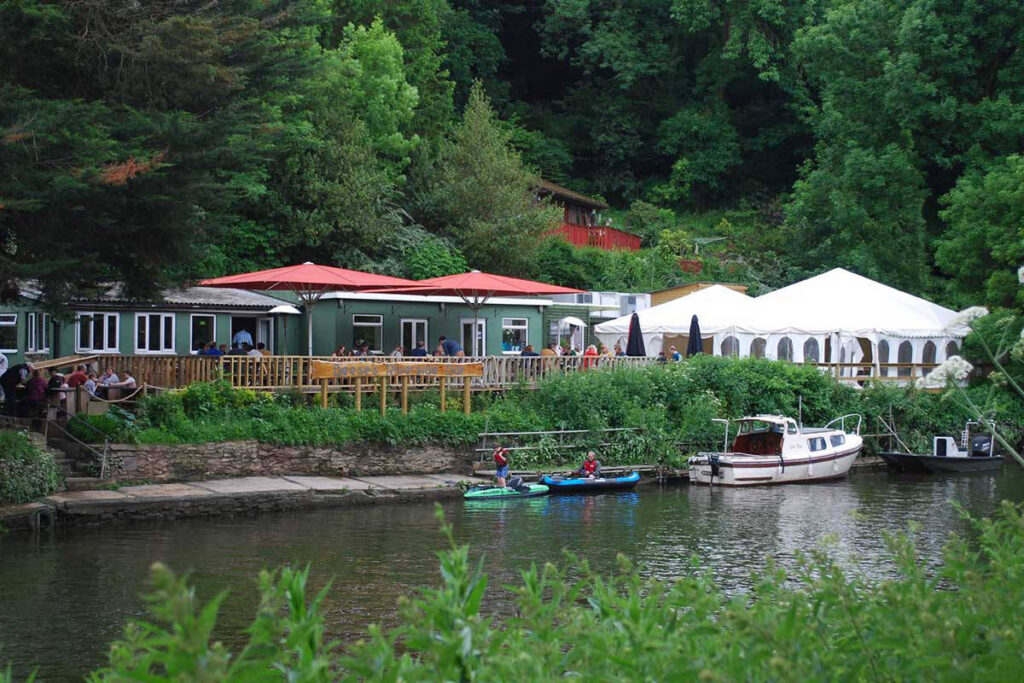 Perhaps the most popular part of Beeses is the Friday night live music. Feel free to check out who you can expect to see in advance at https://beeses.co.uk/. You'll find a timetable lined up with a brief description of their music, so you can guarantee you'll catch a performance you'll love. If you fancy, you can make a whole trip of it, catching a ferry to Beeses with No.7 boat trips to see these wonderful bands and have a meal. 
Their menu does change each week, but you'll often find a few tasty salads and burgers to choose from. Though there are always a brilliant selection of draught beers, wines, and cocktails, as well as some great soft drinks. 
Some of the quirky aspects to Beeses, whilst stunning, don't make it an overly accessible site, though this doesn't mean it can't be an inclusive event, however between a number of steps and steep ramps, guests with mobility difficulties are advised to arrive by ferry, not only is it a beautiful trip, but it also cuts out many more inaccessible aspects that you encounter when coming to Beeses by bus or car. Ferry trips are available on Sundays and Friday nights.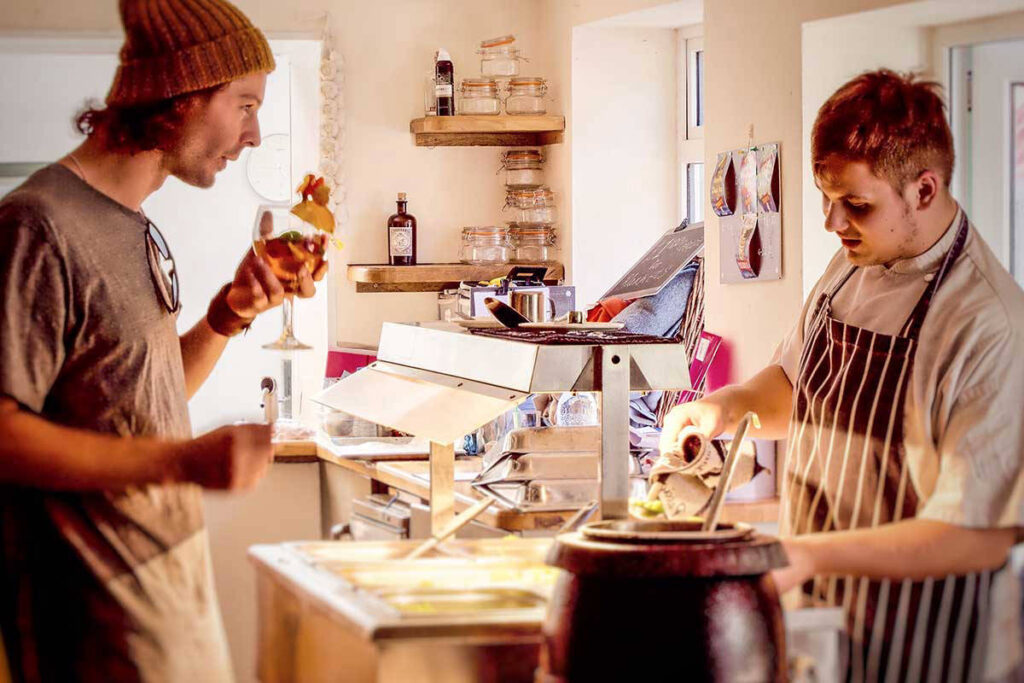 Beeses is incredibly popular, but well worth the hype, so if you're wanting to snag a table, it is totally worth booking in advance. For any questions, contact info@beeses.co.uk, or check out Beeses Bar at Wyndham Cres, Brislington, Bristol, BS4 4SX.
With the great British weather, you can never guarantee sun, but we can guarantee summer, and these beer gardens will bring that summer fun straight to you, rain, or shine. Relax, enjoy a drink, some fantastic food, and the view in any of these beautiful Bristol beer gardens.