Best Pub Lunch In Bristol
If you're off on a day out or you fancy a change from whatever home cooking you probably would have burned, nothing beats a classic pub lunch choice; whether you're craving the British pub grub classics or you fancy something with a bit more of an edge, Bristol's pubs are bound to have something to suit your taste. From the staples like a good old burger and chips, to cultural dishes and modern blends of the two, enjoy our run down of pub lunches in Bristol work checking out. 
All prices, menu items, and contact details are accurate as of August 2021.
You can find The Bank Tavern at John Street, City Centre, Bristol, BS1 2HR, or get in touch by email at landlord@banktavern.com or call up 01179 304 691.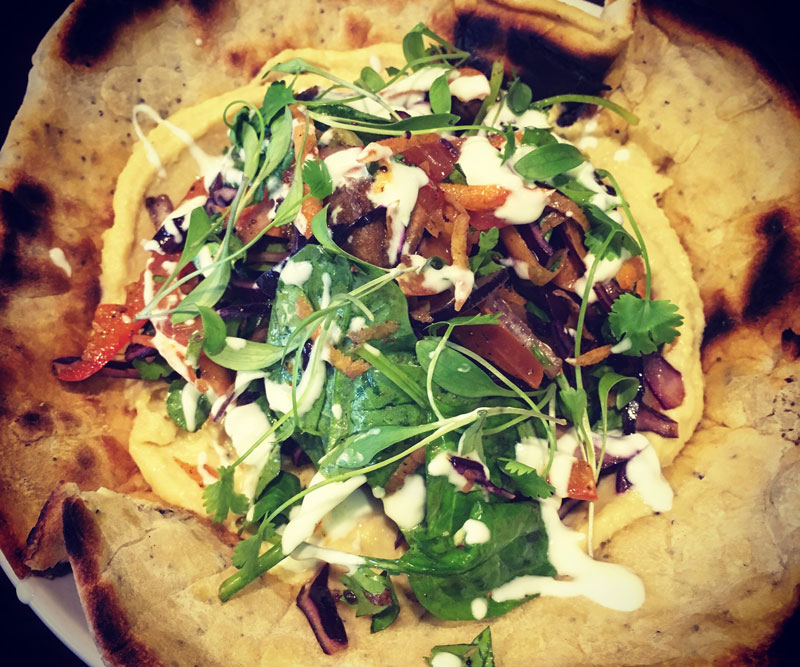 This award-winning Bristol pub is perhaps top of my list for a good pub lunch. They've been in Bristol a good chunk of time, bring a brilliant sense of humour and fun to the table, with an atmosphere you'll love, and serve up mouth-watering dishes time and time again. 
Standing since the 1800s, The Bank Tavern is an old pub, well versed in what they do and, as they eloquently explain on their site, they've kept up and running through riots, both the world wars, the Bristol City Council town planners, and Thatcher, apparently all very equal threats. We'll let you decide how much of that is humour, or how sincere you think it is. 
Joking aside, throughout their time in business, The Bank Tavern certainly haven't let the quality slip, as they've earned themselves many awards within recent years, including the Bristol Life Best Foodie Pub Award in 2020, the Bristol Good Food Awards awarding them the Winner of Best Roast in 2018, and the Observer Food Monthly Awards naming The Bank Tavern as having Bristol's Best Sunday Lunch in 2019. This impressive collection of titles is coupled with their serving award winning beer, ales, and ciders. There's no part of The Bank Tavern that isn't incredibly high quality. The Bank Tavern keep themselves down to earth, with a laid back, chilled atmosphere – they don't let all those awards get to their heads!
On to these fantastic Sunday Roasts, The Bank Tavern themselves describe their Sunday lunches as 'legendary', and they certainly aren't wrong. You can grab yourself a Sunday Roast between 12.00pm (noon) and 4.00pm on a Sunday. Each dish uses ingredients locally sources from trusts suppliers. Choose your meat, or vegetarian alternative, and your dish will come with gravy, a Yorkshire pudding, roast potatoes, parsnip puree, creamy leeks, and seasonal veggies, for just £15.00. These plates are great value for money and will certainly fill you up.  
The kitchen is open from 12.00pm until 4.00pm each day, making them the perfect pub lunch choice – it's what they do! The Bank Tavern are happy to make adjustments to dishes to meet dietary requirements, just let them know when you place your order. 
The Bank Tavern's menu is fantastic – experience a brilliant menu where traditional pub grub meets worldwide, contemporary tastes, in a mishmash of your favourite dishes. Their menu has a 'Small Bits', 'Burgers', and 'Mains' sections to choose from, with a separate menu for your Sunday roast. There are a number of great choices on offer, though my favourite combo is the tempura mushroom bites with beer cheese dippers, for £4.25, and the BBQ pulled pork burger with fries and fresh salad, for £11.25. The menu, particularly vegetables and salads, are subject to change round the year, in order to offer the best, in season dishes. 
Whilst the lunches stop being served at 4.00, it is worth sticking around a little longer, as The Bank Tavern often hosts live events, streaming sports matches, and even having live music in from time to time. They host a great quiz night every Tuesday with a rolling cash prize, so you'd best get studying. Sometimes events pop up, such as their 'fine dining experiences' so make sure you check their upcoming events online to be sure not to miss out. The bar is open from noon until midnight Sunday to Wednesday, and open until 1.00am Thursday through Saturday. Make sure you book ahead if you want to be sure you grab a table.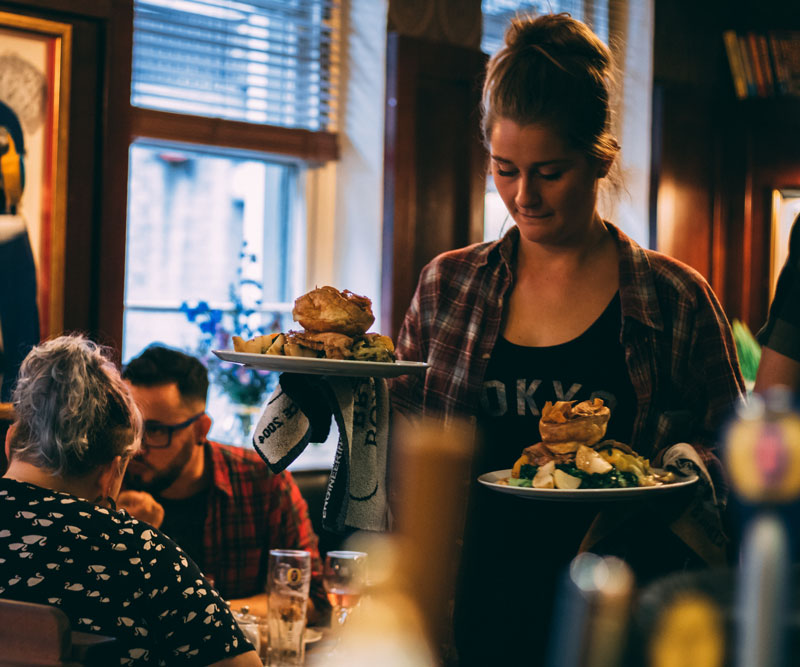 You're more than welcome to bring your dogs to The Bank Tavern. There are anchor points on seats to make fastening leads simple and plenty of water bowls upon request. If you're taking children to The Bank Tavern, it is recommended that you clear little ones out by 9.00pm, before things may get a bit too rowdy. If you have any more questions, head over to https://www.banktavern.com/ for more details. Even if you don't, I'd recommend checking out the FAQs, the responses are rather entertaining and set the relaxed, comfortable mood for the pub. 
You can track The Kensington Arms down to 35-37 Stanley Road, Bristol, BS6 6NP. If you have any concerns or queries, get in touch by calling on 01179 446 444 or emailing info@thekensingtonarms.co.uk.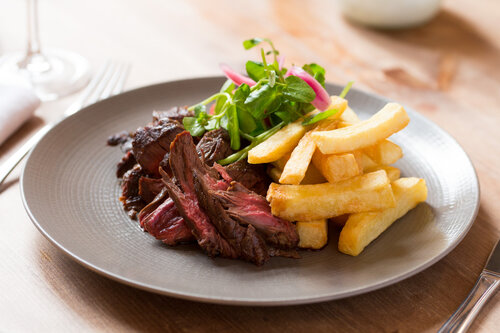 The Kensington Arms, or as locals like to call it, The Kenny, routinely dish up fantastic meals; whilst they claim that they aren't anything fancy, just 'a proper British local', the quality of their food begs to differ.
The restaurant directors, Josh Eggleton and Guy Newell are definitely rather impressive. Josh is one of the youngest chefs in the UK to be awarded the prestigious Michelin Star, awarded in 2011. His personal philosophies of sustainability and seasonality are just part of what makes him a great chef. It isn't just the food, but everything else that goes into each dish. His signature style reflects 'contemporary British cuisine', putting modern twists onto the nation's favourites. You can even see him in the Channel 4 show, The Restaurant That Makes Mistakes. The second director of The Kenny is Guy Newell; he was the first person in the UK to order a large selection of guest ales and begun the UK's first wholesaler. With two innovative and talented minds on the team, I'm sure it comes as no surprise that The Kenny has seen the success it has. 
The Kenny features two menus, the 'Restaurant' menu and the 'Kenny Classics' menu. On the restaurant menu, you can get yourself two courses for £28 or three for £35. My personal combo is a 'main event' and 'for afters' choice, though there are great starters available too. If you're ordering here, I recommend the caramelized cep risotto, tempura oyster mushrooms, crispy kale followed by the fresh doughnut, caramelized white chocolate, and strawberry gel (or in a few less words, risotto, and a doughnut). 
If you're ordering from the Kenny Classics (which are a little more up my street), two courses are £23, or three are £29. A great option is the black treacle and mustard glazed gammon, eggs, and triple cooked chips and house pickles, followed by crème Brule (a pub lunch favourite). 
Perhaps you know someone who's particularly fond of The Kenny with an upcoming birthday; there are two private dining rooms available for hire, the Blue Room (ideal for 8 to 12 guests) or the Mustard Room (which seats up to 16 people). Or, if the private dining isn't quite for you, perhaps a gift voucher could be a nice touch.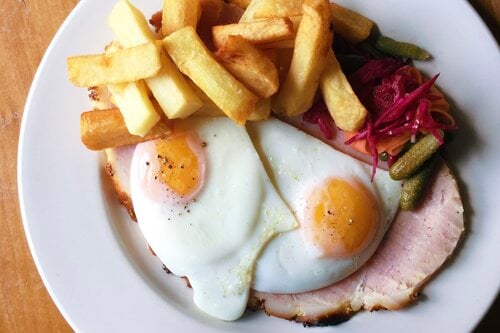 The Kenny is dog friendly, so bring along your furry friends and let them take a seat too. It can get busy, so The Kensington Arms recommend booking online. You can do this at http://thekensingtonarms.co.uk/.
The Kenny's open on a Wednesday, from 4.00pm until 10.30pm, serving food between 6.00 and 9.00, though this isn't much good for lunch. If you're wanting to catch them for a pub lunch experience, head over on a Thursday, Friday, or Saturday from 12.00pm noon. Food is served from 12.00 – 2.30pm and then again between 6.00pm and 9,00pm. If you want to grab a bite on Sunday, the kitchen is open between 12.00pm and 6.00pm; the pub then closes at 9.00pm. 
You can find The Spotted Cow at 139 North Street, Bedminster, Bristol, BS3 1EZ, get in touch at info@thespottedcowbristol.com or ring up on 01179 634 433.  For more details or to see the current menu, head to https://thespottedcowbristol.com/. You can head over from 12.00pm (noon), each day, with them closing at 11.00pm on a Sunday and Monday, midnight from Tuesday to Thursday, and 1.00am on a Friday or Saturday.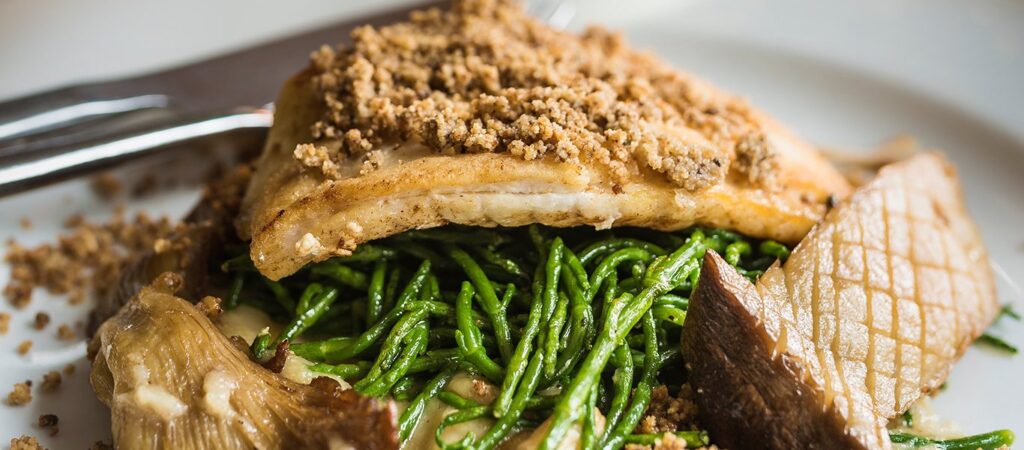 The Spotted Cow has stood in Bristol for over 200 years and holds proudly its heritage and roots in Bristol and Bedminster's agricultural pasts. The site is a lovely spot in the city to grab some grub, with The Spotted Cow even describing themselves as bringing to the table 'a country pub feel in the city', giving you the best of both worlds as you're conveniently close to the heart of the city, but tucked away from the hustle and bustle. 
This gorgeous pub is home to a spacious walled garden, bringing a lovely atmosphere and a bit of peace and quiet. If you're lucky enough to catch the pretty British sunshine, there's perhaps no nicer place to sit with your pub lunch on the table and a beer in your hand.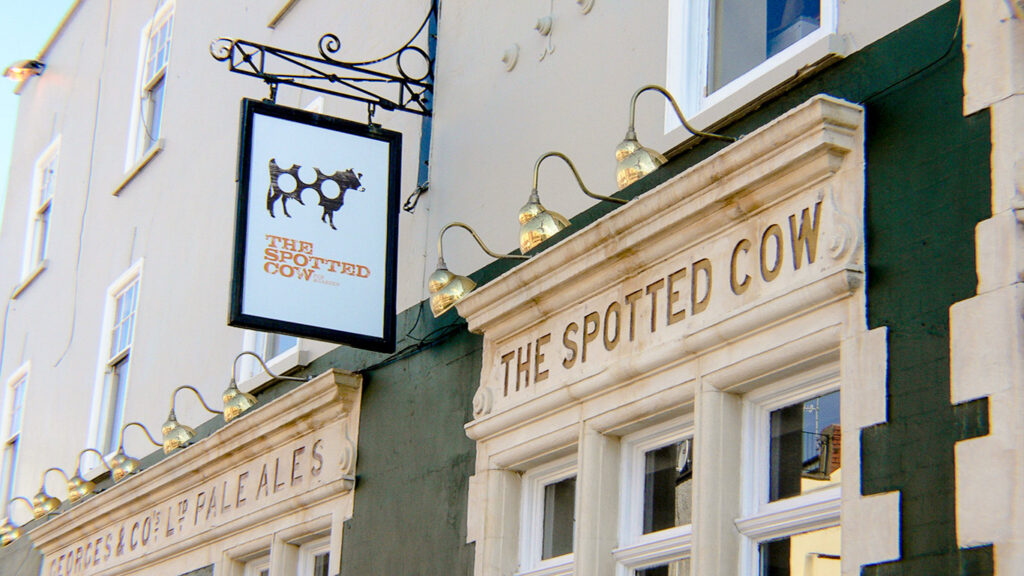 In 2008, The Spotted Cow changed hands and saw a whole new makeover, bringing a contemporary twist of modern and traditional furnishings. This introduced a warm and comfy ambiance to the pub, making it the perfect place to sit and enjoy a meal. 
The Spotted Cow aims to use fresh ingredients, tailored to reflect what's in season. This means the menu is every changing, with new fantastic dishes being added to the menu with every new day. 
In the efforts to make sustainable choices, The Spotted Cow uses Nose to Tail eating where they can, meaning that no part of the animal goes to waste and as much is used as possible. The local suppliers are all in the Southwest, and many on the doorstep in Bristol, as local businesses such as Ruby and White and Origin Butchers are used. Whilst most dishes use Nose to Tail, there are a number of remarkable seafood choices, with sea food deliveries being brought in fresh from Cornwall. Other local suppliers are used too, with The Spotted Cow giving credit to Somerset farms for the fresh veggies and the wonderfully baked bread coming from Mark's Bread, which shares a street with The Spotted Cow – you can't get much more local than that!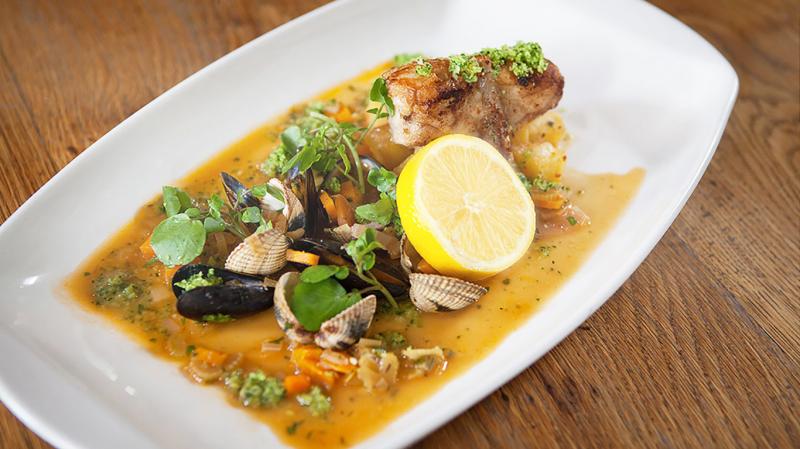 The Spotted Cow is also home to a fantastic little roof garden, growing supplies that make it straight into their own kitchen, from herbs to aubergines, there's plenty that's home grown. 
As mentioned above, the menu items to change with each day, though you can expect to see options including a number of salads, pies, tofu, and fishcakes, amongst other wonderful choices. For a brilliant Sunday Roast, there is a meat, a vegetarian, a vegan, and a fish choice with each week, though again, precisely what these are is subject to variation. 
As the dishes change, so do the prices, though typically, prices fall between £10 and £20, with plenty on offer around the £12 mark. As for puddings, the best part of the meal, there are usually plenty of chocolatey options, and often a cheese board, for around £6 or £7. 
You can stay for more than just your lunch at The Spotted Cow, with Tuesdays hosting Swiss Tony's Big Quiz and Bingo night. Swiss Tony is a bit of a local celeb, yet each week he brings his talents to The Spotted Cow for a quiz night. He's also known for the Rock 'N' Roll Bingo, which is also worth sticking around for.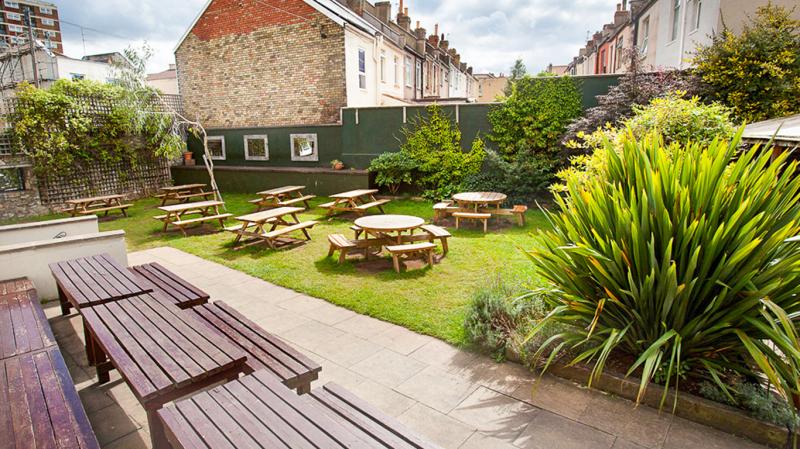 If music is more your style, on a Sunday afternoon, DJ Tony Clark sets up between 2.00pm and 6.00pm, playing a selection of rare jazz and blues tracks he's acquired since the 50s. 
No matter what your lunching style is, there is bound to be a pub lunch in Bristol that'll take your fancy. Between the great scenery to choose from and the relaxed atmospheres you can find, and the fantastic food all round, you won't be short of options. Pick a pub, pull up a chair and enjoy your lunch out. Cheers!