Pizza. Do we really need to say more than those two appetizing syllables to get your mouth watering? Most people love it and why wouldn't you? The pillowy dough, the rich tomato base and gooey cheese just waiting to pull into strings as you take that first bite… but where were we? Oh yes, the history of pizza. Although it can apparently be traced back, in some form or another, as far as the neolithic age, the first pizza didn't make an appearance in Naples until around the eighteenth century. It may not have looked exactly like the version we've come to adore, but it was a form of dough topped with ingredients and sold in open air markets. The first pizzeria was only officially opened in 1905, but a few years prior to that, the Margherita was created when Raffaele Esposito was commissioned to make a pizza in honour of Queen Margherita. Jealous. We'd love a pizza made in our name. 
Anyway. Could we talk about pizza for hours? Yes. Would you rather eat pizza? Of course. So let's not waste anymore time and get into the best pizza takeaway in Bristol.
Best takeaway pizza Bristol
With two locations that are both visually strong, Pizza Workshop nail it if we were judging on aesthetics alone. Where the North Street location plays with the beautiful contrasting warmth of black and wood, the one on Whiteladies Road makes a bold statement with oversized light fixtures against orange, black and white. Both are modern, both are minimal, focussing only on little touches of exuberance like a large window with the most vibrant green foliage behind it and bespoke wall pieces. We don't like to toss the word hipster around willy nilly, but these two locations are pretty hip, but without losing focus on what's really important. The food. 
Echoing their ethos of 'one thing, made well' with every pizza they send out, it's clear that the team here at Pizza Workshop not only love pizza, but do their best to represent true Neapolitan style food. On the menu you'll find piadina's – a thin flatbread from the Romagna region – bocca's – a heftier version of a panini from Naples – and, of course, pizza topped with San Marzano tomatoes and fine Italian cheese. Each of these have only a handful of options for toppings/fillings, but they're all thoughtfully sourced and of the highest quality to create food that'll have you coming back time and time again. 
There's also appetizers which include the most delectably fully-loaded garlic bread you'll come across, baby peppers stuffed with soft cheese and spicy nduja meatballs. For dessert, tiramisu – of course, affogato and chocolate brownies. Wherever you look on the menu you'll notice the same thing, limited choice and that's not because variety is bad, but because focussing on a few things are better when you're producing food as top notch as Pizza Workshop is. 
And yeah, the restaurants are pretty, but it's the food that speaks for itself and lucky for us, they deliver too. With rave reviews and Tripadvisor's certificate of excellence, Pizza Workshop should definitely be on your list of the best pizza takeaway in Bristol.
It's only fitting that the name Bertha – the Sheffield steel wood fired oven this whole journey started with – should be printed proudly across the front of this shop. What originated with an idea for pizza after firing little Bertha up in a friend's backyard has since snowballed into brick and mortar and high praise from critics and diners alike. This is most likely due to all the years owner Graham, and co, have put into really making this the best possible sourdough pizza. Travelling around the world to learn from the best, countless failed attempts and as they jovially say with 'their waistbands on the line' they went, they tasted and then conquered. We'd say it all paid off for Bertha's who was quickly named by The Guardian as one of the best pizza providers outside of London. 

Perfecting their sourdough isn't the only thing that puts them a slice above the rest though. Changing their menu seasonally to make use of the freshest ingredients also adds to the quality of their offerings and really mixes things up on the creative front. There are interesting pizzas like mozzarella, smoked potato, black garlic and miso mayo, as well as miso and harissa roasted squash, kale and smoked almonds that might initially sound strange, but every single pizza produced at Berthas get a stamp of approval for it's flavour combinations. And even though they do get inventive with the menu, they also have a respect for the classics and do them extraordinarily well.
Everything from the sunshine yellow barn doors to the colourful paper balloons, wall illustration and the open wooden shelving is attractive, and even though you aren't able to dine in at the moment, you'll still be able to admire the interior when you pop by to collect your pizza from Berthas. And for every collection over £25, Berthas are giving a grocery basket to a family in need, so they not only produce good food, they also do good things for the community.
Best Takeaway's in Bristol:
To really appreciate the name, we have to start with the story and for owner Alex, the journey began back in 2013. With a sourdough starter, a passion for pizza and Land Rover (hence pizzaROVA) kitted out with a pizza oven, he catered festivals, parties and street markets. Fast forward to 2021 and you'll find a Pizzarova at the top of Gloucester Road, another on Park Street and a third set up in a shipping container in the new expansion in Wapping Wharf. The Land Rover that started it all isn't out of commission either. Still catering weddings, corporate gatherings and parties, the original Defender is still making the rounds. 
Each of the physical locations are cooler than the last with minimalist wooden tables and benches, industrial accents and loads of neon that's only ever shown up by the jungle of green plants sitting along walls or anywhere else it finds a spot really. It's cute and Instagrammable and yet the real reason diners flock to Pizzarova is for the menu. The classic Margarita is unbeatable, but there are also a choice of seasonal specials that currently include creamy goats cheese, caramelised onions and basil pesto or ham, somerset ricotta and mushrooms. In addition, you can build your own pizza with as many toppings as you want for £12 or you can trust in the pizzaiolo and their choice of seasonal ingredients that make up the 'ours' special of the month. 
And if you want to make a pizza from (almost) scratch, that's an option to. Grab a sourdough pizza kit and make your classic margarita at home or, you know, order one that's been made for you by getting an order in for collection or delivery. There's a reason for their logo, afterall, and it's that everything will be a-okay once you get your teeth into one of Pizzarova's delicious pizzas. 
Born in South Africa and raised in Manchester, brothers Geoff and Gareth may have taken a slightly longer way around than some of the other joints mentioned above, but they eventually got to owning their own restaurant, aptly named, G Brothers. 
It was whilst studying in Sheffield that Geoff first worked in a pizza place and discovered his love for making dough and creating beautiful pizza's. He moved on to Zizzi's to further pursue his passion of Italian before switching careers and getting into teaching. When he eventually moved to Bristol with his family, he was hired as a pizza chef at their local, Zero Zero. His brother Gareth later went on to buy a generous stake at that very restaurant and it became known as the beloved G Brothers. 
With Geoff's ten years of experience under the pizza peel, the team focuses on locally sourced ingredients and simple pizza making – a combination that really makes their creations shine. Despite only doing pizza at the moment, their menu is still extensive. There's certainly a wide array of pizza toppings to choose from including fior di latte, portobello mushrooms, fresh basil finished with serrano ham and sliced garlic, chilli flakes, olives, anchovies and mini capers. There's also a delightful vegan option consisting of a tomato base, cashew cheese, garlic roasted artichoke, sunblushed tomatoes, portobello mushrooms, black olives and fresh basil. Every option also comes in a small, medium or large to really cater to the size you need, although given what we know about G Brothers, you're probably going to want to opt for large regardless if you're the only one eating it. 
When Steve Gale, a former finance worker, decided to pursue his passion for quality cooking, he probably didn't imagine opening a restaurant that would be named Bristol's best pizza in the 2018 Good Food Awards, but with the attention to detail, he should've. The sourdough is made with locally milled flour and ingredients are fresh and top notch, which really culminates in pizzas to die for. In 2015, food critic, Jay Rayner, noted that Flour & Ash made "some of the best pizzas I have eaten in a long time."
Sadly Flour & Ash were one of the victims of the pandemic and were forced to close the doors to their super cool, minimalist restaurant, because of the intimate setting of the area and the fact that it wouldn't really allow for social distancing. But out of the ashes they rose to collaborate on a menu for North African and Mediterranean cafe and bar,  Bambalan. Now operating from there, Steve Gale works with Bambalan's executive chef Todd Francis on a really tasty menu that features Flour & Ash favourites and all new Bambalan twists. 
Founded by Emiliano Tunno and Massimo Nucaro, Dough first opened in Bath before spreading its wings to open another successful location in Bristol and the dining experience is unlike anything we've come across. With a number of different pizza bases to choose from, any pizza is fully customisable to pair extraordinarily well with your choice of toppings. So if you're thinking about the Pepperoni Calabrese, the turmeric base might add a beautiful depth to the spice of the pepperoni; there's also seaweed dough, wheatgrass, hemp, multigrain and four different gluten-free varieties to choose from. Even with thirteen different flavours of dough, they still focus on impeccable quality and the fact that the flour comes from one of the best mills in Italy, only adds to that. 
Toppings-wise, there are a number of specials that run along with the classic menu. On it, at the moment, you'll find La Vicina, which is mozzarella, caramelised onion, courgette, prawns, feta, chives, rocket and cherry tomatoes. The King is a fully-loaded monster pizza containing mozzarella, porcini mushrooms sauteed in white wine, Argentinian king prawns slow cooked in smoked paprika, rocket pesto, truffle oil, pink pepper, parsley and lemon zest. There's also a vegan option that combines beautifully bright beetroot carpaccio with crispy parsnip, capers, yellow courgette, rocket sauce and vegan cheese. 
Being from Puglia, these guys pay real attention to authentic Neapolitan food made in the traditional Italian style and with many years of experience between them, this family-run business is checking each and every one of our boxes for pizza takeaway in Bristol. 
Maybe you're looking for something different? Why not check out these other places to eat: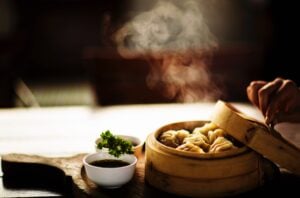 Food & Drink
Best Chinese Takeaway Bristol Top Picks: Mayflower Read More Wongs Read More Cathay Rendezvous Read
Read More »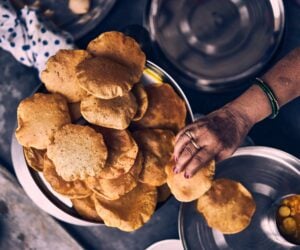 Food & Drink
Indian food has long been a favourite amongst people the world over, but outside of
Read More »