Indian food has long been a favourite amongst people the world over, but outside of south Asian countries it's appreciated nowhere more than in England. The first restaurants popped up here in the 19th century to cater for Asian seamen and students and quickly multiplied throughout the 50s and 60s as factory workers arrived from oceans away. By the time the 80s roller skated in, thousands of Indian restaurants had popped up and adjusted their menus to make "going for a curry" a lot more accessible to the British public.
As the number of shops kept increasing all the way into the new millennium, it brought with it a cornucopia of options. Today little shops to bold and bright restaurants are all serving up delicious food of exceptional quality. So how exactly do you choose? Well, we're here to whittle down your options for the best Indian takeaway in Bristol.
Indian Takeaways In Bristol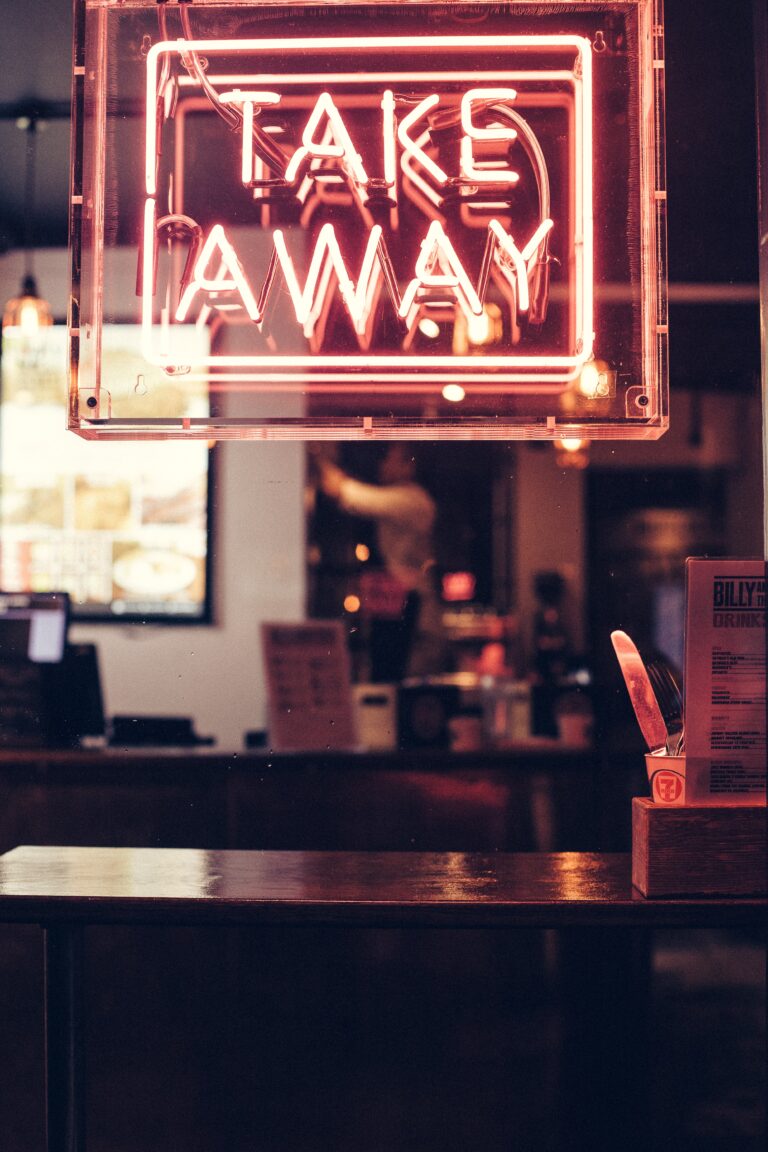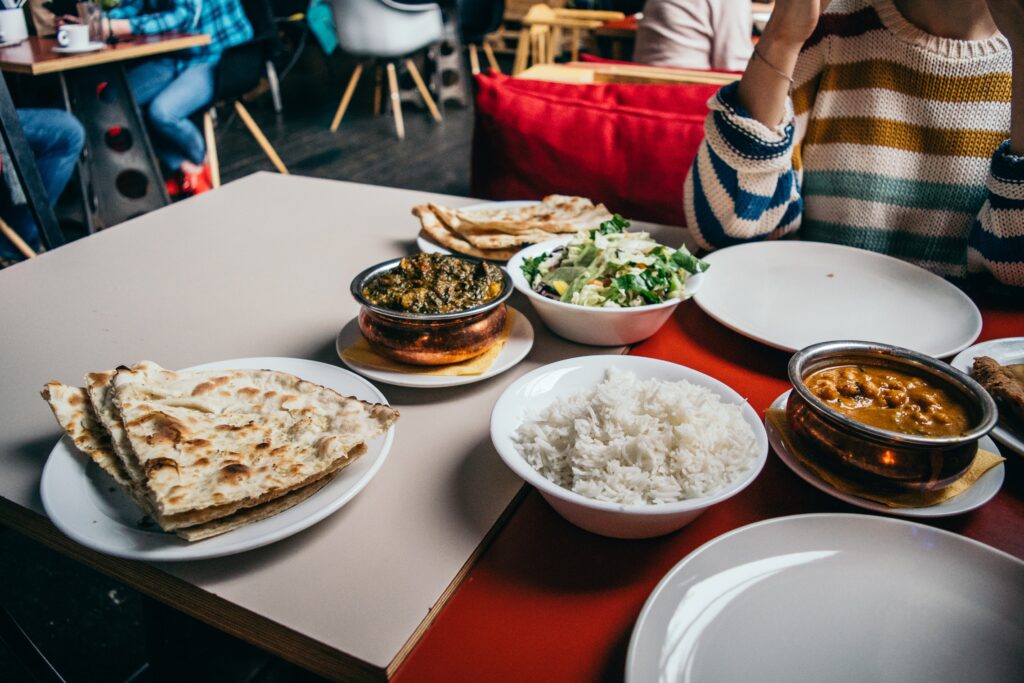 Indian Rassasy is a "unique Indian dining" experience, or so the sign above this restaurant in Hotwells proclaims, and you can definitely get a sense of distinction from the colourful wall murals as you walk through the purple doorway to grab a table. However, just because we're not experiencing that restaurant feeling at the moment, doesn't mean we can't still enjoy the magic of Indian Rassasy at home. 
Open for collection, the team here at Rassasy have been voted the best for takeaway during lockdown. Unsurprising when their name – dating back to the 15th century – literally means "to satisfy guests with a great meal". Something they've been doing with ease since 2019 when food critic Mark Taylor wrote they "may only be a few weeks old but it is already up there among the best."
Started up by Shamshuddin Bagalkote, who had previously managed Urban Tandoor and worked at 4500 Miles From Delhi, and chef Bulan Shaikh, the pair had worked for the Taj Group of hotels before arriving in the UK around a decade ago. With Indian Rassasy, the duo put three key pillars in place; serving food with love, integrity and passion. 
Knowing they wanted to create a culinary journey from the north to south of India, they kept their focus on authentic preparation methods and sustainable, quality ingredients, whilst also maintaining a respect for the land, animals and farmers. 
The passion they have is evident in their creations. Rich dishes of Rogan Josh, Jalfrezi or Madras where the sauce is thick and bursting with exotic spice profiles. Starters like the poppadom basket come with intense chutneys and vibrant dipping sauces and if you're really indecisive, you can rely on the Chef's specials. Expect velvety Kashmiri Kofta, New Delhi Butter Chicken and Masala Roast Lamb Shank that you'll fall in love with.
If you're looking for the best Indian takeaway in Bristol, Indian Rassasy is definitely a good place to start.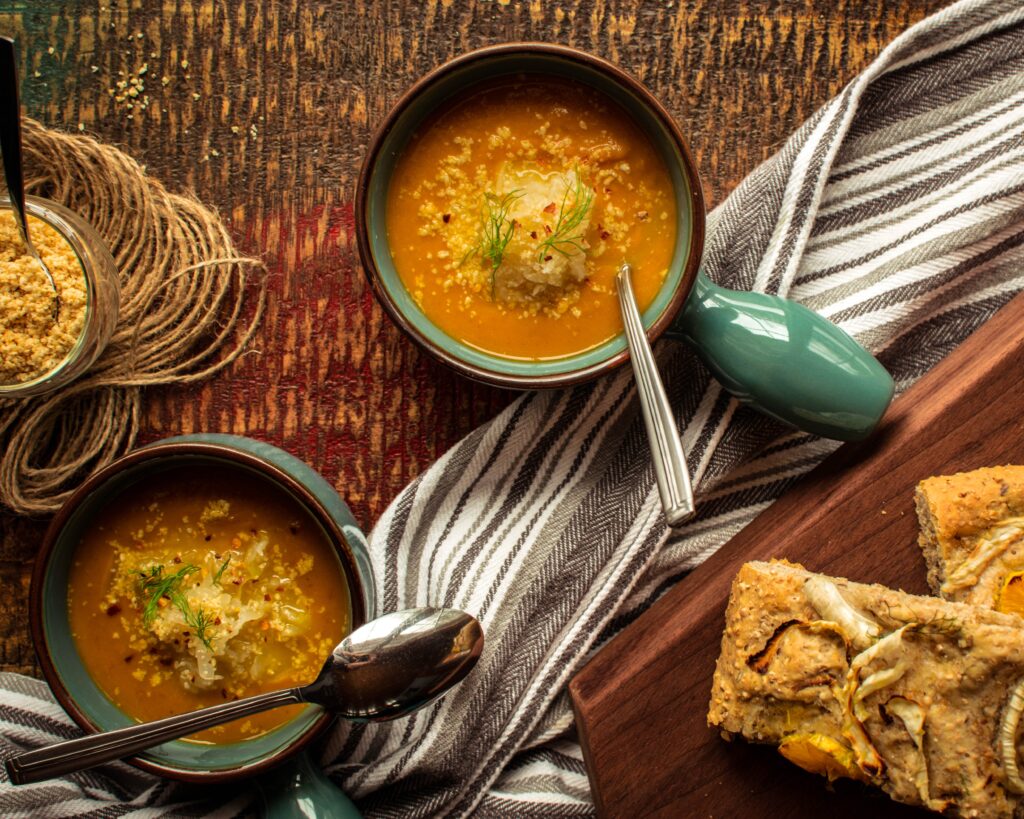 Coronation Curry House might not be the first place you stop off at without any prior knowledge, but those in the know recognise this unassuming restaurant as one of the best in Bristol.
With many of the spices used here imported directly from Mumbai, it's another very authentic eatery where the chefs use every ingredient in a way that maximises the flavour of popular dishes like korma, vindaloo and madras. The menu here also offers a couple of other classics you might not necessarily have tried yet. There's a popular dish from the persian and gujrati community called dhansak that's made with sweet, hot and tangy yellow lentil sauce or morongo – one of the Chef's specials – which is a mild curry, like korma, made with mango pulp and sliced mango. Their bhuna showcases the same techniques of cooking as what traditional royal families use where they create this deliciously thick onion and tomato sauce cooked over a low flame with spices. With this level of attention to detail, it's no wonder they're as popular as they are. 
Apart from the decadent food, Coronation Curry House is also known for their exceptional level of service. Although you might not get to experience it at the moment, thanks to the nasty old L (ockdown) word, the staff usually stand ready to cater to your every need in a friendly manner. 
Unlike Indian Rassasy, you don't even need to leave the house to enjoy Conation's curries as they deliver to your doorstep, but if you were to collect your takeaway from them, you can expect to see a really quirky, little restaurant. The decor is fun and the colours are a bold backdrop to the Indian artwork you'll find jazzing up the space. Looking at those paintings whilst breathing in the aromas of fragrant spices may start the journey, but it's not until you take the first bite that you'll be transported to India.
Best Takeaway's in Bristol:
On to Easton's award-winning Pipal Tree. Their menu is split in two so they're able to focus on two things; for one, they prepare stunning traditional Punjabi cuisine from recipes that have been in their family for generations. The second part of their menu focuses on creating fusion dishes and reflect how Punjabi recipes were changed to fit limited ingredients when purveyor Kirpal Singh's family first came to the UK in the fifties. This, of course, means there is plenty of variety to choose from and you're guaranteed to find something from the "land, sea, sky and garden" sections of their dynamic menu. 
The true beauty of this restaurant is down to Singh's creativity. With over two decades worth of experience under his belt, this chef continues to experiment and test the boundaries of traditional Punjabi cuisine. Where fusion dishes were created out of necessity, he has embraced the mentality to instead put a unique twist on everything he makes. 
With the menu changing seasonally, Pipal Tree not only show a great respect for ingredients by taking a sustainable approach, but they continually invent new menu items to gush about. In the past, you might've found British-Punjabi fusion mussels and free range pheasant cooked tandoori-style.
If you look at the menu now, you'll come across delicious finds like 'Mum's Minted Lamb Parcel' – a homemade filo pastry case filled with minted leg of lamb and herby potatoes, and 'Murga Subji', one of Kirpal's wife's dishes. Traditionally cooked on special occasions and celebrations, an aromatic chicken leg and thigh is mixed in a mild blend of spices and served in a rich tomato and sweet pepper sauce. 
Working with his wife Kulwinder, the pair here at Pipal Tree have really created something special. Noting that they want it to feel as if "you are coming to my parents house to dine with our home cooked rustic style of food", they've definitely hit the mark.
When Sujith D'amedia opened the doors to his first Urban Tandoor site, he never imagined he'd end up with two more in a matter of years. However, with the success of this award-winning endeavour, it's not surprising that he was forced to expand. 
But what you might not know is that it took Sujith a while to get things up and running. Leaving Mumbai in 2005 to head to the UK, he dreamt of opening a restaurant but quickly hit his first roadblock when he realised he'd have to wait for a permit. In addition, he had no financial backing and had to fund everything himself. Lucky for us, he overcame hurdle after hurdle until he eventually welcomed his first customers into his dream restaurant in 2014. 
It didn't take him all that long to scoop a Bristol Good Food Award in 2015 and from there, Urban Tandoor has been making waves with numerous other awards and plenty of critical acclaim. They've made it onto Tripadvisor's list of Best Curry Houses and snagged a spot in The Sun's Top 10 UK Curry Houses.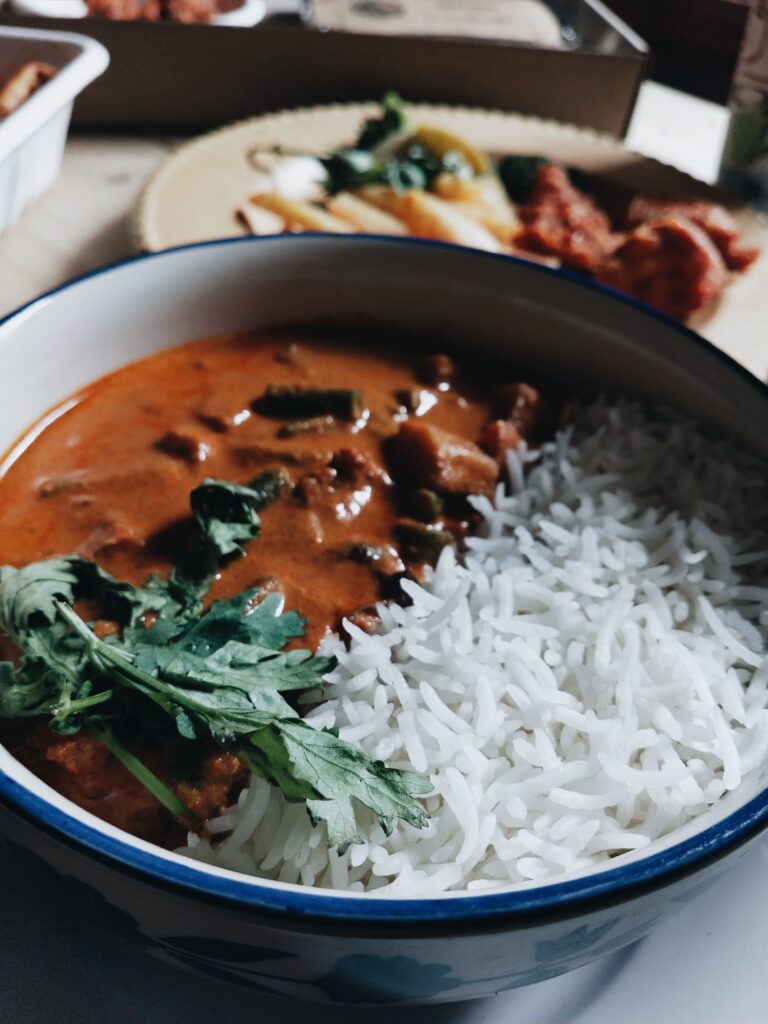 That might be because the food here is a hundred percent natural. Instead of relying on artificial colours or flavouring they use fresh ingredients and expert spice blends to really make the food sing. Avoiding cooking with oil, also means less grease which makes every dish taste really light whilst still being indulgent. Their usual menu plays host to everything from guinea fowl jalfrezi to goan fish curry and beef sukka made with shin meat. Although their takeaway menu is a little more restricted, you'll still find favourites like butter chicken masala and chicken biryani amongst sides and starters.
Despite not having any prior restaurant experience, Mayur Renukdas and his wife, Gauri, have not only made Ganesha work, but it's thrived since opening in 2008. From the Indian city of Pune, the couple employ their own methods that are a little bit different from the standard style of cooking found in most Bagladeshi restaurants and yet, they're still fully focussed on offering authentic Indian cuisine. 
With one quick look at the menu it becomes obvious that they're managing to do that really well. There is biriyani, vindaloo, masala and madras of many varieties that invite you to try one that isn't necessarily in your comfort zone. If you're always picking lamb madras, it might be time to opt for prawn instead or try a traditional Hyderabad lamb biriyani. 
The extensive menu may seem overwhelming, but if you ever find yourself unable to choose, the chefs specials are there to simplify things a little. Currently that includes beautiful options such as Murg Pahadi, a chicken cooked with corn and mushrooms and served in a medium spicy sauce. If you're after lamb, try the Gosht Dahiwala which is made up of boneless tender lamb pieces marinated in a yoghurt and cooked in Hyderbad style spices.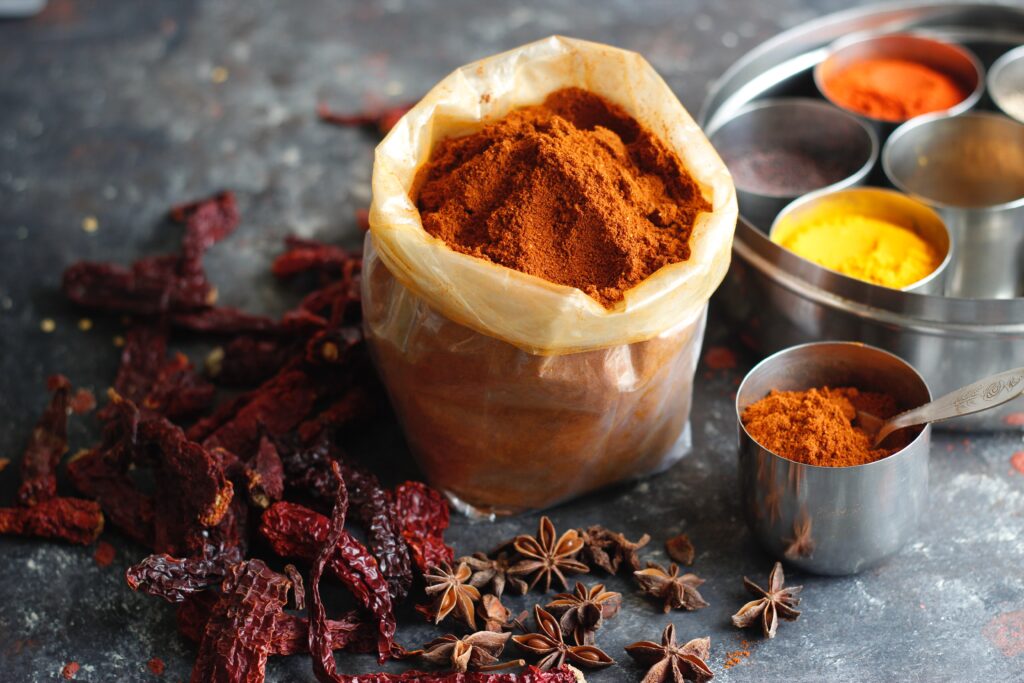 Naan of every type is available to order as a side and they're one of the few restaurants we've seen that also offer roti – a round flatbread made from wholemeal flour and traditionally cooked in a clay oven. There's also rice – including a basmati with mango which sounds delightful – chips, poppadoms, fresh salads, pickles, chutneys and any other accompaniment you might need to make this a truly indulgent feast. 
With a firm understanding of great flavour and cooking as one of Bristol's finest Indian takeaways, Ganesha is upholding authentic cuisine with the family-run values that makes this an establishment you want to keep coming back to.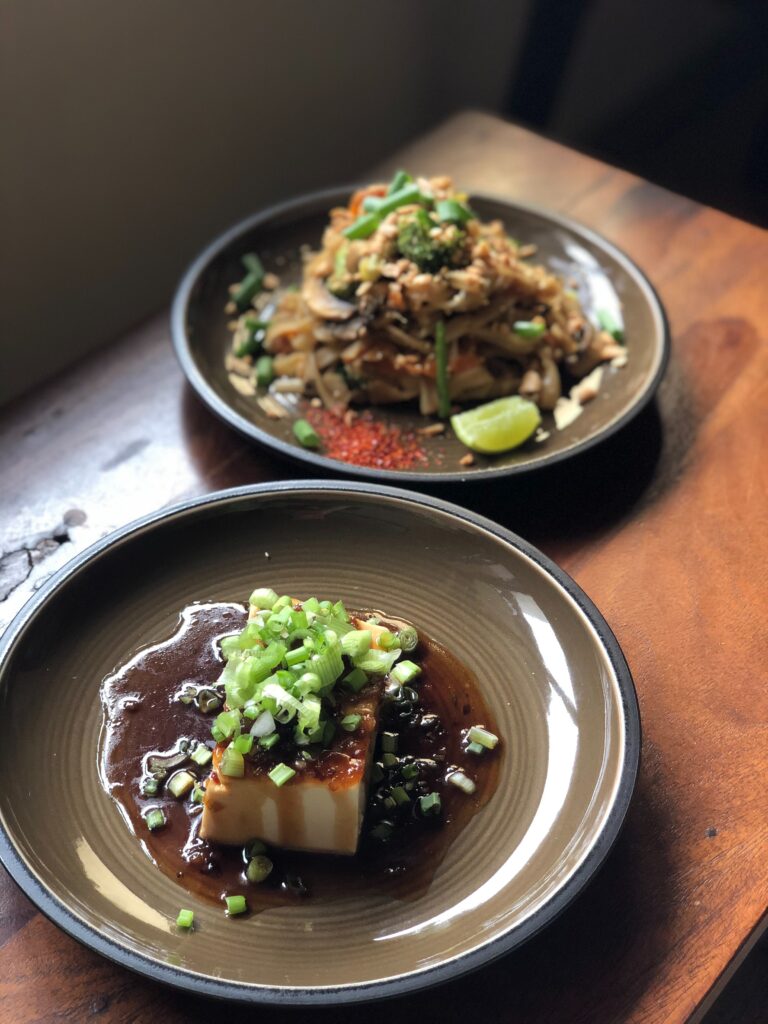 Sitting proudly on the corner of Clare Street, Dhamaka has a pretty strong aesthetic that immediately immerses you in India, but that doesn't mean you can't still be transported to the subcontinent just by sampling their takeaway menu from within your own living room.
That was, after all, Vinay Reddy's plan when he imagined a restaurant where diners would feel as though they're actually taking a trip around India to enjoy butter chicken in Delhi or kebabs in Lucknow. With a winning idea in mind, he knew he needed someone to deliver his vision onto a plate, so he recruited Jyotirmoy Patra who was trained under Michelin-starred chef Atul Kochar. Together, the pair's impressive credentials have seen Dhamaka thrive as they combine great cooking with an authentic menu, a laid back atmosphere and friendly service.
With that focus on showcasing Indian street food, Dhamaka conjures up nibbles with the aim of creating a sharing experience, much like tapas. This includes everything from onion bhajiyas to chicken tikka, lamb kebabs, tandoori paneer tikka, butter chicken, fish curry, vegan kofta curry and you'll also find classics like chicken korma, madras and lamb rogan josh.  But what would a meal be without sides? At Dhamaka they have options like Bombay Aloo, Mushroom Rice, Raitha, chips and Tadka Dal and there's also a variety of naan, including garlic, peshwari, butter and cheese and chilli. 
Because a lot of their menu is so focussed on gluten free, vegetarian and vegan options, they've become a favourite among many Bristol diners for an Indian night out. 
And that's our roundup for the best Indian takeaway in Bristol. If you're still struggling to decide which one to have this Friday night, we've got a hot tip for you; start at the top of this list and work your way down. We can assure you that none of these stunning takeaway options will disappoint.