For vegans and the plant-based amongst us, gone are the days of settling for the nut cutlet and salad without cheese, replaced instead with an enormous amount of creative and tasty alternatives. For many of us, a fish and chip supper represents a culinary treat, something that brings back memories of Friday night suppers, holidays by the beach, and family.
With an enormous plant-based contingent, Bristol is one of the premier locations for vegan food, and fish and chips is no exception. Thanks to the growing influence of veganism over the past decade, there are now plenty of restaurants, cafés, and pubs that all cater for the ethical eater. Using meat and fish alternatives such as banana blossom, tofu, and faux-meats, these eateries recognise that these tastes and textures are ingrained in many of us, recreating our childhood favourite perfectly.
Grab the red sauce then, because here's our favourite vegan fish and chips in Bristol.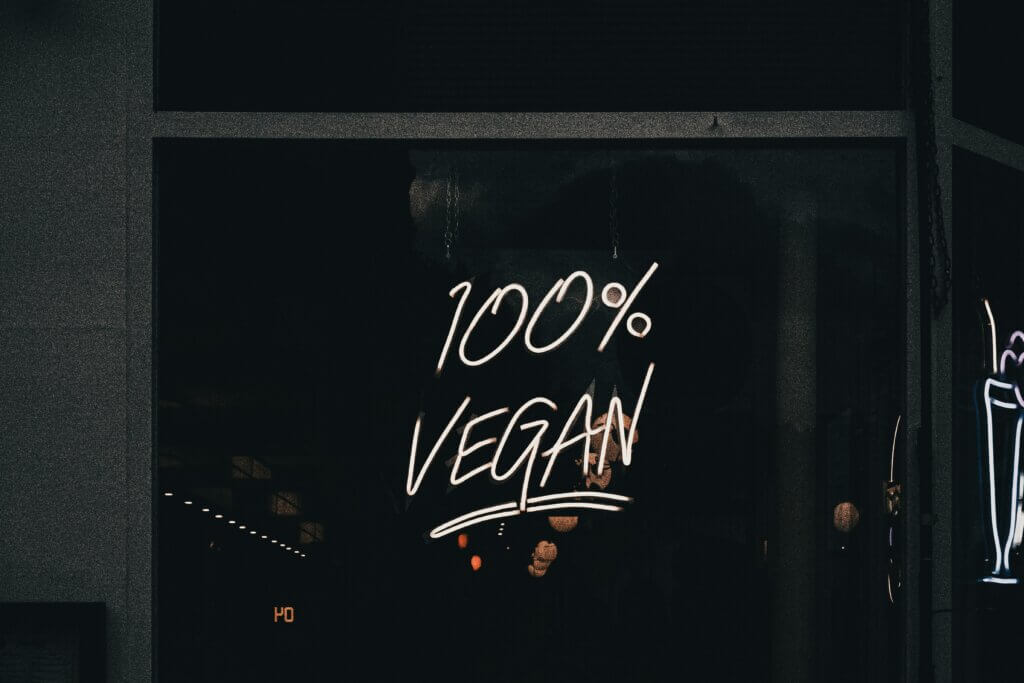 Are you vegan?
Check out this restaurants!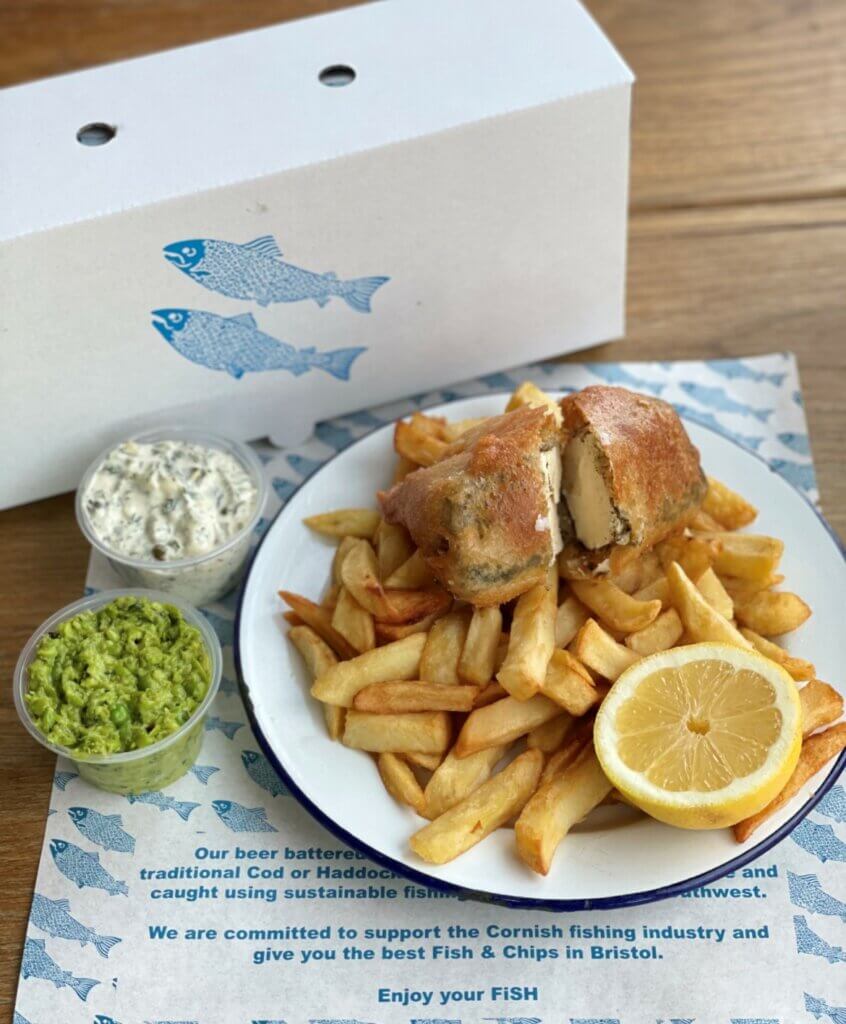 Located on Bristol's iconic Welshback, FiSH is a restaurant with a personality. Occupying a large, historic barge, FiSH sits on the harbour water and provides patrons who dine in with a beautiful view of the boats passing by overlooking the harbour waters. The interior decor is polished and more spacious than some landlocked restaurants!
Despite the name, FiSH considers itself a vegan and vegetarian-friendly restaurant, taking as much pride in their plant-based offerings as they do with our scalier friends. On offer is the vegan "FiSH" supper that uses tofu instead of fish to complete the meal. The tofu block is marinated in seaweed to give it the taste of the ocean before being fried in some shallow oil. This is then served with FiSH's famous chips alongside a helping of mushy peas with vegan butter and mint introduced. Topping the meal off is the traditional tartare sauce, made from vegan mayor, finely sliced shallots and capers, gherkins, parsley, dill, tarragon, and a squeeze of lemon to freshen it up.
While eating in at FiSH is an experience in itself aboard the old barge, they also offer a takeaway service. This means vegans and non-vegans alike can enjoy their meal out on the nearby picnic tables or wander around Bristol with your "fish" and chips.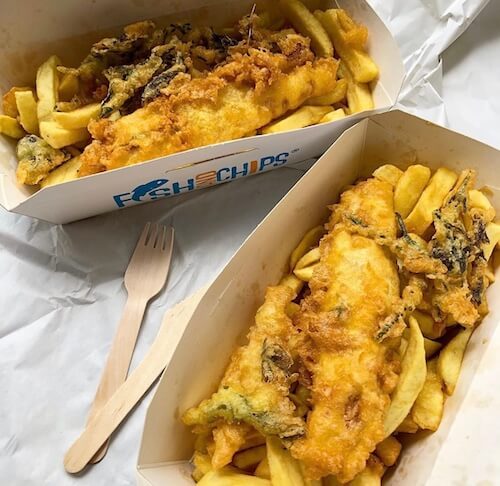 Hold on to your vegan hats because Catch22 is a restaurant with a seriously impressive reputation, especially for catering to vegans.
Located in the art nouveau grade 2 listed building on College Green, Catch22 has gained a reputation for serving up what many consider the best fish and chips in Bristol. The Bristol Post even claimed that Catch22's offerings are "the best fish and chips ever." The restaurant operates both a takeaway and dine-in experience, but seating is somewhat limited, so you'll want to ring ahead to reserve a table if possible if choosing to eat in.
Specially developed by Catch22, their main vegan choice is Battered Vish. Made from banana blossom, this alternative replicates the flakiness of fish and has been marinated in salty samphire, seaweed, and lemon to really nail the ocean taste. This fillet is then dipped in the team's homemade batter before being fried separately to perfection and then dished up In addition to Vish, there are also some vegan Fritters that are perfect for dipping and eating on the go.
To go with your Vish or fritters and chips, there are a few vegan extras on offer too. Mushy peas and baked beans can both be added to your meal, and if you like your chips swimming in curry sauce, you'll be glad to know that's vegan too.
To wash it all down, there's also a good selection of beers, ales, ciders, wines, and fizzy drinks that are certified vegan.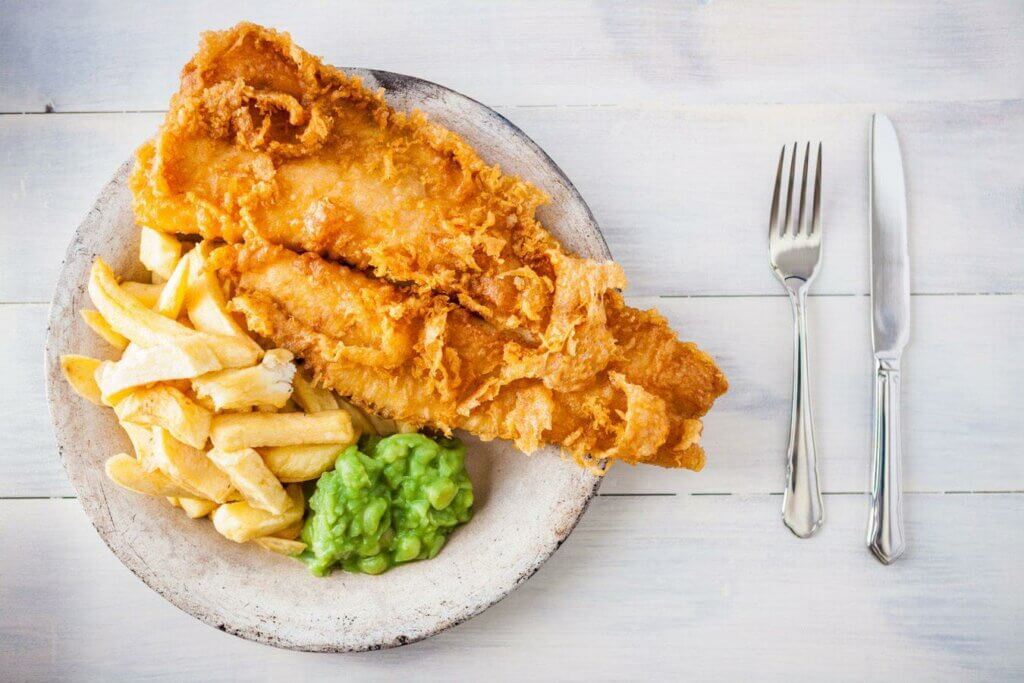 For those who find themselves walking along the waterside, just before the Cumberland basin where the water meets the river, Avon is a fish and chip joint that hits just the right spot, Hotwells Fish Bar.
Tucked away on the Hotwells road, the fish bar is far enough away from the noise of the inner-city to enjoy your food in peace. In keeping with tradition, Hotwells is all about the takeaway, using sturdy recyclable materials so you can enjoy your dinner sitting out overlooking the harbour or wandering down towards the Hannover Quay and Lloyds Amphitheatre. 
If you're looking for a classic fish and chips experience, this is it. Vegan-wise, you can choose from a banana blossom fillet, coated in crispy batter, priced cheaper than almost anywhere else. And if you're feeling particularly peckish, there's more to choose from, including vegan sausages that can be battered if desired. Vegans can also divulge in some "chicken" nuggets.
With exceptionally reasonable prices, there's no reason not to push the boat out.
And if you like a little history to go with your fish and chips, the historic SS Great Britain, one of the first transatlantic steamships, is a short walk away down in the dockyards. With benches opposite, you can chow down on chips while contemplating our industrial heritage.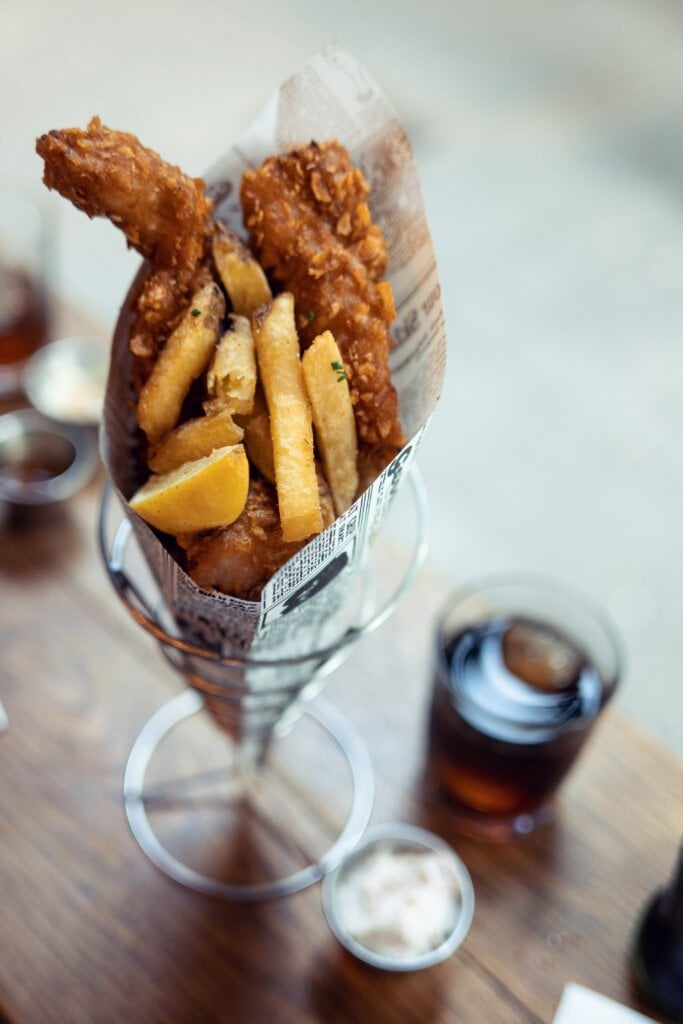 "Fish and chips": £8.50-£15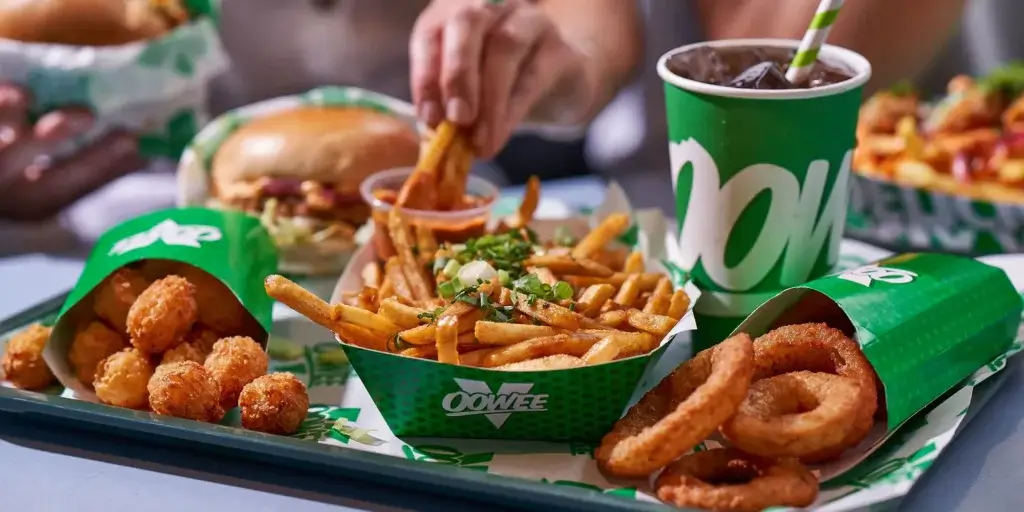 Established in 2018, Oowee Vegan's reputation has snowballed as its delicious-looking menu has tempted vegans and non-vegans alike to its doors. Take a look at Oowee's wide selection of stacked seitan burgers, dirty fries, and indulgent extras, and even the most hardened carnivore will be reaching for their wallet.
Located on Baldwin street next to the iconic Old Fish Market pub, Oowee Vegan is easily spotted by its vibrant green sign and the queue that is often trailing out its door. Being one of the most popular vegan establishments in Bristol, ordering ahead is almost always recommended. Though there is indoor seating, this is limited. A short stroll down the road is Castle Park, where you can sit and enjoy your meal in the warmer months amongst the castle ruins with a lively atmosphere and plenty of shade should you need it.
Oowee's take on fish and chips is non-traditional, with the popcorn shrimp acting as their seafood option. These tender, bite-sized, faux-shrimp pieces are coated in a batter made with a blend of herbs and spices and come in a mini-bucket. These can be paired with any of the fries on offer. And believe us, there's plenty on offer!
With 12 "dirty" fries available, you may have a hard time picking the perfect accompaniment to your crispy shrimp. Whether it's the cheese and crispy onion topped double dirty waffles, the garlic butter drizzled chips or the (love it or hate it) Marmite fries. There's something here for everyone. And we mean everyone!
One of Bristol's hidden gems, The Volunteer Tavern, resides just off the Old Market, on New Street, not far from Castle Park. Wander down these back streets of Bristol, and you'd be forgiven for walking straight past The Volunteer Tavern that occupies a 17th-century wood-panelled pub. But for locals and the savvy-visitor, the tavern is known for breaking new ground, being the first living-wage pub in Bristol. Socially responsible, The Volunteer Tavern is LGBTQ+ friendly and is appreciated by locals and visitors alike for its great range of beers and ales, beautiful courtyard, and welcoming atmosphere.
And, for those in search of the ultimate plant-based fish and chips, the entire menu is vegan friendly. With experienced vegan chefs at the helm, The Volunteer Tavern's offerings are extensive and just as good as their animal-based counterparts. Aside from the burgers, BBQ "chicken", Nachos, and curries, there is, of course, the reasonably priced "Fish N Chips". This plant-based fish comes with chips, mushy peas, tartare sauce, spring onions, and a wedge of lemon for squeezing over your batter. Cooked with a passion for plant-based food, this is one of the best options in Bristol.
The pub operates on both an eat-in and takeaway basis, but, being a cosy one-room pub, seating is sometimes limited.
Fish and chips (when available): £10-£12
If you like your fish and chips set under painted domed ceilings, chandeliers, and expensive furnishings, then you'll want to head on down to the Cosy Club. Originally a bank for the well-to-do, the neo-palladian interior makes dining in at the Cosy Club a delight. Located on Corn Street, the restaurant is a listed building and has played an important role in the history of Bristol over the past couple of centuries.
Despite its antique interior, the Cosy Club is modern in its attitude towards food, with a menu that is perfect for the conscientious vegan eater. Best of all, the Cosy Club has won the "Best Vegan Fish" award from PETA in 2019, beating some stiff competition along the way. With an ever-changing menu, the Cosy Club's vegan fish and chips are not always on offer. However, when it is, it's worth taking a trip to the inner-city and trying their version. As with all their vegan food, it's cooked with precision and care, with chefs who clearly understand vegan ingredients. This is a dine-in experience, so booking ahead is recommended.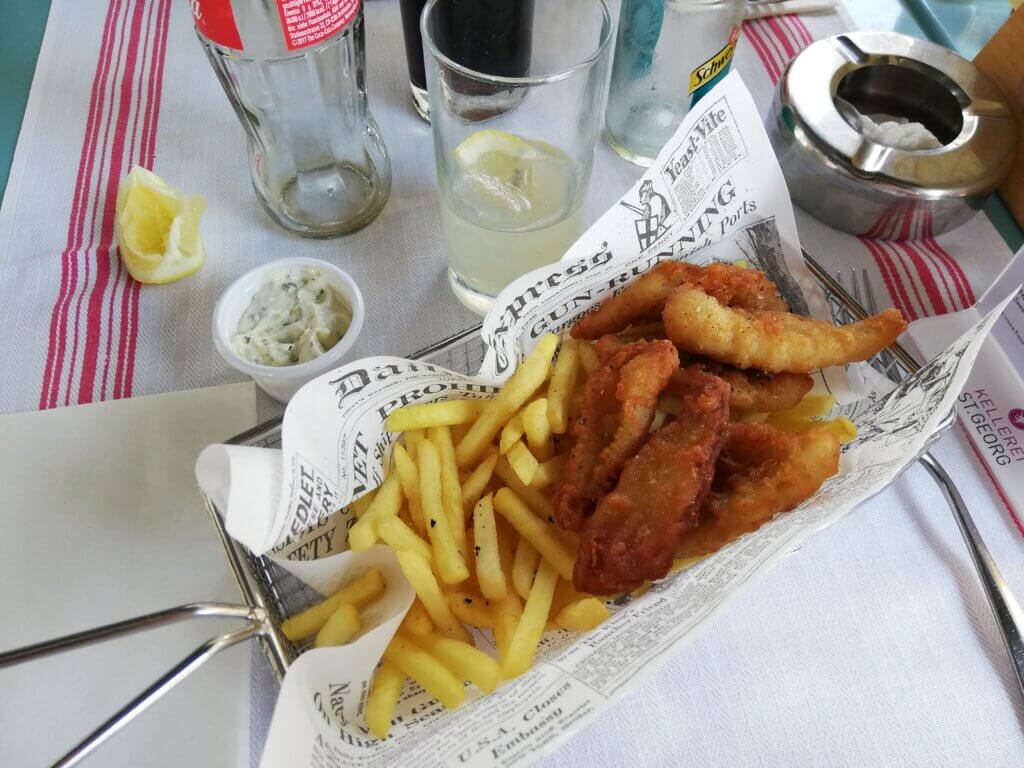 With so many vegan restaurants scattered around Bristol, there's no reason to deny yourself that Friday night treat.