You'd be hard-pressed to find someone who doesn't like a good plate of bangers and mash. Whether it's pork, lamb, beef, or even plant-based sausages, there's something both comforting and delicious when combined with creamy mashed potato and well-coated in gravy. 
A mid-week favourite for British households, a couple of sausage links on a bed mash is regularly named as one of the nation's most well-beloved dishes. In fact, back in 2009, it was voted Britain's most popular comfort food.
While we may use the word "bangers" to refer to sausages without a second thought, the term originates from World War I when there was a shortage of meat. Padding the sausage meat out with fillers and water, these sausages would explode under the heat of the pan, giving us its iconic name.
Quick and easy to cook, the dish is classic pub grub and is a staple of pubs everywhere. With each restaurant and eatery throwing their own spin on the dish and offering a range of unique sausages, bangers and mash is a dish that keeps on giving.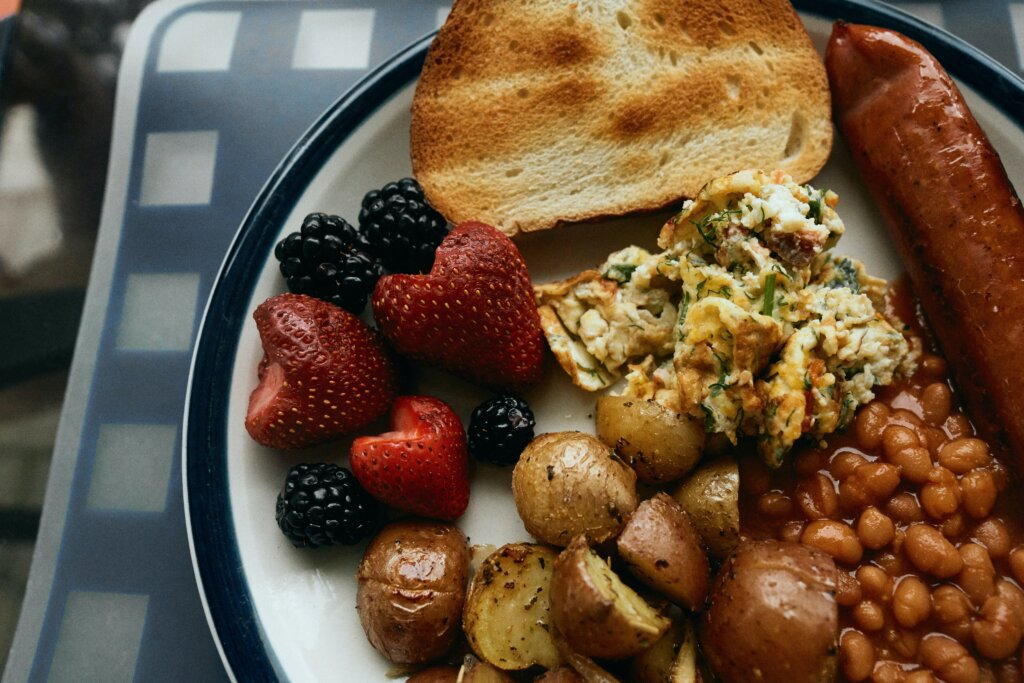 The Best Bangers and Mash in Bristol
Within the many pubs, cafes, and restaurants of Bristol, you can find the dish served everywhere. If you're looking for the best bangers and mash in Bristol, here's a list of our favourite spots.
Homely food in a cozy setting
Bangers and mash: £11
The ultimate destination in Bristol for bangers and mash really has to be The Clifton Sausage.
Located on the quiet backroad of Portland Street in the heart of Clifton, this eatery knows their stuff when it comes to sausage and everything that goes well with it. With warming interior decor and pine furniture, the restaurant is welcoming and friendly. Offering everything from parsnip crisps and artisanal pigs in blankets to English wild mushrooms and fish specials, this is British cuisine done well.
With the clue in the name, this place takes their sausages seriously. There are traditional pork sausages made from Gloucester Old Spot as well as the Clifton pork, cider, and wholegrain option. There are some less familiar flavours too such as the Beef and Butcombe Ale sausage and the sausage of the day for those who like surprises.
And while meat is the name of the game here, with venison, ribs, fish, and pork belly also on offer, The Clifton Sausage hasn't forgotten about our plant-based friends. You'll also find vegan options here that are delicious in their own right.
Accompanying the sausages, you have the option of either the restaurant's famously fluffy mashed potato or the Irish take called Champ.
While not the smallest, The Clifton Sausage has semi-limited seating, so it's always worth ringing up and booking a table beforehand.
Chain restaurant offering great value for money
Bangers and mash: £6.29 or 2 for £10 
Those nearer the Hanham side of Bristol might want to check out the Blue Bowl on High Street if they're out and about and hankering for some bangers and mash.
A chain restaurant, the Blue Bowl is one of the over 300 Sizzling pubs scattered across the UK, such is the popularity of this well-established brand. Offering cheap drinks and great deals on food, the Blue Bowl occupies an old inn with records that can be traced back as far as 1480. Though modernized, the interior reflects this history and has a quirky layout that adds to its charm.
As with all Sizzling establishments, the Blue Bowl has an extensive menu that can take a while to absorb. If you're a bangers and mash sort of guy or gal though then you'll be glad to know there's a tasty option here just for you.
The Blue Bowl's bangers and mash keeps things simple. You're treated to three (yes three) grilled pork sausages with the restaurant's moreish mash. The Blue Bowl also delivers the dish with some peas and fried onions, with lashings of gravy poured over the top of it all.
At 2 for 1 prices and veggie options available, this is a great place to get your sausage and mash fix.

Gastropub in Clifton Village offering classic British dishes
Bangers and mash: £13.50
With its stylish interior, eclectic furniture, and cozy vibes, The Mall Clifton is one of the more interesting places to get your bangers and mash on in this list.
Sitting on the corner of The Mall in Clifton Village, this eponymously named gastropub is one of the region's most well-respected places to get decent food and drink. Not your ordinary pub, the food here is of the highest quality, using carefully sourced ingredients to ensure the dishes are as ethical and tasty as possible.
The bangers and mash here is no exception. The sausages are made from British pigs that have been bred outdoors and the mash is made extra-special with the addition of rich butter and spring onions. The gravy is not your standard fare either. It's made as a red wine jus for that touch of luxury and the whole lot is topped with some particularly crispy fried onions in a buttermilk "tobacco" batter.
The Mall also has a fantastic selection of delicious craft beers and wines to wash down your dinner with too, especially nice if the sun's out as you then get to enjoy the "secret garden".

Fun and trendy bar-restaurant
Bangers and mash: £10.95
Making the most of views over Bristol's waterways, Pitcher and Piano is another wonderful place to grab yourself a plate of loveliness in the form of bangers and mash.
With a series of pubs throughout the UK, Pitcher and Piano is renowned for having cool and trendy interiors with a fantastic atmosphere, especially at the weekend.
Bristol's Pitcher and Piano is situated on Cannons Road overlooking the harbourside, near Millenium Square. Being such a popular pub, Pitcher and Piano can get particularly busy, especially on Friday nights. If you're after a quiet meal and drink you'll be able to enjoy that too though, with the outdoor seating area letting you dine in peace as the boats come and go along the water.
In terms of bangers and mash, Pitcher and Piano offers your classic dish but turned up to ten. The sausages are made from Hearty Gloucester Old Spot, sitting on a cloud of exceptionally fluffy buttered mash with onion gravy. What's particularly moreish about this dish, however, is the inclusion of the sweet and tasty creamed corn and crispy bacon. These American-inspired additions revamp the British classic and make it new again.
The Gloucester Old Spot, Bristol
Friendly gastropub serving locally sourced food
Bangers and mash: £15
Located in Bishopston on the well-traveled Coldharbour Road, The Gloucester Old Spot has attracted more than a few hungry visitors in its time. Serving up delicious, locally sourced food from its menu, The Gloucester Old Spot is a favourite for those looking for a friendly atmosphere, a good drink, and good grub.
Browse through the pub's extensive menu and you'll find yourself greeted with a wide range of tasty foods with tasty options such as truffle and parmesan friends, thyme and paprika hummus, loaded pizzas, classic large plates like burgers, steaks, fish, and, of course, bangers and mash.
Named after the breed, the pub uses the Gloucester Old Spot as the base for its sausages and mixes things up once a week so you never know what sort of flavour combinations you're going to get. Also keeping things fresh is the mash which has wholegrain mustard run through it to elevate it beyond the standard. Accompanying the lot is a side of greens and your classic crispy onions and gravy.
The pub's interior is cozy and inviting with the staff well-known for their hospitality. In the summer months, it's also worth sitting out on the terrace where you can catch some rays while munching on your bangers and mash.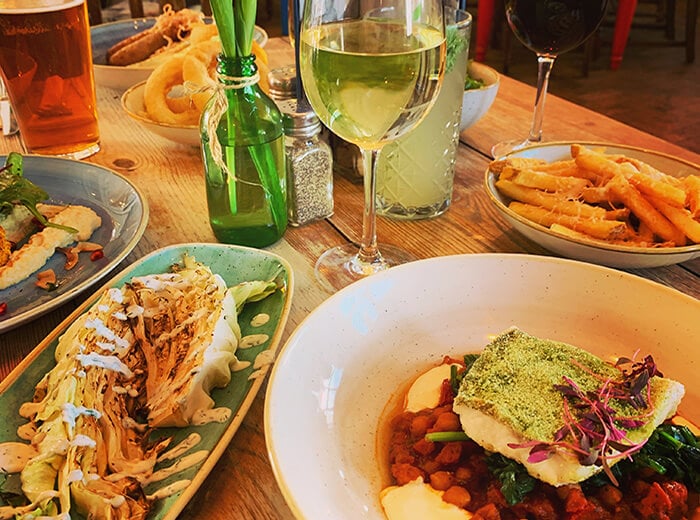 As well as the pubs and restaurants on this list, there are plenty more places around Bristol to grab yourself a plate of bangers and mash. As a staple pub dish, it's always worth exploring the city further!