Best Campsites Near Bristol
Bristol truly has something for everyone, no matter your taste in a trip away. So, if the tourist attractions, the eclectic food choices, or the cultural influences in this fantastic city don't quite take your fancy, or if you have seen them countless times before, then fear not. Bristol has a range of beautiful campsites nearby, making the most of the countryside right beside this city, you can take a break from the hustle and bustle, no matter how local you are, or you can be at one with nature, enjoy some hikes but pop into the city and experience the best of both worlds. Enjoy our top choices for campsites worth visiting near the Bristol area. 
All prices and contact details are accurate as of August 2021.
This is your run of the mill, standard camping experience. At Loves Hill, they don't have all sorts of bells and whistles, so they concentrate on offering a great experience for people wanting a true camping holiday. 
You'll find Loves Hill in Bath, about a 30-minute drive away from the Bristol city centre, making it a good choice if you want to hop in a taxi or on a train to Bristol for the day and enjoy the M Shed, SS Great Britain and other various attractions. Or, if you're local to Bristol and you want a getaway, you don't need to worry about travelling and can be close to home, if need be. Loves Hill is in the perfect location to make the most of both Bristol and Bath during your visit.
From the campsite you're able to step straight onto some gorgeous footpaths for local walks that'll take you around Timsbury. In the evenings, if you fancy exploring or heading out on foot, you'll easily find a nice pub or chip shop to grab a bite. Sometimes, the campsite has local food trucks visit, so you might be able to feast on some tasty snacks without leaving at all. You can track down Loves Hill at Timsbury, Bath, BA2 0ES. 
Loves Hill Camping is a tent only site, so unfortunately you can't bring caravans, campervans, motorhomes, or anything similar. There is a huge amount of space, so you won't be short of room, and there are no set pitches, meaning you can choose your own spot, spread out to your liking, particularly if booking is low, and give yourself plenty of room for a game of catch. Even without the set number of spaces, there is still of course a limit to how many people they can have on the site at a time, so if you have your eye set on Loves Hill, be sure to book in advance. To book, send an email to loveshill@hotmail.com with the subject line '2021 booking'; you can find the details of what you should include on their website, https://www.loveshill.co.uk/. If you have any questions and prefer to call over email, contact 07718 593 921. 
There isn't a great deal of space to shelter out of the rain, so be sure to check the weather forecast and pack wisely – we all know that the Great British summertime means you're never guaranteed sunshine. There are shower facilities, composting toilets, and washing up stations available. With the site aiming to help environmentally friendly, low impact holidays, there are recycling stations, so use them considerately and think about the impact you're leaving behind. 
You are more than welcome to start small fires, perfect for chilly evenings or roasting marshmallows, but all fires and barbeques must be off ground and you're asked to notify staff beforehand. You can buy firewood on site. 
Pricing, like many campsites, is cheap as chips, with adults being £12 per night, 5 to 15-year-olds are £5 per night, and children under 5 are free. Your four-legged pals are welcome to visit too. Check in is between 2.00pm and 7.00pm, but the site is unlit so be sure to arrive before it gets dark to make setting your tent up easier. When you get here, simply let reception know and they'll fill you in on any details you missed whilst booking. 
Loves Hill Camping is the classic camping experience and the grounds are in such a wonderful location that you won't be short of things to do. 
Mendip Basecamp: Off Grid Camping
Mendip Basecamp offers a number of different camping experiences, from classic camping to a lodge house room; there is definitely something here to suit your tastes. Mendip Basecamp also holds a broad range of things to do at their onsite activity centre, so if your trip isn't jam packed, or you're not sure what you want to get up to, there is lots on offer at Mendip Basecamp. 
Mendip Basecamp used to be reserved only for school trips, scout troops, and other similar activities, but recently they opened their doors to the public and the feedback has been outstanding. 
The campsite at Mendip Basecamp is suitable for tents and campervans, providing they are less than 2.7m high. This family campsite is off grid, so you shouldn't bring any electrical hook ups with you, but there are USB charging ports available. The campsite area is kitted out with flushing toilets, hot showers, wash up areas, a pop-up shop, and a café-bar. You'll also have access to fire pits if you fancy it. It may be off grid but when you're camping these little luxuries can make a world of difference. Unfortunately, the campsite as a whole is not wheelchair accessible, and Mendip Basecamp offer their apologies as they advise against guests with severe mobility restrictions. There is space for you to park right by your tent, and the site is dog friendly.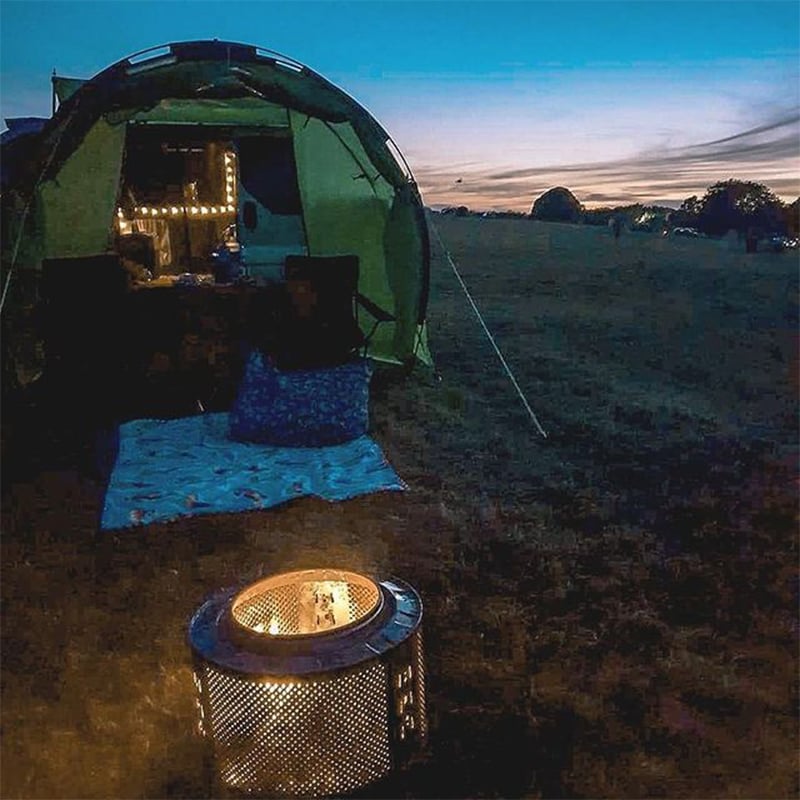 If you don't have your own tent or aren't fully sold on camping, you can rent a 'Bunkhouse Tent', which has three bunkbeds inside, suitable for 6 people. This is a good compromise between a room and being close to nature. Again, if this doesn't quite sound like your sort of stay, there are 'Lodge Bunk Rooms' available too, again with bunkbeds. Paying for a place to set up your tent on the campsite begins from £6 per person per night, a Bunkhouse Tent starts at £15 per person per night, and a Lodge Bunk Room can be just £10 for each person, each night you're staying. Even if staying in a tent isn't completely up your street, the prices are completely affordable and will make for a great trip.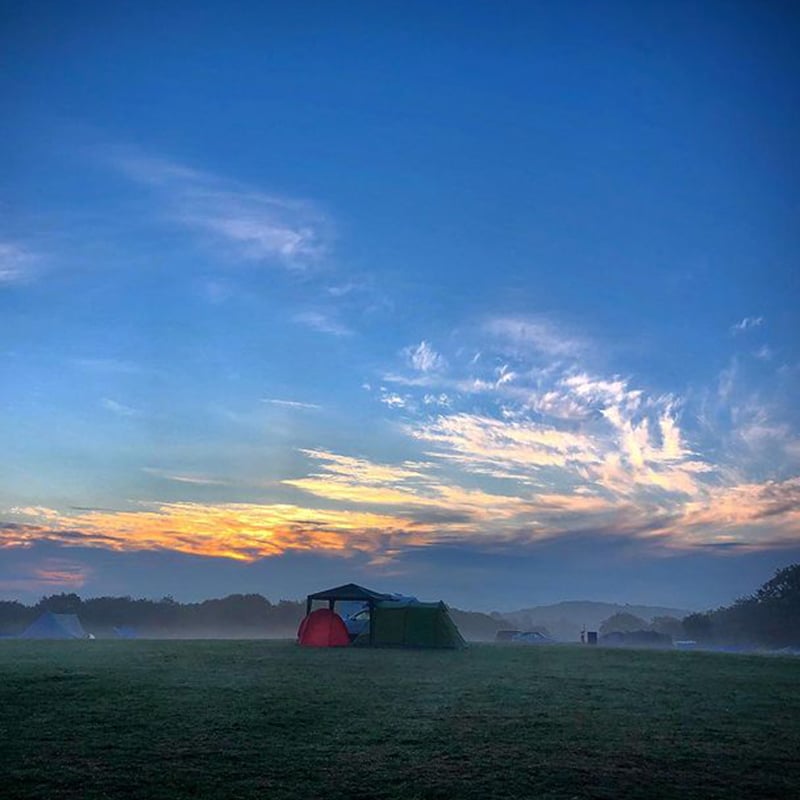 With this previously being reserved for active trips with schools and various organisations, there is tons to do on site, whether you want to try your arm at archery, have a go at an air rifle, or try axe throwing, there's lots of choices to dive into. Mendips Basecamp have a facility for snow sports so why not give skiing and snowboarding a whirl? And just a 15-minute drive away, you'll find their water sports site.
Mendip Basecamp is a 29-minute drive from the Bristol City Centre, not too far if you want to pop in for a day or two on your trip. You can find Mendip Basecamp at Mendip Activity Centre, Sandford, BS25 5PQ and email hello@mendip.me to ask any questions. For more information, or to book, visit https://www.mendipbasecamp.com/. 
We know that camping isn't quite everyone's cup of tea, but a unique and quirky stay outside of a box of a hotel room is a great choice for your holiday. Here are some glamping, options, or camping choices that are a little less traditional.
Towed Town Camping are an indoor campground right in the heart of Bristol. If you are looking to avoid a hotel room and experience Bristol as a city, this is a great choice. Just a 6-minute drive, or a 21-minute walk away from the Bristol city centre, you are only a short stroll away from the gorgeous Bristol city and fantastic tourist attractions. 
Towed Town Camping is a warehouse in Bristol that has been converted into an indoor camping accommodation. Decked out with 6 vintage caravans that have been refurbished, this is a quirky alternative to a hotel without straying to the countryside to camp – a great choice for an experience that is out of the ordinary. 
Each caravan is private, but you will have access to a shared communal area during your stay. This is where you'll find a pool table and honesty bar, right by a 'living room' style area. There are plenty of books and board games you are more than welcome to use during your stay. This whole centre was inspired by a family's search for affordable, unique places to stay. They opened in July 2017 and have built up their business since then, adding more caravan options and providing a fantastic service.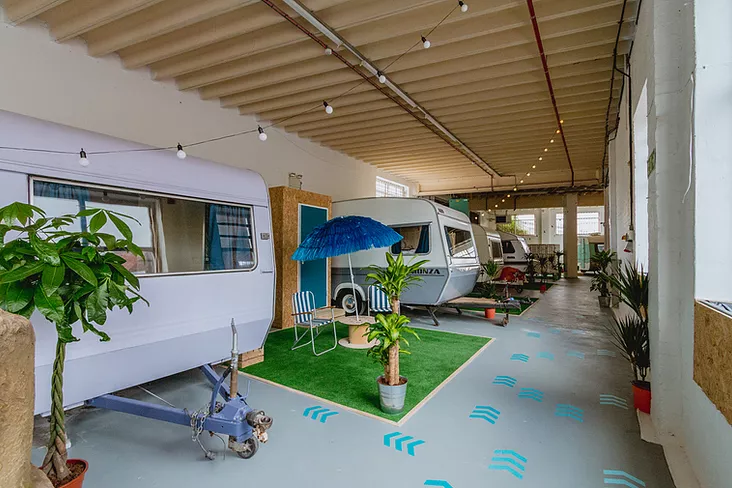 During your stay you'll have access to WiFi, the communal areas, and the private caravan you rent out. Each caravan has an ensuite with electrical showers, there are tea and coffee essentials provided, as well as cereals for the morning time. Plus, you are able to rent a bike with Yo Bike services from Towed Town Camping, perfect for making your way around the city. 
The prices to rent out a caravan range between £49 and £53, though there is also the option to rent out the entire space for £425, perfect for large groups. Their caravans are Cleopatra, Dotty, Mia, Asha, Elsie, and Lily. 
The Cleopatra Caravan, available for £49 per night, accommodates two people. She is a 1960s Sprite Caravan, decorated with an 80s feel. She is complete with a kitchenette area, though you are unable to cook in the vans due to the fire risk, a small wardrobe, a double bed, Tv, USB and electric points and a private ensuite, fit with a shower, toilet, and sink. 
Some of the larger caravans have a king-sized bed, perfect for if you want a little more room. 
Towed Town Camping is the perfect place to stay if you are looking to upgrade a classic camping experience whilst still retaining the caravan aspects you may love. 
You can find Towed Town Camping at 157-179 Kingsland Road, Bristol, BS2 0QW, and can get in touch at either hello@towedtowncamping.com or 07595 393 207. If you want more information or to book your stay, be sure to head over to https://www.towedtowncamping.com/. 
The wave is an inland surfing spot, great to visit whether you're a total beginner or looking to polish your skills as an avid surfer. They are designed to create perfect waves day in and day out, no matter the season. This surf centre has an overnight stay option, with 25 tents available to rent, so you can awake to the sound of the waves, right from in Bristol. 
A stay at The Wave is certainly an experience, and not necessarily a traditional camping one. Whilst your stay is in a 'tent', these tents are decked out with beds, a kitchenette, and a private toilet. The Wave says their inspiration in their accommodation comes from pioneers and brilliant aspects of adventure. You'll awake without the hustle and bustle of a city, to the sounds of nature and the ironically unnatural waves, just without the sleeping bags. 
The 25 tents available are each suitable for up to 8 people and are fully kitted out for a glamping experience. Your stay can range between £105 and £200 per night, and with a minimum stay of 2 nights, the price can soon add up. Despite the cost being a little higher, this stay, and experience, is fantastic to say the least. For more details or to book your stay, head to https://stay.thewave.com/. If you fancy testing the waters with a surf session, you do have to book separately at https://www.thewave.com/.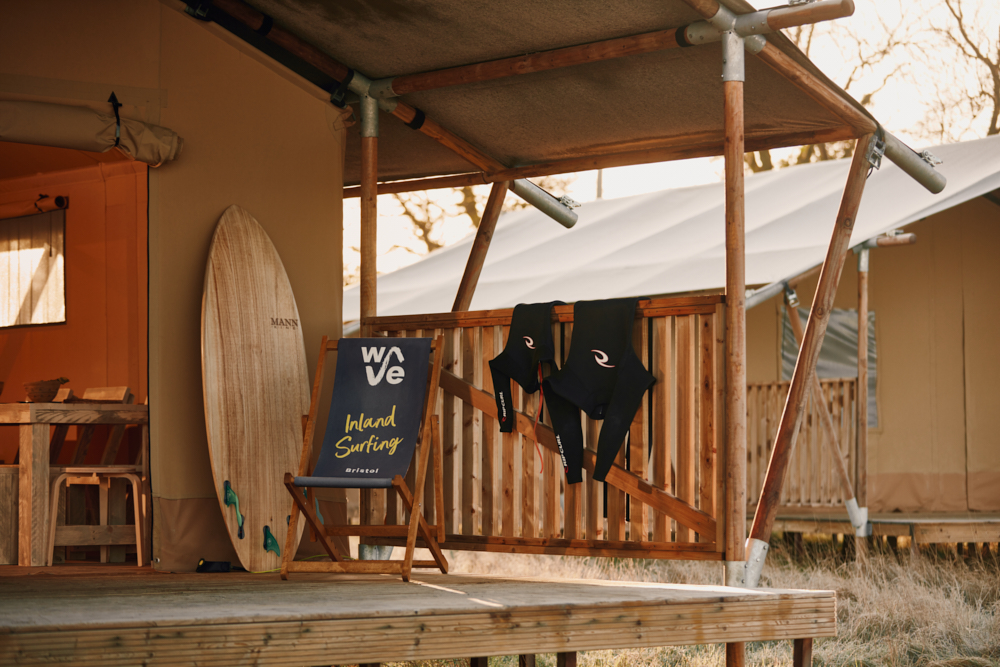 This glamping, surfing experience is a 21-minute drive away from the Bristol city centre and whilst public transport routes are possible, we'd recommend a taxi service. You can find The Wave at Easter Compton, Bristol, BS35 5RE. If you need to get in touch, you can get a hold of them at 0333 016 4133 or stay@thewave.com.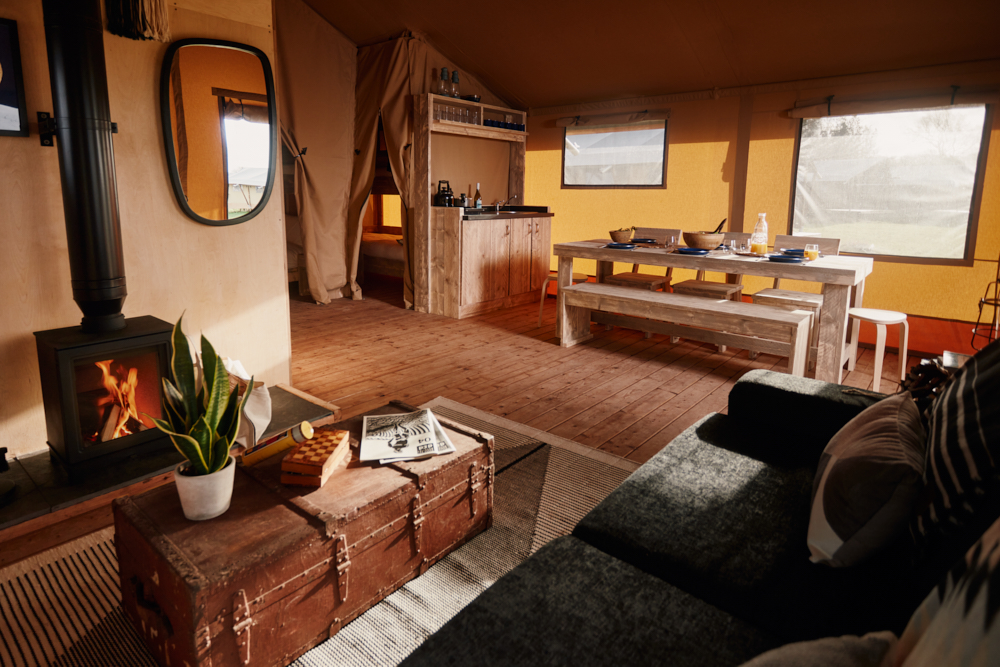 Whether your camping style is to be entirely connected to nature and unplugged from your phone, if you want to be busy and active, or if you just want to be able to sleep in a bed, there are plenty of options to fit every taste, every style, every holiday, and every person in or nearby Bristol.