Great Hotels Near Ashton Gate in Bristol
People come into Bristol for plenty of reasons, concerts at the O2, landmarks you simply have to check out, and, whilst less unique to Bristol, to visit the stadium and cheer on your favourite team. Being a football fan gives you a great opportunity to see more of the country and visit different cities and stadiums. One thing you don't want, however, is the stress of searching for places to stay if you're travelling quite far to an unfamiliar place. Nor do you want to wander the length of the city just to find your room. So, we're here to make your visit to the home of Bristol City Football Club and the Bristol Bears far more manageable and less stressful, so you can enjoy your trip and support your team, whomever it may be. Let's dive in and take a look at some great hotels nearby to the Ashton Gate Stadium.
We do our best to make sure our prices are up to date and accurate. Please be aware that prices may vary depending upon the time of year you are looking at or the availability for your selected dates. If a property is unavailable on the date that you have booked, it may not be visible to view on the site.
The Berkeley Square Hotel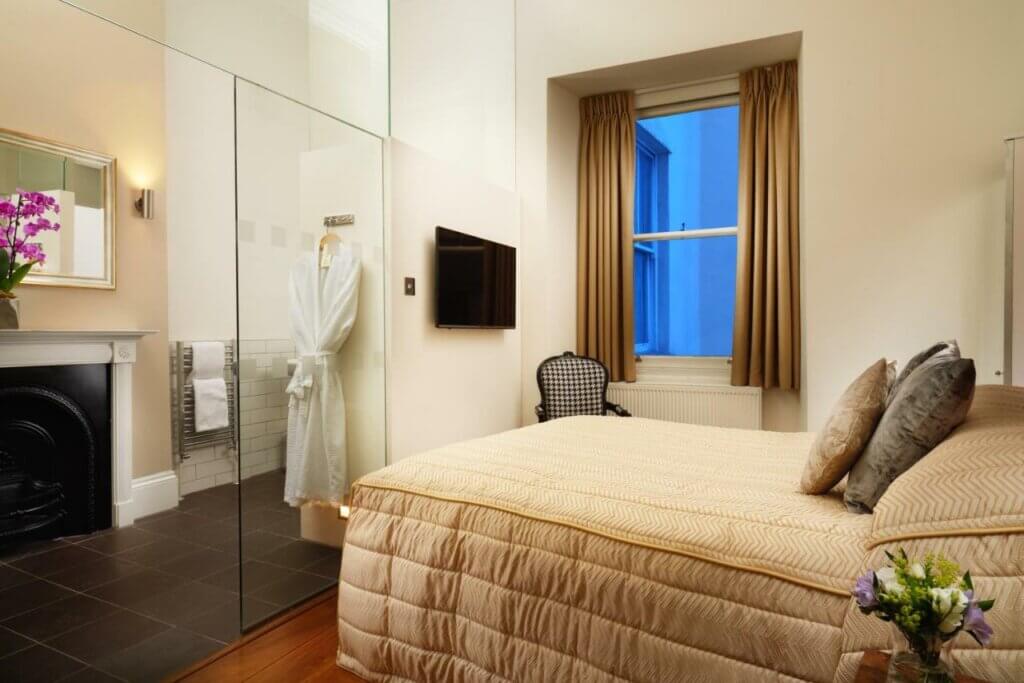 The Berkely Square Hotel brings you an elegant and modern stay, combining tasteful décor with their exquisite restaurant and bar. This arts hotel is a little further out from the stadium; you'll find them in Clifton, with a 9-minute drive or a 36-minute walk between the two spaces. However, we think the buzzing energy of the city centre combined with the stunning features of The Berkeley Square make the walk worthwhile. You'll be in the beating heart of Bristol, with all the central attractions just a moment away.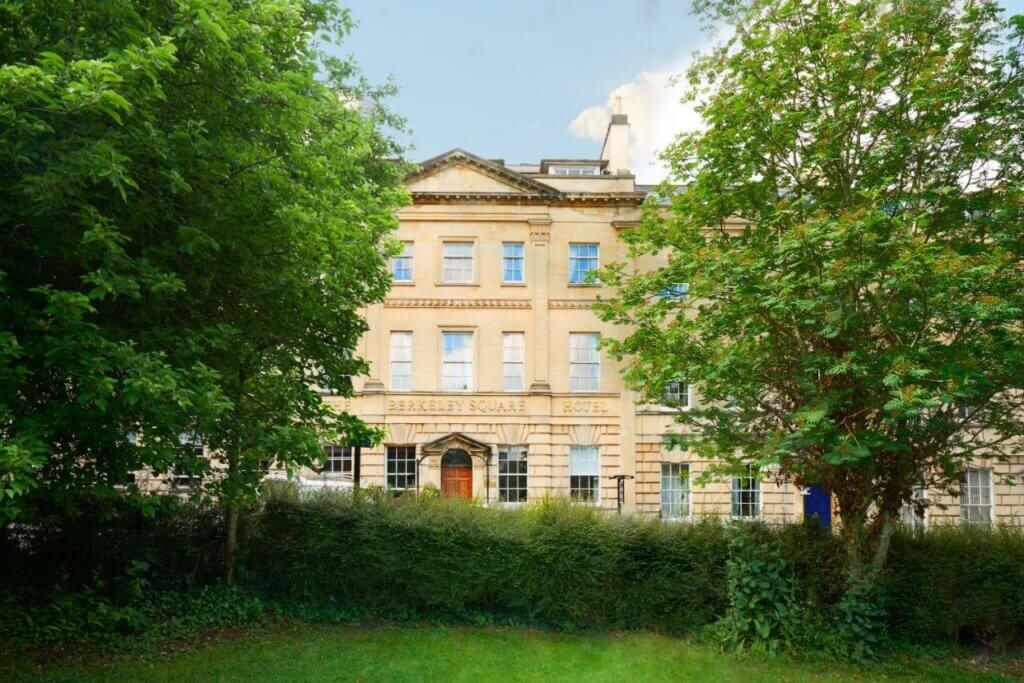 One of the nicest aspects of The Berkeley Square Hotel is The Square, an award-winning restaurant serving up wonderful dishes each day. If you're looking for a nice space without sitting down for a meal, their bar is stunning. The Berkeley Square is home to a cocktail bar in the style of a speakeasy. Not only are their drinks worth checking out as it is, but adjacent to the bar is a lovely hidden terrace garden, a perfect place to unwind for the evening. 
Staying at The Berkeley Square Hotel guarantees you a 4-star worthy experience, but if you are looking for something a little more luxurious and sophisticated, be sure to take a glance over the Berkeley Suites which can be found just around the corner form the hotel. 
If the wonderful array of Bristol's attractions and landmarks still leaves you wondering how you want to fill your time, guests who frequent the Berkeley Square Hotel get access to a discounted rate at the local health and leisure club, meaning you can keep up your workout routine or dive into something new throughout your trip. 
The rooms all feature a private bathroom and a stunning view looking out over the streets of Bristol. Guests will also enjoy complimentary tea, coffee, fresh fruits, and homemade biscuits. It's these little finishing touches that leave guests with a smile on their face. 
The first room style is a Double Room, on the basement level. This has one double bed and costs between £92 and £128. A Standard Double Room, not on the basement level, is a little more and varies around £102 and £139.  With the Superior Double or Twin Room, dependent upon the availability, guests can choose whether they'd be better with one large double bed or two single beds, for a price of approximately £106 to £143 per night. A Deluxe Suite is the largest room type on offer, with one large double bed, and prices that range from £138 to £194. Finally, a single room, ideal for those adventuring alone, with one single bed and prices between £66 and £94. 
You're welcome to bring your pets along with you, with an additional charge of £10 per pet, per night in the hotel. 
With regards to parking, there are a limited number of spaces available in a secure garage for £15 per night. These spaces are available on a first come first served basis. In the event that these spots are all filled, the 24-hour reception team will always be on hand and are happy to point guests in the right direction where you may find better parking fortune. 
So, if on your trip to Ashton Gate Stadium you're wanting to see a little bit more of Bristol, this just might be the ideal space for you. You can find the stunning Berkeley Square Hotel at 15 Berkeley Square, Bristol, BS8 1HB or head on over to https://www.booking.com/ to find out more.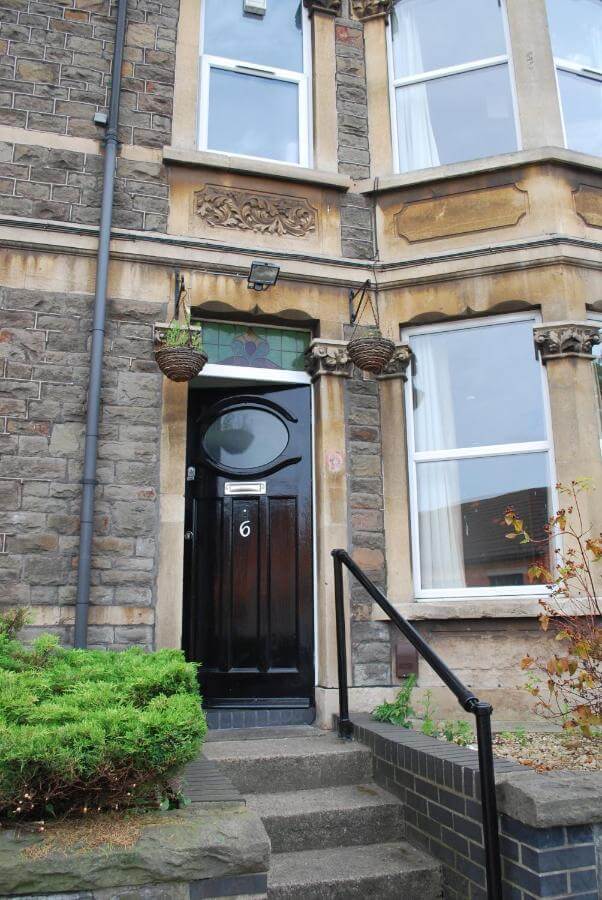 Just a 9-minute walk from Ashton Gate Stadium, this just might be as close as you can stay to Bristol's stadium. Though the property isn't exactly all bells and whistles, it does have everything that you might need, and is great for the guest who wants to get up and go, to make the absolute most of your time in Bristol.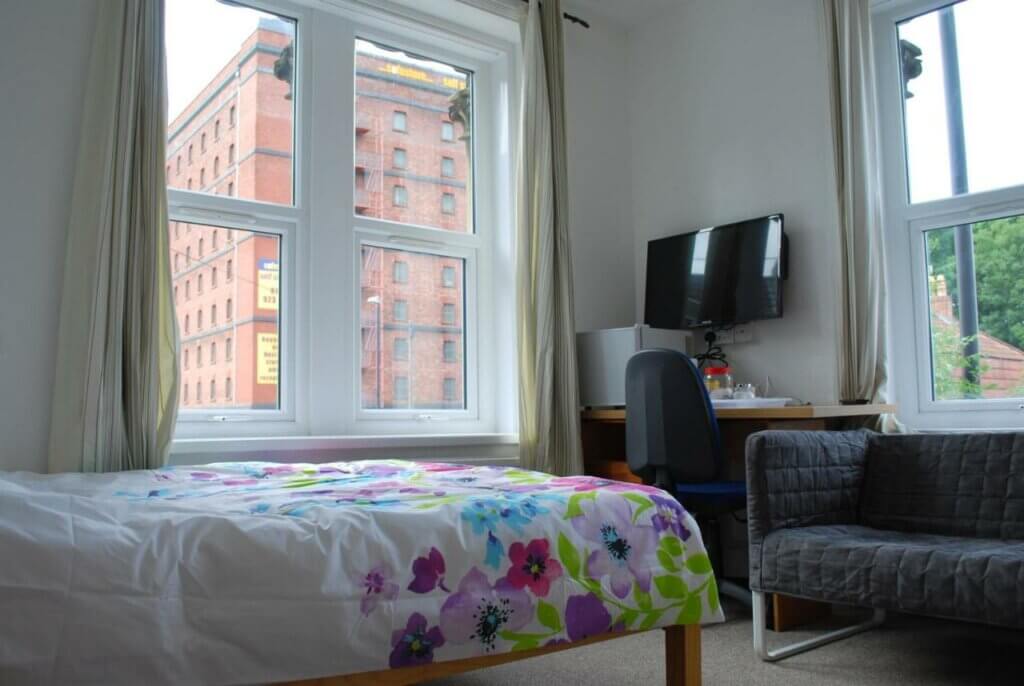 At Clift Guest House, guests can enjoy access to a shared kitchen and a shared lounge space. Having the option to self-cater can help to save some pennies and keep the evenings simple and relaxed. Alternatively, there are a couple of lovely cafes just a short, few minute walk away. 
Rooms at the Clift Guest House are quite varied, suitable for those travelling for work alone or bringing the whole family on holiday. Prices vary here based upon the number of people staying in the room and whether or not the booking is made to be refundable. 
First up is the Large Triple Room with a shared bathroom. This room type gives you access to a bathroom in the house that other guests will also be using. It has one double bed, and one bunk bed and prices typically fall between £116 and £185. 
Similar to the Large Triple Room is the Triple Room, also with a shared bathroom access. This has one single bed and one bunk bed and clocks in at between £116 and £173. 
The last room type using the shared bathroom is the Single Room, with one single bed, and prices that fall between £99 and £106. Alternatively, there is the Single Room with an Ensuite, again with one single bed, that costs between £105 and £112. 
Finally, there is a Family Room available, which has access to a private bathroom. This room has one double bed, one bunk bed, and one sofa bed, comfortably sleeping up to five people. These prices range between £160 and £195. 
Being in a residential area, there is no designated car park, though there is on street parking available nearby. This is free public parking from 5.00pm, through the night and until 9.00am; it is also free all day on Sundays. In the daytime, if it isn't match day, there is £5 parking available at the Ashton Court Stadium.
You can find Clift Guest House at 6 Clift House Road, Bristol BS3 1RY or visit https://www.booking.com/ to find out more. 
This lovely Bed and Breakfast can be found a close 11-minute walk away from Ashton Gate Stadium, just a short stroll to get to all the excitement of match day. 
Similar to Clift Guest House, the Ashville Mews is in a residential area, so the parking is simply on street. However, whilst there are some restrictions to be weary of, you needn't worry. There is one free parking permit available for each night that you stay, meaning you can park your car for free without keeping an eye on the time of day you'll be around for.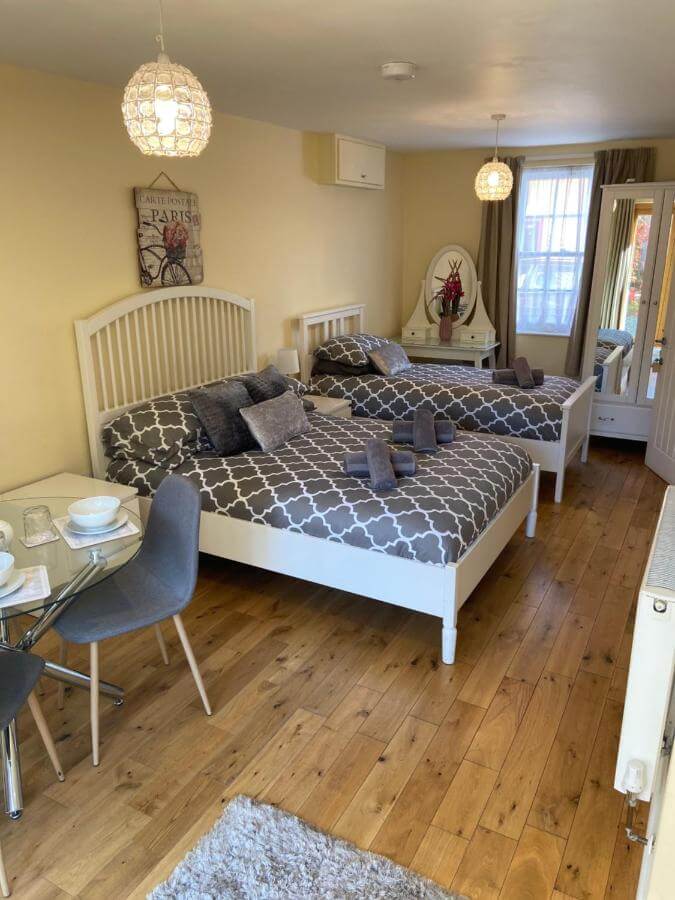 If you are driving in it is worth noting that The Ashville Mews is just outside of the clean air zone, but that, if necessary, you can reach the property without driving through the area. 
The B&B has two styles of room, the Deluxe Studio, or the Comfort Quadruple Room. The Comfort Quadruple Room forms the upstairs portion of the house and has two single beds and one double bed. It costs £90 if you have two people stay here, £115 for three, or £140 for four. It has access to a private bathroom and, whilst doesn't have access to the kitchenette, there is a microwave in the room.
The Deluxe Studio is essentially like a flat or apartment style room, just with more people upstairs. Guests of the deluxe studio can enjoy the garden and access to the kitchenette. They also have private bathroom facilities and has one single bed, and one double bed. It costs £90 for two to sleep here or £115 for three. 
No bed and breakfast would be complete without a lovely morning spread. The Ashville Mews offer a continental breakfast each morning, served in the guests' rooms.
You can find them at 1-3 Lower Sydney Street Ashton Gate, Bristol, BS3 1SN or check out The Ashville Mews over on https://www.booking.com/.
No matter how you spend your match day or who it is you're rooting for, there are plenty of things to get up to and places to lay your head in Bristol close by to Ashton Gate Stadium.