For some of us, travelling is all about seeing the sights, getting up on your feet and having a jam-packed, carefully planned itinerary. For others, it's about having a great time whilst scouring the best deals available. So, whether you want your accommodation to just be a place to lay your head for the night because you'll be up and about for most of the day, or if you're looking to spend your pennies on attractions and nabbing a bargain for your digs, there are plenty of great, affordable Bed and Breakfasts in Bristol. Prioritise your budget and get yourself a nice place to stay, with friendly hosts and, most importantly, a price that will keep your wallet happy. 
Bed and Breakfast stays can be lovely, but sometimes a glorious price is hiding a scary deal, so how to sniff out the gems from the duds? That's what we're here for. Stay tuned for our recommendations on some of the top-rated but low-price tag B&Bs for your next trip to Bristol.
We do our best to make sure prices are up to date and are as accurate as possible but sometimes prices can change without notice.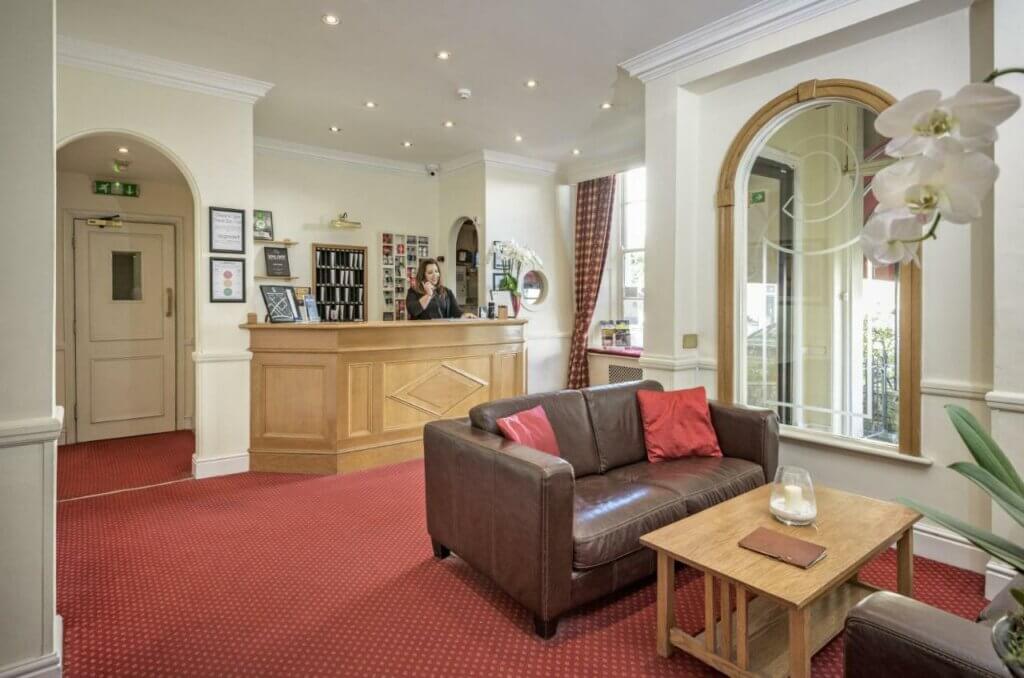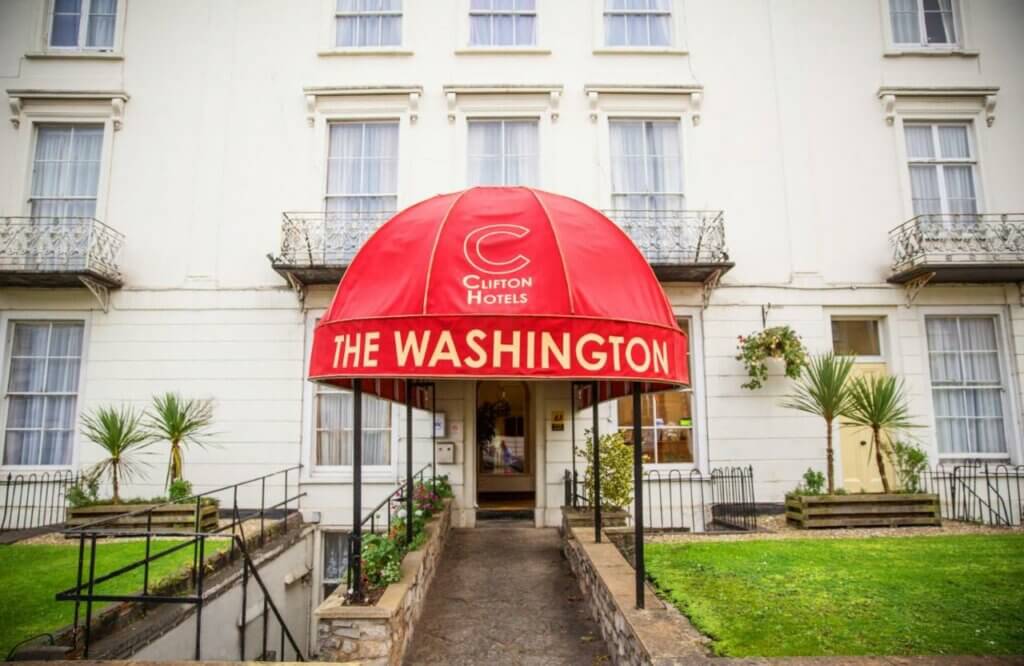 Another great Clifton based space is The Washington. This 3-star stay is located in a Grade 2 Listed building. Once again, a chain isn't exactly what springs to mind when you think of B&Bs but a knockout price with a breakfast to shout about isn't exactly a deal we'll be turning down. 
The Washington is just a 3-minute walk from attractions such as the Clifton Suspension Bridge and the Bristol Museum and Art Gallery. Just like Channings Hotel, this spot is ideal to get to and from the university, which you'll find just 350 yards away, and you're just 2 miles out from Bristol Temple Meads Station. 
There is some parking available on site, but it's not guaranteed there will be a space once you arrive. Parking is worked out on a first come, first served basis and unfortunately the price isn't covered with your room. It's an extra £9 per night. There is metered parking available along the street, which is free between 9:00am and 21:00pm. This of course isn't exactly ideal, especially when you can't be certain there will even be a space, but the location of the hotel means most your travels can be done on foot or using public transport, especially if you're looking for the tourist spots.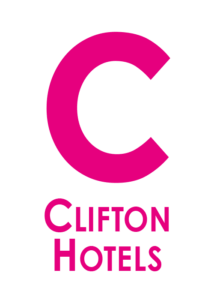 Each room offers teas and coffees, fresh fruits as well as biscuits, with a full English or continental breakfast being built into the rate of your room and served each morning. The meals are raved about, with vegetarian and gluten free buffet options available for breakfast too. Just check which breakfasts are being offered each morning to make sure you know what to expect during your stay. 
The rooms include a Double Room, which has an ensuite and one double bed, at either £52 or £58, dependent upon cancellations, prepayments, and if you get your breakfast included; this is suitable for two people. 
Their Twin Room is just £58 and has two single beds and an ensuite, includes breakfast, and free cancellation up until a certain date.
A King Double or Twin Room allows you to choose between one large double bed or two single beds, has an ensuite bathroom and falls at either £60 or £67 per night. 
The Family Room has one single bed and one double bed, is suitable for three people, has an ensuite and clocks in at either £60 or £67 per night. 
Finally, a Single Room is available; both room options include a breakfast, though without an ensuite it is £44 and with an ensuite, £50. 
You're welcome to bring four legged friends with you to The Washington, though there is an additional charge of £10. Equally, for an extra £10, the team are happy to help set you up with a camp bed in the room. 
These prices and details are accurate as seen on https://www.booking.com/. You can find The Washington at 11-15 St. Paul's Road, Clifton, Bristol, BS8 1LX, United Kingdom. 
If you book directly with The Washington you can use our exclusive code TRAVELBRISTOL10 to get 10% off.
Open Acres Accommodation and Airport Parking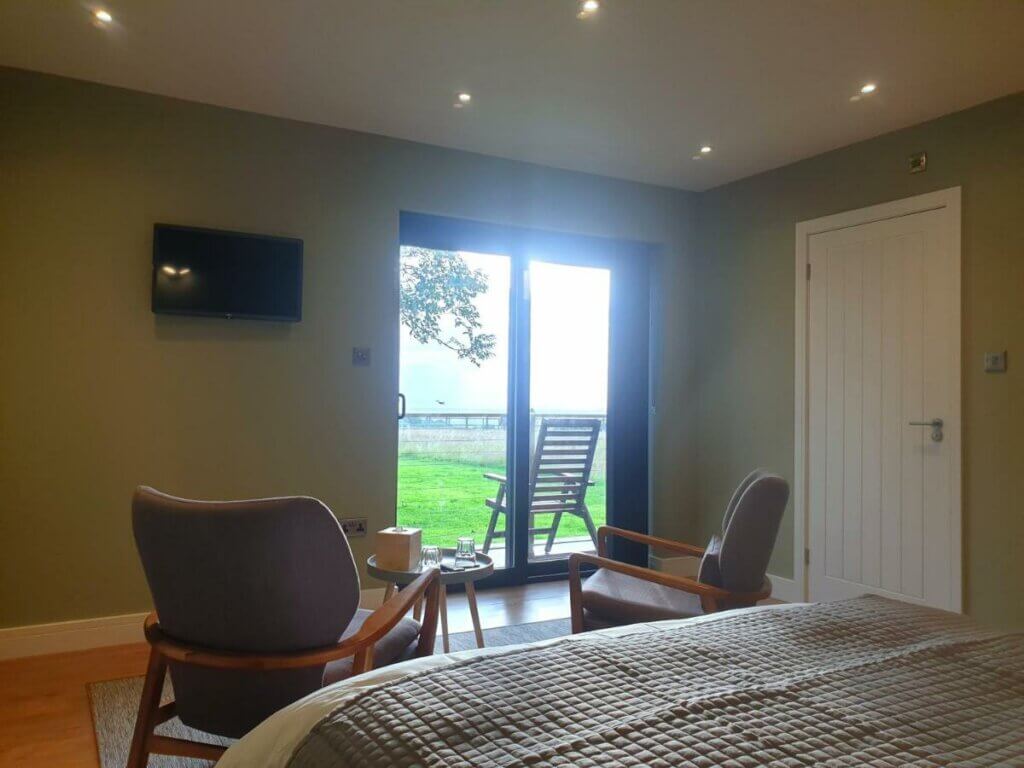 Open Acres B&B is an ideal stay for anyone looking to be close to Bristol Airport or looking to save some cash whilst traveling. 
This cute countryside spot is located just 2.5 miles away from the airport, making for around a 5-minute drive, and they even provide a paid airport shuttle service, so you needn't worry about any early morning flights. With being so close to the airport, noise pollution is often a concern of guests, but their soundproofing, combined with their not being close to the flight paths themselves make for the perfect combination – giving you the best of both worlds: the convenience without the noise. 
If the countryside scene is up your street, then be sure to stay tuned as there is plenty of exploring to be done nearby. You'll enjoy views and walks stretching through North Somerset, and from Open Acres itself you may even be fortunate enough to see across the channel into Wales. 
If you're much more set on making your way into the city, that's fine too! You'll find the M Shed, We the Curious, and plenty of other fan favourite attractions just 6 miles from Open Acres. Bristol Temple Meads Station is just 8.7 miles away. 
In terms of parking, you really couldn't ask for more. You can park for free on the night of your stay, with plenty of spaces and the private car park, you needn't worry about finding somewhere to park up. If you need to leave your car for longer than your stay, you can pay for additional days in their car park. Being so close to the airport, combined with the shuttle service, this is really an incredible, and convenient, deal. 
So, what exactly do you get at Open Acres? There are two different room types, either the Deluxe King Room, which has one extra-large double bed and one futon bed, or a Family Double Room, with one extra-large double bed and two futon beds. Both are the same price, beginning £75 and ranging to just £80. Each room has a private, ensuite bathroom. These prices include a continental breakfast each morning, set up in the room. 
If you're looking to unwind in the evening, you couldn't ask for anywhere better. The rooms have possible garden, water, and landmark views, and each have a patio. Plus, the site has its own garden. What better way is there to kick start the day than a pastry and a cuppa outside? Or relax inside; the rooms are furnished with a stunning modern flare.
The host Ben is incredibly friendly and happy to help make your stay as comfortable as possible. You can find him and Open Acres at Backwell hill Backwell, Bristol, BS48 3EJ, United Kingdom. Or just head on over to https://www.booking.com/ to find out more.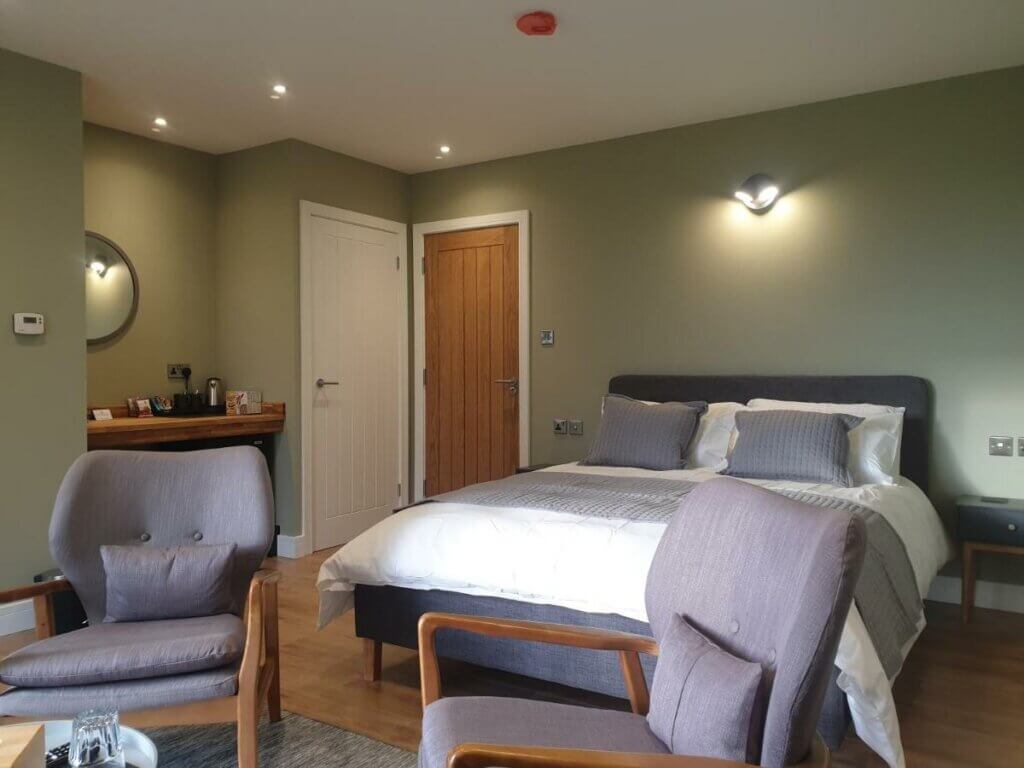 Channings Hotel (by Greene King Inns)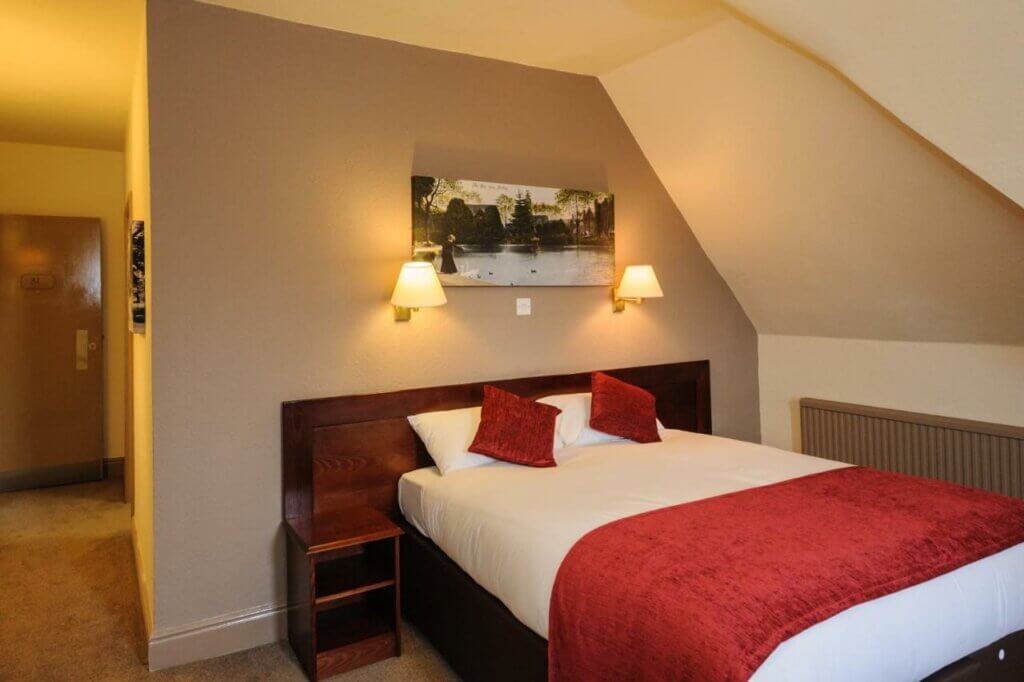 Now this isn't exactly your classic, local B&B, but you can get your breakfast on site and the price tag attached makes the stretch of the term sort of worth it, if you ask me at least. Channings Hotel is part of the brand Greene Kings Pubs and Hotels, so you'll be able to track some of these down in a few different places. 
Channings Hotel itself is in Bristol's Clifton District, placing it just half a mile out from Clifton Down and tourist spot of the Clifton suspension bridge. You'll be just a 10-minute walk from the Bristol University or the Bristol Zoo, a great spot whether you're visiting the older kids at uni or taking the younger ones for a day out. It's then just 10 minutes on a local bus to make your way into Bristol city centre. Bristol Temple Meads Station is a 2-mile walk, or you'll find Clifton Down Station just 0.4 miles from Channings Hotel.
On the little less convenient side falls the lack of parking. There is, however, an NCP car park which is the closest to the site, an 11-minute walk from the hotel, called West End Car Park, with the postcode BS8 1EH.
Enjoy the large beer garden and, of course, the bar in the evenings or head on out into Clifton, where you'll find plenty of places to eat out. Channings Hotel sports a simple, modern look, keeping a sleek and understated appearance. 
It is worth noting that the facilities here are incredibly limited, but the cheap price makes it a worthwhile stay if you're only looking for somewhere clean and tidy to rest your head. 
The rooms on offer are a Double Room, which has one double bed, and starts at £68 and goes up to £72, which lets you cancel for free until closer to the time, and then finally £91, letting you cancel if necessary and includes breakfast. 
There're then two different Family Room styles, one for two adults and one child, with one single and one double bed starting at £72 and going up to £80 or one fit for two adults and two children, with two single beds and one double bed, starting at £77, and up to £85. 
Finally, a Single Room is available with just one single bed, starting from just £59 and stretching up to £73. Each room has a patio and private bathroom to go with them. Rooms are accessed with a key card, keeping you feeling safe and secure during your stay. 
Like we said, this isn't your typical B&B experience, but it certainly ticks the boxes if you're looking for somewhere cheap and cheerful to crash at the end of your day. Be sure to check out more info and hunt down these bargain prices at https://www.booking.com/ or find them at 20 Pembroke Road, Clifton, Bristol, BS8 3BB.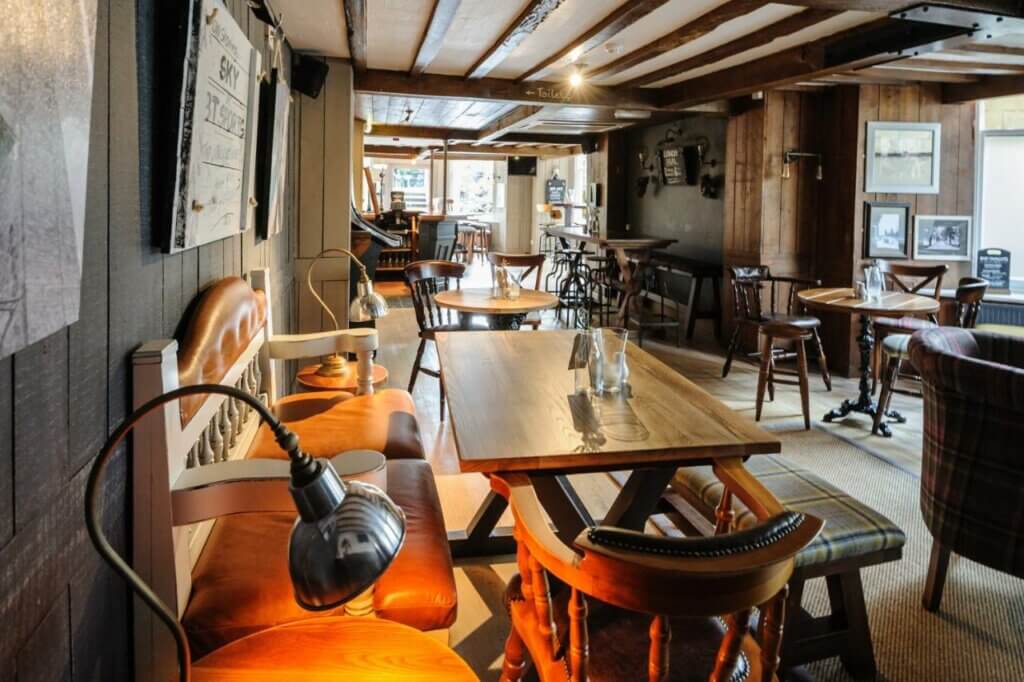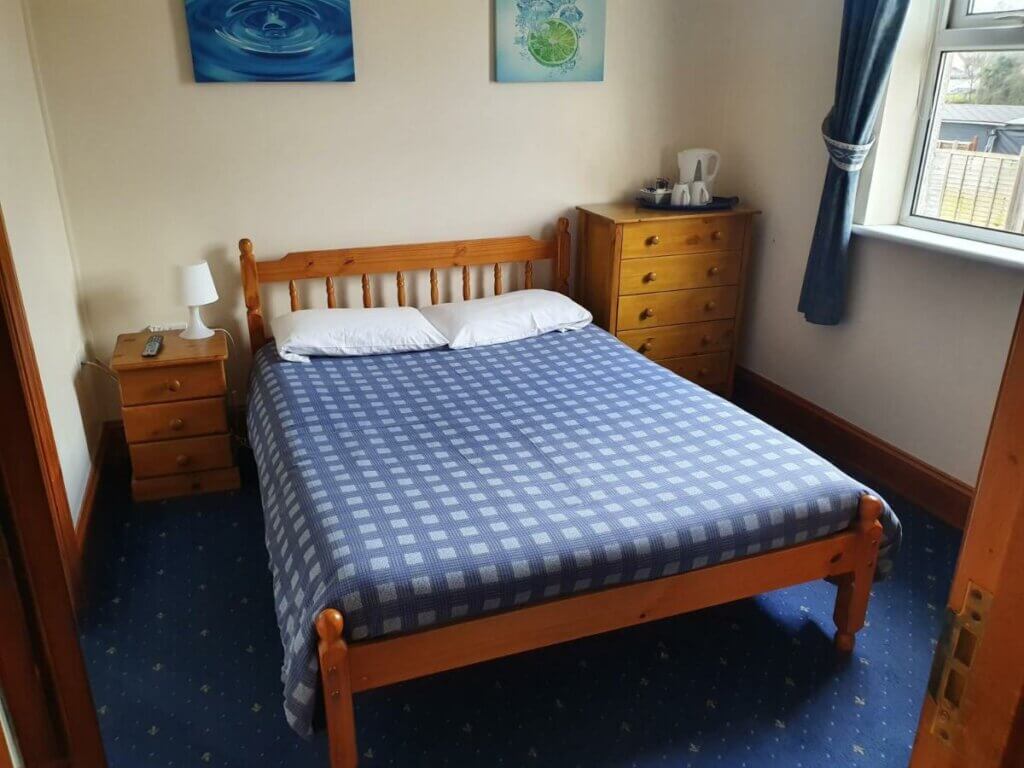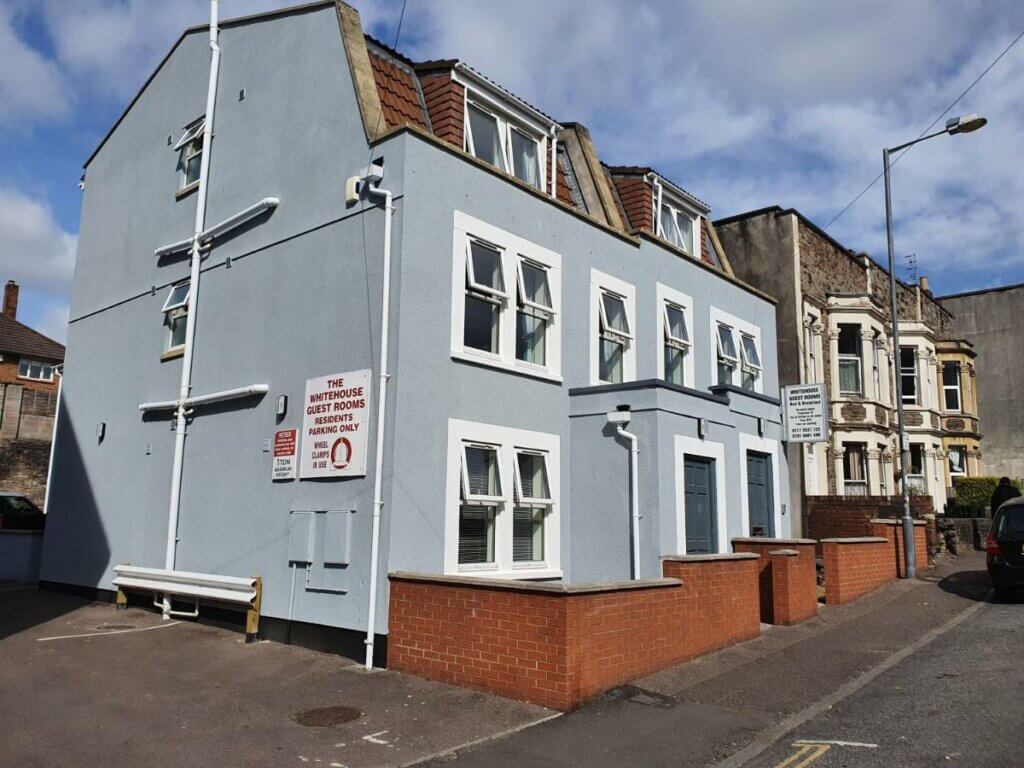 Next up on our list are the Whitehouse Guestrooms, a much a more classic B&B experience. This local, family run, 3-star, guesthouse is in an ideal spot for any busy Bristol tourist.
Whitehouse Guestrooms describe themselves as being 'no frills', letting the cost stay low and keeping life simple. They are what they are, and you get what you get. If you've got a jam-packed schedule, what more do you need that a safe, clean place to crash for the night? That's exactly what you'll get with Whitehouse Guestrooms. 
Their rooms are all £80, and you can pick from a Double Room, with one double bed, Twin Rooms, with two single beds, or Triple Rooms, with three single beds. Each room has an ensuite bathroom. It is perhaps best to leave the kids behind for this accommodation, especially the little ones! Though their website says over threes are welcome, sites such as https://www.booking.com/ list the site as an adult only space.
Keeping in line with their motto of simplicity, there aren't exactly a ton of amenities at this B&B, but you'll find a complimentary continental breakfast, free Wi-Fi and television, and tea and coffee facilities – the bread and butter of a good overnight experience. 
In terms of location, you really couldn't ask for more, especially if you're rearing and ready to go. At the Whitehouse Guestrooms, you're just a 12-minute walk away from the night life, bars, restaurants, and general other attractions you can hunt down at the harbourside, just 850 yards away, or you're just a 15-minute walk to the Tobacco Factory Theatre. These touristy locations are a must see if you're visiting Bristol, and the city centre location helps to make these journeys incredibly simple to navigate. 
Whilst they are sat in the city centre, so there's bound to be some street noise, generally that's not an issue, as Whitehouse Guestrooms are tucked on a residential street, making it a little quieter than the adjacent main road. This is the perfect compromise between being close to the main attractions whilst keeping a quiet night. 
What's more, if you've driven into Bristol, there is first come, first served free on-site parking available, you just might not be too lucky with grabbing a spot.
You can find more information over at https://www.booking.com/ or https://www.bedandbreakfast-bristol.co.uk/. Find them over at 28-30 Dean Lane, Southville, Bristol BS3 1DD.
If you're planning for a few days away, you want your money to stretch as far as possible. Get more bang for your buck and spend the cash on the fun, not the stay. Hopefully some of these cheap Bristol B&Bs can give you a place to crash whilst you spend your days up and rearing to go.