There is so much to see in Bristol, whether you're a seasoned tourist or a first-time visitor, you'll never be short of things to do in this truly magnetic city. With so much on offer, you want to be sure to snag yourself a space up front and centre to the action.
Of course, in Bristol, for many of us, that's the harbourside itself. The harbourside is an ideal place for tourists and locals alike, packed with attractions like the M Shed, Brunel's SS Great Britain, and a number of other galleries, museums, and all-round great activities.
So, with these not-so hidden gems sitting in walking distance of each other, why would you want to waste time travelling in? 
Get a jump start on your visit, whether you're stopping for a week or a weekend, with our countdown of some of the best harbourside hotels for your stay in Bristol. Waste no time and dive right into the fun!
We do our best to make sure prices are up to date and are as accurate as possible but sometimes prices can change without notice.
This stylish harbourside stay has leaned right into the harbourside feel, with a riverside restaurant and stunning views across the water.
You'll find The Bristol Hotel on the quayside of the floating harbour, meaning you've got about a 5-to-10-minute walk to make your way from the hotel to your main harbourside attractions, such as the SS Great Britain. This keeps you tucked out the way just that little bit more, whilst keeping you right by the heart of the action.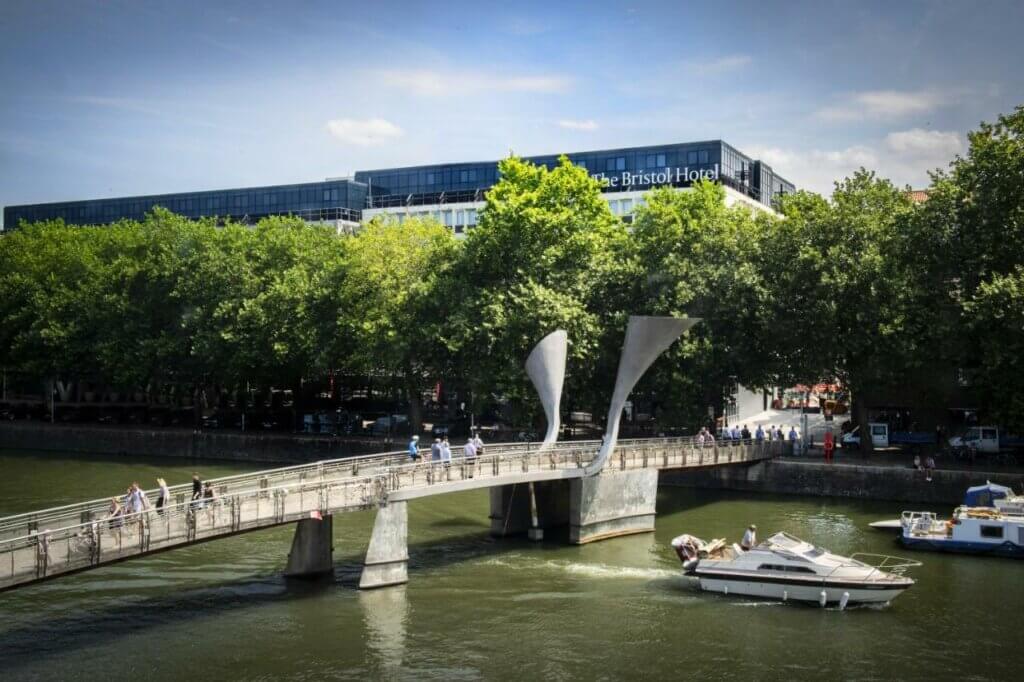 The River Grille restaurant is fantastic, featuring plenty of dishes from fresh local fish finds to the gorgeous Somerset beef. Don't forget a number of fine West Country cheeses. These dishes and menu items all make for a modern twist on traditional English classics.
There are plenty of other options at The Bristol Hotel, why not swing by for a snack or afternoon tea at the River Lounge, or have a more casual stop off at the Shore café bar? Of course, the joy of being on the harbourside is that if none of these quite take your fancy, it's no hassle to head on over to one of the many fantastic restaurants and cafes along the waterfront.
When you stay at The Bristol Hotel, you can expect to find modern furnishings and a lush finish to each room. Each room has stunning floor to ceiling windows, giving you that picture perfect view across the harbour. So, let's take a look at just what rooms are available. For each room, prices may vary based upon the dates you chose, whether you opt for your breakfast to be included, whether you select a non-refundable stay or a stay you can cancel or reschedule, and whether you pay in advance.
The Standard Double Room is £110 to £134, with the cost fluctuating based on the factors mentioned above. This sleeps two people in one double bed and has air conditioning available. Similar to the Standard Double Room is the Classic Double, which also has one double bed and sleeps two, and ranges from £125 to £149.
This room is significantly larger than the standard in regard to square footage. You could opt for a Deluxe Double, which has a large double bed, suitable for two, and has air conditioning. For this room, the prices fall between £155 and £179.
If you fancy upgrading past a room, there are Suites available, suitable for two people with one large double bed. These cost between £275 and £299 per night.
If it's just you, you might prefer the Cosy Double Room, which is a much smaller space, again with a double bed, for £105 a night.
Your four-legged friends are welcome at The Bristol Hotel, but you must let the hotel know before hand and there may be additional charges to consider. This space is adult only and doesn't welcome children to stay.
Parking isn't available on site, as you can imagine being on the harbourside, there isn't a whole host of excess room.
However, if you are a guest at The Bristol Hotel, you are able to park up in the adjacent NCP car park for a discounted rate at £12 per exit.
Be sure to head on over to https://www.booking.com/ for more details, or find The Bristol Hotel at Prince Street, Bristol, BS1 4QF, United Kingdom.
Youth Hostels Association Bristol
This next harbourside stay brings an entirely different vibe to the table. YHA Bristol is a stay much more suited to those travelling on a budget or who plan to be so up and going that a hotel and their accommodation is little more than a bed to them.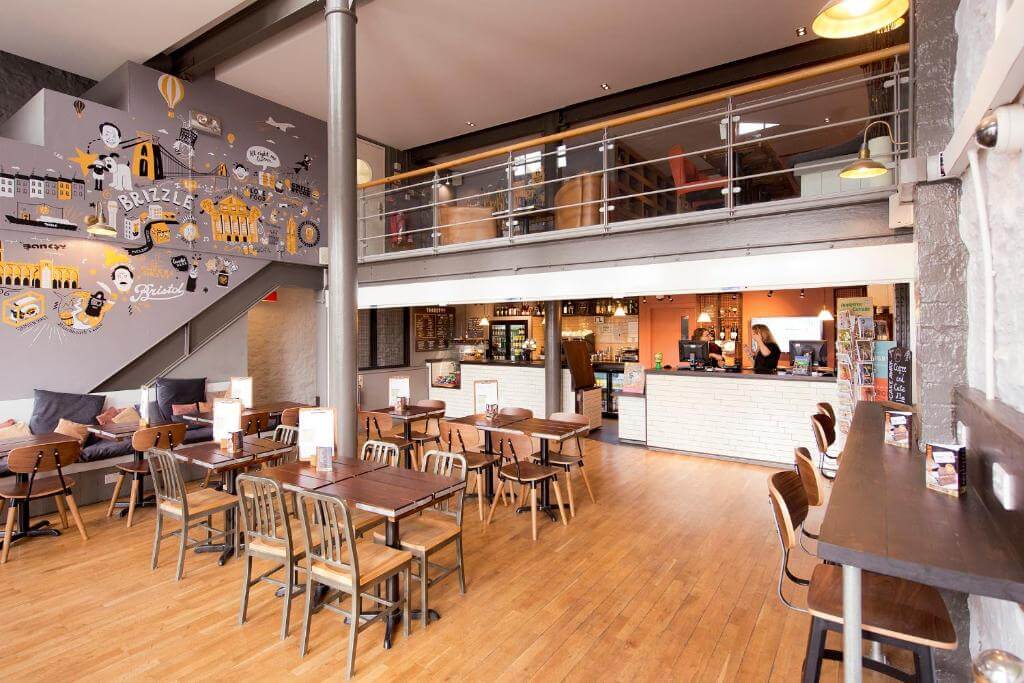 These are incredibly brilliant prices given the central location and you really couldn't ask for more.

On site there's a restaurant as well as conference rooms, and a café that serves a number of different meals throughout the day. Some guests prefer to self-cater, a great way to save a little more money, and there's an equipped kitchen set up to let people do just that.
The breakfast buffet isn't included, as this keeps the prices of the rooms down, but you can purchase a great meal from YHA Bristol in the morning, choosing from hot, cold, and continental options.
The room options that are available are incredibly kind on the wallet, meaning you can save your spending for the truly fun stuff throughout your trip.
The first option is a Three-Bed Double Room with a shared bathroom. The room is exactly as it says on the tin. You'll get one single and one double bed, suitable for three to stay in, and access to shared bathroom facilities.
This room costs just £89. For the same set up but with your own shower and toilet facilities, it's just £99 per night.
A Quadruple Room with a shared bathroom consists of two bunk beds, ideal for four to stay in, and costs £99. Or, for a room with the same sleeping arrangements but private bathroom facilities, it costs £119.
If you're a solo traveller and on a budget, it's possible to book just a single bed in a dormitory. This will have you stay in a bunk bed in dormitories divided by sex. These rooms use shared bathroom facilities and are just £30 per night.
A stay in this historic building is definitely worth considering if you're looking for cheap and cheerful harbourside accommodation options. Be sure to head over to https://www.booking.com/ or find them at 14 Narrow Quay, Bristol, BS1 4QA, United Kingdom.
Bristol Marriott Hotel City Centre
The Bristol Marriott Hotel brings a mix of traditional and contemporary styles, distinct to Bristol, together, keeping both the history of the city and the modern, eclectic energy it has today in mind and in its style.
The Bristol Marriott Hotel is about a 16-minute walk from the harbourside attractions itself, but you're still in the midst of the hustle and bustle of the city. This spot is certainly ideal if you're looking to head to the Cabot Circus Shopping Centre.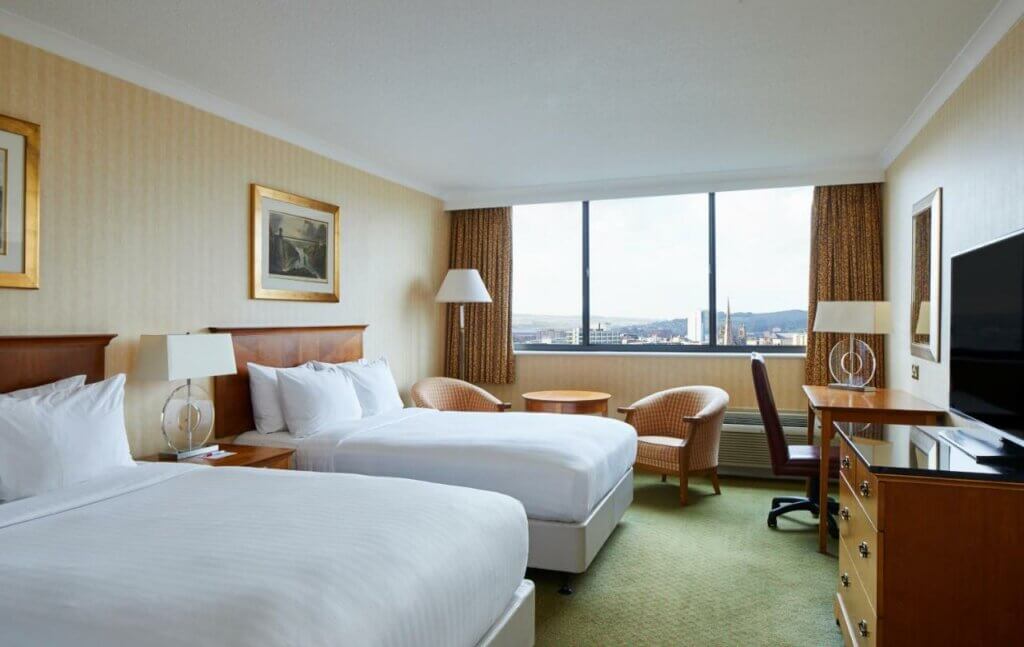 On site, the Bristol Marriot is home to the Cast Iron Grill restaurant, serving fresh, seasonal dishes. Their steak is a signature dish that is absolutely worth checking out. Be sure to stop by for breakfast, where they offer a full English or continental options.
The rooms that are available, much like The Bristol Hotel, have varied prices, depending upon the same factors when you book, breakfast, prepayments, and whether the room is refundable.
First, and cheapest, is the Deluxe Double Room; this room has an ensuite, air conditioning, and one double bed. The prices range from £71 to £109 per night.
Another room choice, which is ideal for either two, three, or four guests, is the Deluxe Park View Room. This has two double beds and the price ranges increase depending upon the number of guests. For two people, the room costs between £119 and £139, for three it is £149 to £169, or for four the rate of the room spans from £95 to £199.
If you opt for an 'Executive' room, you get access to the executive only lounge. This lounge access comes with either the Executive King Room, which ranges from £103 to £129, and has one extra large double bed or the Executive Double Room, which holds two double beds.
For the second of these two rooms, the prices depend upon how many guests you have stay there, with it costing £164 for two people, £194 for three, and between £131 and £225 for four people to stay in this room.
Once again, there isn't onsite parking available, but you can enjoy a hotel guest only, discount rate of £17 per night when you park at the NCP car park adjacent to the hotel.
You can find the Bristol Marriott Hotel at 2 Lower Castle Street, Old Market, Broadmead, Bristol, BS1 3AD, United Kingdom or over on https://www.booking.com/ where you'll find more information.
The harbourside is a staple of Bristol, marked with history, and bringing plenty of attractions to life. Choosing to stay by the harbour is a great choice, you'll get up and about to your days adventuring without any delays and be right in the midst of the action.
The harbourside is a staple of Bristol, marked with history, and bringing plenty of attractions to life.
Choosing to stay by the harbour is a great choice, you'll get up and about to your days adventuring without any delays and be right in the midst of the action.