Bristol is a beautiful city, with plenty to see, but sometimes you're a traveller on the go. Not everyone is looking for a harbourside view or a quick walk to the train station, and for many of us, a more convenient option is to keep close to the M5. Whether you're looking to stop by in Bristol but hop back on the road right away, you're on the move for work, or if you're swinging by Bristol in the midst of a much greater travelling plan, there are plenty of hotels within close reach to the M5 that'll get you back behind the wheel ASAP. Let's dive right in and take a look at some of the best hotel options near the M5 in the Bristol area. 
We do our best to make sure prices are up to date and are as accurate as possible but sometimes prices can change without notice. 
You can find Sue and her gorgeous rooms at Beechwood Potters hill, Felton, Bristol, BS40 9XA, United Kingdom or head on over to https://www.booking.com/ to find out more.
Beechwood is a lovely Bed and Breakfast, making it a great choice to get away from the road and enjoy a change of scenery. 
During your stay, you'll see the lovely host, Sue. She's retired and spends her time tending to the gardens, looking after the apartments and lending a helping hand to guests.
You'll enjoy seeing the fields that surround the property, on ¾ of an acre of land, and an added bonus from the greenery, is that the hedges and trees introduce an element of privacy to the outdoor space. There's a beautiful little balcony and terrace on the site, making this the perfect place for you to relax and unwind. Sit with a cuppa in the morning and take in the view, morning air, and the peace and quiet. When you stay at Beechwood, guests enjoy a continental breakfast, a perfect addition to your morning.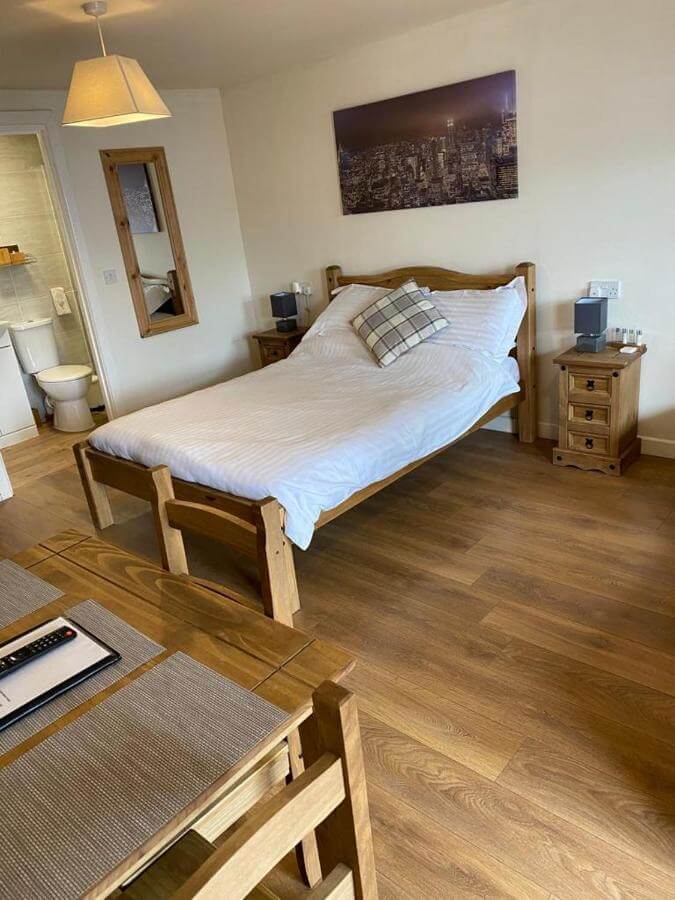 To park at Beechwood, it costs just £5 per night, excluding the night of your stay which is free of charge. There's a courtesy shuttle bus that can take you to Bristol Airport, which is just 0.6 miles away. 
You'll find Beechwood just 20 minutes off of the M5 at junction 19, bringing you far enough away from the main roads that you'll get a good change of pace but keeping the convenience of being close by. You're about a 20 minutes' drive away from Bristol city centre, or if you take the free bus to Bristol airport, there is public transport available from there into Bristol too. If you fancy exploring the countryside a little more, Cheddar Gorge, Wookey hole, and the Mendip hills are all easily accessible from Beechwood too. 
The apartments are now converted, having once been part of a building that was simply on the grounds. This keeps them adjacent but separate to the house, introducing a new element of privacy. You'll also find that the office is open 24 hours a day, so you'll easily be able to be in touch if you need a hand during your stay. 
During your stay, you can choose to stay in either an apartment, or studio apartment. Each apartment has one double bed, and one sofa bed, and so are suitable for up to four people. You'll enjoy a minibar, a television, and a private bathroom no matter which you choose to stay in. For each apartment, if two people stay, it'll cost £85, or the same apartment is £110 if you have four guests. You're able to cancel at no cost until closer to the time from when you book, so if your plans change, you needn't worry. 
Find them at Sedgemoor Service Area, Junction 21/22, M5 Northbound, Rooks Bridge, BS24 0JL or find out more about their rooms at https://www.booking.com/.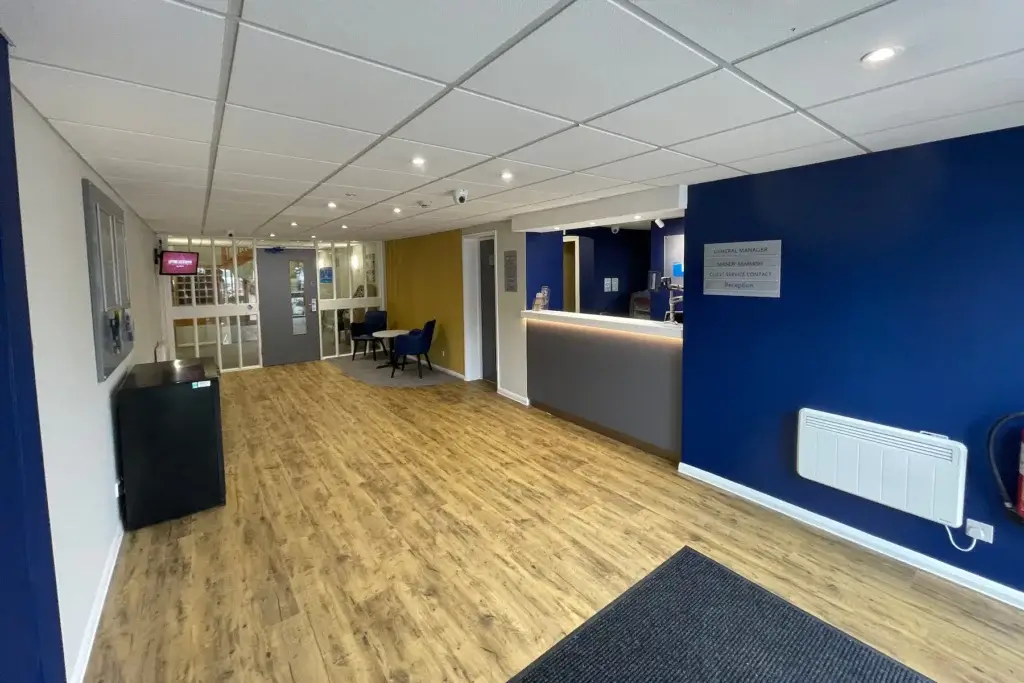 This Days Inn property sits just off of the Junction 21/22 Service Area, making it the perfect choice to stay if you're nipping off the M5 and want to get right back on track after a night's rest. Knowing the vast majority of their guests have driven in, you're able to park for free on site at Days Inn Sedgemoor. 
You've got a brilliant countryside feel yet again, which I'm sure will be a welcome change from hours on the motorway. The site overlooks fields and has a small picnic table area outside, perfect for guests to unwind and stretch their legs, and great for the younger ones to let out some of that pent up energy at the end of the day.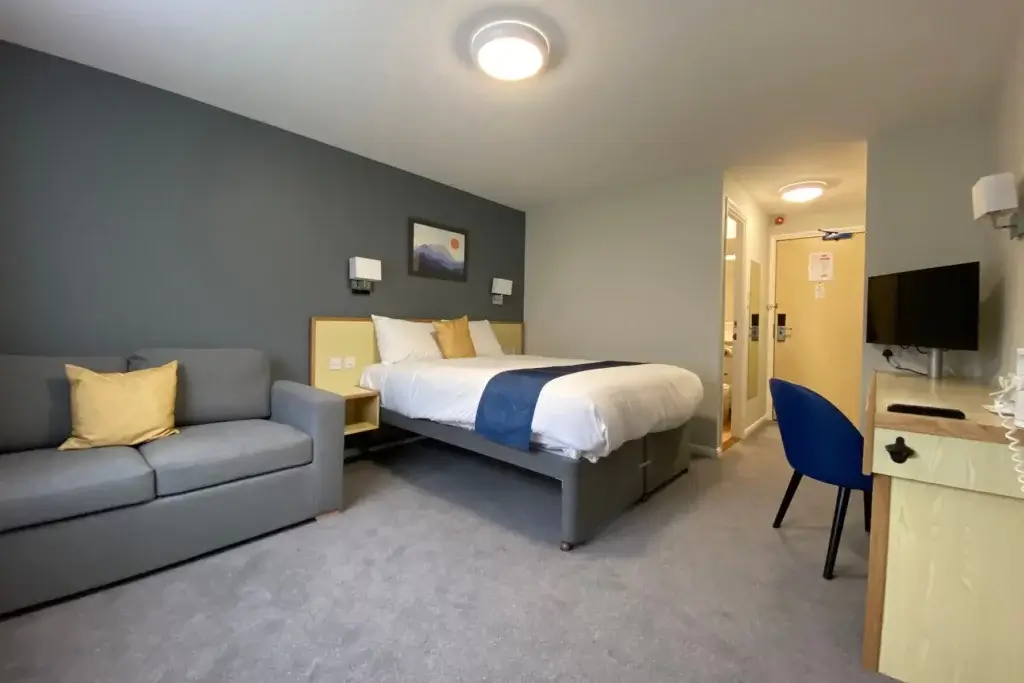 If you're looking to stop a little longer than just the night, there's plenty to get up to just a short drive away. You'll be about 7 miles away from Weston Super Mare, less than 40 minutes away from a Street Designer Shopping Outlet, or maybe you want to visit Cheddar Gorge, or you're less than 5 miles away from Burnham on Sea, making for a perfect seaside pitstop. 
This place is certainly less pretty, and less frills than the Beechwood B&B, but it does the job for a very friendly price. For each room, there are two price points available, one that is slightly cheaper, but is non-refundable, and another slightly pricier option that gives you the flexibility to cancel up until closer to your stay and doesn't require you to pay in advance. All of the rooms have an ensuite, a tv, and access to Wi-Fi. Some, but not all, have a seating area, perfect to put your feet up and unwind in. Let's take a look at some of the room styles that are available. 
A Double Room contains one double bed, and you can opt to get this room for the non-refundable £61 or the more flexible £75. There's a Double Room with disability access, suitable to sleep one person, with one single bed at the same price point as the Double Room.
The next price bracket covers the Family Rooms, coming with three different options. The first has a double bed and one futon bed, the second a double bed with two futon beds, and the third a double bed and a sofa bed. These rooms are all available for either £62 or, if you prefer the more flexible options, £76. 
You can bring the whole family, those with paws included, as pets are welcome to stay for an additional cost of £9.99 per stay, per pet. 
The nearby services, or a Welcome Break stand by reception, offer some warm meals or sandwich deals respectfully, all of which are reachable on foot. If you'd prefer something a little more exciting, there are a number of great pubs a short drive away for you to enjoy. 
You can find Days Inn Michaelwood at J13/14 M5 Northbound, Lowerwick, Dursley, Falfield, GL13 9JS. Don't worry if you're headed down south, you can access this Days Inn from the M5 southbound through the backroads. Similarly, you can access the A38 through the service lane, so there are plenty of options for your stay no matter where it is that you're coming or going from. Head on over to https://www.booking.com/ for more details.
The next stay close to the M5 we'll be taking a look at is another hotel in the Days Inn chain. Days Inn Michaelwood on the M5 between Junction 13 and 14. This places you just 20-minutes north of Bristol, making it the perfect choice for you to head into the city for a day, enjoy the harbourside or shopping centres, or easily wander into the Gloucestershire countryside and explore in the fresh air – a great chance to stretch your legs if you're part way through a long car journey. 
With free parking, you don't need to think about where you're going to park up, simple pull in and get on with your stay. 
Rooms at the Michaelwood Days Inn all feature a continental breakfast, or nearby services have plenty of breakfast and dining options. Between the small restaurants and cafes, you'll be spoilt for choice, from a cooked breakfast to a full lunch time meal. 
Just like the Sedgemoor Days Inn, each room type has two price points available through https://www.booking.com/, one at a slightly higher price but that comes with the advantages of being able to cancel up until closer to the time with no extra cost, and without any prepayments. 
The first room style is a Family Room, suitable for two adults and two children, with one double bed and one sofa bed. This costs either £45 or £59. At the same price point, you can stay in a Family Room with a slightly different sleeping arrangement, with one double bed and one single bed.
The second price point is either £45 or £58, only a slight price difference than the Family Rooms, for either a Double Room, with one double bed, or a Twin Room, which is accessible for those with physical disabilities; these rooms have one single bed. 
Each room has a television, free Wi-Fi, an ensuite bathroom, and a seating area, perfect for some quiet and unwinding time at the end of a long day. 
Much like the Days Inn Sedgemoor, pets are welcome for an additional charge, though that's £15 at the Michaelwood Days Inn. 
There are plenty of convenient options that'll get you back on the road ASAP, whether you don't want to waste any time or want to avoid the difficulties of getting back on route. Happy travelling!