When you're looking for a place to kip whilst you're planning your travels, there are so many things to think about, especially if you're not entirely sure what you're going to be up to during your stay. So, to get you started, here's our whistle-stop tour of some of the best hotels to check out in Bristol. We've got recommendations to fit different price points, different locations, different sized groups, and plenty of other criteria. There's bound to be somewhere you'll want to lay your head.
Be sure to check out some of our other articles if any of these stunning places pique your fancy as we've got plenty more tips, info, and links where we dive into more places in a little more detail.
Without further ado, let's get started counting down some of the best hotels in Bristol.
We do our best to make sure prices are up to date and are as accurate as possible but sometimes prices can change without notice.
This beautiful Bed and Breakfast makes for the perfect city get away in Bristol. Rooms display a modern and historical twist in the décor, featuring fun, colourful prints, and street art distinctive to Bristol throughout the Guest House.
You're ideally located just a 10-minute walk from the city centre, the harbourside, and a whole host of sweet little independent shops and cafes.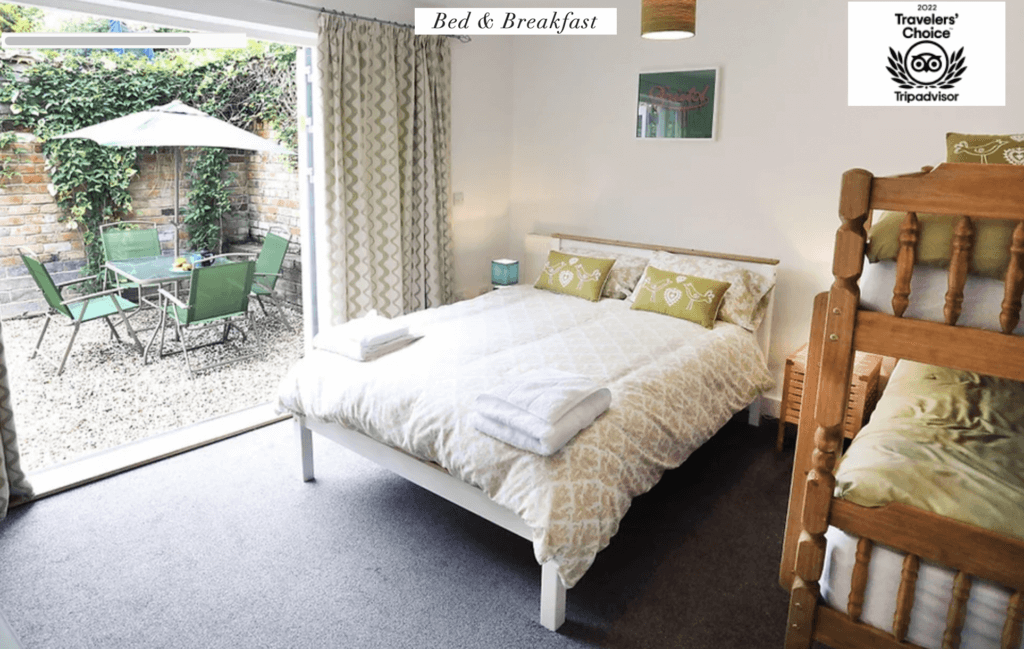 You can find Bristol Temple Meads Train Station about a 30-minute walk away, or about 10-minutes by taxi or car. If you have driven in, you're able to park onsite for just £5 per day throughout your stay.
Rooms range from £59 to £167 per night, with some rooms having ensuites, and some access to a shared bathroom, and rooms are suited to different sized groups, from a Single Room that sleeps one, to a number of different Family Room options that sleep up to four guests.
At Southville Guest House, you'll receive a phenomenal breakfast, with options for pastries, juices, yoghurts, and plenty more. It's all help-yourself style but your host Tracy would be more than happy to lend a hand.
You can find Southville Guest House at 58 Allington Road Southville, Bristol, BS3 1PT, United Kingdom.
This warehouse style accommodation is the perfect quirky stay for someone up and on the go. Just 950 yards away from the harbourside, you're in the centre of Bristol where everything is easily accessible but tucked in a little quieter of an area. You'll find Bristol Temple Meads Train Station less than 2 kilometres away.
Rooms at the CoalShed start at just £80 and reach up to £115. All rooms have a private bathroom and access to a shared kitchen, perfect if you want to save a few pennies cooking for yourself during your stay.

If you've got a particularly big group and want to totally splash out, you can book the apartment, covering the whole of the ground floor. The apartment has five bedrooms, sleeps up to sixteen and costs £990.
At the CoalShed, you've got a perfect space to unwind in the evenings, with a shared lounge, a table tennis area, and even a bar.
Unfortunately, there isn't any designated parking onsite, but guests are able to pay £7 a day to park at a local school just a 5-minute walk away. There is some, very limited, parking available on the street, though it is a gamble to rely on this!
You can track the CoalShed down to Booth Road CoalShed, Bristol, BS3 1BP, United Kingdom.
The Ibis located in Bristol City Centre brings a modern style to the rooms, carrying a chic feeling through to the bar and café restaurant onsite.
You'll be ideally located as Ibis overlooks Millennium Square, right in the heart of the harbourside area. This places you just a 5-minute walk from the Hippodrome, or a 15-minute walk away from the Broadmead shopping centre.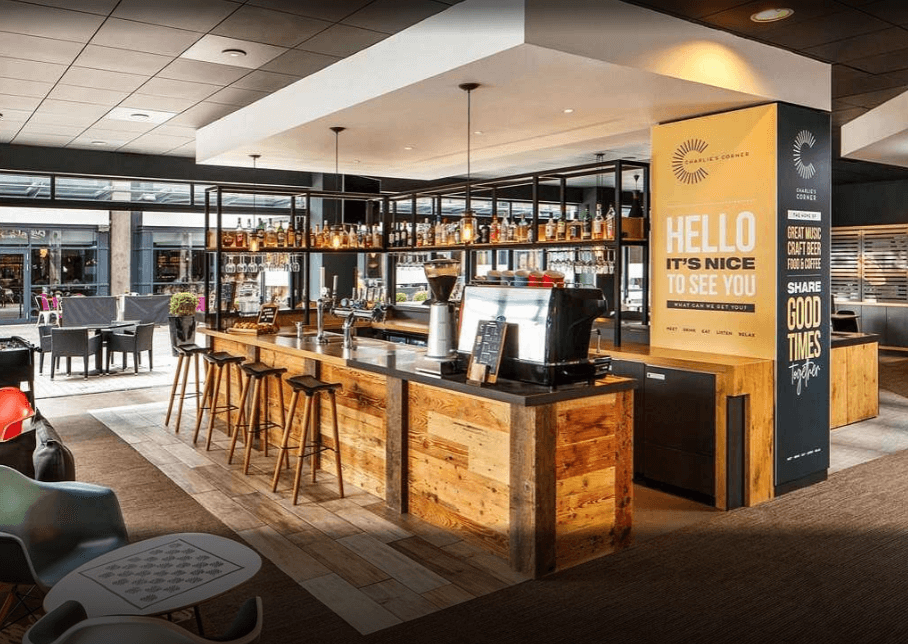 However, the location being so central does mean that there isn't any onsite parking available. The hotel does offer parking discounts during your stay, however. If you park in the Millennium Square Car Park, you can park for 24 hours for just £12.50, or for £10 for 24 hours in the Britannia Harbourside car park. These discounts work out to save you about 20%, so they certainly help out.
Rooms range from £92 to £128, all with private bathrooms, sleeping either one or two people.
There is a brilliant breakfast available onsite, some room prices even include your breakfast costs. You'll be able to enjoy an all-you-can-eat breakfast buffet with different cooked options, pastries, and cheeses available, including plenty of vegan and vegetarian options. If this doesn't sound up your street, you needn't fret. Being so close to the harbourside, there are plenty of dining options around and about nearby.
Your four-legged friends are welcome to stay too, just make sure you request this in advance. Make sure no family member gets left behind this holiday – even those with fur and tails!
If you're interested in staying at Ibis in Bristol City Centre, you can find them at Explore Lane, Harbourside, Bristol, BS1 5TY, United Kingdom.
This 3-star hotel can be found in a perfect spot for those looking to get shopping, just 450 yards away from Cabot Circus. If you've come in on the train, you're around a mile out from Bristol Temple Meads Train Station, making Moxy Bristol ideally located for anyone relying on public transport to get themselves around. Whilst Moxy itself doesn't have any parking facilities, there are public car parks nearby that cost just £13 per day. If you park at Cabot Circus car park, you can get a 30% discount when you're a guest at Moxy.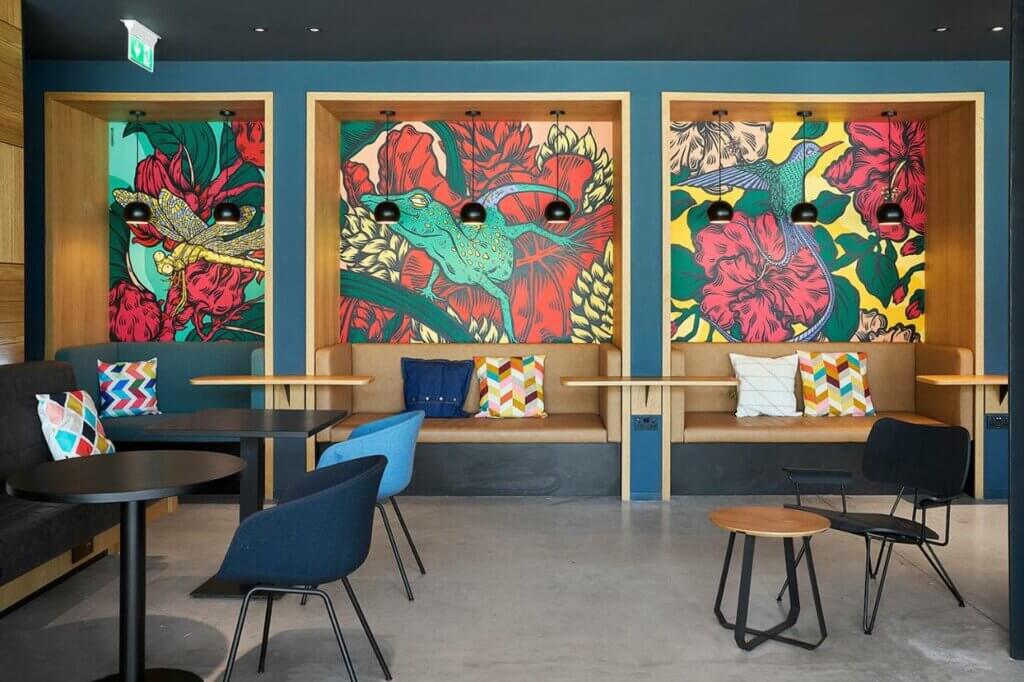 As the 'Moxy' name of the chain might suggest, the rooms are all quite up to date, featuring funky art pieces and a fresh, distinct, and bold style. Aside from the photo worthy design, the hotel has a number of fab facilities, fulfilling everything from business needs, thanks to the meeting rooms, a business centre, a fax machine and a photocopier, to maintaining your personal workout plans, with access to a fitness centre all being included in the price of your room. Whether you're traveling for business for fun, Moxy has you covered.
Rooms range from £110 to £179. Children of any and all ages are welcome, and some Family Rooms are available at Moxy, and you can bring your pets along too, just let the hotel know in advance furry friends cost an additional £20.
For your food, Moxy provides a phenomenal continental breakfast, featuring plenty of vegan and vegetarian friendly options, or the ideal location means you're never far from an ideal food spot.
You can find Moxy at 55 Newfoundland Street, Bristol, BS2 9AP.
Clayton Hotel Bristol City
Clayton Hotel is another Bristol city centre stay, ideal for people looking to get up and going, just an 8-minute walk to Cabot Circus, 9-minutes to the harbourside, or less than a mile walk to Bristol Temple Meads Station. If you're looking to park up whilst you're there, the NCP car park on Nelson Street has a deal with Clayton Hotel, helping you save a bit of cash when you park, since there's no parking available onsite.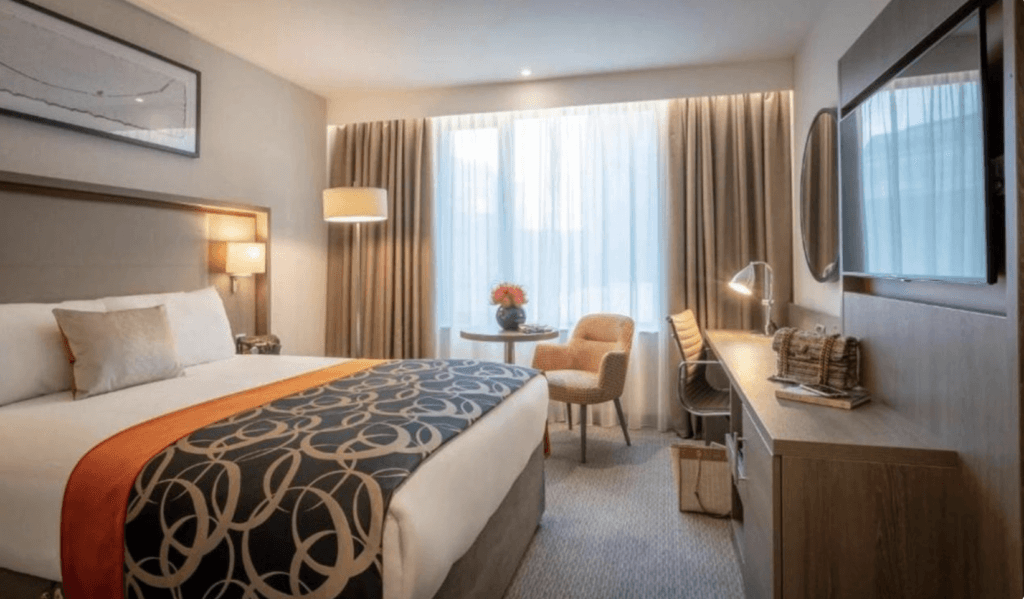 The rooms range from £130 to £299, bringing you a sleek, classy experience, each with a private bathroom and air conditioning. There are rooms suitable for a variety of guests, from families to singles, with disabled and accessible facilities available. Some of the rooms even have a view into the inner courtyard, giving you a moment of quiet respite in the busy Bristol centre- a great chance to escape the hustle and bustle.
During your stay you can enjoy a stunning breakfast, choosing from either a continental or buffet style breakfast. Whether you're looking for a vegan, gluten free option, or if a traditional full English or Irish is more up your street, Clayton has you covered.
This Clayton Hotel has a gorgeous bar, and a brilliant fitness centre worth checking out. Look after yourself in whatever shape that takes for you, whether that's a drink or a workout, there will be something up your street. Their 24-hour front desk means if you have any problems or queries during your stay, you'll have expert help and advice just a moment away.
Check out Clayton Hotel Bristol City at Broad Street, Bristol, BS1 2EQ, United Kingdom.
This stay includes the whole apartment, perfect for guests who want as much privacy as possible.
The apartment has one bedroom, and costs £70 per night to have access to the whole space. You'll find one double bed, a kitchenette, a washing machine, and even streaming services included in your stay.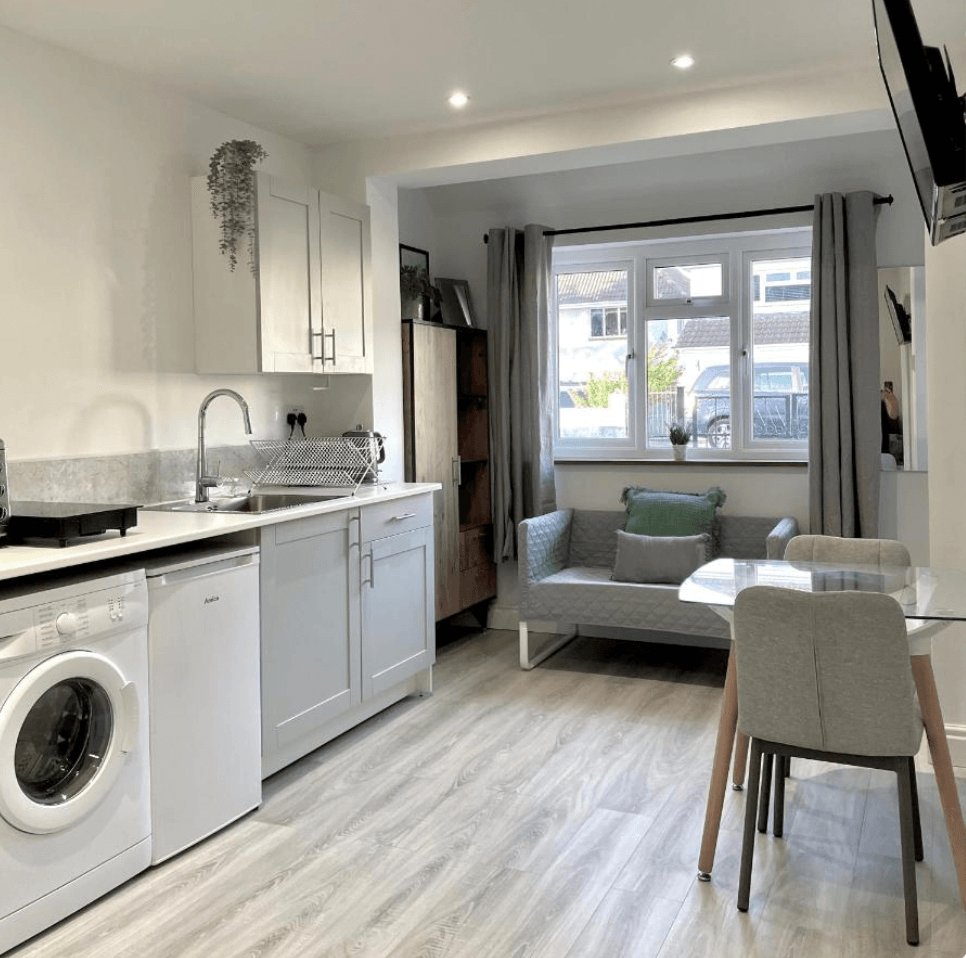 If you've driven in, this could be the perfect stay for you. There's off road parking available at no additional charge. It's a great choice for a quiet stay if you're looking to keep out of the city centre, but if you drive, you'll be able to pop in in no time at all. Bristol Temple Meads Station is just over 4 miles away, and the harbourside is around a 30-minute drive away. You're ideally close to the M32, M4 and M5 if you're up and on the go.
Alternatively, metro services are available in the area, so it is definitely possible to catch public transport into Bristol city centre too.
The pretty neighbourhood features a number of takeaway options too if you don't feel like making use of the kitchen. You're certainly not short of options! If you're wanted to explore the local area, Snuff Mills makes for a gorgeous walk and is only a 5-minute walk from the apartment, as is the stunning Stoke Park.
The host Penny is lovely; she is happy to help answer any questions you might have and do all she can in order to make your stay more comfortable. You can find her, and Studio16, at 16 Dryleaze Road, Bristol, BS16 1HL, United Kingdom.
Number 38 Clifton is a beautiful Georgian townhouse turned boutique hotel, fit with contemporary furnishings and a stylish décor, you'll be sure to feel like you're living it up during your stay here.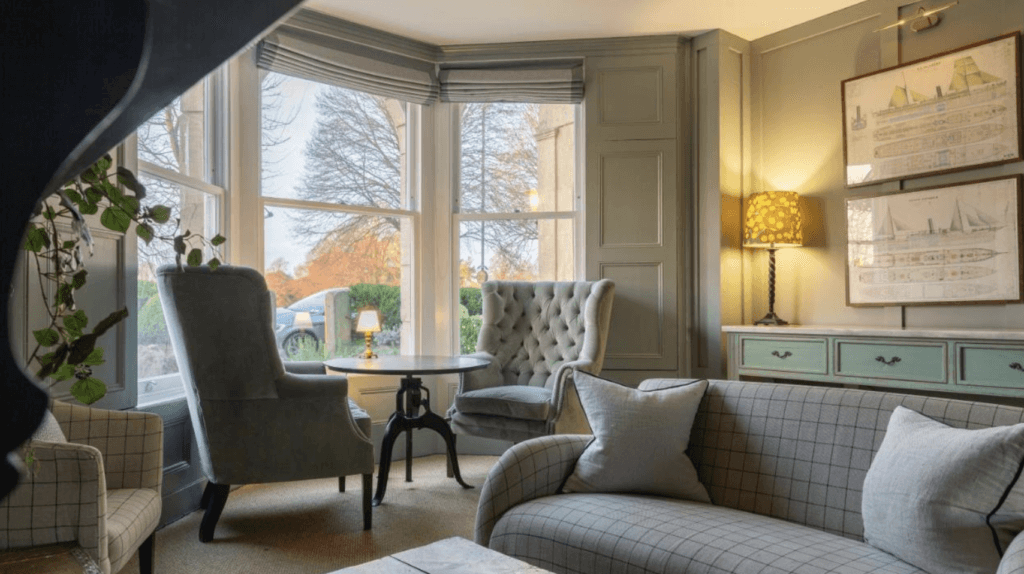 Rooms can have a view overlooking Bristol city centre or the Clifton Downs, both of which offer a picturesque stay. All rooms have an ensuite bathroom featuring a shower, and some also have a bath. Rooms vary from £135 to £220 and are suitable to sleep one or two people each.
Guests leave absolutely buzzing about the breakfasts over at Number 38 Clifton. If you visit be sure to make the most of at least one meal here. They're able to cater to a number of dietary requirements and cook using locally sourced produce. Whether you like a hearty full English or a lighter breakfast of fresh fruit, they've got everything over at Number 38.
The boutique features a terrace and a lounge, so whether you're soaking in the morning sun or sitting up by the fire, there is truly something for everyone, all year round.
You'll find Number 38 at 38 Upper Belgrave Road, Clifton, Bristol, BS8 2XN, United Kingdom. This is around a 10-minute walk away from a strand of bars and restaurants, about the same distance to the closest train station, Clifton Down Train Station, and is about 2 miles from Bristol city centre.
You're able to park onsite with a permit if you request it prior to your arrival, as only a limited number are available.
Hopefully, these places give you a starting point as you delve into your Bristol hotel search. Booking.com has an abundance of places to book for your next stay in Bristol, no matter what your priority is. Cheap and cheerful? In an ideal location? You name it, there are plenty of options available.