Booking hotels and accommodation can be a risky business. Even when there are plenty of reviews, it can still be worrisome that you're not going to find the quality you're expecting. Of course, if you're looking for the best experiences possible, a 5-star hotel, with all the bells and whistles, will guarantee a clean, safe stay, somewhere with a good reputation and plenty of expertise. From great facilities to certainty regarding parking, a 5-star stay lets you plan plenty in advance and prep yourself. You know exactly what you'll be walking into and know it'll knock your socks off each time. 
Take the nervousness and uncertainty out of sorting your hotels and accommodation and check out our list of some of the top five star stays you'll be able to find in Bristol.
We do our best to make sure prices are up to date and are as accurate as possible but sometimes prices can change without notice.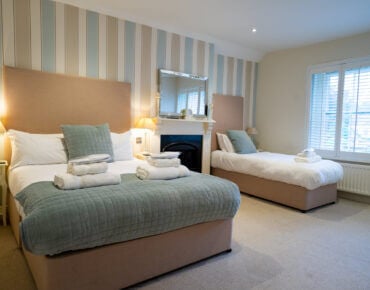 This Bristol accommodation is gorgeous, showcasing the stunning Somerset countryside. Enjoy a top notch stay in a traditional 18th century pub turned gorgeous 5-star stay for a fantastic experience during your trip to Bristol.
In terms of location, The Bear & Swan is pretty desirable. It's out of the way of the city's main hustle and bustle, whilst sitting just a short commute away. You'll find Bristol airport about 6.2 miles away, and Bristol Temple Meads Station around 8.7 miles from The Bear & Swan. You're about 7.5 miles from Ashton Court and the Bristol Cathedral, should you stay here. If you're driving, then these places are within easy reach, and the logistics of getting around are made far easier as parking is offered on site for no further costs. 
If you're looking for a walking holiday, or perhaps want to keep the options open for your evening plans, then this country retreat could be the perfect place to rest and recharge. The site is incredibly popular with walkers, with Chew Valley Lake sitting just on the doorstep. Here you can enjoy 1200 acres of greenery, perfect for bird watching, fly fishing, and plenty of space to enjoy the fresh air. A big positive to many countryside seeking stayers is that four legged friends are allowed to stay at The Bear & Swan, so you don't have to leave them behind. Be mindful when you book, however, as only certain rooms are pet friendly, giving peace of mind to those who aren't too keen, and meaning no paw gets left behind.
Perhaps you'd fancy wandering out a bit further and see the rest of the village, taking in the picturesque view. Whilst the Bear & Swan proudly boasts their own pub grub, if you do decide to wander outwards, you'll find plenty of other dining options, from cafes such as Moondance, or restaurants like The Pelican, all within a mile from your room. 
The Bear & Swan itself is fantastic, with a continental, full English or Irish, and buffet style breakfasts on offer each morning, and brilliant lunch and evening dinner choices too – a fan favourite are their woodfired sourdough pizzas. Their restaurant uses all local ingredients, ensuring they're fresh and high quality, all whilst supporting Somerset and Gloucestershire businesses.  Another brilliant bonus of this accommodation is the impressive range of ciders, lagers, real ales, and wines that are available: a great way to unwind after a busy day, or the perfect drink for a sunny, relaxed afternoon as you sit in the beautiful garden bar. 
Whether you're travelling for work or taking the whole family out, the Bear & Swan has you covered, between desks in every room and a children's playground on site, everyone is catered to. 
So, what sorts of rooms and prices are we looking at? On https://www.booking.com/, the rooms start as low as £65, and stretch up to £234, for each night. Rooms include a Superior King Room, with one large double bed, starting at £82, a Deluxe Double Room, with a single bed and a double bed, starting at £91, or a King Room, with one large double bed, starting at £65. All rooms have their own bathrooms, with private showering facilities and complimentary toiletries. It's worth bearing in mind that flexible rescheduling and cancellation plans do send prices up significantly, but there are plenty of choices available for a variety of budgets.
The Bear & Swan offers gift cards that can be used for food in their restaurant or for a stay itself, so if you know someone planning a visit, this could be the perfect gift to throw their way. These can be found directly on their website.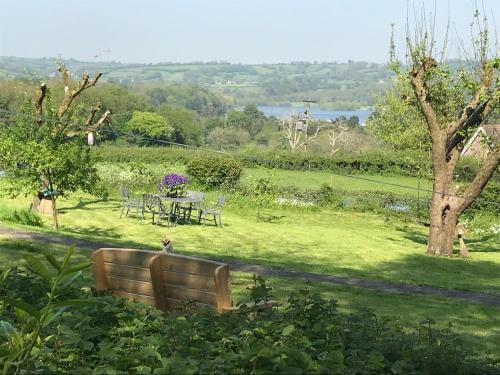 The next 5-star stay is a little different than the last, as Coombe Lodge Farm House is a stunning, award winning B&B where antique meets contemporary, blending together classic and modern tastes to create a unique, and frankly stunning, atmosphere. This style is reflected in the artwork within each room and the property features an open fire and impressive oil paintings. The energy in this Victorian house is to die for: a perfect get away stay.
Coombe Lodge Farm House sits beside Blagdon Lake, overlooking the waters with a gorgeous half an acre of gardens. Guests have often been lucky enough to see plenty of wildlife making homes for themselves in the gardens, with tawney owls, woodpeckers, and birds of prey being spied. 
Even better, you can sit on the terrace with your breakfast, your morning cuppa, and take in the stunning view as you get yourself ready. Some rooms even have a view of the lake from their windows. 
As a B&B, it goes unsaid that the breakfast is something that is raved about over at Coombe Lodge. The breakfast comes at no extra cost and is certainly the best way to kick off the day. With plenty of options on offer, from a cooked breakfast to fruits, nuts, yoghurts, and honey, to homemade breads and jams, there is something on the table for everyone. There are a good range of dietary options too, with vegan and vegetarian, as well as gluten free choices. 
It's important to note that this isn't a family friendly space and is adult only, perfect for a couple's retreat but perhaps not your cup of tea if you're looking to bring the kids along. 
Coombe Lodge is just a 5-minute walk from the Coombe Lodge Wedding Venue, and a 10-minute drive from Bristol Airport. The local area features plenty of pubs within walking distance though the wonderful hosts, Jennifer and Charlie, can provide extra meals upon request. The hosts are so friendly and are sure to be the perfect addition to your stay. 
If you're on foot for your travels, this is a brilliant choice for your stay. Coombe Lodge Farm House sits on the edge of the Mendip Hills, which is a perfect spot for walkers. There are plenty of stunning strolls you can take yourself on either out in the countryside or through the neighbourhood. For those of you who've driven in, Coombe Lodge is still a great choice worth considering, with free private parking available. 
Coombe Lodge House is home to two styles of rooms, all of which cost £140 for a one-night stay and are suitable for two people to stay in. This price includes your phenomenal breakfast and free cancellation up until closer to your stay. Each room at the Coombe Lodge has its own private bathroom. Not to mention streaming services, and board games: great for a quiet night in! The first is a Double Room, which has 1 large double bed, the second a Double or Twin Room, which has two single beds. These styles offer various views, dining spaces and patio spaces so be sure to double check before you book. If you're going as part of a larger group, there are interconnected rooms available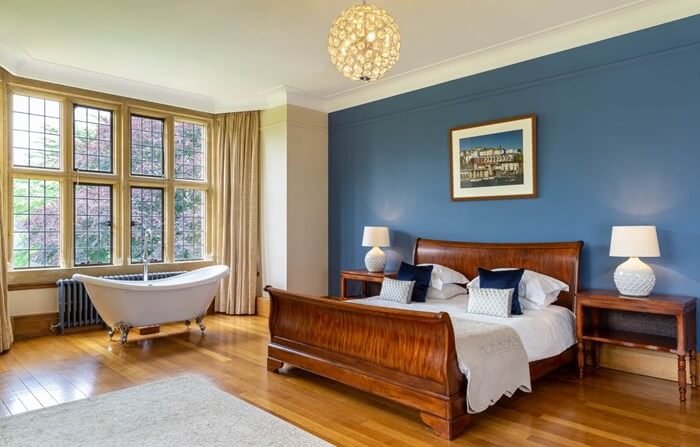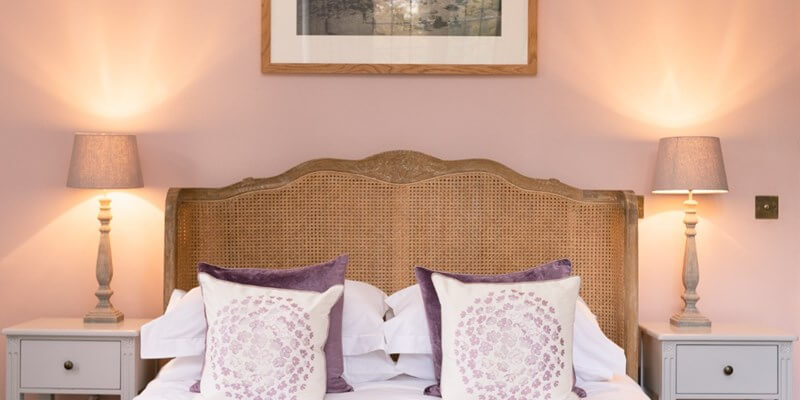 The next place we're looking at sees yet another shift in design, aesthetic, and the overall energy of the hotel, whilst still preserving the gorgeous countryside feel that makes for a perfect ingredient in a 5-star get away. 
Mystique Barn is kitted out with a stylish interior, keeping a fresh and modern feeling to this barn like, small village retreat. The quiet and calm is only amplified by the garden space, where you'll find the green rolling hills in the distance. Enjoy time on the sun terrace or bring your four-legged friends along; they're more than welcome and will find plenty of space to run around and stretch their legs. 
You'll find the whole apartment on one floor, making it a relatively accessible space to stay. The kitchen and living spaces are in one area of the property, then through a door accessed from outside, you'll find a king-size bedroom with an ensuite shower, all of which sports a classic, modern design. 
The Family Room, which fits one sofa bed and a large double bed, clocks in at £160 per night, giving you access to the whole site, perfect for those who like their privacy. Speaking of which, the tucked out of the way nature of Mystique Barn and the soundproofing of the rooms, gives you a perfect break after a busy day, perhaps facing the hustle and bustle of the city. 
Behind a set of electric gates, there's plenty of parking available to use during your stay. If you've driven in, you're in an ideal spot just 3.1 miles from Bristol Air[ort, 6.8 miles from Temple Meads Station, and 5 miles from Bristol City Centre. If you're on foot or are looking to wander and explore in some down time, then you're all set, as there are a number of lovely walks accessible from the property. 
This space is brilliant for anyone looking to hike, with Cheddar gorge and the caves being just nearby. It's more than doable to head into the city, but this is an ideal 5-star stay for someone looking for a more countryside-oriented break. 
In terms of the local surroundings, Mystique Barn is close by to Winford, a popular village, where you'll find a pub within walking distance. There are a few more options for food just a few miles away in Chew Magna if this doesn't take your fancy. Or, with the fab kitchen facilities, you can whip yourself up a nice night in.
Sometimes it can be tricky to know what you're getting when you're looking for a 5-star stay. It's worth checking where your money is going and knowing just what to expect when you arrive. From gorgeous gardens to super spots, hopefully these 5-star stays will tick some of your boxes.